Sanjaya Malakar: El DeBarge
There is a precedent in the music world even for young Sanjaya Malakar. About 20 years ago a guy named El DeBarge burst onto the music scene with "Rhythm of the Night" and it's almost as if Sanjaya channels him onstage-same immovable idiot smile, same light, effeminate voice. DeBarge appears to keep his pitch better, but music producers can work magic back at the studio. Maybe Sanjaya has a future after all.
See if you can point out the similarities
here.
(Fox / WireImage.com)
Lakisha Jones: Nina Simone
My esteemed editor and rabid "Idol" follower Richard Rushfield claims Lakisha Jones as his current favorite "Idol" contender. I love her on stage, but otherwise she has an aloofness I'm not sure I like. So who does she remind me of? Nina Simone, another tough lady with a whole lot of talent. Both women could hold their own in any musical style-from opera to the blues.
(Fox / AP)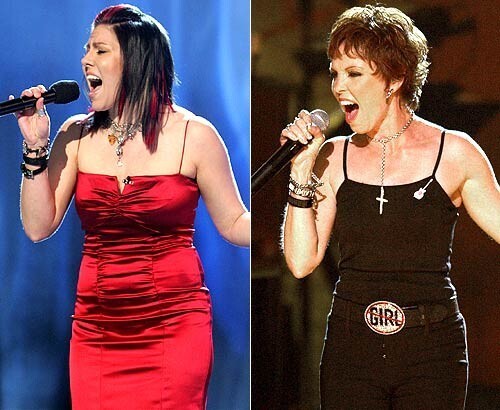 Gina Glocksen: Pat Benatar
Gina Glocksen, this year's resident rocker chick, wants to be Pat Bentar--all tough and rock 'n' roll on the outside, pure pop sensibility on the inside. Maybe she should consider rocking Benatar's hard core '80s look rather than this weird late-90s thing that makes her feel dated.
(Fox / WireImage.com)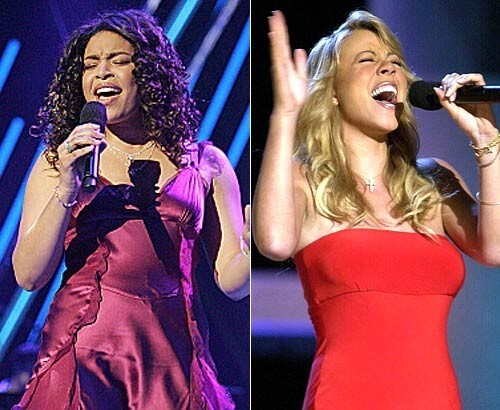 Jordin Sparks: Mariah Carey
It doesn't seem fair to judge Jordin Sparks just yet. She's clearly got lots of talent, but she's only 17 and her voice hasn't fully developed. But give her a few years and she might be making us think of Mariah Carey when she sings. Whether she'll be able to hit those superhigh notes, I'm not sure though. Mariah might be one of a kind.
(Fox / CBS)
Chris Richardson: Justin Timberlake
Poor Chris Richardson. He so clearly wants to be Justin Timberlake, but the thing about JT is he has it all-a winning stage personality, good looks, killer vocals and dance moves about as good as anyone in the country. Richardson has the good looks covered (although apparently he looks better on TV than in real life), and he's definitely a charming and energetic performer, but when it comes to singing, we don't think Justin has anything to worry about.
(Fox / Wayne Herrschaft)
Chris Sligh: Adam Duritz
Like Adam Duritz of Counting Crows, Chris Sligh projects a self-satisfied smooth grunge vibe that is equally annoying in both men. Their matching crop of curly hair only enhances the comparison.
(Fox / WireImage.com)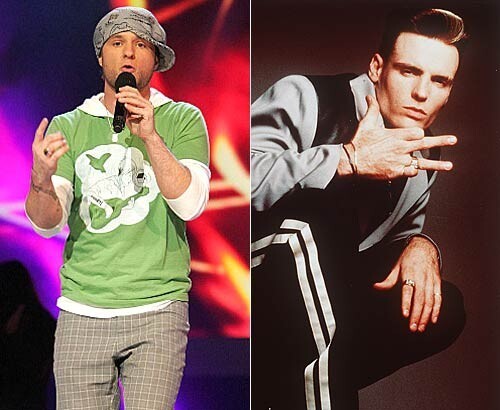 Blake Lewis: Vanilla Ice meets Hanson
Blond and boyish, but not quite as cute as you want him to be (or as he thinks he is), Blake Lewis channels a mix of Hanson and Vanilla Ice when he's onstage. The Hanson part because he appeals to 9-year-olds, the Vanilla Ice part because he's trying, in a very white way, to be hip-hop.
(Fox)
Stephanie Edwards: Will Smith
Stephanie Edwards is one big yawn. She's talented enough and pretty enough, but is there any "there" there? We're not convinced. She's like Will Smith the singer. Fine, but not awesome. Boring, but not embarrassing. Maybe she should try acting.
(Fox / LAT)
Phil Stacey: Michael Bolton
There's something Michael Bolton-esque about Phil Stacey, n'est pas? He's commanding and he can bring that husky stadium voice out when he needs to, but we're betting he's not afraid of a little soft rock, easy listening either. As to whether the world needs another Michael Bolton.…
(Fox / LAT)
Melinda Doolittle: Gladys Knight
Giving credit where credit is due, it was Simon Cowell who first told Doolittle (this reporter's fave) that she remind him of a young Gladys Knight. Doolittle has a sweet innocence that belies her great talent. What's not to love about this girl?
(Fox / WireImage.com)