9 Images
Madonna: Reinvention, or same ol' recipe?
Madonna: Reinvention, or just savvy?
Todd Martens, Los Angeles Times Staff Writer
Few pop stars, if any, have been able to pull off career makeovers like
Madonna
. Whether working with underground heroes or superstar producers, Madonna has had an uncanny ability to predict trends and react to mainstream hits.
With her new album "Hard Candy" due out on Tuesday, Madonna has returned with a new sound again. She's jettisoned the Euro-dance that marked much of her recent works. Instead she turned to hit-makers such as Timbaland and
Justin Timberlake
. But is Madonna really doing anything all that new and different for her?
A little help from former teen idols? Before singing with Justin, Madonna smooched Britney. Urban producers? Before Timbaland, Madonna worked with Babyface. "Hard Candy" might be this year's model, but it follows the same old Madonna formula.
Here, we take a look at some of Madonna's key albums, launching with "Hard Candy" and ending with "Like a Prayer" in 1989, and examine the five or six hallmarks of a Madonna release. Hot collaborators? Check. Explosive branding? Check. And usually a controversy or two.
(AFP/Getty Images)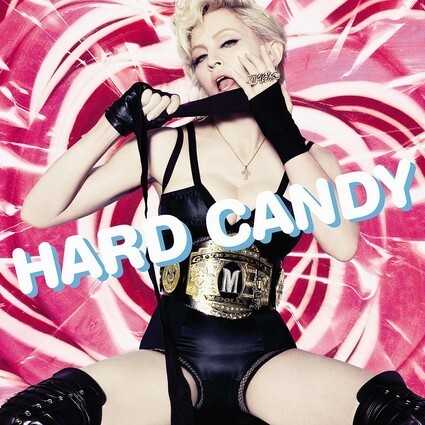 Album: "Hard Candy," 2008
Chic collaborators:
Hey, it worked for Nelly Furtado. After years of mining the underground European dance scene, Madonna went all-American mainstream with "Hard Candy," graduating from Britney-kiss to Justin-collaboration. Producers on the album include the ubiquitous Timbaland (it's a story now when he's
not
producing a pop star) and Pharrell Williams. Mega-rapper Kanye West guests on the record.
Back to roots:
Madonna didn't say it, but Timbaland told a U.K. tabloid that that his songs with Madonna are "kind of like 'Holiday' with an R&B groove," referring to one of Madonna's early singles.
Cross-platform branding:
Where to begin? Earlier this year, Madonna saw the film festival release of her directorial debut, "Filth and Wisdom." But the official release prep for "Hard Candy" saw Madonna strike a multitude of licensing deals, including Verizon, Vodaphone, Unilever's Sunsilk products and even Japan's FujiTV.
Fashion/beauty partner:
Madonna's "4 Minutes" has been seen in commercials for hair product Sunsilk, which culled images of Madonna's look through the year.
Gimmick:
Miley Cyrus
and her pal choreographing
a YouTube video
in response to Madonna's "4 Minutes" was cute. Madonna responding to it with a YouTube video of her own, in which she vacuums and tells the kids that they have "to clean up after themselves," was odd.
And then there was the Web video she gifted to gossip blogger Perez Hilton, in which she asked him who she loved more -- her or his dog. "I can get down on all fours," she said in the clip. "I chase balls, and I love a biscuit."
Getting out the youth vote:
The aforementioned Perez video, as well as a planned April 30 webcast on MSN. Additionally, her website has a new social-networking component, and a remix of "4 Minutes" was given to Verizon/Vodaphone, and customers of the cellphone carriers were also allowed to preview "Hard Candy."
Controversy:
All quiet on the Madonna controversy front, but with the official release of "Hard Candy" only days away, and a tour in the works, give it time, give it time.
Continue
Related:
Read the Times' review of "Hard Candy."
(Associated Press)
Album: "Confessions on a Dance Floor," 2005
Chic collaborators:
With an '80s revival seemingly in full swing (see the Killers, Gwen Stefani), Madonna collaborated with touring mate Stuart Price, a producer/remixer who owes a heavy debt to French house and synthpop. To cover her bases, she also tapped Swedish duo Bloodshy & Avant, fresh from their success with Britney Spears' "Toxic."
Back to roots:
"I want to hear all these songs in a club," Madonna told Billboard. "I approached the album from more of a DJ's point of view."
Cross-platform branding:
Madonna waited until near the release of "Confessions" to make her music available via iTunes – with a huge marketing splash – but also had her music heavily featured in television spots for Motorola's ROCKR phone, and licensed "Hung Up" to hit CBS series "CSI."
Fashion/beauty partner:
So long Gap! To get the word out on her tour, Madonna paired up with fast fashion retailer H&M. But to display her high-end taste, and prove that attending those haute couture parties and fashion shows wasn't in vain, she also helped launch Versace's spring line.
Gimmick:
Madonna launched a phone line (1-888-2-CONFESS) inviting fans to call in and profess their secrets.
Getting out the youth vote:
Before the release of the album, Madonna went to MTV's "Total Request Live" and appeared on the network's college station, mtvU. And like her olive branch to the dance crowd with "Music," Madonna appeared at Coachella in 2006 in the hopes of winning some underground credibility.
Controversy:
Even before the album was released, the song "Isaac" angered some rabbis and religious scholars, who claimed it was about 16th century Jewish mystic/Kaballah scholar Yitzhak Luria. In Billboard, Madonna dismissed the criticism: "You do appreciate the absurdity of a group of rabbis in Israel claiming that I'm being blasphemous about someone when they haven't even heard the record, right?"
(EPA)
Album: "American Life," 2003
Chic collaborators:
If it ain't broke …
After their successful pairing on "Music,"
Madonna
collaborated even further with Mirais Ahmadzai, going for a harder mix of European techno sounds. Yet this wasn't a full-on dance record, as Madonna attempted to respond to the socio-political climate of the time – with guitars.
Cross-platform branding:
Forget spy movie parodies like "Austin Powers." That was kid stuff to the 2002 Madonna. "American Life" was launched with a little help from Bond, James Bond, as the 2002 Bond film, "Die Another Day," helped launch "American Life" promotional efforts.
Fashion/beauty partner:
The Gap. Hoping to capitalize on her past, and sell some pants, Madonna melded single "Hollywood" with "Into the Groove."
Gimmick:
Does kissing
Britney Spears
and
Christina Aguilera
at the MTV Video Music Awards during a performance of "Hollywood" count as a gimmick? Show of hands? Yeah, that's a gimmick.
Controversy:
America apparently wasn't ready for its No. 1 pop star to start taking swipes at the war and
President Bush
. Her video for "American Life," in which images of a militaristic fashion show are interspersed with Madonna in a general's outfit, caused such a tizzy that the artist was forced to issue a press release declaring her patriotism.
Getting out the youth vote:
All her bases were covered in 2003, thanks to the release of her children's book, "The English Roses," which came complete with an apparel and doll line, and an appearance on the NBC hit "Will & Grace." Going straight to those Web-abusin' kids, "American Life" was the first album to be a part of MTV's advance-music initiative, "The Leak." Then in early 2004, Madonna continued to make headlines, endorsing Wesley Clark for president.
(WireImage)
Album: "Music," 2000
Chic collaborators:
After the huge dance success of "Ray of Light," Madonna went deeper into the club with "Music," mining underground dance culture. At a time when teen-pop and hip-hop dominated the charts, Madonna had none of it, instead showing off her dance cred by working with the likes of William Orbit, Guy Sigsworth, Mark "Spike" Stent, Talvin Singh and Mirwais.
Back to roots
: While discussing a string of surprise club dates with Billboard, Madonna said, "The electricity of jumping onstage in a club is so intoxicating."
Cross-platform branding:
While released months before "Music," "The Next Best Thing" in 2000, a poorly received and Razzie Award-winning romantic comedy starring Rupert Everett, brought Madonna back to the silver screen. But it gave Madonna a single in "American Pie." Also in 2001, Madonna appeared in the Ritchie-directed BMW commercial "Star," which was aired online.
Fashion/beauty partner:
No official pairing, but Madonna was a presence at fashion shows for, you guessed it, Versace.
Gimmick:
Madonna makes her political views known via a letter to the Los Angeles Times, criticizing Bush while defending the lyrics of Eminem.
Controversy:
Coming late in the promotional life of "Music," Madonna teamed with husband Guy Ritchie to create the video for "What It Feels Like For A Girl," a crash-and-bang, heavily violent video that was relegated to late-night viewing in America, and banned in a number of countries.
Getting out the youth vote:
Madonna participated in her first-ever online chat in 2000, and hosted a global listening party online. Also before release, free remixes of "Music" from the likes of Groove Armada and Deep Dish were available on MTV's websites, and appeals to the hardcore dance fan were made by giant club nights in major cities. She also revisited the promotional club gigs, and broadcast one from London via MSN.
(Associated Press)
Album: "Ray of Light," 1998
Chic collaborators:
Aside from occasional breakthroughs such as Fatboy Slim, electronica wasn't totally mainstream fare when Madonna released "Ray of Light." Recognizing the burgeoning scene, Madonna tapped techno pioneer William Orbit as her "Ray of Light" collaborator.
Back to roots:
"This record takes me back to where I started -- in a club right in the middle of a dance floor," she told Billboard. "It's full circle, except I'm so different now."
Cross-platform branding:
Can you say Oscar? She didn't win one in 1998, but she did appear at the awards a couple weeks after "Ray of Light" hit stores, and, coincidentally, around the same time "Evita" was released on DVD. The following year, she recorded "Beautiful Stranger" for "Austin Powers: The Spy Who Shagged Me." And she was milking "Ray of Light" all the way into 2001, when it became the theme song for Windows XP.
Fashion/beauty partner:
While making sure to appear at the Versace shows and parties, Madonna inked a multimillion-dollar deal to help launch a new Max Factor cosmetic line in Europe.
Gimmick:
The sudden makeover from go-go dancer to yoga instructor (see the album's "Shanti/Ashtangi"). All the fun of early Madonna + all the maturity of "Bedtime Stories" Madonna = Total Madonna.
Controversy:
Having already offended Catholics and Christians, Madonna's MTV Video Music Awards in 1998 irritated the Hindus. Her "Ray of Light" performance came complete with holy facial markings and sexually suggestive clothing, the latter of which were seen as taboo when combined with the holy symbols. Madonna's response: "If they're so pure, why are they watching MTV?"
Getting out the youth vote:
Madonna conducted a live TV interview on MuchMusic, answering questions from fans in person, and via phone, e-mail or fax. She also performed her first club show in years, and appeared on the Kids' Choice Awards.
(Warner Bros.)
Album: "Erotica," 1992
Chic collaborators:
Madonna
worked closely with Shep Pettibone on the project, who had done remix work on her songs in the past, and was fresh from their smash hit collaboration on "Vogue."
Cross-platform branding:
Before the release of "Erotica," she starred in "A League of Their Own," which spawned the hit song "This Used to Be My Playground." But soon, Madonna said 'so long' to family-friendly fare. To coincide with the release of "Erotica," Madonna issued her first book, "Sex," a sort-of multimedia concept effort about human sexuality. Continuing the trend of highly sexual images, in 2003 she starred in the explicit sexual thriller "Body of Evidence."
Fashion/beauty partner:
Her revealing tour fashions with Jean-Paul Gaultier (the satin cone bra) were still making news, and Madonna wasn't one to miss a Versace show. Plus, Madonna sported some Burberry on tour. Finally, the "Sex" book also took from the worlds of high fashion, with
Naomi Campbell
modeling and famed fashion photographer Fabien Baron shooting the images.
Gimmick:
The project.
Controversy:
The project, especially the sexually explicit video for "Erotica," which was directed by Baron.
Getting out the youth vote:
The project. Who doesn't love sneaking into R-rated movies?
(Warner Bros.)
Album: "Bedtime Stories," 1994
Chic collaborators:
While working with
Bjork
to co-write "Bedtime Story,"
Madonna
largely turned to proven R&B hit-makers for the album: Babyface, Dallas Austin, Dave Hall and Nellee Hooper.
Cross-platform branding:
Before the release of "Bedtime Stories," a tour video from her "Girlie Show" was issued, and she was coming off the film "Dangerous Game," which was released shortly before the album came out. During the "Bedtime Stories" release cycle, she filmed a cameo for the 1995 film "Blue in the Face," and also began filming "Four Rooms." In early 1995, Madonna released a book of photographs from her "Girlie Show," and later filmed a cameo for
Spike Lee
's "Girl 6."
Fashion/beauty partner:
Madonna strolled down the catwalk at a fashion show for regular tour collaborator Jean-Paul Gaultier, and appeared in Versace advertisements in 1995.
Gimmick:
A kinder, gentler Madonna! But wait, isn't this the same Madonna who said the f-word a dozen or so times on the "Late Show with
David Letterman
" in early 2004? Yes, but they were all apologetic by the fall, when Letterman chided Madonna to watch her language at the MTV Video Music Awards.
Also: a 1995 pajama party to celebrate the release of her video for "Bedtime Story."
Controversy:
Her "Sex" book and a topless dancer in her 1993 tour "The Girlie Show" provided enough controversy for a few years. So much so that she even brought it up in "Bedtime Stories," keeping the story alive in the media. In the album's "Human Nature" she sings, "Oops, I didn't know I couldn't talk about sex."
Getting out the youth vote:
Aside from the aforementioned pajama party, Madonna early on made available for downloading "Secret," the first single from Bedtime Stories.
(WireImage)
Album: "Like a Prayer," 1989
Chic collaborators:
Not yet producer-hopping at this stage,
Madonna
worked with longtime collaborators Patrick Leonard and Stephen Bray.
Cross-platform branding:
Pepsi! Madonna inked a major deal with Pepsi that would debut her new single, "Like a Prayer." But the video for the song inspired a wealth of controversy, thanks to its assortment of violent images and religious symbols. About one year after the release of "Like a Prayer," Madonna starred as a sultry vixen in "Dick Tracy."
Fashion/beauty partner:
Jean-Paul Gaultier, who created the unforgettable cone-shaped bra.
Gimmick:
The mega-controversial video. And the ensuing Blond Ambition tour, in which Madonna simulated masturbation on stage.
Controversy:
See above.
Getting out the youth vote:
Soda-pop is safe for all ages! Except in this case it wasn't, as Pepsi ultimately tried to dissociate itself with Madonna.
(WireImage)