14 Images
Michael Jackson and friends
By Denise Martin and Emily Christianson, Los Angeles Times Staff
From Hollywood royalty to exotic animals, Michael Jackson always had an eclectic group of friends.
Michael Jackson dated Brooke Shields in the early 1980s. He once
told Oprah
: "We try not to be everywhere, go everywhere, it's mostly at home. She'll come over, I'll go to her house, because I don't like going out in public."
(WireImage)
On the heels of his divorce from Lisa Marie Presley in 1996, came a new wife and baby for Michael Jackson. The pop star married his nurse Debbie Rowe and the two stayed together for three years. The couple welcomed a boy named Prince Michael and then a girl, Paris. Although Rowe gave up custody of the children after the divorce, she is most likely to be given guardianship,
according to legal experts
.
(WireImage)
Diana Ross introduced the Jackson 5 to the world in 1969, just as she was launching her own solo career. The professional relationship they built then lasted through the years and the two legends later starred in Motown's "The Wiz" together. Upon hearing of his passing, Ross
told MTV
, "I can't stop crying; this is too sudden and shocking. I am unable to imagine this. My heart is hurting. I am in prayer for his kids and the family."
(WireImage)
Elizabeth Taylor had been friends with Michael Jackson for decades. His giant ranch home includes
a shrine
to the two-time Oscar winner, where her movies are played 24 hours a day. The singer presented Taylor with a song he had written especially for her, "Elizabeth, I Love You," in 1997 on the day of her 65th birthday celebration. And Taylor was a vocal supporter of Jackson during his 2005 trial in which he was charged with sexually molesting a child but was later acquitted.
(WireImage)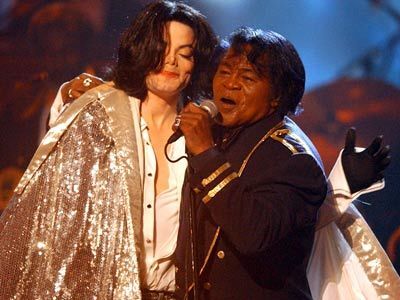 Michael Jackson called James Brown his "greatest inspiration" and the two performed together at concerts and award shows throughout the years. The most touching moment would come at the
BET Awards
where Brown was to accept a lifetime achievement award. When he took the stage to perform, Jackson came out to lay his cape across Brown's back. Before Jackson could exit the stage, he found himself wearing the legendary symbol. A teary eyed Jackson told the crowd, "No one has influenced me more than this man."
(WireImage)
When Michael Jackson went through his child molestation trial in 2005, it was the Rev. Jesse Jackson who stepped in to pray with and counsel the troubled star. Early morning phone calls helped Michael Jackson stay on track. The reverend told the
Associated Press
, the counseling helped the family to "stay focused. This is a difficulty for all involved, the accuser and the accused. ... He will survive this."
(WireImage)
Jane Fonda met Michael Jackson while shooting the film "On Golden Pond," when she says he lived with her for a week. "I am stunned," she wrote on her Twitter following his death. "My friend, Michael Jackson is dead."
(WireImage)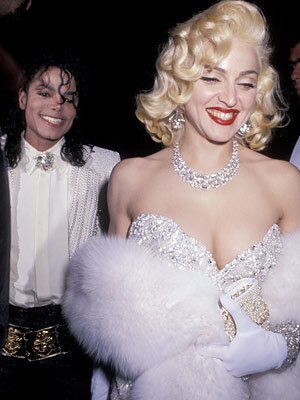 It was one star-studded night back in 1991 when the biggest pop stars on the planet arrived at the Oscars arm in arm. Michael Jackson and Madonna played off their platonic friendship, sitting side-by-side at the ceremony and later hitting an after party at Spago. Madonna recently
told People
magazine, ""I can't stop crying over the sad news. I have always admired Michael Jackson. The world has lost one of the greats, but his music will live on forever! My heart goes out to his three children and other members of his family. God bless."
(1991)
Michael Jackson reportedly adopted the chimp Bubbles from a cancer research clinic in Texas. Bubbles was present in the studio during the recording of the "Bad" album and lived with Jackson at Neverland Ranch, where he allegedly slept in a crib in the corner of Jackson's bedroom. When Jackson's son, Prince Michael II, was born, Bubbles was moved to an animal sanctuary over fears he might harm Prince.
(WireImage)
The day Michael Jackson died, Cher
told Larry King
on his CNN cable channel show that as a teenager he was "an adorable boy" and they had been close. He was often a guest on her primetime show "Cher."
(WireImage)
Early in her career, Houston sang backup for Jackson's older brother Jermaine. Decades later she helped toast younger brother Michael at the "Michael Jackson: 30th Anniversary Special," where she helped open the show alongside Usher and Mya, singing a rendition of Jackson's hit song "Wanna Be Startin' Somethin' " from "Thriller."
(WireImage)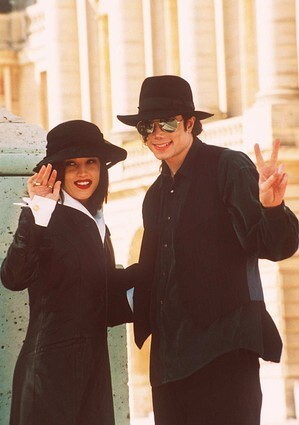 Lisa Marie Presley first met Michael Jackson when she was a 7-year-old fan attending his concert in Las Vegas. The two met again as adults and spoke on the phone nearly every day. He later proposed amidst child molestation accusations and she said yes. The two married in the Dominican Republic and she convinced him to settle the case and enter rehab for drug addiction. The couple divorced in 1996, but the two remained friends.
After his passing she wrote on her
MySpace blog
, "Years ago Michael and I were having a deep conversation about life in general," Presley, 41, writes. "He stared at me very intensely and he stated with an almost calm certainty, 'I am afraid that I am going to end up like [Elvis Presley], the way he did.' I promptly tried to deter him from the idea, at which point he just shrugged his shoulders and nodded almost matter of fact as if to let me know, he knew what he knew and that was kind of that."
(AP)
"Michael is the best friend you could ever have,"
Emmanuel Lewis told People in 1984
. "He's gentle, not rough like other guys. I can count on him any time, and he can count on me." Michael Jackson brought Lewis to that year's Grammys ceremony. The magazine wrote that in spite of their 12-year age difference, "Lewis' mix of savvy and innocence [made] him a well-suited companion for Jackson. If Michael has qualities like E.T., as director Steven Spielberg has suggested, then Emmanuel is his Elliott, the boy who shares E.T.'s fantastic world."
(WireImage)
Macauley Culkin and
Michael Jackson
were more than 20 years apart in age, but found a common bond over their tough childhoods growing up in the spotlight. When Jackson was later accused of child molestation, Culkin came to his defense. The "Home Alone" star later took the stand in 2005 and told jurors he slept in the same bed with Jackson many times between age 9 and 14, always maintaining that nothing sexual ever happened between them.
(Kevin Kane / Wireimage)