Review: How Justin Bieber turned Staples Center into a megachurch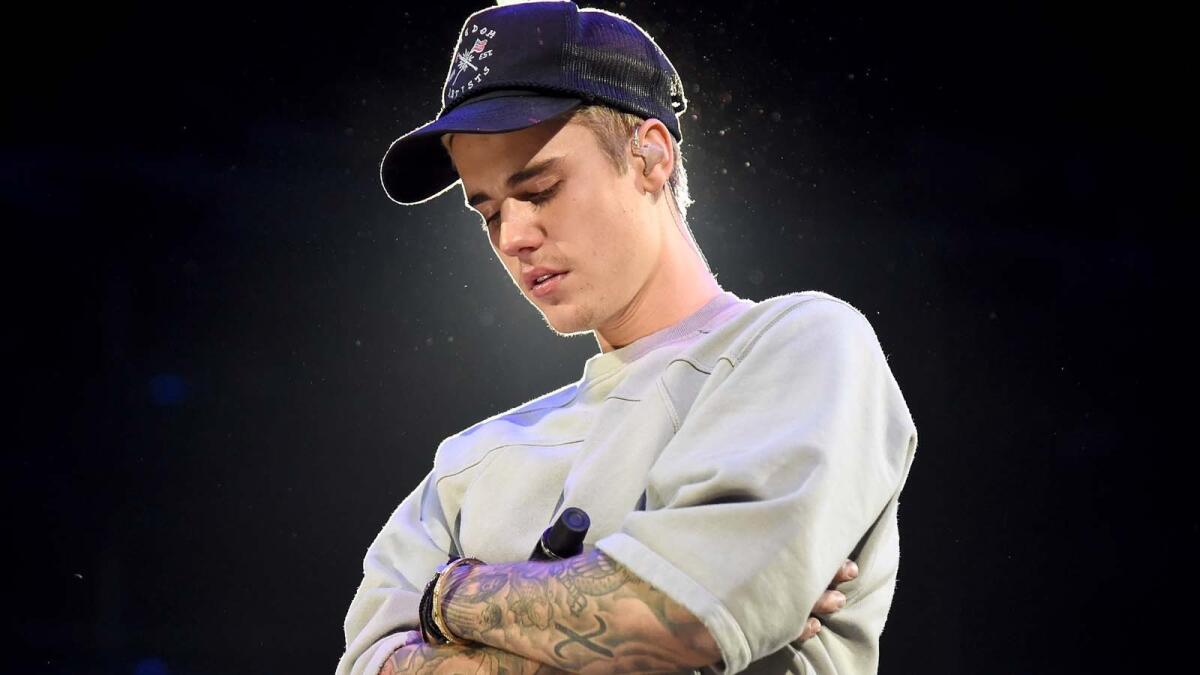 Was it a pop concert? A movie premiere? A skateboarding demonstration? "An Evening With Justin Bieber" embodied aspects of all three. But what the vaguely billed event at Staples Center felt most like was a church service.
Timed to coincide with the release of the 21-year-old singer's new album, "Purpose," Friday's show began with Bieber riding his board to a small stage positioned at the center of the arena's floor. Later, he did an acoustic performance of several new songs (along with some oldies), then presented the first public screening of a film in which each track from "Purpose" was set to a different dance piece.
SIGN UP for the free Essential Arts & Culture newsletter >>
Between the skateboarding and the singing, though, Bieber sat on a stool next to Judah Smith, the man described as his pastor, and more or less preached.
He talked about the importance of maintaining a positive spirit and surrounding himself with encouraging people. ("Amazing," Smith said.) He credited his connection with God for helping him to get back on his feet after a string of widely publicized tabloid troubles. And when a fan in the audience — one of a dozen or so selected by the singer's team for a question-and-answer session — asked if he had any advice on how to get through a romantic breakup, he demurred, flashing a bit of the humility that every religious leader knows is crucial in establishing a bond with one's flock.
"I'm not really good at relationship counseling," he admitted with a laugh. "I can't keep a relationship going."
Sober and stripped down, the display might have surprised anyone whose familiarity with Bieber ends at his early puppy-love hits or those cheerfully reported indiscretions (which included throwing eggs at a neighbor's home in Calabasas and criticizing former President Bill Clinton after urinating in a mop bucket).
But the presentation was firmly in keeping with the penitent tone of "Purpose," whose cover pictures a shirtless Bieber, head bent as though in prayer, with a cross painted on his rippled abdomen.
As transparent an image-rehab attempt as any in pop history, "Purpose" finds the singer apologizing for his supposed misdeeds — one song is literally called "Sorry" — and vowing earnestly to change his ways.
"God sent an angel to help you out," he tells himself in "Life Is Worth Living," a delicate and beautifully sung piano ballad. "He gave you direction, showed you how to read a map for the long journey ahead."
We've seen this before, of course, from any number of pop luminaries with lucrative reputations to protect. But with "Purpose" Bieber doesn't just alter his message; he's transformed his sound too. And what makes the album interesting — what gives it its valuable tension — is the dramatic boost of grit and texture rather than the need to bleach his music of impurity.
Working with electronic dance music heavyweights like Skrillex and Diplo — as well as his trusted songwriting partner, Poo Bear, who shared in the singer's 40 days in the desert — Bieber goes for throbbing, body-conscious beats in "Sorry" and "Company" and pushes his singing to newly breathy extremes even as he pleads in the title track for forgiveness for his sins.
It's a remarkable blend of piety and sensuality — and also occasionally of the petulance that once defined the established idea of Justin Bieber. In "I'll Show You," for instance, he's acknowledging that he's not perfect while angrily pointing out that perfection is an unreasonable demand.
"Don't forget that I'm human / Don't forget that I'm real," he sings, "Act like you know me / But you never will."
"Children" goes even further, with Bieber using a call to heal the world as an opportunity to brand himself "a visionary for change." If people don't think of this kid as human, perhaps songs like this are why.
Then again, showing he's mortal doesn't mean he wants to be seen as a regular guy.
Near the end of his performance at Staples, Bieber brought to the stage a fan to serenade during "One Less Lonely Girl." And though her reaction was typical of any encounter with a teen-pop star — hyperventilation seemed possible — he was strangely calm as he gazed into her eyes and touched her face.
More than the rituals of Bieber's old days, it looked like a laying on of hands.
Twitter: @mikaelwood
Get our L.A. Goes Out newsletter, with the week's best events, to help you explore and experience our city.
You may occasionally receive promotional content from the Los Angeles Times.