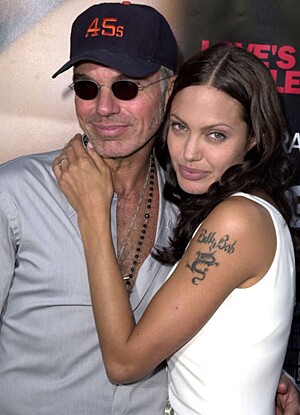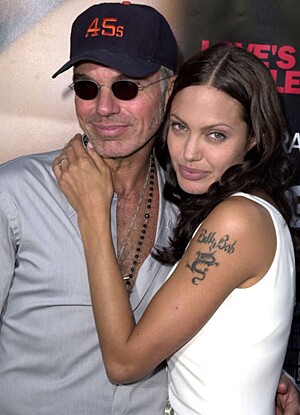 Despite caring for her brood of children, Angelina Jolie somehow found time to ink in the latitudinal and longitudinal coordinates for Nice, France, the birthplace of her and
Brad Pitt
's twin babies, Knox and Vivienne.
Their birthplaces are located right below the global coordinates for the birthplaces of Maddox, Shiloh, Zahara and Pax. But they also leave lots of arm space for more birth tatts to come.
This got us remembering back when her arm was originally decorated with just a Chinese dragon, which was later topped with "Billy Bob," the name of her second husband, actor
Billy Bob Thornton
. The unfortunate latter was unceremoniously removed after her swift divorce from Thornton. And the dragon was later lasered off to make room for babies.
Anyway, that got us thinking about how many celebs have tattoos. There are a lot.
But not just the ones you normally think of with very prominent ink, like Tommy Lee's full sleeves, Pink's eclectic collection,
Nicole Richie
's baby back wings, Eve's paw prints and
Diablo Cody
's pinup queen.
Turns out there are also stars who have more discreet ink.
Take a look at this Celebrity Ink Rink photo gallery and you may surprised by who has stars, flowers, crosses and angels hidden on their tummies, backs, wrists, necks and ankles.
(WireImage.com)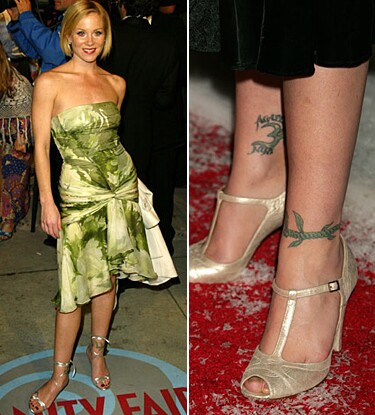 Who's counting?
Christina Applegate
has more tatts than meet the eye. Besides the little swallow visible on her right leg, she has reportedly added a vine on her left ankle, an apple below her bikini line, a lei on her right ankle and a seashell on her stomach. OK, that's enough!
(WireImage.com)
Countdown
Why did Frankie Muniz tattoo the word ZERO on his forearm? We may never know. And that's fine.
(WireImage.com)
Star maps
Christina Milian had small stars inked on her hip and a heart with a crown drawn at the small of her back. Is this her version of a Hollywood star map?
(WireImage.com)
More than meets the eye
Christina Ricci
is really, really tiny, but that hasn't put a damper on her huge tatt collection. You're looking at a small black bat (remember her in "The Addams Family"?) on her left hip that she later changed to praying hands. She also has a lion (Aslan from "Narnia") on her left shoulder, a fairy on her right wrist, a bouquet of sweet peas on her lower back, the charming phrase "Move or Bleed" on the left side of her ribcage, the name "Jack" on her right thigh (reportedly the name of a deceased pet), a sparrow on her right breast and a mermaid on her left ankle. But there may be more. Where, we have no clue.
(WireImage.com)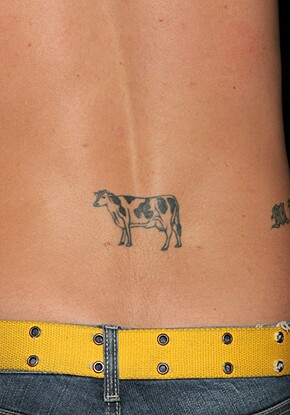 Milk money
Among others, who knew that Cisco Adler also has a small cow tattooed on his spine? Which is udderly ridiculous.
(WireImage.com)
Bug off
We knew that Courtney Peldon has two wings tattooed on her lower back, but it looks like something else landed on her stomach in 2002. Get the Raid!
(WireImage.com)
Ink is forever
Dean McDermott tattooed "Truly Madly Deeply Tori" on his wrist and then he got a black-and-white portrait of his wife,
Tori Spelling
, etched on his upper left arm. Don't ever get divorced, Dean. Unless you get a boatload of alimony and can afford the lengthy lasering session costs.
(WireImage.com)
Double word score
Tattoo sites say that
Michelle Pfeiffer
's sister Dedee got the names of her sons tattooed on her back. Good thing she stopped or she'd look like a Scrabble board. Rumor is she also has cupids kissing on her lower left cheek, but you didn't hear it from us.
(WireImage.com)
Tattoo views
Drew Barrymore
has a few tattoos (a belly butterfly, moon, stars and flowers on her hip bone). But these days the only guy we suspect who's seen more than this demure cross on her ankle are "
Gossip Girl
" star
Ed Westwick
. And Justin Long. And
Zach Braff
,
Spike Jonze
and Fabrizio Moretti. And Sam Rockwell. Don't forget
Tom Green
, Ed Norton, Jeremy Davis, Henry Thomas and
Luke Wilson
. Whew.
(WireImage.com)
Star quality
You might think that this small, almost imperceptible star on her wrist is the only tatt
Eva Longoria
has. You'd be wrong. She also has a Celtic cross on lower back, a flower sprouting from her right butt cheek. Before her divorce from Tony Parker, the "Desperate Housewives" actress had his initials inked in an unknown intimate location, his jersey number "NINE" on the back of her neck and her wedding date in roman numerals on the inside of her right wrist.... Shall we go on?
(WireImage.com)
Exit strategy
Former Spice Girl
Geri Halliwell
has a small black panther crawling down her lower back and a star shining on her upper back. Which most people don't even notice until she leaves the room.
(WireImage.com)
Lucky star
Supermodel Giselle Bundchen has a small star on her left wrist, which would be the last place a guy would look for one.
(WireImage.com)
It happened one night
Helen Mirren has a small South American Indian design -- a lakesh -- that means "equal but opposite," inked between the thumb and forefinger on her left hand. She's said she got it while inebriated with an Indian theater troupe in
Minnesota
. Oh, we'd love to hear more about that night.
(WireImage.com)
Hieroglyph
What on earth is that black smudge on Jennifer Esposito's back? Why, it's the Egyptian Eye of Horus, silly. Or that's what it was supposed to be.
(WireImage.com)
Wanna neck?
Jessica Alba
has a flower and ladybug on the back of her neck. Which kinda gives us the creepie-crawlies. But you can't see it unless she wears her hair up or short, as she did in 2005. But she also has the Sanskrit character for "lotus flower" on her wrist and a bow tattoo on the small of her back. Now you know.
(WireImage.com)
Low blow
That's reportedly a dove -- probably the dove of peace? -- tattooed just below
Jessica Biel
's bikini line. We just don't see it much anymore, ever since low-rise jeans went out of fashion. Darn it.
(WireImage.com)
Tattoo emergency
That ominous dark circle with irregular borders on
Jessica Lange
's left wrist is supposed to be a Celtic knot. What does it mean? It means one must be careful picking a tattoo artist or one may end up with something that looks like it needs immediate medical attention.
(WireImage.com)
Flashing tatts
Jonny Lee Miller may play clean-cut attorney Eli Stone. But he was
Angelina Jolie
's first hubby so no shock that he's got a few tatts: a Zodiac symbol on his hip, a mouse, handcuffs. He once showed off six of his tatts on
Ellen DeGeneres
' show and she donated seven grand to a breast cancer charity as payment. He has more and he told Ellen, "The rest you don't want to see." Oh, yes we do!
(WireImage.com)
Hitting the big time
Joy Bryant has a tattoo on her lower back. What is it? We don't know but it's really big and it must take a lot of waterproof makeup to cover that sucker up for films.
(WireImage.com)
Young and foolish
Kelly Ripa has a flower design on her ankle. What does it symbolize? "My youthful stupidity," she's said. She got it at 19 when she had two hours to kill. Hey, Kelly, they have lasers to remove these things now.
(WireImage.com)
Just for laughs
Is that a butterflies tattoo or a serious skin disorder on Lena Heady? The "Game of Thrones" actress also has a large lotus flower, other flowers and birds on her upper back and the word "Laughter" on the underside of her left wrist. Which is pretty funny.
(WireImage.com)
Inherit the ink
Lydia Hearst and her then-beau Cisco Adler got matching skeleton key tattoos in 2007. Doubtful she still has hers. But back in 2006, she showed off an earlier ink spot, carefully placed on her bikini line, at a Gap fashion event. Nothing screams "individuality" like tattoos, right, Mom?
(WireImage.com)
Back at ya
"Entourage" starlet Malin Ackerman has a big tattoo on her back that looks like some kind of Harley motorcycle logo. Funny we never noticed this honker tatt in her nude scene in "The Heartbreak Kid" when she did that crazy thing on
Ben Stiller
's back.
(WireImage.com)
A rose garden
Minnie Driver
doesn't usually flaunt her tattoos. But she does have one that's hard to miss; a hard-core bleeding heart 'n' dagger on her upper left arm. Hidden from sight is the rose tattooed on her butt. Maybe she should have done it the other way around.
(WireImage.com)
Look away!
Melissa Rivers has something tattooed on her back and we really don't want to look closely enough to see what it is. You look and let us know, OK? Euuuw.
(WireImage.com)
Wrong number
Penelope Cruz
got 883 tattooed on her leg while she was dating
Tom Cruise
, reportedly because of her strong belief in numerology. Just don't ask her about the meaning. She gets testy. "I don't think anyone cares. It's my own tattoo," she's told more than one nosy reporter.
(WireImage.com)
Ring toss
Portia de Rossi and partner
Ellen DeGeneres
exchanged rings and vows in 2008. But back in 2004, Portia got this initial-ring tattoo on her middle finger removed. The initials FG were for her former girlfriend. Nothing lasts forever, not even a commitment tattoo.
(WireImage.com)
Floral arrangements
Sarah Michelle Gellar
sprouts cherry blossoms and kanji characters on her left ankle. But you may find the Chinese symbol meaning "to trust" or "to believe" on her left hip, a Tao symbol for patience on the inside of her right ankle, and two purple dragonflies flitting on her lower back. Maybe. Lasers could also have worked their magic.
(WireImage.com)
Heart attack
Tom Arnold
used to have his wife Roseanne's mug tattooed on his chest. This gigantic star has got to be better than looking at Roseanne every morning in the mirror.
(WireImage.com)
Trust issues
Sienna Miller
's got three small stars on her right shoulder said to symbolize love, honor and trust. Excuse us while we chuckle about that, Little Miss Homewrecker! She also has the letter S on her lower back and small star on her lower right bikini line. You may have seen these in the topless photos of her snogging married actor Balthazaar Getty on a romantic Italian getaway. What was that middle one for?
(WireImage.com)
Short cuts
Victoria Beckham
had one star on her lower back in 2005. But supposedly she has a tattoo for each family member. We can see her husband's initials (DB) on the underside of her left wrist. And somewhere under all that hair there could be Hebrew script on her upper back that reads "I am my beloved's, my beloved is mine." We see that one more often now, thanks to her short pixie-cut do.
(WireImage.com)
UFO tattoo
Virginia
Madsen reportedly has three small ,discreet tattoos. One is right here on her upper left arm. We have no idea what this is. Can you make it out? Wonder if there's a good story behind this one. Hope so. Otherwise, it's kinda boring.
(WireImage.com)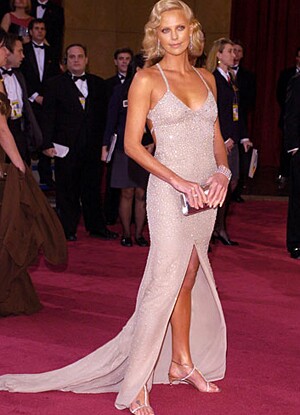 Flower child
Oscar-winning actress
Charlize Theron
has a small flower tattooed on her right foot. Although you can't see it in this photo, there's also a fish on the back of her right ankle. Why, we have no idea.
(WireImage.com)
Butterflies are free
Anne Heche
, a.k.a. Celestia, has a butterfly tattoo on her lower back. But it may not be real. Or it may be real only to Anne.
(WireImage.com)
Fairy tales
Amber Tamblyn
has a purple 'n' green fairy tattooed on her leg. Which may or may not have something to do with her pose at a Democratic fundraiser in 2004.
(WireImage.com)
Your message here
You can see
Alyssa Milano
's Sanskrit symbol on her neck in this photo from 2003. But she now has a tattooed chain with a cross on her shoulder, a fairy under her belly button, a sacred heart on her butt, an angel on her calf, and finally a a snake biting its own tail somewhere we won't mention. Wow. Busy lady
(WireImage.com)
Lucky charms
Alyson Hannigan
of "Buffy" Fame has Japanese characters for luck and happiness on her tailbone. Or does it translate to, "If you can read this, you're totally too close" ? She also has dolphins on her right ankle and a lucky turtle on her left foot just for good measure.
(WireImage.com)
Clean slate
Angelina Jolie
revealed the removal of her ex-husband's name, "Billy Bob," from her arm in 2004. She left her original Chinese dragon tatt but has now removed/covered it with the birth coordinates of her six kids She reportedly has about a dozen: the phrase Know Your Rights, a Buddhist good luck chant, an Arabic poem, the date of
Winston Churchill
's infamous "blood, toil" speech,
Tennessee Williams
' quote about the "wild at heart," a Latin phrase about death/nourishment, a big black cross, the letter M for her mom Marcheline, and a huge Bengal tiger. Angie's body's not a temple, it's a gosh-darn book!
(WireImage)
Map Quest
Angelina Jolie
showed off her newest baby-memento tattoos - the latitude/longitude of the Nice, France birthplace of twins Vivienne and Knox - at the "Changeling"
New York
premiere. They're right underneath Maddox, Shiloh, Zahara, and Pax's birth coordinates. Could have been worse. She could have chosen topographical maps.
(WireImage)
Young love
Kelsey Grammer has been married four times, but he's only now gotten his first tattoo. A tattoo, after all, is a big commitment. He now bears the first name of his fourth wife, in cursive, on his person. Permanently. Unless he pulls an Angelina Jolie. Grammer settled on having the ink on hs abdominal area, with more padding to offer the tattoo artist. So, the actor -- who appears to be in fine shape -- now has even more incentive to avoid putting on the pounds. But having a beautiful blond wife 27 years his junior probably provides more than enough incentive.
(Kirk McKoy / Los Angeles Times)