11 Images
Sci-fi fashion: The wardrobe is out of this world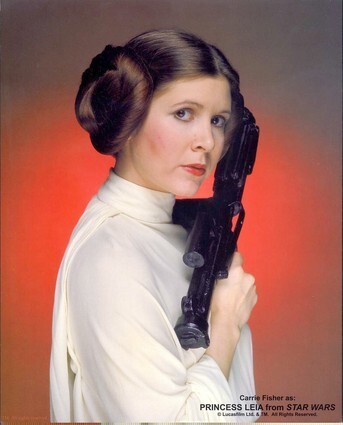 By Monica Corcoran, Los Angeles Times Staff Writer
Leave it to
George Lucas
to dictate style in space. On the first day of filming
"Star Wars"
-- as
Carrie Fisher
writes in her new book, "Wishful Drinking" -- the director told her that she couldn't wear a bra under her white Princess Leia dress because it would strangle her in zero gravity. Hmmm. No doubt, a little jiggle didn't hurt in a galaxy far, far away, either.
In fact, it would seem that undergarments have no place in most science fiction movies. Take a look at the costumes worn by the babes of the future, and you'll also notice that women get younger and sexier as the planet ages. Maybe it's that darn global warming that makes them dress so skimpily?
Still, underwear could be making a comeback. In the trailer for the upcoming
J.J. Abrams
"Star Trek"
movie, Uhura, played by Zoe Saldana, is shown stripping off her Starfleet uniform to reveal a white brassiere.
If the future proves one thing, it's that skintight unitards, shredded bikinis, stripper togs and snug tank tops never go out of style. Just look at the following sexy fashion themes from sci-fi.
--Additional comments by Stephanie Lysaght
(Lucasfilm)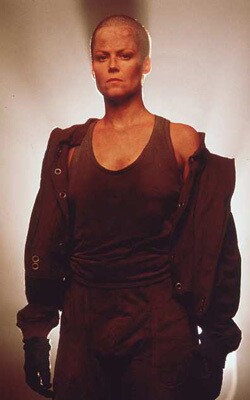 Stanley Kowalskis in space
Who needs Brando when buff actresses can fill a tank top and protect the planet?
Sigourney Weaver
, as Ellen Ripley in the climax of 1979's "Alien," put the sweaty wife-beater on the style map; she went on to wear variations of the male undershirt throughout the franchise (including above in "Alien 3"). Later,
Linda Hamilton
donned a snug white or black tank top for most of 1991's "Terminator 2: Judgment Day," and her much-ballyhooed, sinewy biceps drove women nationwide to buy barbells. Now, Katee Sackhoff as Starbuck on TV's "Battlestar Galactica" continues the tradition.
(20th Century Fox)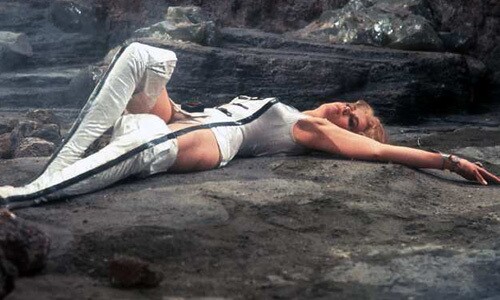 The stellar strumpet
Earth girls are easy, if their wardrobes are any indication. Set in 40,000 AD, 1968's "Barbarella" had
Jane Fonda
, above, as a nymph gallivanting through space in search of a scientist. Her tight get-ups were mostly plastic and accessorized with sexy boots and post-coital, ratty curls. Seventeen years later in "Mad Max Beyond Thunderdome," 45-year-old cougar from the future
Tina Turner
reprised the sci-floozy look in a scanty teal mesh mini-dress and matching gloves.
(Associated Press)
The ubiquitous unitard
It would make for a short striptease, but the body-hugging jumpsuit doesn't leave much to the imagination anyway. It has been spotted in countless sci-fi films, such as 1966's "Fantastic Voyage" or 1980's "Flash Gordon." And going boldly into spandex was a must for latter-day Starfleet hotties; even early variations of the uniform were typically one piece of clingy polyester. Trekkers, mark your calendars: The costume worn by voluptuous Jeri Ryan as Seven of Nine on "
Star Trek
: Voyager" is traveling the planet in the exhibition "Out of This World: Extraordinary Costumes From Film and Television" and arrives at the
California
Museum in
Sacramento
in October.
(Paramount Pictures)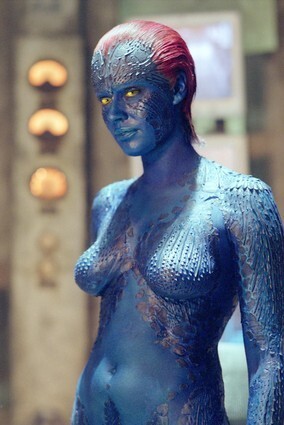 Alien-human hybrid hottie
Who needs those pesky clothes when you're a va-va-voom mutant or alien? Rebecca Romijn spent eight to nine hours in makeup every day to play a grown-up Smurf with curves, known as Mystique, in the "X-Men" films; the costume was, in essence, lots of blue paint and about 100 strategically placed prosthetic silicone pieces. Not to be outdone, Natasha Henstridge had a nasty alter ego known as Sil, a buxom alien in 1995's "Species," and her pinup alien anatomy was designed by none other than Swiss Surrealist H.R. Giger.
(20th Century Fox)
Cosmic and cavewoman bikinis
It's a law of the universe: Clothes with black holes show more skin. The image of
Raquel Welch
in a teensy fur bikini in 1966's "One Million Years B.C." launched a look that traveled well into the future. Two years later, Linda Harrison as Nova in "Planet of the Apes" donned the same shredded two-piece, even though the film was set centuries later. And Princess Leia's metallic bikini, worn after she was captured by Jabba the Hutt in 1983's "Star Wars Episode VI: Return of the Jedi," even has its own Internet altar of homage: www.leiasmetalbikini.com.
(Twentieth Century Fox)
The unitard perseveres
Is there any list of hotties that does not include Jessica Alba? The curvaceous actress played Sue Storm in 2005's "The Silver Surfer."
Although Storm spent some of her time being invisible in "The Silver Surfer," she more than made up for it when she was visible, by donning this snug blue jumpsuit and leather gloves.
(Diyah Pera / Twentieth Century Fox)
Ace bandages are more versatile than you think
In 1997's "The Fifth Element," supermodel Milla Jovovich's Leeloo costume was nothing if not distracting. How could viewers be expected to focus on Mr. Zorg's evil antics with Jovovich vamping around in an orange wig?
(Jack English / Columbia Pictures)
Those come-hither cinnabuns
She may not wear a latex body suit, but Princess Leia Organa is still the hottest babe ever to emerge from the science fiction genre. Leia debuted her white, shapeless shift and iconic cinnabun hairdo in "Star Wars" back in 1977, and women still dress up like her today, more than 30 years later!
Carrie Fisher, who played Princess Leia in "Star Wars," addressed the infamous costume in her recent memoir. She even discussed what she wore under that infamous white dress. Nothing.
"George came up to me the first day of filming, took one look at the dress and said: 'You can't wear a bra under that dress.'" Writes Fisher. "'OK, I'll bite,' I said. 'Why?' And he said: 'Because ... there's no underwear in space.'"
(Lucasfilm Ltd.)
Garden of Zhora
Well, it's certainly "a look." Zhora, Joanna Cassidy's character in 1982's "Blade Runner," looks very Garden of Eden here, thanks to a lack of clothing and the snake around her neck. And as I always say, if you can pull off glittery boils, you can pull off anything.
(Warner Bros. Pictures)