7 Images
Kevin Smith and Judd Apatow: Who influenced whom?
Kevin Smith
By Patrick Kevin Day and Jevon Phillips
Forget the philosophical question of which came first, the chicken or the egg. For movie geeks, the great point of debate this fall may be when it comes to filmmakers Kevin Smith and Judd Apatow, who influenced whom?
Simple chronology shows us that as a major filmmaking force, Smith was on the scene first with his breakout movie, "Clerks," in 1994. And Apatow has stated that Smith's work did influence him. But Apatow has been credited with influencing a whole generation of screen comedy, and Smith's latest work, "Zack and Miri Make a Porno," shares some themes and actors with Apatow's own filmography.
A side-by-side comparison gives us some surprising results.
(Carlo Allegri / Associated Press)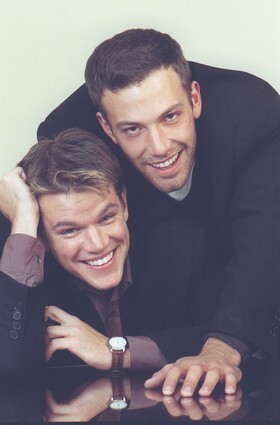 Kevin Smith
King-maker
Smith was first.
Before Judd Apatow took Seth Rogen from ensemble TV player to box office star and then on to cameo-worthy status, Kevin Smith had already run his good buddy Ben Affleck through the gambit. The unknown Affleck, right, seen here with Matt Damon, had a minor role in Smith's 1995 comedy "Mallrats" and followed it up with a starring role in his next movie, "Chasing Amy." Then, thanks to another movie called "Good Will Hunting," Affleck achieved the star power to be a bona fide cameo-worthy star. His appearance as himself in "Jay and Silent Bob Strike Back" and his cameo in "Clerks II" were years ahead of Seth Rogen's post-"Knocked Up" appearances in further Apatow productions.
(Mitsu Yasukawa / For The Times)
Judd Apatow
Gratuitous male nudity
Apatow was first.
Smith's new film, "
Zack and Miri Make a Porno
," features a full-frontal flash by longtime Smith pal Jason Mewes, but he's merely following in the unclothed footsteps of longtime Apatow pal
Jason Segel
, who thrilled (and horrified) audiences earlier this year with his full-frontal debut in "
Forgetting Sarah Marshall
."
(Glen Wilson / Universal Pictures)
Freaks and Geeks
Created a cool, nerdy TV show
Apatow was first.
Kevin Smith
did come up with the short-lived "Clerks" show and has even been the executive producer of the CW's currently likeable "Reaper," but Apatow was a tiny bit ahead, and he made a much larger impression with 1999's "Freaks and Geeks." With the antsy John Daley and Linda Cardellini, Apatow's show was appreciated while it was on the air and revered when it was cut short.
(Kurt Iswarienko)
Kevin Smith
Stoners as action stars
Smith was first.
Long before
Seth Rogen
and
James Franco
combined pot smoking and shoot 'em ups, Smith was mythologizing the life of the stoner on-screen with the adventures of Bluntman and Chronic, the costumed alter-egos of the pot-smoking drug dealers Jay and Silent Bob. Their first appearance was in the 1995 comedy "Mallrats," but they made subsequent appearances in "Chasing Amy" and "Jay and Silent Bob Strike Back."
(Tracy Bennett / Dimension Films)
Knocked Up
Porn for profit
Apatow was (probably) first
We're sure that somewhere along the way Jay and Silent Bob thought to do porn for profit, and "Zack and Miri" is all about it, but we'll give it to Apatow on a technicality.
In "Knocked Up," Ben (
Seth Rogen
) and his slacker friends [from left, Jodi (Charlyne Yi), Martin (Martin Starr) and Jonah (Jonah Hill)] want to make a website chronicling flashes of flesh and nude scenes in movies. It's pretty tame for porn, but putting naked pictures online should count.
(Suzanne Hanover / Universal Studios)
Craig Robinson
Craig Robinson
Apatow was first.
True, the producers of "The Office" discovered the skills of the actor and stand-up comedian first, but it was Apatow who brought him up to the big screen for his bit part as a tortured nightclub door man in "Knocked Up." Smith quickly picked up on his abilities and cast him as
Seth Rogen
's unhappily married co-worker in "Zack and Miri." Robinson, clearly knowing a good thing when he sees it, hasn't yet expressed a preference between the two.
(Jewel Samad / AFP/Getty Images)