11 Images
Pop music's ultimate Top-10
Miley Cyrus
By Randy Lewis, Los Angeles Times Staff Writer
As the traditional record business continues to unravel, musicians who are trying to keep lucrative careers alive don't seem to be worrying about whether the glass is half full or half empty. Instead, they're finding as many glasses as possible and putting a little something in each.
So, this year, for the 11th edition of Calendar's annual Ultimate Top 10, which previously has combined performers' North American concert tour revenue as measured by Pollstar with U.S. album sales as tallied by Nielsen SoundScan, we're also including money generated from sales of digital tracks through iTunes and other online vendors to give a fuller picture of which pop acts generated the most money during 2007.
(Associated Press)
The Police
1. The Police ($140.7 million).
The only surprise about the Police reunion tour was that it happened at all, given the acrimony among the members that led them to disband in the '80s.
But once it was a reality, it defied even concert-industry experts' expectations. The North American tour pulled in $131.9 million at the box office, according to Pollstar, while worldwide revenues hit an eye-popping $212 million, according to Billboard.
Add to that $8.8 million in U.S. album sales (using $13 as the average price of a CD), much of it undoubtedly from excited concert-goers. The average ticket price of $111.99 also helped ratchet up the total take, but it wasn't by far the most expensive face value show of the year.
(Kevork Djansezian / AP)
Josh Groban
2. Josh Groban ($105.9 million).
Maybe 2007 wasn't the year of Josh Groban -- there were too many other things going on, including
Radiohead's pay-what-you-will Internet release of "In Rainbows
" and the continued slide of rap music album sales, which fell 30% for the year, compared with the drop of 15% for the industry overall.
But the wildfire response to his "Noël" holiday album, spurred by multiple appearances on Oprah Winfrey's talk show, turned it into the year's biggest hit and generated $62.9 million in album sales. Added to the $43 million he took in on tour, he has vaulted into the top ranks of pop performers. Average ticket price: $77.07.
(EPA)
Justin Timberlake:
3. Justin Timberlake ($96.8 million).
The "SexyBack" man raked in $70.6 million on tour in North America during the year, to which he added $20.8 million from album sales. Worldwide, Billboard put his concert take at $126.8 million.
Timberlake is the first artist to benefit in the Ultimate Top 10 ranking from digital sales, which added $5.4 million to his total. That pushed him up three slots from where he would have finished if only tour and album revenues were counted. All in all, 2007 cemented the former 'N Sync singer's grown-up power as a full-fledged grown-up pop star. Average ticket: $77.57.
(Dave Hogan / Getty Images)
Kenny Chesney
4. Kenny Chesney ($94.8 million).
Year in and year out Chesney has proved himself a reliable road warrior, and 2007 was no exception. He pulled in $71.1 million on tour -- all of it in North America; country music is a genre that doesn't typically translate into big numbers overseas.
He also notched $23.4 million in album sales, and $300,000 in digital tracks, another arena that hasn't been huge for country artists. Average ticket: $62.62.
(Jason DeCrow / AP)
Tim McGraw/Faith Hill
5. Tim McGraw/Faith Hill ($92.9 million).
The husband-wife team's Top 5 finish in the Ultimate Top 10 might warrant an asterisk, since their combined Soul to Soul II tour, which generated $52.3 million at the box office, allows them to add in each star's individual album sales. That increased their total by $39.9 million.
McGraw also posted nearly $700,000 in digital sales of his two big 2007 singles. Average ticket: $90.51.
(Associated Press)
Hannah Montana
6. Hannah Montana/Miley Cyrus ($86.6 million).
On the hottest tour of the year, the Disney Channel character and its star pulled in $36 million. They sold $50 million worth of the double-disc soundtrack album that also served as Cyrus' solo debut and posted $550,000 in digital track sales.
The average ticket price of $54.16 was the lowest in the Ultimate Top 10, but that's just a fraction of the real-world prices commanded after hysterical demand from young fans and their distraught parents pushed resale prices into the thousands.
(Lori Shepler / Los Angeles Times)
Rascal Flatts
7. Rascal Flatts ($83.7 million).
The squeaky-clean country trio pulled off the trickiest balancing act of the year, its combined take almost evenly split between concert revenue ($41.5 million) and album sales ($40.7 million). Plus, the youth-minded group added $1.5 million in digital track sales, positioning it promisingly for whatever the music business' uncertain future may bring. Average ticket: $58.21.
(Ethan Miller / Getty Images)
Celine Dion
8. Celine Dion ($75.7 million
).
The Canadian diva drew $65.3 million from her final year of performances at the Colosseum at Caesars Palace in Las Vegas, and $10.4 million in album sales. Now that she's going back to touring the old-fashioned way, moving from town to town and venue to venue, it's unlikely she'll still be able to command her Ultimate Top 10 high ticket average of $141.26.
(Isaac Brekken / AP)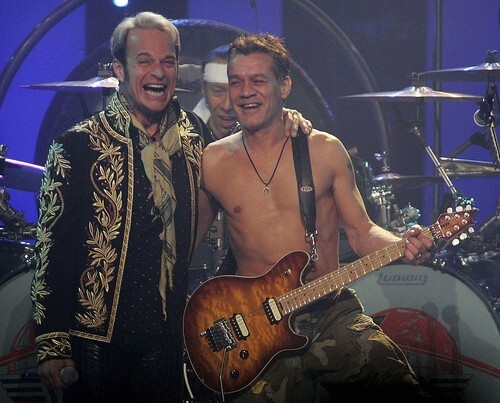 Van Halen
9. Van Halen ($62.6 million).
Even more than the Police, this was the reunion tour that pop fans least expected to last beyond opening night. But David Lee Roth and Eddie Van Halen kept the old wounds at bay long enough to gross $56.7 million on the concert trail. They were further rewarded with $5.9 million worth of catalog album sales. Average ticket: $111.56.
(Rick Scuteri / AP)
Bon Jovi
10. Bon Jovi ($59.6 million).
Last year's ballyhooed reunion of Bruce Springsteen with the E Street Band wasn't even the top New Jersey rock band tour of 2007.
Jon Bon Jovi and his mates posted $41.4 million on tour, $17.8 million in album sales mostly from its recent "Lost Highway" collection, and about $350,000 in digital track sales. Average ticket price: $109.14.
(AFP/Getty Images)