Walton Goggins talks 'Django Unchained,' 'Justified'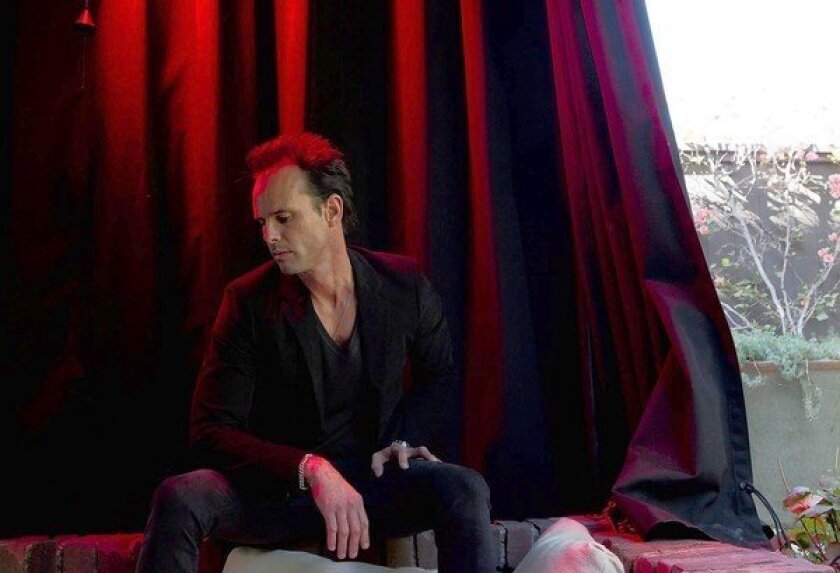 Alabama-born Walton Goggins is best known for playing corrupt cop Shane Vendrell on "The Shield" and born-again ex-con Boyd Crowder on "Justified," which earned him an Emmy nomination; the crime drama returns for its fourth season Jan. 8. But Goggins also dispelled any preconceptions about his limits as an actor this year with divergent roles in the films "Django Unchained" and "Lincoln" as well as a recent guest spot on "Sons of Anarchy."
Did you get acting whiplash playing these wildly different roles, from crazed killer to transgender hooker?
I've been around for so long, and this opportunity came up and then this opportunity came up and then Venus came up. I feel like I'm in the place that I always wanted to be. I have ideas about the career that I would like to have, but when I say that, in some ways, I'm already having it.
REVIEW: 'Django Unchained' by Betsy Sharkey
Which is eclectic?
Yeah. Some of the people with careers that I would like to have are Sam Rockwell and Chris Cooper and Ed Harris and Tommy Lee [Jones] and Bob Duvall. You look at what these people have contributed to this art form, and they've done it in a way that's iconic.
In "Django Unchained" that torture scene with Jamie Foxx, where he's hanging upside down, looked tricky to film. Was it?
Emotionally it was very tricky to film, but just in the physical requirements, having to hang upside down for any period of time. And it's tough to photograph that. And [writer-director] Quentin [Tarantino] was our leader. Because he was so supportive and all the actors were so supportive of each other, it really allowed each of us to go way out on a limb and if it broke, know that one of the other people were going to catch us.
How long did it take to film that? How long can you hang upside down?
Not for very long. Not without a fair amount of Advil, or an Advil drip. It took us five days to do it.
So right after filming "Django," you went into your guest spot on "Sons of Anarchy" as the transgender Venus Van Dam?
Literally four days later. Two days later, flying back on a Wednesday, Friday was at the wig store, Saturday was getting a mani-pedi, Sunday shaved my whole body, Monday we did the test, and we shot on Tuesday. To trade cowboy boots for high heels was a different worldview, for sure.
What kind of response did you get?
People were shocked. We went to great lengths to keep it a secret. We took no credit and did no advertising. We really wanted people to do a double-take and not bring their experiences of me in other roles to it, but to say, "Oh, my God, wow, oh, my God!
Will Venus come back?
I don't think we've seen the last of Venus. I think you're going to see her again, and we're talking about it now, how that will go down.
You're known for playing characters who are fearless, like Boyd and Shane and even Venus, and in "Lincoln" you play a congressman who calls himself a coward. In a way, that's just as much of a departure from your earlier roles as Venus was.
I felt that way. I, Walton, am a pretty vulnerable person. I think I have both sides to me. At times in my life, I have been a coward and I have been afraid. "Coward" is such a negative word, and I think people are sometimes fearful and it takes an extraordinary amount of courage to overcome those things. For me, getting to play Clay [Hutchins in "Lincoln"] in that way, who in the face of having his life threatened makes the right decision is something I'm so proud of. It felt like the ultimate history class, yet I was in it.
What's coming up for Boyd on the new season of "Justified"?
A whole lot of love is coming this season and a fair amount of acrimony with Mr. Givens, with Raylan [the deputy U.S. marshal played by Timothy Olyphant]. We might have a split that we can't come back from.
What was your contribution to Boyd's evolution?
It's been a real collaboration from the very beginning. Now I feel a kind of ownership over him, because I have so much invested in him and it's not just a job for me. It really is like an extension of my creative self.
You helped him evolve from a white supremacist stereotype to something more layered.
In the beginning, I said, "I'm not going to play a racist," and it was just for the pilot. I don't think that's who this guy is, and I'm going to encourage us to take him in the direction of making him smart and well read, a man who's self-taught and a lover of words. He was a messenger without a message, and he just needed people to follow him.
So when crime writer Elmore Leonard, whose work inspired the show, said of your character, "There's never been a more poetic bad guy on television in the way he sees the world," he wasn't talking about his conception of Boyd, he was talking about yours and the producers'?
Can I get a T-shirt made with that? My face is as red as the bougainvillea growing on the fence. I look for how a character can evolve over time, where are they starting from, and Boyd starts from a real deep place of pain. He's a wounded guy, and he vacillates between extremes. And I think his journey will be one of equilibrium.
Was he inspired by anyone you actually knew growing up in the South?
He's an amalgamation of a lot of people I met in the South, yeah. And then probably some of my own insecurities. I'm a lover of words. I left college to move to Los Angeles when I was 19 years old, and I for the longest time regretted that decision. I regretted being a part of conversations where people were making references to literature that I hadn't had the luxury to read because I was hustling when I got here. And I longed for that sustained period of reflection and curious exploration that a young person can have during college.
So I set out to expose myself to as many things as I possibly could, from religion to authors to art to music. I wanted to participate in a real way and have a real opinion and know what people were talking about. And that's somebody I've always wanted to play. I wanted to play a guy who was able to articulate his self-taught experience, and I was given that opportunity with Boyd.
Now that you have a 2-year-old, is that going to clip your wings?
Oh, no. It's the wind beneath them. In maybe three years, hopefully, maybe [when he's] 6 or 7 — I'm not that educated on when you can begin scuba diving — he'll have his license and we'll be on the road as much as we possibly can for summer and winter. We'll just go wherever the journey takes us.
PHOTOS AND MORE
VIDEO: The making of 'Argo,' 'Les Miz' and more
VIDEO: Holiday movies - A video guide
PHOTOS: NC-17 movies: Ratings explained
---
Your essential guide to the arts in L.A.
Get Carolina A. Miranda's weekly newsletter for what's happening, plus openings, critics' picks and more.
You may occasionally receive promotional content from the Los Angeles Times.