13 Images
'Space Odyssey' and the greats '68
By Susan King, Los Angeles Times Staff Writer
The Academy of Motion Picture Arts and Sciences held a 40th anniversary party Friday night to honor Stanley Kubrick's seminal sci-fi epic "2001: A Space Odyssey." Tom Hanks, whose career and interests were shaped by the film, hosted the evening. Star Keir Dullea and special-effects whiz Douglas Trumbull were also on hand after the screening to talk about the film.
Although it's considered a true masterwork, "2001: A Space Odyssey" wasn't nominated for a best film Oscar. The Academy Award for best film that year went to the lumpy musical "Oliver!" That's all the more surprising when you consider the bumper crop of outstanding films from which to choose. To mark the anniversary, we take a look at "2001" as well as other films that arrived in theaters in 1968:
()
"2001: A Space Odyssey"
Audiences had never seen anything quite like "2001." And even 40 years later, its then cutting-edge, Oscar-winning special effects, sparse script, Geoffrey Unsworth's brilliant 70-millimeter cinematography and that six-track stereo sound still pack a wallop. Kubrick deals with the themes of evolution, technology and artificial intelligence in the complex, cerebral drama. Because there is so little dialogue, the film's music plays a crucial role in the film. Originally, Kubrick had hired Alex North, who penned the music to "Spartacus," to write the score. But Kubrick ended up going with classical tunes, including Richard Strauss' "Also sprach Zarathustra." Surreal and enigmatic, the film is considered by many to be one of the most influential and best films ever made. Dullea and Gary Lockwood star.
(Beitia Archives)
"Rosemary's Baby"
Though it was condemned by the Catholic Church, audiences flocked to see Roman Polanski's terrifying -- and influential -- adaptation of Ira Levin's bestseller about a young woman (Mia Farrow) who discovers that the baby she's carrying is quite literally a little devil. Farrow, who had appeared on TV in "Petyon Place" and a few movies, really came into her own with her performance as Rosemary Woodhouse, a young woman who moves into a funky apartment in New York -- it's actually the Dakota Building -- with her struggling-actor husband (John Cassavetes). Unbeknown to her, her eccentric elderly neighbors, including Minnie (Ruth Gordon in her Oscar-winning turn) and Roman Castevet (Sidney Blackmer), are actually witches and warlocks who have devised a plan to have Rosemary bring the antichrist into the world.
Horrormeister William Castle, who directed such grade B horror films as "House on Haunted Hill," had bought the rights to "Rosemary" while it was still in galley form. He hoped that "Rosemary" would be his first adult horror film. He brought in Paramount to be his partner on the project, but the studio was hot on the young Polish director Polanski. So Castle ended up being the producer.
The film was also considered a curse. Farrow was served with divorce papers from her first husband, Frank Sinatra, during production. Castle suffered from gallstones after filming ended and had to have surgery. The film's composer, Krzysztof Komeda, died shortly afterward from an accidental fall. And then Polanski's wife, Sharon Tate, and their unborn son were murdered by Charles Manson and his follower at their Benedict Canyon home.
()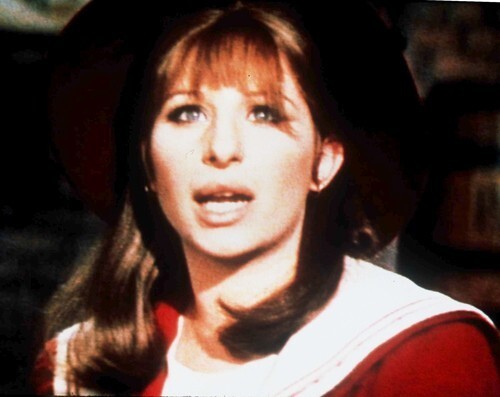 "Funny Girl"
Barbra Streisand was an award-winning, bestselling recording artist; her TV specials had captured Emmys and the hearts of critics and audiences; and she was a superstar thanks to her turn as Fanny Brice in Broadway's "Funny Girl." Then she got to make her mark in films in this lavish, old-fashioned adaptation for which she won the Academy Award for best actress (she tied with Katharine Hepburn, in "The Lion in Winter," for the honor). William Wyler directed the musical drama, which chronicled Brice's early years, her marriage to gambler Nick Arnstein (Omar Sharif) and her years as one of the stars of the Ziegfeld Follies. Herbert Ross, who went on to direct films, including the ill-conceived 1975 sequel, "Funny Lady," staged the musical numbers. Streisand, who was married to Elliott Gould at the time, had an affair with Sharif during the production, and their scenes together just sizzle.
(Columbia Pictures)
"The Lion in Winter"
Anthony Harvey became the first director to win the Directors Guild of America's top award who didn't go on to win the Oscar for best director. The academy bestowed the Oscar to Carol Reed for "Olivier!," which in retrospect was one of his weakest films.
Harvey, though, did a spectacular job with this tart, sophisticated historical drama penned by James Goldman, starring Peter O'Toole as the aging Henry II (a role he first played in 1964's "Becket") who reunites with his estranged wife, Eleanor of Aquitaine (Hepburn), on Christmas to pick an heir to the throne. And what a group of ninnies they have for sons -- Richard the Lion-Hearted (Anthony Hopkins in his first film), Prince Geoffrey (John Castle) and Prince John (Nigel Terry). The film is remarkably free of the pomp and circumstance typically seen in such period pieces. The castles are dirty and dank. The royals eat like pigs and are far less clean than boars.
(Unknown Photographer, xx)
"Bullitt"
The granddaddy of all contemporary detective films is just as fresh and enjoyable as when it was first released. Steve McQueen, who was the king of cool, is at his iconic best as Frank Bullitt, a savvy San Francisco police detective who drives a groovy Mustang. Bullitt finds more than he bargained for when the witness he's assigned to protect is killed by mobsters. Among the film's iconic moments are the roller-coaster exciting car chase sequence on hilly streets in San Francisco and Bullitt chasing down a bad guy on a runway at SFO. Directed by Peter Yates, "Bullitt" was the first film to use the lightweight Arriflex cameras.
()
"The Producers"
Though director Mel Brooks won an Oscar and Writers Guild of America Award for his riotous screenplay and Gene Wilder earned an Oscar nomination for supporting actor, this seminal comedy wasn't a hit when it was released. In fact, Embassy, the company releasing the film, thought it was in bad taste and didn't want it in theaters. Peter Sellers, though, saw it privately and put an ad in Variety to support the film. Embassy caved in and released it sparely. Politically incorrect and laugh-out-loud funny, the film centers on two New York theatrical "producers" -- Max Bialystock (Zero Mostel) and his timid account, Leo Bloom (Wilder), who attempt to get rich by having investors put money into a Broadway show, "Springtime for Hitler," that is guaranteed to flop. Their investors? Old widows who are romanced by Bialystock. The big problem is that the show becomes an overnight sensation -- but there's no way to repay everyone. More than 30 years later, Brooks turned "The Producers" into the Broadway musical that ended up breaking the record for the most Tony Awards. The play's stars Nathan Lane and Matthew Broderick reprised their roles in the disappointing 2005 film version.
(Embassy Pictures Corp.)
"Planet of the Apes"
Remarkably fun, entertaining sci-fi adventure based on the Pierre Boulle novel about three astronauts who crash land on a planet where apes rule and humans are treated like animals. Charlton Heston gives one of his best performances -- and did his first nude scene -- as Taylor, the fiesty astronaut who famously tells his captors, "Take your stinking paws off of me, you damn dirty apes." John Chambers created the state-of-the-art makeup for the actors who played the apes, including Roddy McDowall, Kim Hunter and Maurice Evans. Jerry Goldsmith penned the evocative score, and Franklin Schaffner provided the near flawless direction. And, of course, the final scene is one of the most memorable put on screen. "Apes" spawned four sequels, a live-action TV series, an animated series and the dreadful 2001 remake by Tim Burton.
(20th Century Fox)
"Petulia"
Richard Lester was best known for his directing of the Beatles musical comedy classics: 1964's "A Hard Day's Night" and 1965's "Help!" And he finally got to show his range as a filmmaker with this lovely romantic drama set in San Francisco at the height of the Haight-Ashbury era -- even Big Brother and the Holding Company with lead singer
Janis Joplin
is featured in one scene.
George C. Scott
gives one of his more delicate performances as Archie, a physician who is in the throes of a divorce. At a charity event, he meets the quirky, beautiful socialite Petulia (
Julie Christie
), who is married to a handsome, abusive young man (
Richard Chamberlain
). Archie and Petulia -- two totally mismatched people -- find a fleeting love and happiness.
()
"Faces"
The year of 1968 was a big one for
John Cassavetes
. Not only did he play Farrow's husband in "Rosemary's Baby," he scored a critical hit with this searing indie film. Though Cassavetes had directed a few films before "Faces," this intimate drama put him on the international map as a filmmaker and created his reputation as a founding father of the independent film movement. The film explores the dissolution of a 14-year marriage of an aging, childless couple: Maria (Lynn Carlin, in her Oscar-nominated turn) and Richard (John Marley). Cassavetes' wife,
Gena Rowlands
, plays a high-class prostitute, and Seymour Cassel received an Oscar nomination for his performance as the laid-back Chet whom Maria meets at a disco. Cassavetes, who was nominated for an Oscar for his screenplay, shot the film at his own home and at his mother-in-law's. Though the film has influenced many directors, including
Martin Scorsese
and
Sean Penn
, not all critics raved about it.
Pauline Kael
said: "There are scenes in 'Faces' so dumb, so crudely conceived and so badly performed that the audience practically burns incense."
()
"The Party"
Writer-director
Blake Edwards
and
Peter Sellers
made beautiful belly laughs together when they first teamed for 1963's slapstick delight "The Pink Panther," in which Sellers plays the inept, accident-prone Parisian Detective Inspector Jacques Clouseau. Edwards and Sellers went on to make several "Panther" movies together, including the 1964 masterpiece "A Shot in the Dark." But in 1968, the two collaborated on their only non-Clouseau film, a rib-tickling farce that recalls the old silent movie comedies. Sellers plays Hrundi B. Bakshi, a clumsy Indian actor who turns a swank Hollywood party into a disaster of epic comedy proportions. Though some critics thought his Bakshi bordered on caricature, the majority of movie reviewers embraced this exercise in sight gag and silly jokes.
()
"Romeo and Juliet"
Leave it to Italian director
Franco Zeffirelli
to turn Shakespeare into a hot commodity. Until his lush, erotic version of the Bard's tragedy, the best-known adaptation of "R&J" was the 1936 version starring thirtysomething
Norma Shearer
and fortysomething
Leslie Howard
as the ill-fated teen lovers. But in this version, Zeffirelli cast honest-to-god teenagers -- Olivia Hussey and Leonard Whiting -- in the title roles. Though not the greatest thespians, they were breathtakingly beautiful and even,
egads!
, naked in one scene. Needless to say, tweens and teens flocked to the film. The Nino Rota score became an overnight sensation and was the fourth-bestselling album of the year. And Henry Mancini also scored with his single version of the theme song. The film was nominated for several
Oscars
, including best film and director. At a recent 40th anniversary screening in San Francisco, the audience went wild. And Hussey, who was in attendance, told the crowd that she gets e-mails from 12-year-olds who love the film. "Even today, the film still appeals," she said. "To see the way young people react to it is inspiring."
()
"Wild in the Streets"
James Dean
look-alike Christopher Jones creates quite a splash in this American International Pictures' cult flick based on a short story by Robert Thom, who also wrote the screenplay. Barry Shear directed this tale of a singer and revolutionary, Max Frost (Jones), who lives with his band and their groupies in a big mansion in Los Angeles. Frost causes quite a commotion when he's asked to perform at a televised political rally by a Senate candidate (Hal Holbrook), who is trying to get the voting age knocked down to 18. But at the rally, Frost declares that the voting age should be lowered to 14! Soon protests by youths break out all over the country. Holbrook's candidate and Frost meet and agree the voting age should be 15. Holbrook wins by a landslide. Through a series of clever plot devices, Frost becomes president of the United States, reduces the retirement age to 30 and forces anyone 35 and older to be rounded up and sent to "re-education" camps, where they are given LSD.
Shelley Winters
,
Richard Pryor
and Diane Varsi star; Barry Williams, who went on to appear as Greg in "The Brady Bunch," plays the young Max Frost.
()