'Greatest Showman' songwriters Benj Pasek and Justin Paul look back at their first Oscar victory, one year ago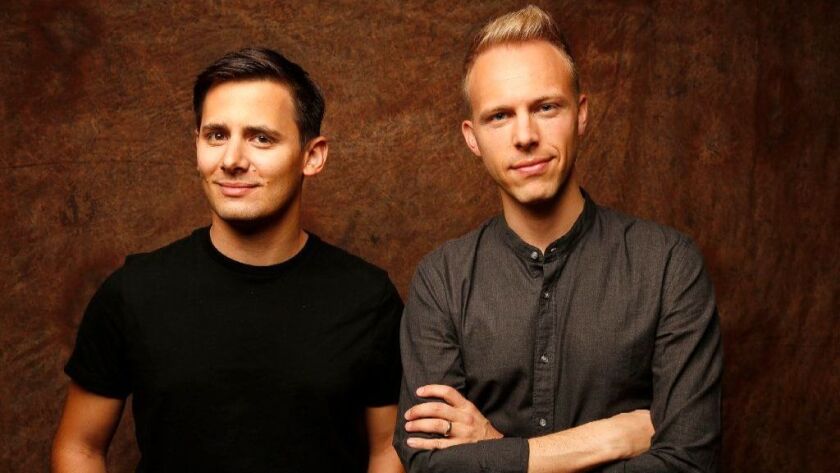 Benj Pasek and Justin Paul are on the roll of rolls.
The last year-plus has played like one extended — toe-tapping — fever dream in which they "G-O-T" three-fourths of "EGOT."
The lyrics they wrote for Justin Hurwitz's music in "La La Land" scored them the 2017 Oscar (for the original song "City of Stars"); their Broadway musical, "Dear Evan Hansen," won them the Tony; its cast album earned the Grammy. And watch out: Their 2012 "A Christmas Story" musical got a live-television reworking in December.
Meanwhile, their current big-screen effort, "The Greatest Showman," has become a word-of-mouth sensation and the highest-grossing original live-action musical in North American box office history. The film it unseated? "La La Land."
Now Pasek and Paul are on their way back to the Dolby Theatre for their second consecutive original song nomination, for "Showman" showstopper "This Is Me" (which became an unofficial anthem of the 2018 Winter Olympics).
They chatted with The Times about what they learned from their first trip to the Oscars.
You were nominated and won last year. What was it like attending for the first time?
Benj Pasek: It was a really overwhelming, incredible experience. Being in the room with all these people who have influenced you your entire life; it's incredible. You kind of can't believe it's happening. You're looking to your left and you're seeing the people who made the films that got you into the game in the first place. Or the people who created the art you try to emulate.
It was our first rodeo. People were like, "Have you been to the Academy Awards before?" and we were like, "Noooo."' There was so much stimulus — we didn't know what to take in, what not to take in, because it was all coming at you so quickly, such a rush.
One of the best parts about last year was that the music branch had a dinner for all the nominees. Lin-Manuel Miranda, who we know from the Broadway community [was there]. Justin Timberlake was there. Quincy Jones was kind of hanging out.
Justin Paul: J. Ralph was there.
Pasek: ["Moonlight" composer] Nicholas Britell. It was all these people who do what you do, who care about the same minutiae, the same kind of dorky things that no one else in the world would really care about, and you get to compare notes and talk about what it's like to be in the trenches. You have this great communion with all these people who know what the process is really like and you get to celebrate their work and they celebrate yours. That was really special.
And you know Quincy Jones has a lot to say.
Pasek: Oh yeah. That's a room you want to be in.
Paul: People had said, "The Oscars, some of the pre-stuff is great, but then the ceremony is like, eh, whatever." For the two of us, when we walked in, we felt like we were stepping into this extraordinary history, this legendary industry. We got to feel that night like we were two very small players in it. I was having some sort of out-of-body experience, flashing back to Oscars past. It was like Hollywood folklore.
That was the thing that was really moving to us, just walking into that theater and feeling like we get to be one with some of those incredible people who've come before us. There's nothing like Oscar night in America.
What advice do you have for first-time attendees? What do you wish you'd known?
Paul: I had a little snafu I would want to caution against. We had a wonderful night, things went our way and that was glorious, feeling high about the whole experience. Then we got to the Governors Ball and I realized my tuxedo was wide open; I had no buttons on my jacket. I had these little threads dangling where my buttons should be. I'm wandering around, feeling like a hobo at this event where everyone looks phenomenal.
I would say my wife and I spent most of the Governors Ball tracking down a needle and thread, which someone finally did find for us. So we're in the corner of the room where Emma Stone is getting her Oscar engraved, all these fabulous people are there; we're there in the corner, DIY-ing my tuxedo, and I'm trying to pretend it's all normal. I'm definitely traveling with the emergency kit that includes the needle and thread this year.
Since you've been through it before, what are you looking forward to at this year's ceremony?
Paul: We're in a category that gets to be front and center with performances. It feels odd to say we're looking forward to the performance of our song, but we are, just because of Keala Settle [the Broadway star who sings "This Is Me" in the film]. I'm really looking forward to the performances of the other songs. We're in an amazing group this year; people we've been friends with a long time, and new friends as well. All the songs are fantastic, and either beautiful and haunting or rousing or moving — they're all emotional. I'm looking forward to seeing how all of those manifest onstage.
Any advice for those who win on their first try? Maybe something you wish you'd done, or were happy you did?
Pasek: There's this balance of wanting to be in the moment as much as possible, not be on your phone the whole time — but I'm also really happy I took a lot of pictures. It's really, really wonderful to have those photos to transport you back to being in that space and that time — some of the other nominees who were part of that journey with you, and obviously the people who helped make the movie itself. With "La La Land," it's just so wonderful to have these photos of the people we went on that journey with, the culmination of which was at the Oscars.
The "Showman" songs have achieved their own wide popularity beyond the film. The soundtrack went to No. 1. People are posting cover videos online. Its success doesn't seem to be contained within movie theaters. What is most striking about that?
Pasek: Getting to write music that other people make their own has been the most rewarding thing. Your goal as a songwriter is to become as invisible as possible and let the song really flow out of the actor who's portraying it — in this case, it was Keala Settle and all that she brought to the song.
What's so incredible is when so many people begin to take on the song; the words and music become something unique to them and they feel like they can represent it. They feel like they can take it on and embrace the message, it's something that is true to how they feel, that gives them some expression. That's incredible.
Please consider subscribing today to support stories like this one. Get full access to our signature journalism for just 99 cents for the first four weeks. Already a subscriber? Your support makes our work possible. Thank you.
ALSO
Zac Efron and Zendaya bring romance, and a standout duet, to 'The Greatest Showman'
'La La Land' songwriters change their tune for risky new musical 'The Greatest Showman'
---
The complete guide to home viewing
Get Screen Gab for weekly recommendations, analysis, interviews and irreverent discussion of the TV and streaming movies everyone's talking about.
You may occasionally receive promotional content from the Los Angeles Times.