21 Images
Kristen Bell: Career in pictures
Kristen Bell is definitely a hot actress, so to speak. Yes, she has been featured on many men's magazines' "hot" lists, but the Michigan native also boasts work on popular shows and movies. Named 'Best Looking Girl' by her senior class, Bell continues to be a popular and successful force in Hollywood.
(Jay L. Clendenin / Los Angeles Times)
Dax Shepard, left, and Kristen Bell arrive at the world premiere of "The Boss" on March 28, 2016, in Los Angeles.
(Jordan Strauss / Jordan Strauss/Invision/Associated Press)
Melissa McCarthy, left, and Kristen Bell in "The Boss."
(Hopper Stone)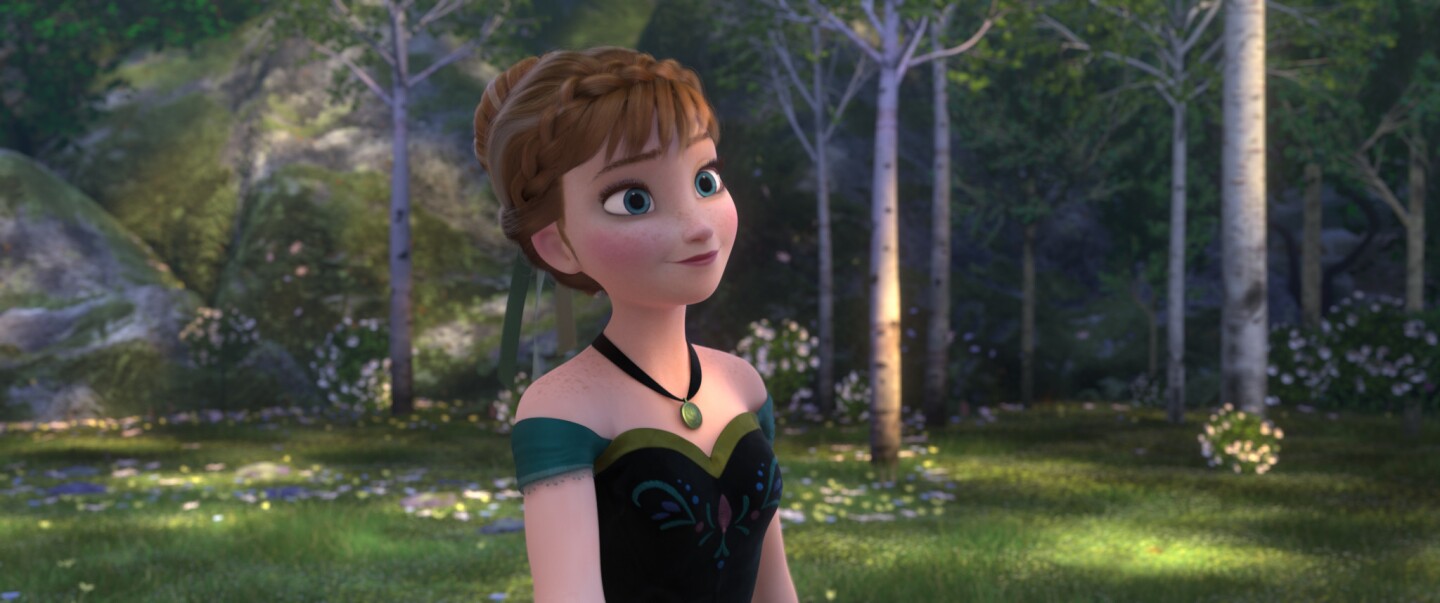 Kristen Bell showed off her singing chops while voicing Princess Anna of Arendelle in the 2013 Oscar-winning Disney animated mega-hit "Frozen."
(Disney)
Kristen Bell reprised her role as super sleuth Veronica Mars in the 2014 crowd-funded movie "Veronica Mars."
(Robert Voets / AP)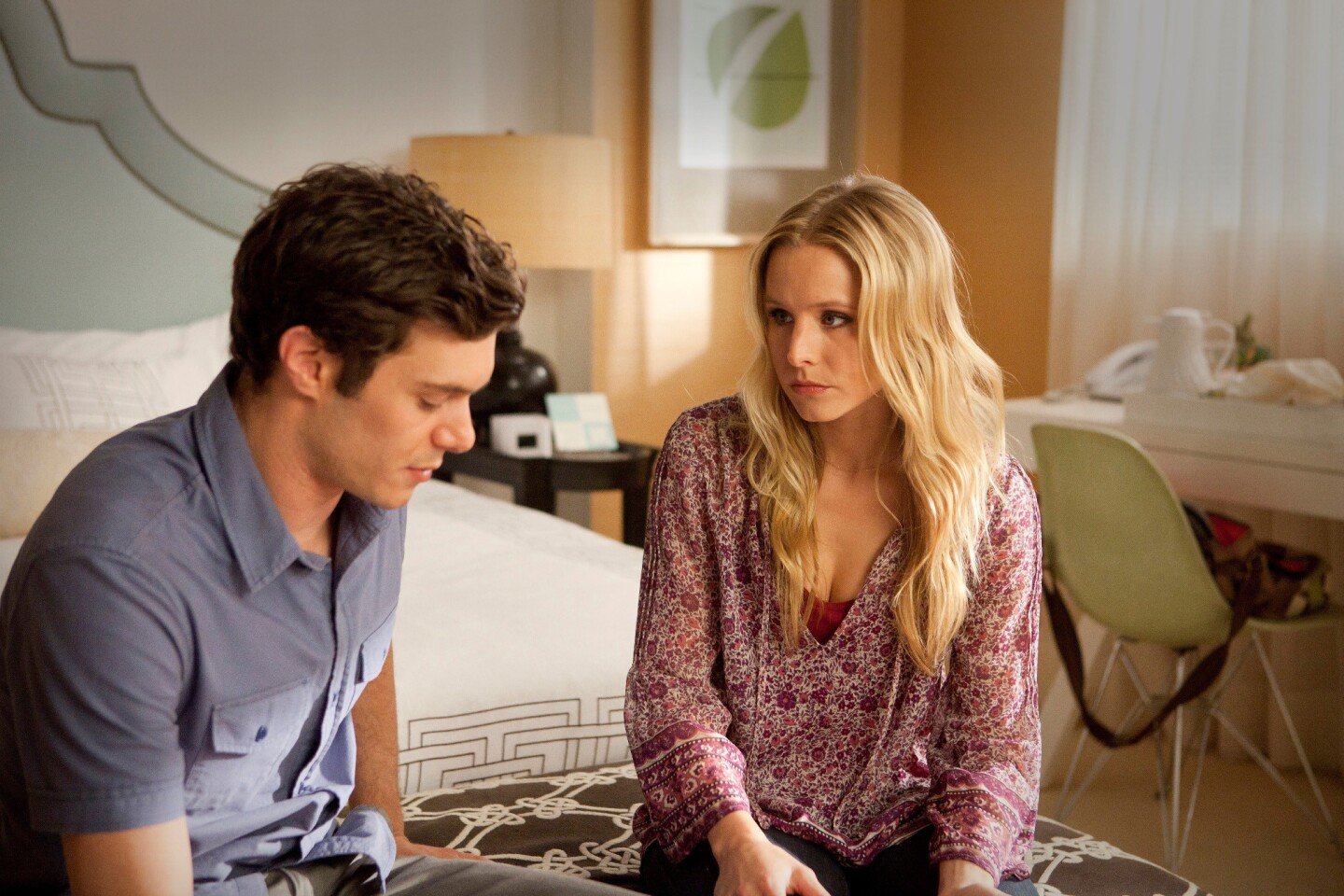 Kristen Bell stars as Bobbi, the girl that got away from Adam Brody's character, in the 2013 movie "Some Girl(s)."
(Kristin Klier / Leeden Media)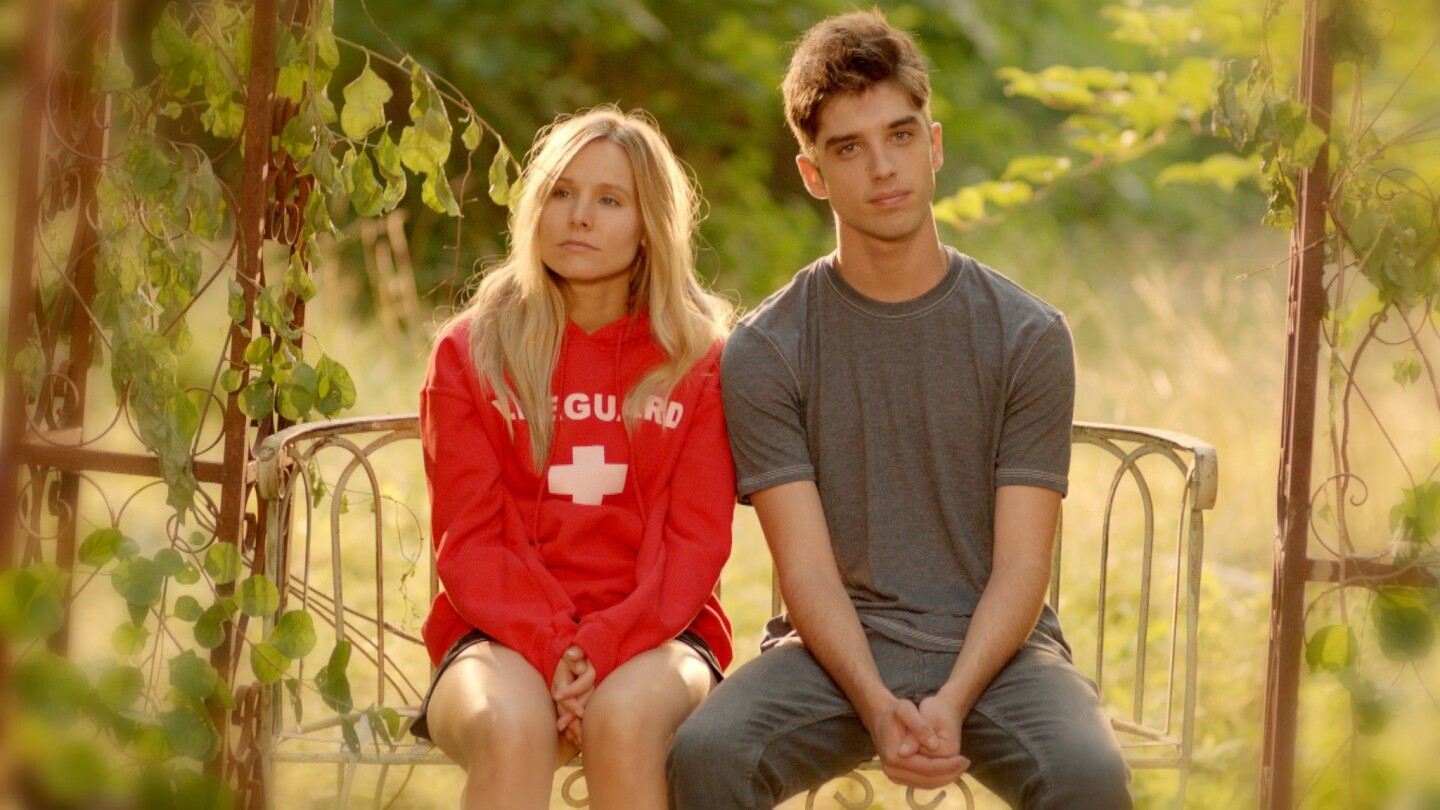 Kristen Bell stars as Leigh, who quits her job in New York City to return home to Connecticut and work as a lifeguard where she starts up a relationship with a troubled teen, in the 2013 drama "The Lifeguard."
(Screen Media Films)
Kristen Bell returned to television as ruthless business consultant Jeannie van der Hooven in the 2012 Showtime series "House of Lies," which was renewed for a fifth season in March 2015.
(Jordin Althaus / Showtime)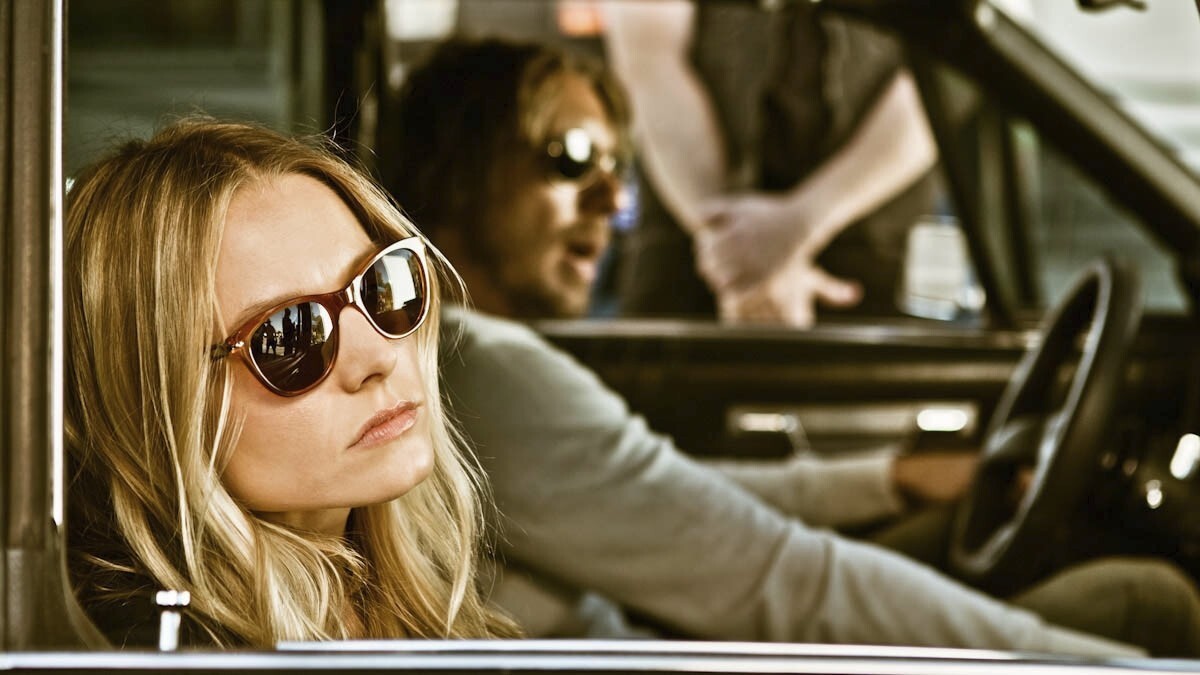 Kristen Bell joins her real-life husband Dax Shepard to play a young couple on the run from gangsters in the 2012 romantic action-comedy movie "Hit and Run," written and co-directed by Shepard.
(Jeffrey Reed / Open Road Films)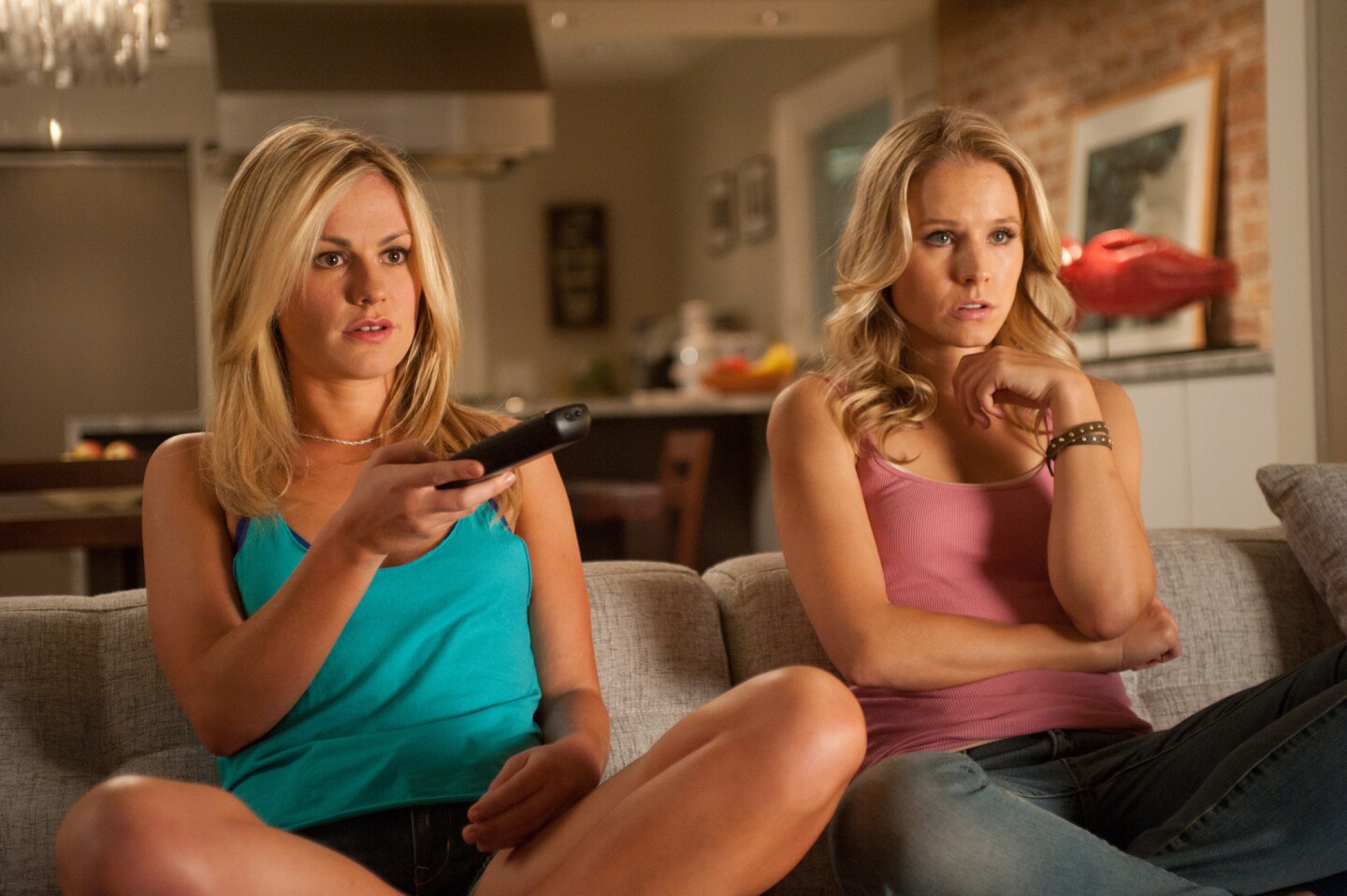 Kristen Bell, right, and Anna Paquin had small cameos as the stars of a movie within a movie in the 2011 horror film "Scream 4."
(Gemma La Mana / Dimension Films)
Kristen Bell stars as Nikki, the troubled lead dancer at the burlesque club in the 2010 musical "Burlesque."
(Stephen Vaughan / Screen Gems)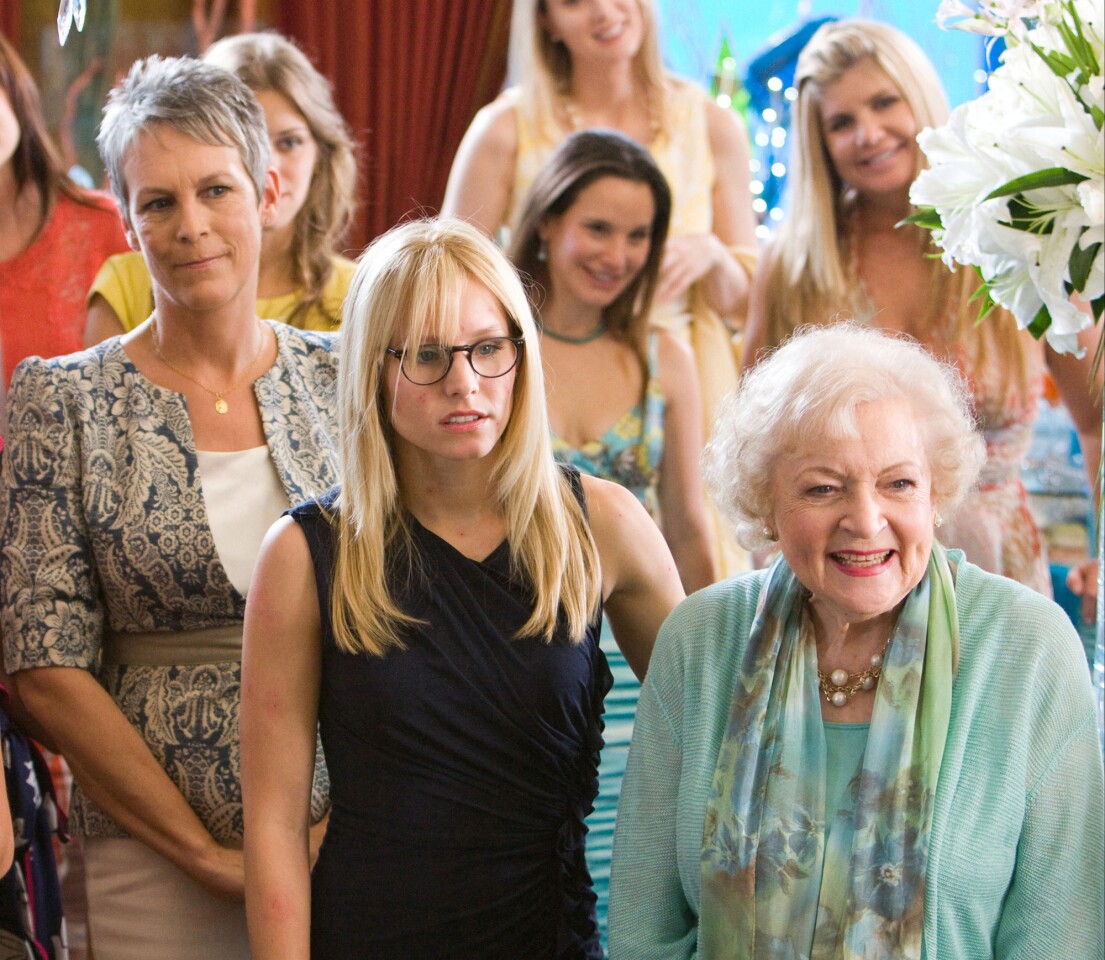 In the 2010 comedy "You Again," Kristen Bell stars as Marni, a successful businesswoman who returns home to find her brother is marrying the girl who bullied her in high school.
(Mark Fellman / Disney Enterprises)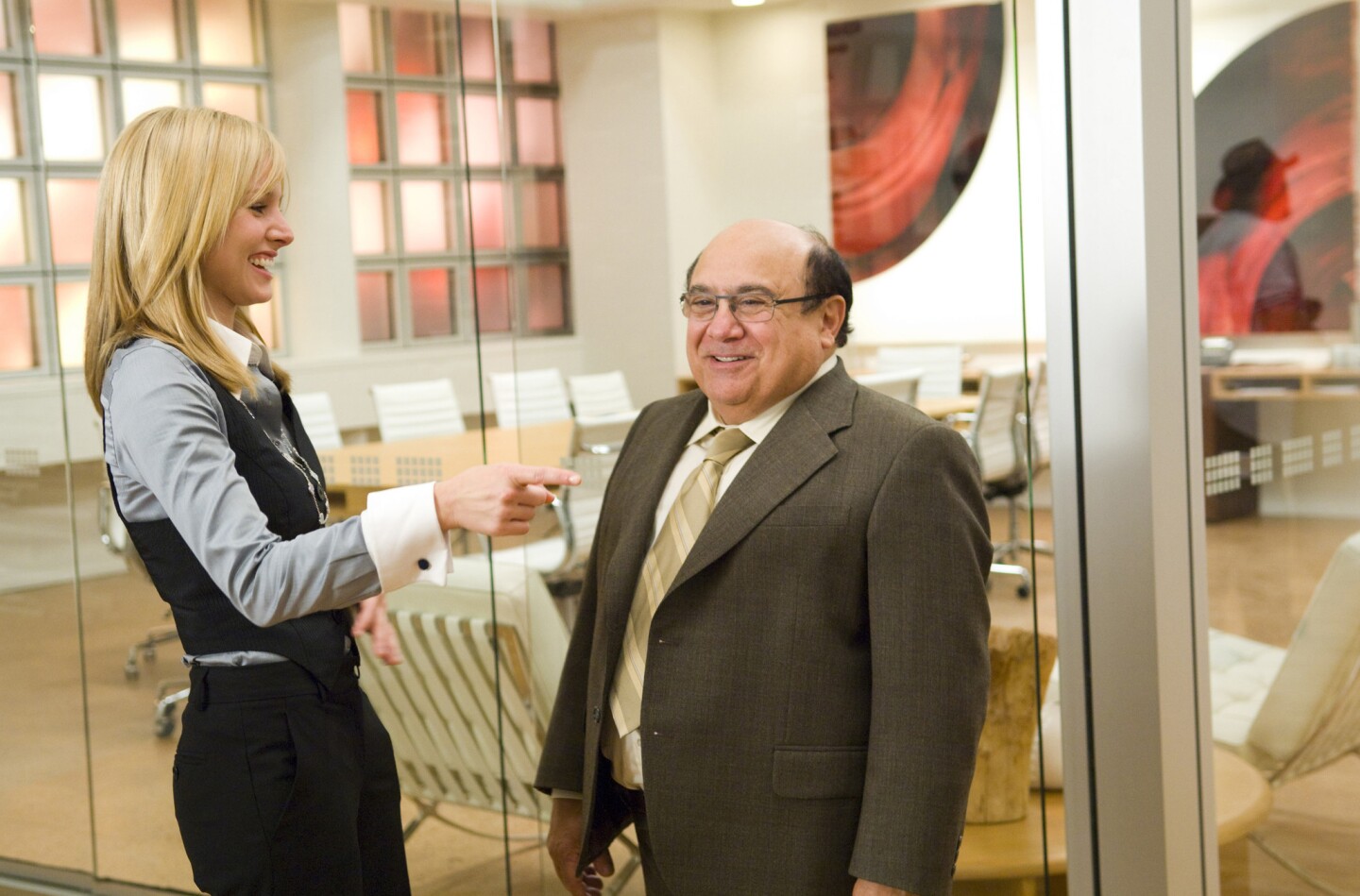 Kristen Bell stars as unlucky-in-love workaholic Beth (here with suitor / encased-meats impresario Al, played by Danny DeVito) in the 2010 romantic comedy "When in Rome."
(Myles Aronowitz / Touchstone Pictures)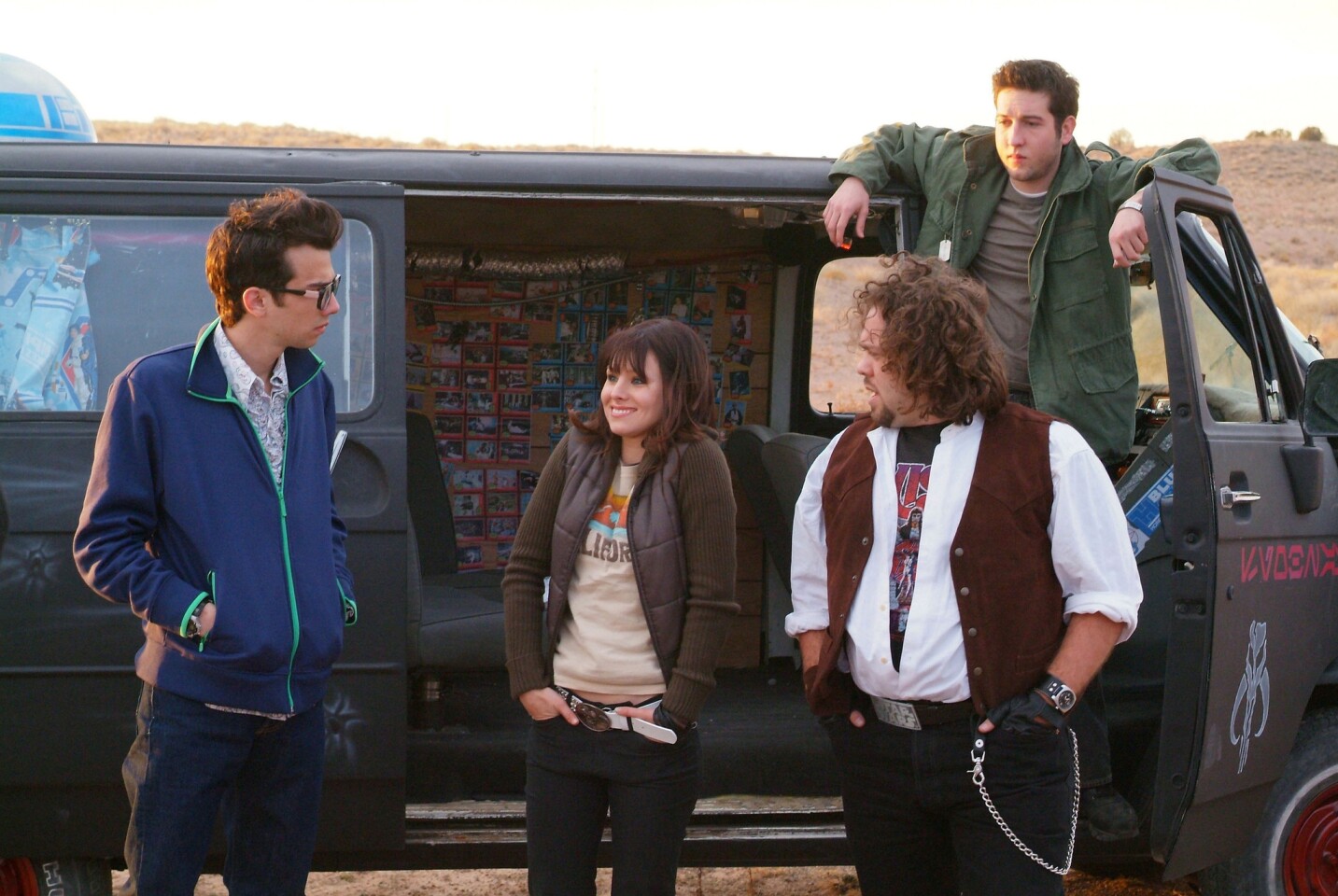 Kristen Bell stars as Zoe, the lone girl in a group of high school friends who are obsessed with "Star Wars," in the 2009 comedy "Fanboys."
(John Estes / The Weinstein Company)
Kristen Bell stars as the titular Sarah Marshall, who breaks up with her boyfriend Peter Bretter (Jason Segel) and begins dating rocker Aldous Snow (Russell Brand, pictured), in the 2008 romantic disaster comedy "Forgetting Sarah Marshall."
(Photo Credit: Glen Wilson / Universal Studios)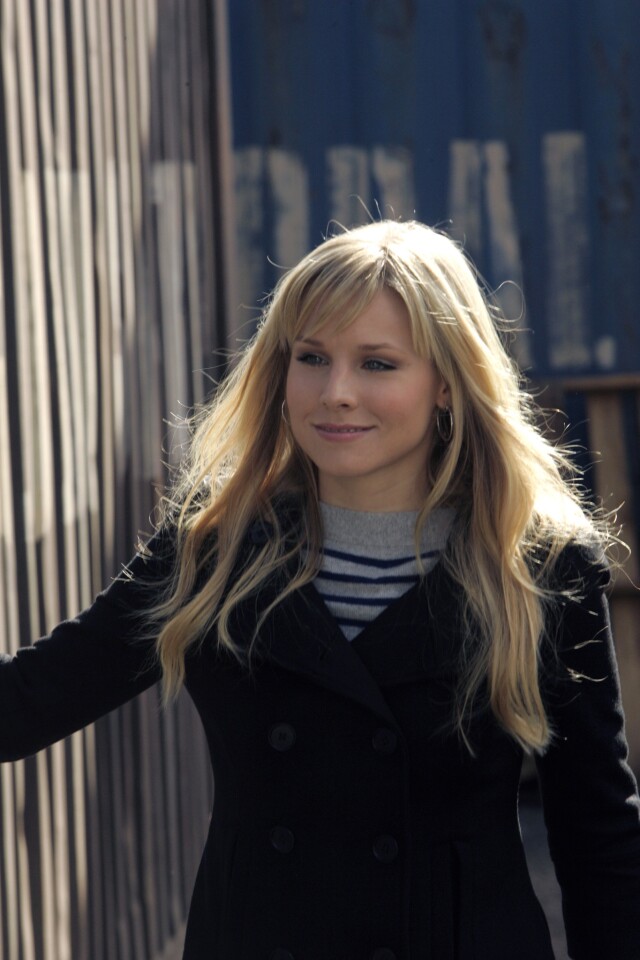 Having become friends with many "Heroes" actors, Bell told the writers that she'd love to be on the show -- and that was all it took. She appeared in 2007 as Elle, a troubled young lady with electric powers. She also continued to use the narration skills honed on "Veronica Mars" as the voice behind the unseen title character on CW's "Gossip Girl."
(Chris Haston/NBC Universal)
Kristen Bell stars as Mattie, a psychology student caught in a suicide epidemic caused by a deadly wireless signal, in the 2006 horror flick "Pulse."
(Mircea Modoi / Dimension Films)
Years before "Frozen," Kristen Bell showed off her singing skills as Mary Jane in "Reefer Madness: The Movie Musical," the 2005 TV musical comedy adaptation of the 1936 anti-marijuana propoganda film.
(James Dittiger / Showtime)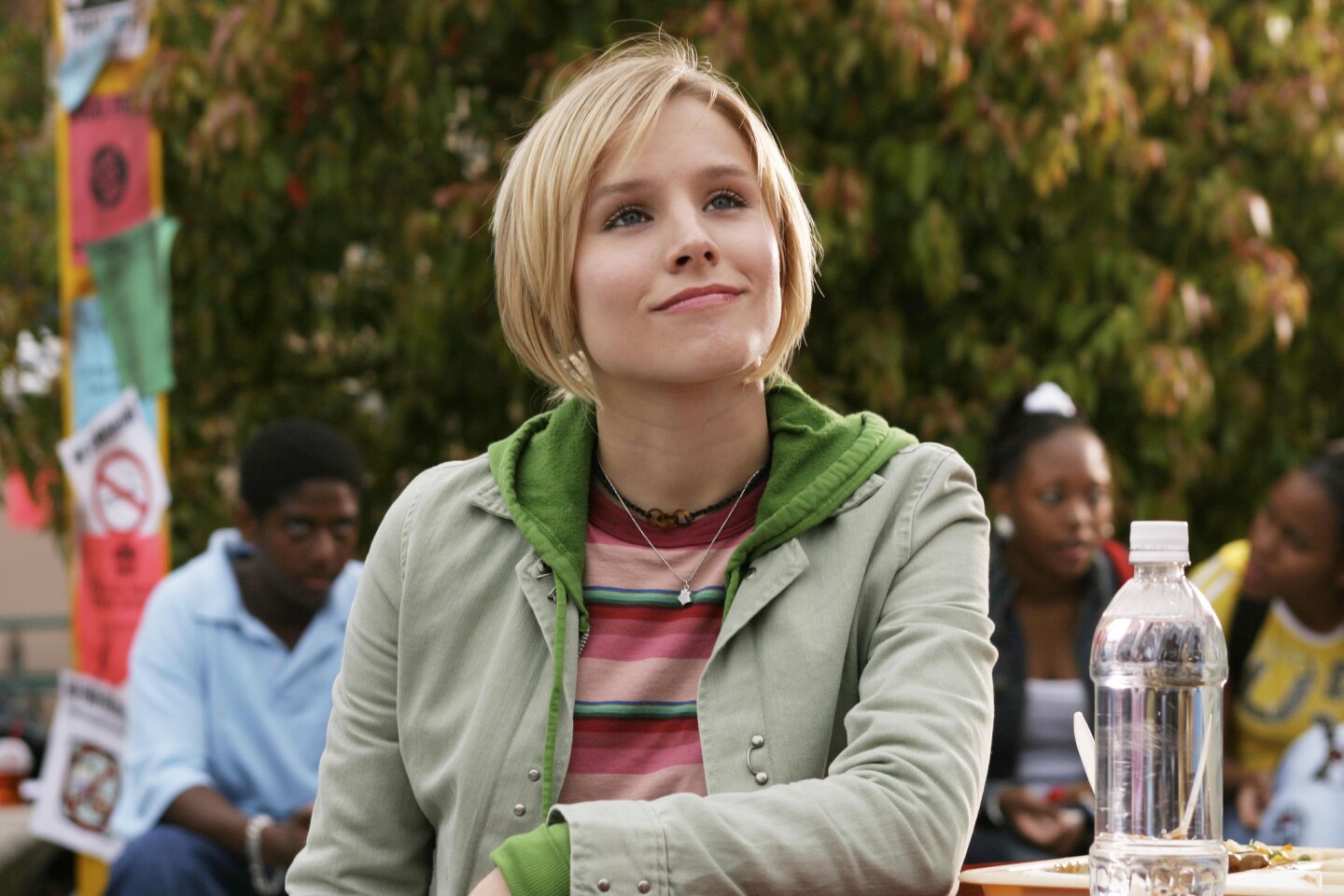 Kristen Bell rose to fame playing the sassy teenage private eye Veronica Mars in the WB's television series "Veronica Mars." The series ran for three seasons from 2004 to 2007, and got a big-screen follow-up with the 2014 film of the same title.
(Scott Garfield / Warner Bros.)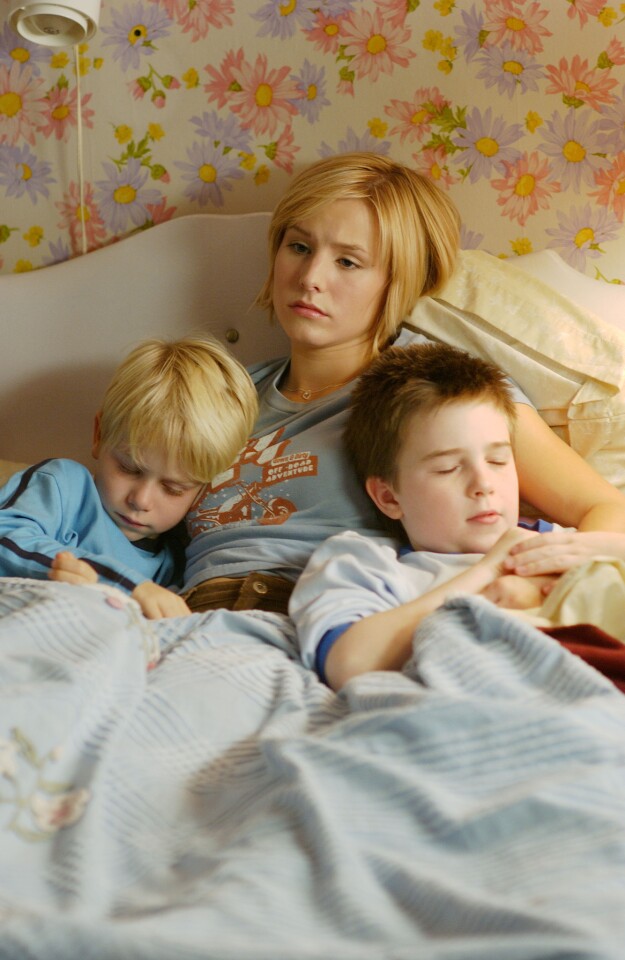 In one of her first leading roles, Kristen Bell stars as Gracie Thompson, a teenager who fights to adopt her siblings after their drug-addicted mother is sent to jail, in the 2004 Lifetime movie "Gracie's Choice."
(Brooke Palmer / Lifetime Television)
Landing in L.A.
After leaving
New York University
for Broadway, Bell came out to L.A. She appeared in many special guest roles and the stage production of
"Reefer Madness,"
which later led to her part in the musical's film version. "The Shield," "American Dreams," "Everwood" and "Deadwood" were among the shows she appeared in. Then came her big break ...
(Richard Harrah)