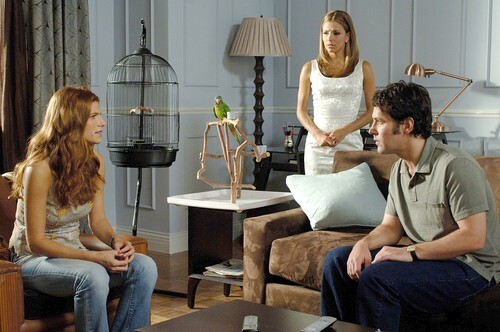 9 Images
Ghostly romances in film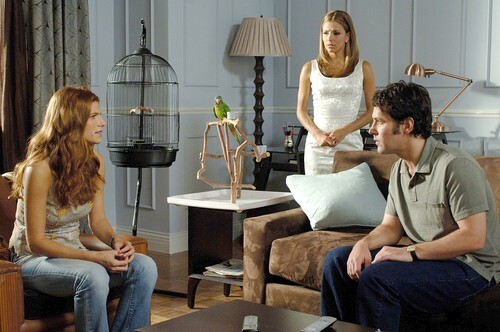 By Susan King, Los Angeles Times Staff Writer
In his latest role in the new romantic comedy "Over Her Dead Body," Paul Rudd plays a man whose fiancee (Eva Longoria Parker) is accidentally killed on their wedding day. When he reluctantly gets some help from Ashley -- a psychic/caterer!!! -- he falls madly in love with her.
The only problem is, Ashley is now being haunted by his jealous ghost-of-an-ex-fiancee.
And the only question is how Rudd, Longoria Parker and Lake Bell got caught up in this "spiritless" farce.
Ghost stories have been a staple of movies since cinema's infancy. There have been romantic ghost dramas like "Ghost" and "The Ghost and Mrs. Muir," outrageous comedies such as "Ghostbusters," "Haunted Mansion" and "Ghost Breakers" and spine-tingling thrillers like "The Sixth Sense," "The Others," "The Orphanage" and "The Uninvited."
"Dead Body" is the latest variation on an old theme -- the romantic ghost comedy. Here's a look at several other ethereal comedies.
(Dale Robinette / New Line Cinema)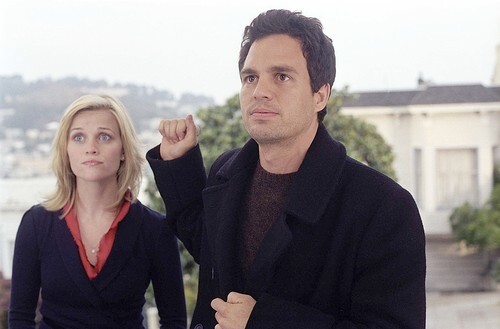 'Just Like Heaven'
Reese Witherspoon plays Elizabeth in this ho-hum 2005 romantic comedy -- a workaholic doctor who suffers a coma after a car accident. Trapped between heaven and Earth, Elizabeth doesn't know what's happened to her. Her spirit, though, returns to her apartment, only to discover that a handsome but troubled widower (Mark Ruffalo) has sublet her place. She wants him to leave; he refuses to back down. And in typical boy-meets-ghoul fashion, they fall in love and set out to find out why she's become a spirit.
(Peter Iovino / DreamWorks Pictures)
'Ghost'
Slurpy 1990 box office phenom that is saved from complete bathos by Whoopi Goldberg's Oscar-winning over-the-top turn as Oda Mae Brown, a psychic who doesn't even know she has any powers. Oda finds her second sight when she comes to the aid of a young murdered man (Patrick Swayze) who must warn his girlfriend (Demi Moore) that she is in grave danger. The film does have many iconic moments including Swayze's catch phrase "Ditto," the pottery love-making scene between a buffed, shirtless Swayze and Moore and the frequent use of the classic song, "Unchained Melody."
Among those who were offered the male lead but turned it down because they thought it was too goopy were Tom Hanks, Tom Cruise, Kevin Bacon, Bruce Willis, Harrison Ford, Alec Baldwin and even "Crocodile Dundee" himself Paul Hogan. The thought of Hogan shirtless making out with Moore sends shivers of horror up on the spine! Nicole Kidman and Molly Ringwald were among the actresses who auditioned for Moore's role of Molly.
(Paramount)
'Truly Madly Deeply'
Anthony Minghella wrote and made his feature directorial debut with his enchanting 1990 -- it was released here in 1991 -- British comedy about getting on with life after the death of a loved one. Juliet Stevenson plays Nina, a young woman who is inconsolable after the death of her cellist boyfriend, Jamie (Alan Rickman). She even spurns the advances of a potential suitor (Michael Maloney). Then one day, Jamie's ghost arrives. But her joy -- and their passion -- is short-lived when he begins to bring his odd ghostly friends to the house -- all which seem to be couch potatoes. "I can't believe I have a bunch of dead people watching videos in my living room," she explains of her spirited house guests.
(Samuel Goldwyn Company)
'Kiss Me Goodbye'
Sally Field finds out that two men really, really love her in this limp biscuit of a 1982 romantic comedy. Field plays a young widow named Kay whose choreographer husband, Jolly -- who comes up with these names? -- died three years earlier. But now she's fallen in love with a new soft-spoken cutie named Rupert (Jeff Bridges) and is planning on marrying him. But Jolly (James Caan) returns to haunt Kay when she and Rupert move into the house they shared together. When she starts telling everyone about Jolly's return, her friends and even Rupert believe she's losing her mind. "Kiss Me Goodbye" is a loose remake of the Brazilian hit "Dona Flor and her Two Husbands."
(20th Century Fox)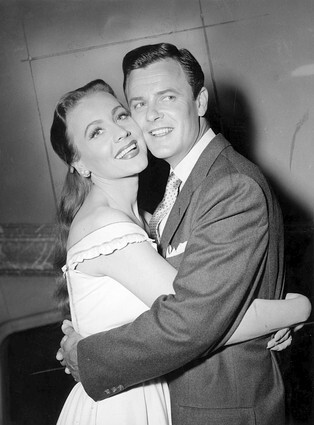 'Topper'
Hal Roach produced this 1937 screwball comedy starring Cary Grant and Constance Bennett as the incredibly wealthy George and Marion Kirby, who are stock holders in a bank run by the stuff-shirt Cosmo Topper (Roland Young in his supporting actor Oscar-nominated performance). The Kirbys become fun-loving ghosts after they crash their car. Because they have never done a good nor a bad deed during their lives, the couple are in limbo. So they decide to do a good deed by putting some pizazz into Topper's life. But when Topper starts living it up -- and falling for the very attentive Marion -- his equally stuffy wife (Billie Burke of "The Wizard of Oz") is none too pleased. Young, Bennett and Burke returned for 1938's "Topper Takes a Trip." But only Young was on hand from the 1941 sequel "Topper Returns." In the 1950s, "Topper" became a popular TV series.
()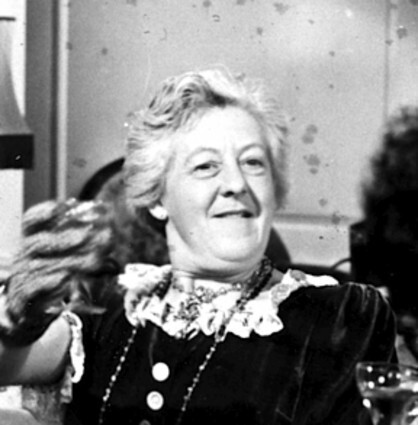 'Blithe Spirit'
Though David Lean is best known for such epic classics as "The Bridge On the River Kwai," "Lawrence of Arabia" and "Doctor Zhivago," he got to show his lighter side in this joyous 1945 adaptation -- it was released in the U.S. in 1946 -- of Noel Coward's classic play.
Rex Harrison, who starred in the London stage production, plays Charles, an author writing an expose on psychics. For research for his book, he hires a dotty psychic named Madam Arcarti (a wonderful Margaret Rutherford) to hold a seance at his house. Though Charles and his second wife, Ruth (Constance Cummings), think the outrageous Arcati is a hoot, during the seance she accidentally summons the spirit of Charles' late wife, Elvira (Kay Hammond, also from the stage version). Needless to say, Ruth is not thrilled with the presence of Elvira, and neither is Charles after he learns she's plotting to kill him. But when Elvira mistakenly kills wife No. 2., Charles ends up being haunted by both spouses. Ronald Neame supplied the gorgeous Technicolor cinematographer.
(Anon)
'High Spirits'
Neil Jordan has made some terrific films, such as "Mona Lisa" and "The Crying Game." But this 1988 clunker isn't one of them. It barely scares up a chuckle.
Peter O'Toole plays the owner of an Irish castle turned bed and breakfast hotel that has seen better days. Because he owns money to an American creditor, he and his staff decide to turn the place into "the most haunted castle in Europe" to attract more tourists.
Among the ugly Americans they lure are Steve Guttenberg, Beverly D'Angelo, Connie Booth and Jennifer Tilly who are all less than impressed with the faux ghosts. But no sooner do they say "boo" then the castle's real ghosts decide to stage their own paranormal escapade. Guttenberg falls madly in love with a ghost (played by Daryl Hannah, in a Razzie Award-winning worst performance), and D'Angelo finds herself attracted to the studly apparition played by Liam Neeson.
(MGM)
'The Ghost In the Invisible Bikini'
Zounds! This 1966 American International Pictures comedy is so bad you can't stop watching it. Boris Karloff plays a recently deceased man who has to perform one good deed from his crypt to get to heaven and become young again. He enlists the help of his dead girlfriend, who is also a ghost, to help him prevent his sleazy lawyer and his henchman from claiming his estate for themselves. Tommy Kirk, Deborah Walley, Nancy Sinatra, Harvey Lembeck as Eric Von Zipper, silent-screen legendary Francis X. Bushman and "Sherlock Holmes" himself, Basil Rathbone, star in this turkey.
(MGM)