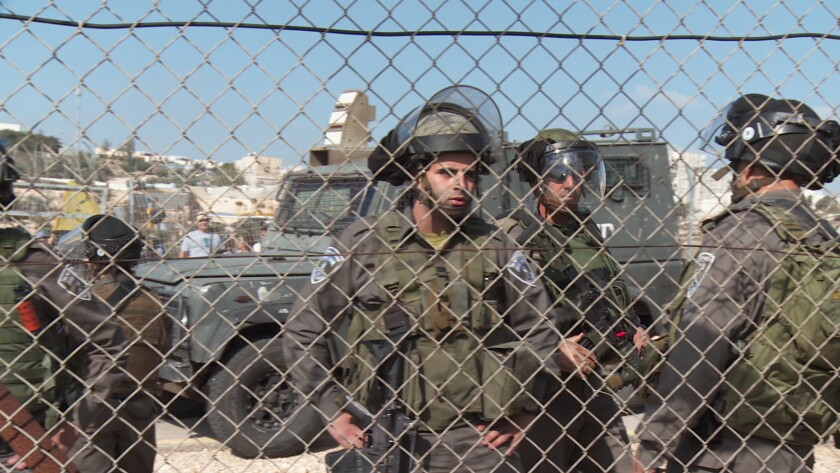 Although Combatants for Peace (CFP), an extraordinary movement to fight violence through nonviolence, has been at work in Israel since 2005, it may just take the vital, absorbing documentary "Disturbing the Peace" to bring greater world awareness to this brave group's crucial existence.
Directors Stephen Apkon and Andrew Young first sketch out a brief history of the Israeli-Palestinian conflict since the creation of the state of Israel in 1948. They then bring us into the past decade or so as the effort to broker a two-state solution and overcome that elusive goal's many socio- and geopolitical disputes remains a peril-plagued battle.
Into this fray an unlikely alliance was born between a band of former Israeli soldiers and Palestinian freedom fighters who promote, with rare, often controversial evenhandedness, the notion that only nonmilitary action can bring peace to the region.
The film largely focuses on the intimate stories of several Israeli and Palestinian CFP members who discuss, among other things, the moment they began to see their enemies as humans with struggles equal to their own — and how that led them to unite against the status quo. One subject's journey from failed suicide bomber to staunch peace advocate is especially haunting.
Well-chosen news and archival clips, footage from CFP's provocative rallies, plus a series of skillful and useful reenactments help flesh out this inspiring portrait.
-------------
'Disturbing the Peace'
In English, Arabic and Hebrew with English subtitles
Not rated
Running time: 1 hour, 26 minutes
Playing: Laemmle Music Hall, Beverly Hills
See the most-read stories in Entertainment this hour »
---