Review: 'Wolf Totem' captures boy-dog bond amid Cultural Revolution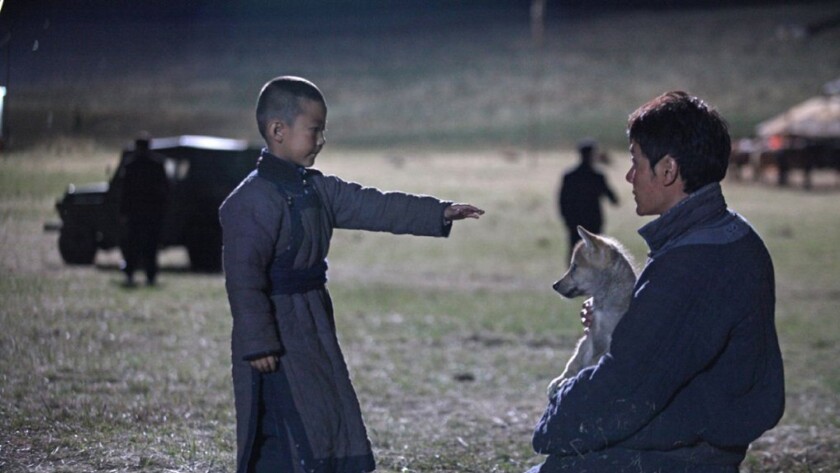 Set against the stunning geography of Inner Mongolia, "Wolf Totem" is a boy-and-his-dog story, writ large — as in Imax 3D large.
Although the actors, both human and wolf, would command a screen of any size and the simple story sometimes gets lost in the grand scale of the production, it's easy to see why director Jean-Jacques Annaud showcases those animals in such majestic fashion. Raised for the film by trainer Andrew Simpson, the wolves are worthy of every close-up they get.
The film, based on the popular autobiographical novel by the pseudonymous Jiang Rong, centers on Chen Zhen (Feng Shaofeng), who in 1967 is one of the young adults sent from China's cities to its rural regions. His loving but misguided adoption of a wolf cub is deemed not just mad but dangerous by the nomadic herdsmen with whom he lives.
SIGN UP for the free Indie Focus movies newsletter >>
The story's innocent, he's caught between the onward march of the Cultural Revolution and a people powerfully connected to the land. The film sounds an environmentally conscious alarm with the devastating arrival of "progress" to the grasslands, in the form of government functionaries and settlers with rifles and pesticides.
Other films, notably the documentary-narrative hybrid "The Story of the Weeping Camel," have delved deeper into Mongolian nomads' way of life, and nature documentaries have shown us wolves up close without the overlay of sweeping drama, which can be numbing rather than involving. Sequences of "Wolf Totem" would have benefited if Annaud ("The Bear") had dialed the extravaganza — the late James Horner's swelling score included — down from 11.
Even so, there's no denying the beauty of the film's imagery, violent and tender, or the emotional power of the final moment in the boy-and-his-dog love story.
---------------------
"Wolf Totem."
MPAA rating: PG-13 for disturbing images and violence involving animals, and for brief sexuality. In Mandarin and Mongolian with subtitles.
Running time: 2 hours, 2 minutes.
Playing: In general release.
MORE:
Sleeping With Other People' is trying for sex-forward edginess, but mostly fails to engage
Richard Gere shines a dramatic light on homelessness in 'Time Out of Mind'
'A Brilliant Young Mind' adds up to something special
---
Inside the business of entertainment
The Wide Shot brings you news, analysis and insights on everything from streaming wars to production — and what it all means for the future.
You may occasionally receive promotional content from the Los Angeles Times.