10 Images
Casting Motown greats
Otis Redding played by Wesley Snipes
An electrifying performer cursed with a tragic death in a plane crash at only 26, Otis Redding, left, is ripe material for a Hollywood biopic. What's taking so long? We're not entirely sure if Wesley Snipes, right, is up to the task of belting out his version of "(Sittin' On) the Dock of the Bay," but if Val Kilmer can channel Jim Morrison in Oliver Stone's "The Doors," anything's possible.
(Warner Bros. / AP)
Marvin Gaye played by Common
Known for hits that ranged from the political ("What's Goin' On") to the overtly sensual ("Let's Get It On"), Gaye, left, was one of the biggest figures in soul before his death at the hand of his father in 1984. Sharing a sense of social conscience (not to mention style) with the late singer, Chicago rapper Common, right, seems like a good fit for this meaty role.
(Motown / Universal)
Smokey Robinson played by Terrence Howard
Described by Bob Dylan as "America's greatest living poet," Smokey Robinson, left, is one of Motown's signature artists, logging an impressive 70 Top 40 hits between 1959 and 1990. Nominated for an Oscar for his work as an aspiring rapper in 2005's "Hustle & Flow," Howard, right, should find it easy to portray the iconic soul singer.
(LAT / Universal)
Stevie Wonder played by Eddie Murphy
In his stand-up comedy film, "Delirious," Murphy, right, joked about catching flak from the black community for his dead-on imitation on "Saturday Night Live" of soul pianist-singer Stevie Wonder, left. But in "Dreamgirls" Murphy proved he can play it straight, and if Jamie Foxx can win kudos for his portrayal of Ray Charles, why not have Murphy bring that side-to-side head wave to the big screen?
(BET / SNL)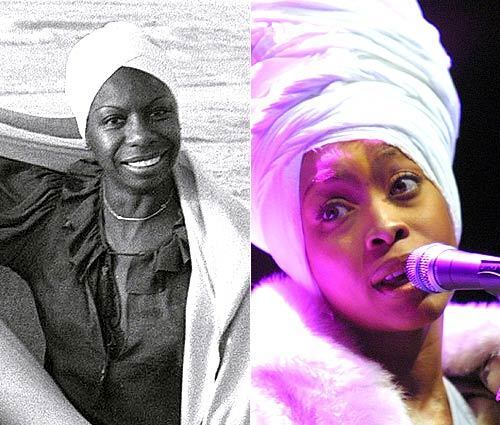 Nina Simone played by Erykah Badu
Although Mary J. Blige is attached to an upcoming Nina Simone biopic, we think Erykah Badu, right, might have been a better choice for channeling the "High Priestess of Soul." Badu's relaxed, freewheeling stage presence runs right in line with Simone's unique delivery, and the late singer, left, surely would have appreciated Badu's social consciousness. And need we even mention the fashion parallels?
(AP)
Gladys Knight played by Gabrielle Union
She got a little nuts with the baccarat tables in the 1980s, but otherwise, doe-eyed singer Gladys Knight, left, keeps it clean. A leader in the Mormon church, Knight is also known for her Christmas duets with Johnny Mathis. Who can project such innocence on the silver screen? Gabrielle Union, right, who honed her chops in teen movies including "10 Things I Hate About You."
(Motown / AP)
Michael Jackson played by Jaden Smith
There are not many kid actors who'd be up to the level of manic cuteness that Michael Jackson, left, attained as the youngest member of the Jackson 5, but we think Jaden Smith, right, would be up to the task. Every bit the son of a performing power-couple (Will and Jada Pinkett), Smith is prime for playing the littlest singing and dancing machine.
(Motown / Columbia)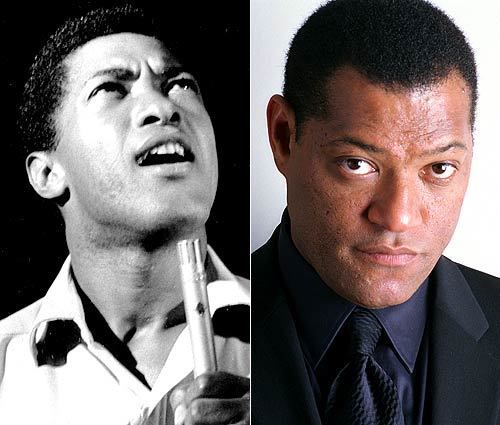 Sam Cooke played by Laurence Fishburne
Sam Cooke, left, is ripe for biopic treatment. "The King of Soul" behind hits including "You Send Me" was active in the civil rights movement, and he died young under mysterious circumstances. Laurence Fishburne, right, is hardly in the blush of youth, but with a little makeup he could send himself another Oscar nomination.
(AP)
Al Green played by Bernie Mac
Sometimes perfect casting requires stretching the imagination. Not so with comic actor Bernie Mac, right, and easygoing soul singer Al Green, left. They appeared onstage together at the VH-1 Big in 2003 Awards, so we can confirm that they are not the same person. But the similarities are uncanny.
(Getty Images)
Aretha Franklin played by Jennifer Hudson
Jennifer Hudson, right, won raves and awards for her showstopping turn in "Dreamgirls." Will she earn even more R-E-S-P-E-C-T as the Queen of Soul? And another burning question: Who will play one-time duet partner George Michael?
(AP)