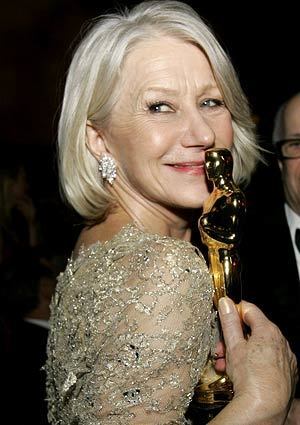 10 Images
Oscar-winners' next?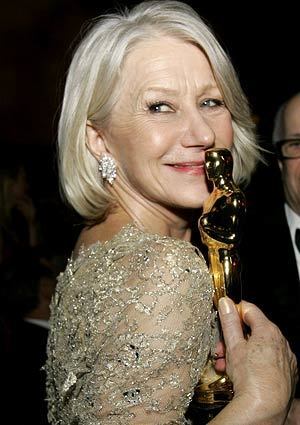 The actress currently known as the queen appears to be taking a bit of a break to soak in the glory of the 2007 awards season. But Helen Mirren won't be off the silver screen for long. She has a small part as a book collector in the family fantasy film "Inkheart" about a dad who brings storybook characters to life by reading to his daughter, and she's rumored to play Alfred Hitchcock's wife Alma Reville opposite Anthony Hopkins' Hitchcock in the biopic "Alfred Hitchcock Presents."
(Amy Sancetta / AP)
Jennifer Hudson's rise from reality stardom to superstardom has been lightning fast, so it's hard to blame the voluptuous beauty for not having more lined up. As of now, she is planning to release an album in June of this year, and recently told reporters that she's taking "creative meetings," with movie folk.
(Kathy Willens / AP)
William Monahan is no dummy. After snagging his first Oscar for adapting a Hong Kong thriller with Martin Scorsese and Leonardo DiCaprio, he knows a good thing when he sees it. Monahan is currently re-writing a script called "The Long Play," about two friends and their 40-odd years in the music industry, for Scorsese to direct. He's also adapting another Hong Kong thriller "Confessions of Pain" for DiCaprio. And in case he worries that his award shelf will become too cluttered, he's just finished work co-writing the script for "Jurassic Park IV."
(Richard Hartog / LAT)
Many considered "Little Miss Sunshine" "the little film that could." When it debuted at Sundance last year, no one could have predicted it would be winning Oscars 12 months later. Screenwriter Michael Arndt will no longer be able to claim such underdog status again. His next project will come from animation powerhouse Pixar, where he's currently writing "Toy Story 3."
(Kevin Winter / Getty Images)
The trend among Oscar winners seems to go like this: Get the big award, then go for the big bucks. Cinematographer Guillermo Navarro is no exception. He teamed with director Guillermo del Toro for the low-budget "Pan's Labyrinth," which won him his first Oscar. Now he's re-teamed with del Toro for the summer blockbuster "Hellboy 2."
(Vince Bucci / Getty Images)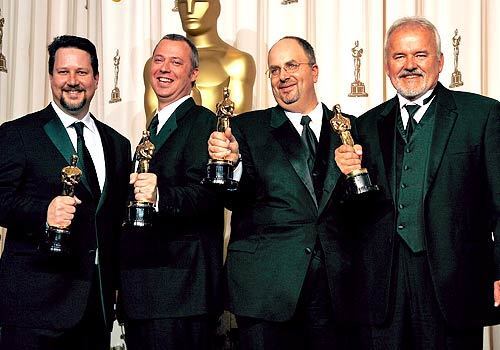 The team of, from left, John Knoll, Hal Hickel, Allen Hall and Charles Gibson won best visual effects Oscars for "Pirates of the Caribbean: Dead Man's Chest." Why mess with success? Their next project is "Pirates of the Caribbean: At World's End," due this May.
(Vince Bucci / Getty Images)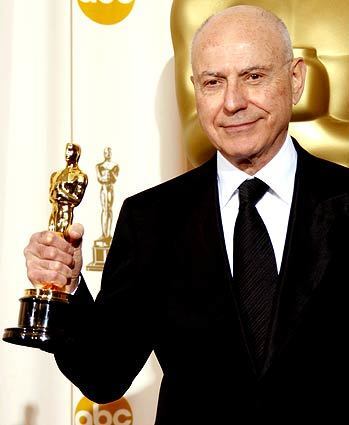 The great thing about Alan Arkin is you never know where he's going to pop up. He's already added his voice to the Jerry Seinfeld animated vehicle "The Bee," begun shooting the Middle East political thriller "Rendition" co-starring Reese Witherspoon and Jake Gyllenhaal and signed on to "Sunshine Cleaning" about two sisters who start a crime scene cleaning company. Today it was reported that he will reunite with "Little Miss Sunshine" co-star Steve Carell in a big screen version of the '60s TV show "Get Smart."
(Paul Buck / EPA)
Forest Whitaker won't have much time to bask in his Oscar win. He's scheduled to begin work on his next project in mid-March. The film, "Winged Angels," is about the survivors of a brutal restaurant murder, and Whitaker will star alongside Dakota Fanning, Kate Beckinsale and Guy Pearce. Whitaker is also signed to be the voice of the Wild Thing in the Spike Jonze-directed retelling of the children's classic "Where the Wild Things Are."
(Danny Moloshok / AP)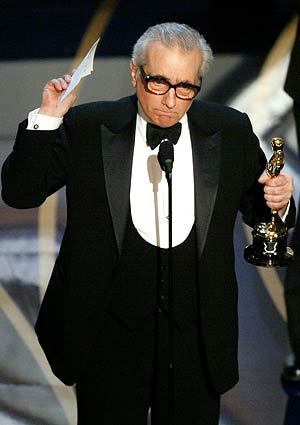 Martin Scorsese keeps himself busy. He's got that untitled Rolling Stones documentary coming out, and while he hasn't made any official announcements about what his next project will be, he's currently developing a big screen adaptation of the historical tome "Last Duel: A True Story of Crime, Scandal and Trial by Combat in Medieval France," a sequel to "The Departed," a film called "Silence" about 17th century Jesuit priests in Japan and, potentially, an adaptation of the children's book "The Invention of Hugo Cabret."
(Kevin Winter / Getty Images)