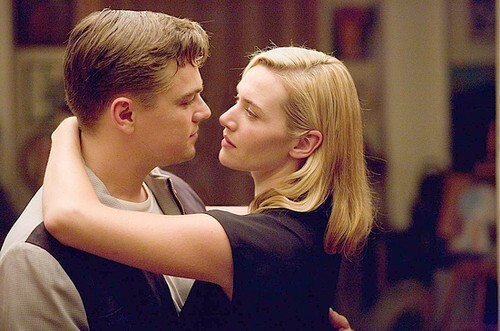 9 Images
'Reel' romantic reunions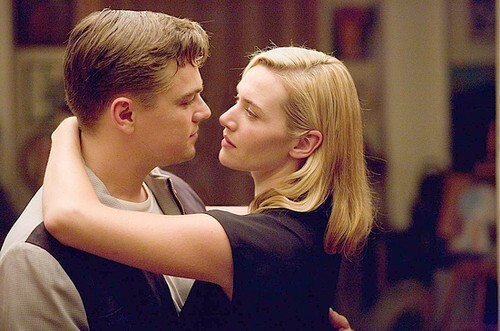 By Susan King, Los Angeles Times Staff Writer
Will romantic lightning strike twice for
Leo
and
Kate
?
The star-crossed lovers of the 1997 Oscar-winning best picture, "Titanic," have reunited for the drama "Revolutionary Road," directed by Kate Winslet's hubby, Sam Mendes. In the film, based on the novel by Richard Yates, Winslet and Leonardo DiCaprio play a supposedly happily married suburban couple in the 1950s with two children. The dark drama is scheduled to be released in December, exactly 11 years after the two nearly melted that pesky iceberg with their passion in James Cameron's epic.
During cinema's Golden Age, romantic teams were the norm because stars were under contract to certain studios. So if a pairing caught on with an audience, the studio would reunite them year after year, like Ginger Rogers and Fred Astaire. But these days, it may take years before actors are teamed up again in a movie.
Here's a look at some contemporary romantic pairings and a few from the classic age that have warmed the cockles of moviegoers hearts.
(DreamWorks)
Kate Hudson and Matthew McConaughey
Goldie's little girl
and People mag's former
sexiest man alive
first teamed up for the innocuous 2003 comedy "How to Lose a Guy in 10 Days." Though the material often lets them down, Hudson and McConaughey sparkle together in this tale of a womanizing advertising exec who makes a bet that he can make any woman fall in love with him. That woman happens to be Hudson's character, a writer who is doing a piece on how to, well, lose a guy in 10 days.
Their latest comedic escapade, "Fool's Gold," opens Friday. They play an estranged couple who rekindle their romance when he finds a clue to the whereabouts of a legendary treasure lost at sea in 1715. (Advance reports on the film make one believe that it may lose its audience in less than 10 days.)
(Paramount Pictures)
Richard Gere and Julia Roberts
Gere's career had seen better days when he teamed up with
Roberts
in the 1990 romantic comedy "Pretty Woman," in which he plays a wealthy man who falls in love with a young Hollywood prostitute. Faster than you can say "Pygmalion," he takes her from the mean streets of Hollywood Boulevard, makes a woman out of her and ends up falling for the hooker to boot. Though a lot of women felt the film glamorized the world of prostitution, "Pretty Woman" was an enormous hit. Not only did it revitalize Gere's career, the Garry Marshall-directed comedy also turned Roberts into a superstar, earning her her first lead actress Oscar nomination.
Nine years later, Marshall, Roberts and Gere teamed up with the comedy "Runaway Bride." Though critics were less than impressed, the film earned more than $152 million in the U.S. alone, thanks to the chemistry between Gere and Roberts, which was just as vibrant as it ever was. This time around, he plays a New York columnist who goes to a small town to cover the story of a woman who always leaves her grooms at the altar before they take their wedding vows.
(Touchstone Pictures)
Tom Hanks and Meg Ryan
Though their first pairing -- the totally forgettable 1990 comedy "Joe Versus the Volcano" -- tanked with critics and audiences, the two hit the jackpot teaming with writer/director Nora Ephron for the 1993 romance "Sleepless in Seattle." What makes their pairing so remarkable in the film is that they don't share any screen time together until the last moments. Five years later, the stars and Ephron got together for "You've Got Mail," the charming updated remake of "The Shop Around the Corner." OK, it's not quite the Ernst Lubitsch original, but the Hanks and Ryan combination is so adorable you just root that these two feuding lovers get together before the fade out.
(Warner Bros.)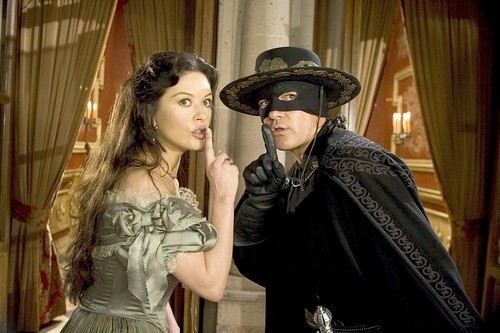 Sequelitis
These days, sequels are the main reason why actors and actresses are reunited. Among the best combinations are Antonio Banderas and
Catherine Zeta-Jones
as the fiery lovers in 1998's "The Mask of Zorro" and 2005's ill-conceived "The Legend of Zorro"; Keira Knightley and Orlando Bloom in the three "Pirates of the Caribbean" blockbusters -- though if Bloom's Will really loved Knightley's Elizabeth he'd convince her to eat a meal, for heaven's sake -- and Cameron Diaz and Mike Myers, who are perfectly animated as Fiona and Shrek in the three "Shrek" films.
(Columbia Pictures)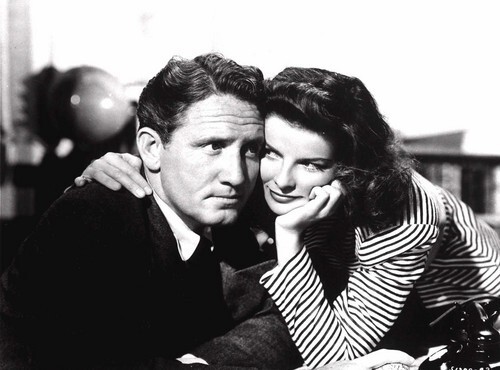 Spencer Tracy and Katharine Hepburn
From 1942's "Woman of the Year" to 1967's "Guess Who's Coming to Dinner," Tracy and Hepburn proved to be one of the most durable on-screen -- and off-screen -- teams. During their 25-year movie partnership, they were perfect comedic foils in such films as "Woman of the Year," "Adam's Rib," "Pat and Mike" and "Desk Set," and excelled in heavily dramatic fare like "Keeper of the Flame." And in all of these years together off-camera, the two never married. The hard-drinking Tracy was a devout Catholic, so divorce was out of the question. Tracy died soon after he completed "Guess Who's Coming to Dinner," for which they both received Oscar nominations. Hepburn won.
(MGM)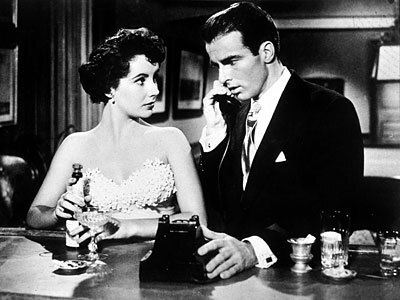 Elizabeth Taylor and Montgomery Clift; Elizabeth Taylor and Richard Burton
Taylor and Clift are not only breathtakingly beautiful in their first film together as the ill-fated lovers in the 1951 classic "A Place in the Sun," their loves scenes -- especially their first kiss -- will still make your knees tremble. The two teamed up six years later in the long Civil War epic, "Raintree County," for which Taylor received her first lead actress Oscar nomination. Clift, though, suffered severe facial injuries in a car crash while the film was in production that changed his appearance and affected his performance. In 1959, they teamed up for the final time in the Tennessee Williams' surreal excursion into madness, "Suddenly, Last Summer." But Clift, who was battling booze and other demons, is difficult to watch. Taylor wanted him to star with her in 1967's "Reflections in a Golden Eye"; Clift even went to Germany to make the dreadful spy thriller "The Defector" to prove he was healthy enough to work. But unfortunately, Clift died in 1966 at the age of 45 before production began on "Golden Eye." Marlon Brando took over the role.
During their marriage, Taylor and Burton made a lot of dreck that wasn't worth anyone's talents. But they did make an incredible team in several of their earlier films -- 1962's "Cleopatra," the über-epic in which they met and fell in love; the 1966 classic "Who's Afraid of Virginia Woolf?," for which Liz won her second lead actress Oscar, and the spirited 1967 version of Shakespeare's comedy "The Taming of the Shrew."
(Archive Photos)
Humphrey Bogart and Lauren Bacall
He was a hard-drinking Warner Bros. star embroiled in a violent marriage with boozy actress Mayo Methot -- they were known as the "battling Bogarts." She was a leggy 19-year-old theater actress and model who was new to Hollywood. And movie history was made when director Howard Hawks teamed the 44-year-old Bogey with Bacall in 1944's "To Have and Have Not." They sizzled on screen, with Bacall delivering such indelible lines to Bogey as "You know how to whistle, don't you, Steve? You just put your lips together and blow." The two married in May 1945 and made three more features together: 1946's "The Big Sleep," 1947's "Dark Passage" -- their weakest vehicle -- and 1948's "Key Largo." In 1955, they appeared in the live TV version of "The Petrified Forest," with Bogey playing Duke Mantee, the role he had originated two decades earlier on Broadway. He died of cancer in 1957. Methot never controlled her temper or her drinking and died alone in a low-rent hotel room in Oregon in 1951 at the age of 47. Her body wasn't found until several days after her death.
(Warner Bros.)
Greta Garbo and John Gilbert
The Swedish screen star had made two films at MGM -- 1926's "Torrent" and "The Temptress" -- when she was teamed that year with the studio's hunk du jour, John Gilbert, in the ultraromantic "The Flesh and the Devil." The Garbo-Gilbert combination proved that dialogue wasn't necessary to be a smoldering team. They also fell in love off-screen; in 1927 they were even supposed to marry, but she didn't show up at the altar. They made two more silent films together -- 1927's "Love" and 1928's "A Woman of Affairs." Then sound came in. Gilbert's voice was weak in his first talkie; his career quickly declined. Film historians have come to believe that MGM head Louis B. Mayer sabotaged Gilbert's voice in the film because he didn't like the actor, and the two had had a notorious argument dealing with Garbo. Garbo made an auspicious sound debut in 1930's "Anna Christie." By the time they made 1933's "Queen Christina," though, Gilbert was losing his battle with alcoholism. Despite Gilbert's problems, he and Garbo still are oh-so-romantic together in the period epic.
()