10 Images
Smart List: Pop culture talking points for Dec. 23-29
National Treasure: Book of Secrets
By Deborah Netburn, Los Angeles Times Staff Writer
You will talk about:
What movie to see Christmas Day. What to watch this year? "Sweeney Todd" seems too violent, "P.S. I Love You" seems too mushy, "Walk Hard: The Dewey Cox Story" might be too foul, so we think your best bet is "National Treasure: Book of Secrets." Oddly enough, much like the rest of America, we loved the first one! (Tuesday)
(Buena Vista Pictures)
M.A.S.H.
You could also talk about:
What to watch on TV on Christmas Day. As a Jewish woman whose mother has a specific disdain for the consumerism at Christmastime, I've got nothing on how the holiday goes down in non-Jewish household. But presumably you can't possibly open presents and eat and sing carols all day long. So if you want to break up the gorging by flipping on the TV while simultaneously staying festive, you might talk about watching TV Land's 8th Annual Merry-thon, which includes Christmas specials from sitcoms past. (Monday-Tuesday)
(Fox)
American Pie
Don't bother talking about:
"American Pie Presents: Beta House." The continuation of "The American Pie" series has us scratching our heads. Is this one of those things that was interesting then tired, then back to interesting again in a continual loop? Or is it just the most depressing thing in the world that Eugene Levy continues to be not only involved but have his face stuck on the spine of the DVD box? Well, apparently one noted awards journalist is quoted in more than a few places enthusing that it's "the most outrageous slice of pie yet!" (Tuesday)
(Universal Studios)
There Will Be Blood
You'll probably talk about:
"There Will Be Blood." Paul Thomas Anderson's latest movie comes out this week, but somehow everyone we talk to has already seen it. (Admittedly, we know a lot of TV writers with a lot of time on their hands and the WGA did have a few screenings). Anecdotal reviews have been polarized. Our cubicle mates loved it, but we've heard from usually trustworthy friends that it's boring. (Wednesday)
(Melinda Sue Gordon / Paramount Vantage)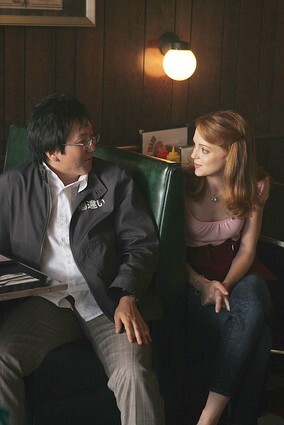 Heroes
You might consider talking about:
The "Heroes" novel. This book about Hiro and Charlie seems like the perfect opportunity to make a joke about how we're going to see a lot more novels based on television characters since TV writers can't write new episodes, but that seems too easy. All you really need to know is that unless this show tanks really hard (very possible), "Heroes: Saving Charlie" is just the beginning of what may become a long and profitable book series. (Wednesday)
(Trae Patton / NBC Universal)
Persepolis
We've heard you should talk about:
"Persepolis." You guessed it. I haven't seen this movie based on the bestselling graphic novel of the same name yet, but my baby-daddy has, so I'll let him explain why you should talk about it: "Because it's a more realistic depiction of Iranian people than you are going to see in most movies or on the news, and it's smart and funny and emotional, and inventive." I'm sold! (Tuesday)
(Sony Pictures Classics)
RYAN SEACREST
One has the option of talking about:
The Walt Disney World Christmas Day Parade. Sometimes the Disney empire freaks us out. Like when a press release about this annual parade (celebrating 24 years this Christmas) encourages one to watch "television's happiest parade as it makes its way down Main Street U.S.A." Regis Philbin, Kelly Ripa and Ryan Seacrest will be on hand to host, and Katharine McPhee and Miley Cyrus will make appearances. (Tuesday)
(Paul Hiffmeyer / AP)
High School Musical
Will we ever stop talking about:
"High School Musical." Is there anything left to say about this made-for-TV phenomenon? Not that we can think of. But that hasn't stopped Disney from milking the unprecedented success of the show for all it's worth. Available in stores this week: "High School Musical 2 Non-Stop Dance Party" — "an all-new, continuous dance remix of the entire original soundtrack PLUS… a bonus megamix, international video mix" and so much more! (Wednesday)
(Paul Hiffmeyer / AP)
The Bucket List
People we don't know might talk about:
"The Bucket List." You've seen the trailers — Jack Nicholson and Morgan Freeman play terminally ill men who decide to do all the things they want to do before they, (say it with me), "Kick… the… bucket!" (Very good!) Does the movie look very good? Not to us. (Tuesday)
(Sidney Baldwin / Warner Bros.)
It's a Wonderful Life
We're thinking about:
Watching Christmas movies on TV. NBC will be airing "It's a Wonderful Life" on Christmas Eve, which seems like a nice idea. But you know what's an even nicer idea? Ordering the DVD from Netflix or Blockbuster or hoofing it over to your local video store (surely some of those still exist) and not having to sit through all the commercials. (Monday)
(Cumberland House Publishing)