9 Images
The hair club for Sam
By Chris Lee, Los Angeles Times Staff Writer
Role after disparate role in a career that has spanned 80-plus films, Samuel L. Jackson performances tend to share a common X-factor: amazing hair. Through the actor's extensive use of wigs, hair extensions, chemical grooming products and outlandish dye jobs, he has time and again conjured character through coiffure. Just ask Robert L. Stevenson, Jackson's dedicated hairstylist, who has supervised his tonsorial choices in more than 30 movies -- the guy's equally at ease with Jheri curl activator and Afro pick, in dreadlocks, in cornrows or totally bald. Jackson's latest flight of follicle fancy, the sci-fi action movie "Jumper," reaches theaters today.
(Alejandra Villa / For The Times)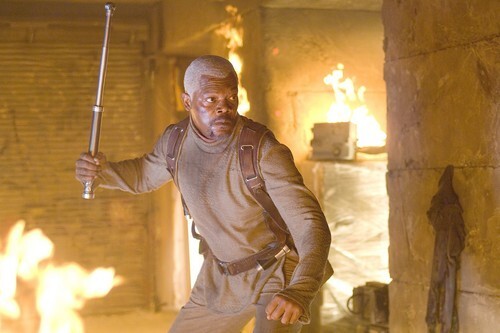 "Jumper" (2008)
The look:
Close-cropped, platinum-colored hair that resembles cupcake frosting but also strongly recalls late '90s R&B star Sisqó (of "Thong Song" fame).
The back story:
To portray the leader of a secret sect that's waged war against people with teleportation powers (called Jumpers) for thousands of years, Jackson had to look suitably sci-fi. Unlike his hair-beard accord in "Black Snake Moan," however, Jackson's drapes don't match the facial carpet in "Jumper"; his character's black goatee contrasts sharply with his outré cranial shrubbery.
(Michael Gibson / 20th Century Fox)
"Black Snake Moan" (2007)
The look:
Wooly white hairpiece that simulates a receding hairline and a snowy beard that would have made Papa Smurf green with envy.
The back story:
Writer-director Craig Brewer suggested modeling Jackson's God-fearing farmer-cum-blues musician character, Lazarus, on blues guitarist R.L. Burnside. But the operative idea was to give the conflicted yet righteous Lazarus (a guy who chains Christina Ricci's borderline nymphomaniac character to a radiator for part of the movie) a "lived-in" look.
(Paramount Classics)
"Star Wars: Episode I, II, III" (1999, 2002, 2005)
The look:
A shaven head, clean and gleaming like a new billiard ball. No facial hair.
The back story:
Playing Jedi Master Mace Windu, a ranking member of the Jedi Council and general in the Clone Wars, Jackson adopted a bald pate more out of convenience than necessity; he had simply shaved his head after wrapping "Sphere." "It isn't that Mace is this ethereal dude who takes his light saber and goes 'Rrrrr-owww,' runs it over the top of his head," Jackson said. "It was just one of those things that happened."
()
"Formula 51" (2001)
The look:
With his hair twisted into neat cornrows and sporting a goatee, Jackson channels his inner Snoop Dogg.
The back story:
Although the Anglo action comedy's script called for a "tall, bald black man in a kilt," Jackson embellished his character's look. "I changed it because I wanted the look to be more contemporary," he said. "He was going into this situation to look like what a British audience would typically think of as a black hip-hop kind of gangster. So, hence the cornrows, the Tims [Timberland construction boots], the big sweater."
(Liam Daniel / Screen Gems)
"The Caveman's Valentine" (2001)
The look:
Modern-day troglodyte with a thick beard and knotty dreadlocks.
The back story:
As a homeless man prone to delusional fantasies who lives in a cave in Central Park, personal hygiene isn't high on Jackson's character Romulus Ledbetter's list of priorities. "There were homeless guys that I had seen in New York that I based it on: a wild kind of Rasta who lives in a cave," Jackson explained. "He grows this hair as a source of heat and as a mask that he can hide under and behind. It also made him very lionesque."
(Kerry Hayes / Universal Studios)
"Unbreakable" (2000)
The look:
Outsized and asymmetrical Afro. Imagine bed-head shaped like Gumby's skull.
The back story:
Writer-director M. Night Shyamalan wanted the character Elijah, a reclusive yet obsessive comic book collector with brittle bone disease, to have hair "busting out all over the place," Jackson recalled. "I was thinking along the same lines. I was thinking Frederick Douglass," he said. "It informed my character very well because he's a thinker."
(Frank Masi / Touchstone Pictures)
"Jackie Brown" (1997)
The look:
Black hair that's long, straight and as luxuriant as the mane of an Arabian palomino.
The back story:
Jackson fondly recalls the wig he wore to portray hot-headed gunrunner Ordell Robbie as his "favorite movie hair." "I could wear it straight down or I could tie a French braid in the back or I could rock a ponytail," said Jackson. Of the character: "He's trying to be this elegant 'Super Fly'-kind of guy -- 'Super Fly' is his favorite movie and that's what Ron O'Neal's hair looked like."
(Darren Michaels / Miramax)
"Pulp Fiction" (1994)
The look:
A greasy corona of loose curls glistening with activator.
The back story:
Quentin Tarantino may have originally envisioned Jackson's scripture-quoting hit man Jules Winnfield with a giant Afro, but the actor championed the "wet look" after a wardrobe assistant accidentally bought the wrong wig. "Jules's this philosophizing, highly articulate hit man who has a sense of style," Jackson explained in a 2005 interview with The Times. "I thought he was very much like N.W.A -- like guys from that particular era. Part of his sense of style is Jheri curl that drips on his collar."
(Linda R. Chen)