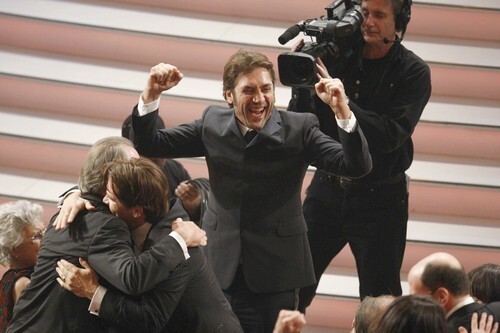 25 Images
The best and worst of the Oscars '08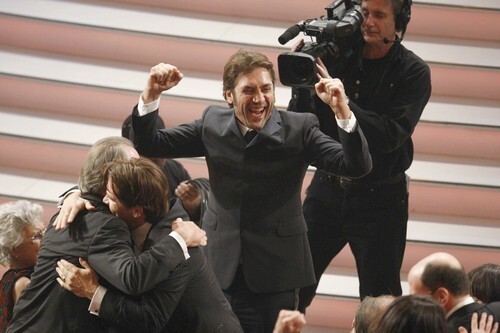 This year's Oscar season was a time of excruciating uncertainty. Would the writers' strike be settled in time for the big event? Would rain turn hundreds of hairdos into hairdon'ts?
In the end, it all worked out; the writers made a deal with the studios, it didn't rain after all, and the show that ensued was filled with as much magic and madness as ever. Here are the highlights -- and lowlights – of the three-hour, 22-minute love-fest.
(Wally Skalij / Los Angeles Times)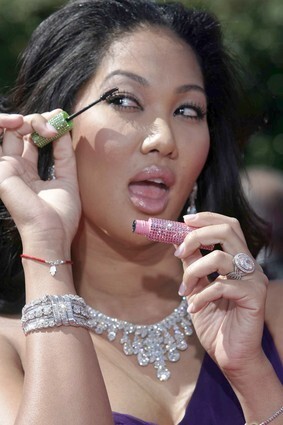 Did somebody give Kimora Lee Simmons a nice-pill this morning? Next time you judge red carpet fashion, Kimora, we expect twice as much cattiness, three times as many diamonds, and four times as much fabulosity! We'd also appreciate it if you could throw something at one of your assistants.
(Spencer Weiner / Los Angeles Times)
At every awards show, somebody has to step up and act like a total madman. Kudos to Gary Busey for filling the role
with aplomb
tonight, when he accosted Ryan Seacrest and Jennifer Garner on the red carpet.
Click here to view the madness for yourself!
(Valerie Macon AFP/Getty Images)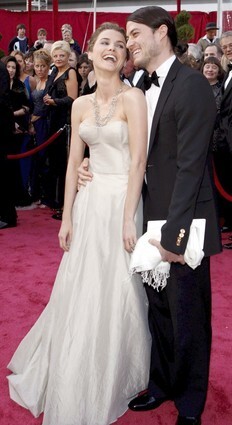 After watching Felicity struggle in complex relationships with Noel and Ben for four seasons, it was a relief to see Keri Russell utterly smitten with her real-life-love on the red carpet tonight.
(Andrew Gombert / EPA)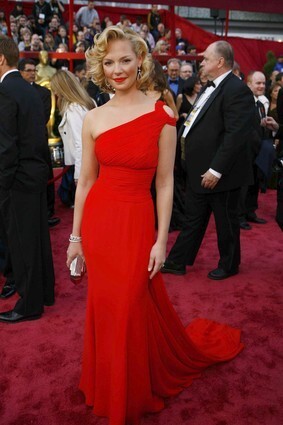 Katherine Heigl was ravishing in red, and Jennifer Garner's strapless black dress could have stopped traffic. Psst, Josh and Ben, don't leave these foxes alone for too long!
(Jay L. Clendenin / Los Angeles Times)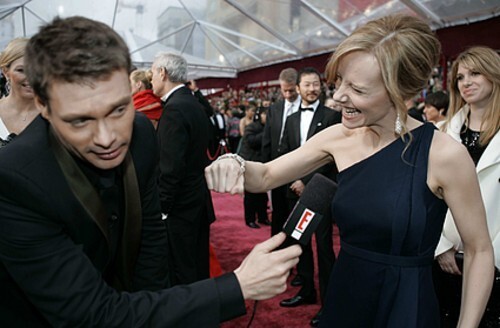 On E!, Ryan Seacrest''s camera guy "Tom" had a camera installed into a sporty-looking black fedora. Nice looking camera, but what was the point? Poor Tom had to hop to his feet every few minutes to show it off and the view was no different than the regular camera.
(Amy Sancetta / Associated Press)
The sight of mama''s boy Javier Bardem resting his head on his mother''s shoulder and kissing her on the lips was enough to completely cancel-out the chills we got seeing him as the murderous Anton Chigurh in ""No Country for Old Men."" Did this make Angelina Jolie's liplock with brother James Haven seem, um... normal?
(Mark J. Terrill / Associated Press)
Between her messy hair, forgetting who made her jewelry, and sounding out the word "cin-e-ma-to-gra-phy", Cameron Diaz was really phoning it in tonight.
(Jay L. Clendenin / Los Angeles Times)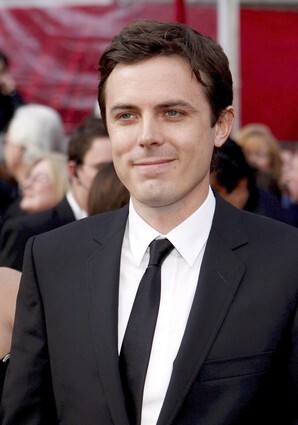 Take a cue from Casey Affleck. When Ryan Seacrest asks you a question, repeat it back to him like it''s the dumbest thing you''ve ever heard. Example: Seacrest: "Are you a history buff?"
Affleck: ""Am I a 'history buff'?""
(Andrew Gombert / EPA)
Oscar pre-show host Regis Philbin praised best actor George Clooney as being a king of the red carpet. ""I''ve only been here twice,"" Clooney replied.
That may be, but it sure feels like Clooney''s always been there.
(Chris Carlson / Associated Press)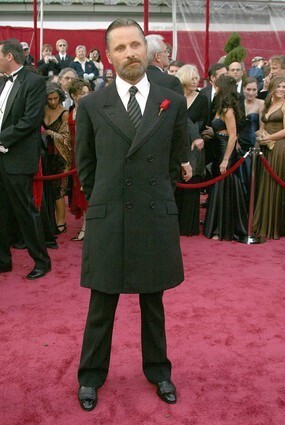 We''ll tell you everything you would have learned by watching: Hilary Swank had almonds stowed in her purse, Colin Farrell would have made hats if he had not become an actor, and Viggo Mortensen has 43 tattoos. That sounds impossible, yes, but we hear that at least 30 are tattoos of moles.
(Frazer Harrison / Getty Images)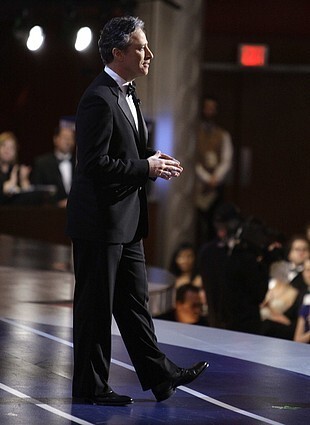 Gaydolf Titler. (No explanation of preceding joke necessary).
(Chris Carlson / Associated Press)
There was something undeniably awkward about seeing Amy Adams sing ""Happy Working Song"" on an empty stage in a fancy dress. Why didn''t she get the usual awards-show-treatment of flashing graphics and an army of backup dancers?
(Mark J. Terrill / Associated Press)
So if movies are getting smaller, what is the best use of those oversized movie screens? Stewart solved that problem for us –-- he played Wii Sports on the Kodak''s giant screens and realized a dream of 12- (and 30-) year-old boys all over the country.
(Mark J. Terrill / Associated Press)
You''ve gotta hand it to Jon Stewart for mocking the omnipresent Oscar tribute with faux-tributes to binoculars and bad dreams.
(Mark J. Terrill / Associated Press)
Every year we''re treated to at least three of these movie clip-a-thons, usually accompanied by bombastic movie score music from either ""E.T.,"" ""Dragonheart"" or ""Apollo 13."" This year, the most unbearable was the chronological rundown of best picture winners from Oscar's 80 years, including "Braveheart." And yes, the music of ""E.T."" and ""Dragonheart"" was used extensively. Again.
(Associated Press)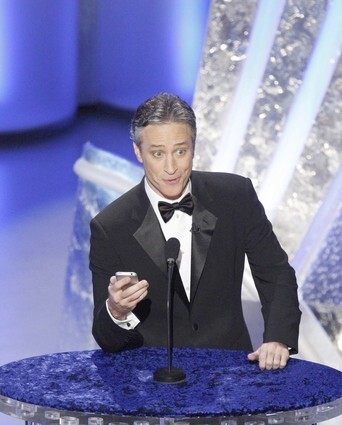 Jon Stewart watching ""Lawrence of Arabia"" on the palm-sized screen of Apple''s iPhone. Midway through his mocking praise of the film''s cinematography on the tiny screen, we were treated to a close-up of the Apple logo. Is this the beginning of the end for Apple''s cool streak? Doubtful. More likely it''s the beginning of the end for big-screen movies.
(Wally Skalij / Los Angeles Times)
Did the bee from ""Bee Movie"" actually present an award tonight? Please, make it stop.
(DreamWorks Animation L.L.C.)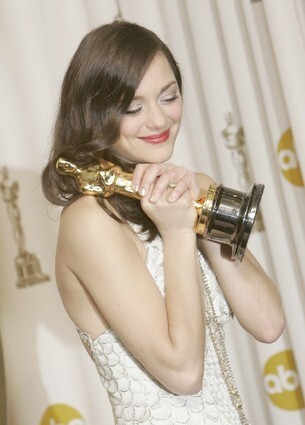 In the adorable department, no other actor could hold a candle to Marion Cotillard and her acceptance speech, after winning best actress: "Oh --thank you so much. Olivier, what you did to me, Maestro Olivier Dahan, you rocked my life. You truly rocked my life. Thank you so much to Picturehouse for your passion, members of the Academy, thank you so, so much. And -- wow. Well, I'm speechless now. I -- I -- well, I -- thank you life, thank you love, and it is true, there is some angels in this city. Thank you so, so much."
(Lawrence K. Ho / Los Angeles Times)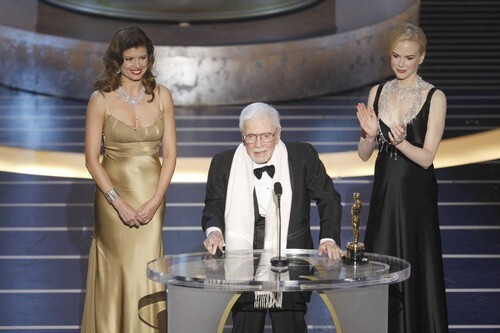 Alfred Hitchcock. Honorary Oscar-winner Robert Boyle took a moment to thank some of the directors on whose films he had served as production designer. Nearly 50 years after working together on ""North by Northwest,"" Hitch finally got his thanks.
(Wally Skalij / Los Angeles Times)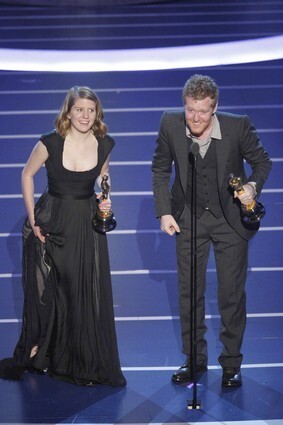 Best original song co-winner Markéta Irglová, who was abruptly cut off by her own song when she stepped to the microphone to say thank you. But just after the break, Jon Stewart brought her back out to finish her thanks. A classy moment and one that Irglova didn't spoil by thanking a bunch of agents.
(Wally Skalij / Los Angeles Times)
We admit having mixed feelings about stripper-turned-screenwriter Diablo Cody's public persona, but we have to admit her teary Oscar moment while winning best original screenplay seemed more genuine than anything in the entirety of ""Juno.""
(Mark J. Terrill / Associated Press)
""No Country''s"" double win for best director and best picture. It was the odds-on favorite to win both awards, but when the names of Joel and Ethan Coen were announced no one seemed that thrilled, least of all the deadpan duo, who seemed barely capable of a smile when they accepted the award. Maybe they had someplace else to be?
(Michael Yada / AMPAS / EPA)
At three hours, 22 minutes, it was one of the shorter ceremonies in recent years. And with the complete lack of enthusiasm about any of the nominees, that was a blessing all its own.
(Kevork Djansezian / Associated Press)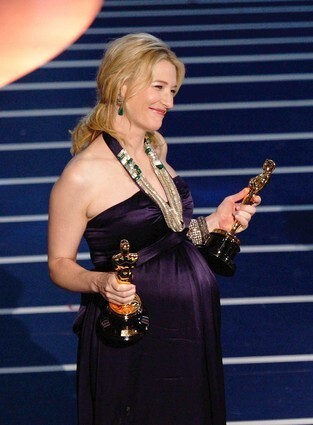 Cate Blanchett. Jon Stewart joked about the scope of her roles, mentioned her in his opening speech, and poked fun at her in a pregnant actress gag; she was nominated for two awards, and costume designer Alexandra Byrne even thanked Cate in her acceptance speech. It seems that at the Oscars, all roads lead to the ethereal and perpetually pregnant Cate Blanchett.
(Kevin Winter / Getty Images)