10 Images
Roger Ebert: Career in pictures
Roger Ebert
Roger Ebert, the Pulitzer Prize-winning film critic, died on Thursday at age 70. He had battled cancer on and off for the final decade of his life. Ebert lost his jaw and his ability to speak following a surgery to remove cancerous tissue in 2006, but for the final few years of his life, he continued to connect with his readership through prolific use of social media and his blog.
(Charles Rex Arbogast / Associated Press)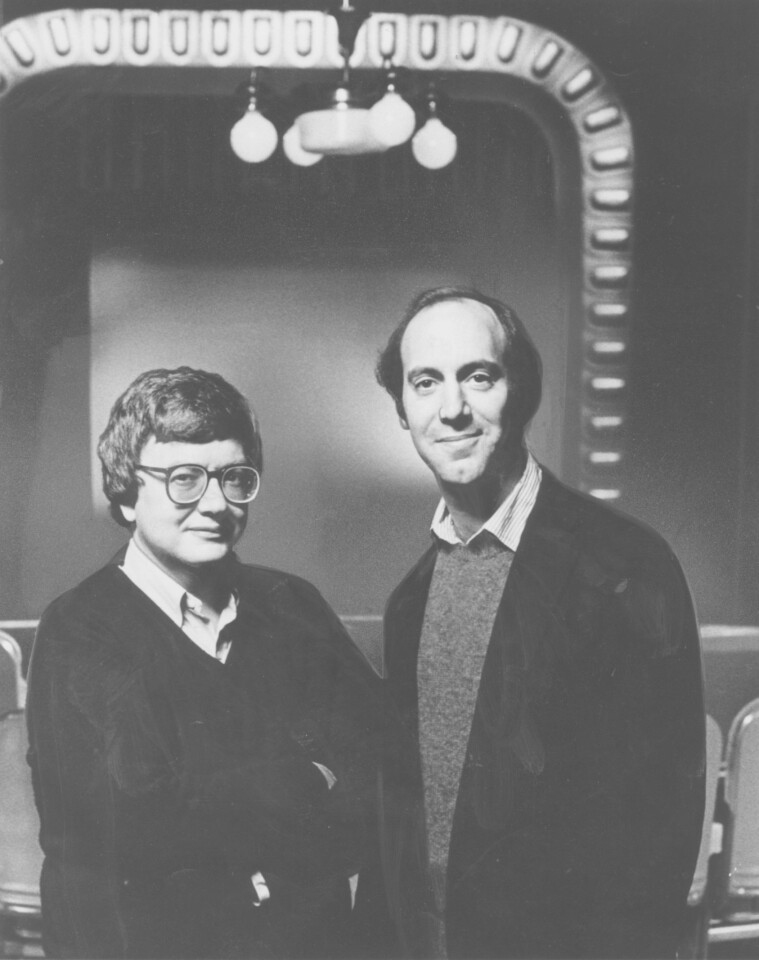 Siskel & Ebert
Ebert, left, was named film critic of the Chicago Sun-Times in 1967. However, his true fame did not come until he was paired with a crosstown rival, Gene Siskel, right, for the local movie review show, "Opening Soon at a Theater Near You," in 1975. The series, which aired on PBS, was renamed "Sneak Previews" in 1977. Ebert and Siskel did not get along in real life, and their clashes of personality frequently spilled over onscreen, making them compelling TV personalities.
()
Roger Ebert: Screenwriter
Early in his career as a critic, Ebert took a stab at screenwriting. He wrote the screenplay to director Russ Meyers' 1970 film "Beyond the Valley of the Dolls." The movie, which featured many buxom and scantily clad women, was considered a bomb upon its release but is now regarded as a cult classic.
(Chicago Tribune / MCT)
Siskel & Ebert
Siskel & Ebert's program changed to "At the Movies" in 1982 and then became "Siskel & Ebert at the Movies" in 1986. By then, they were nationally syndicated by Buena Vista Television. Frequent appearances on "The Tonight Show With Johnny Carson" and "Late Night With David Letterman" made their "thumbs up / thumbs down" way to review a movie a household phrase.
(Business Wire)
Ebert & Roeper
After Siskel died in 1999 following complications from a surgery to remove a cancerous brain tumor, Ebert continued the show with a rotating series of guest critics, before pairing permanently with fellow Chicago journalist Richard Roeper in 2000. When Ebert underwent his own cancer surgery in 2006, Roeper continued to host the show for two more years with a variety of guest critics.
(Fred Jewell / Associated Press)
Ebert: Author
Despite his fame as a TV personality, Ebert never let his duties as a newspaper film critic waver. He continued to publish hundreds of reviews a year and wrote several books, including his memoir, "Life Itself," in 2011. Ebert won the Pulitzer Prize for criticism in 1975.
(David Livingston / Getty Images)
Walk of Fame
In 2005, Ebert was awarded a star on the Hollywood Walk of Fame. He was the first film critic to be awarded the honor. Here, he is with Richard Roeper.
(Ric Francis / Associated Press)
Ebertfest
In 1999, Ebert began what has become an annual film festival at his alma mater, the University of Illinois at Urbana-Champaign. The festival, which was originally called "Roger Ebert's Overlooked Film Festival," is now just called "Ebertfest." While Ebert himself originally hosted the post-screening Q&As, the job was given to a variety of people following Ebert's loss of voice.
(Seth Perlman / Associated Press)
Ebert's reach increases
Ebert gave few TV appearances following his jaw surgery in 2006, but he continued to write and tweet and began discussing more than film. In his blog posts, he tackled art, food, religion and politics. As a result of his increased online presence, he attracted a new generation of readers and fans and won the Person of the Year Award at the 14th annual Webby Awards in 2010.
(Charles Sykes / Associated Press)
Julianne Moore: Career in pictures