13 Images
SAG Awards 2013: Best & worst moments
Worst lines of the night?
Leave it to E!'s Giuliana Rancic to give us the cringe-inducing quote of the evening. Talking to "Modern Family's" Julie Bowen and Sofia Vergara in black and white dresses, she commented, "You guys are the hottest Oreo cookie I've ever seen." Maybe it's time for Rancic to get a snack. Runner-up belongs to her red carpet co-host Ross Mathews, who wondered if Bradley Cooper would have children and call them "mini Coopers." He actually laughed at this.
(AFP / Getty Images)
No jokes about Daniel, please
Second cringe-inducing moment of the night came from the SAG Awards intro, which showed shots of the stars on the red carpet accompanied by an announcer screaming things such as, "Hey, Ben Affleck! Argo find your seat!" Or "Jessica Chastain looks Zero Dark Flirty." Or the exceedingly clever, "Hey, Daniel Day-Lewis!" (Some people are just humor-proof.)
(Frazer Harrison / Getty Images)
Hathaway blanks just in time
Bonus acceptance speech points go to Anne Hathaway, who conveniently forgot the names of her agents during her acceptance speech for supporting actress in "Les Miserables." No one wants to hear a laundry list of people they've never heard of, and by forgetting their names, she spared everyone that pain. She also gave a shout-out to "The Dark Knight Rises," which puts her square in the cool book.
(Mark Davis / Getty Images)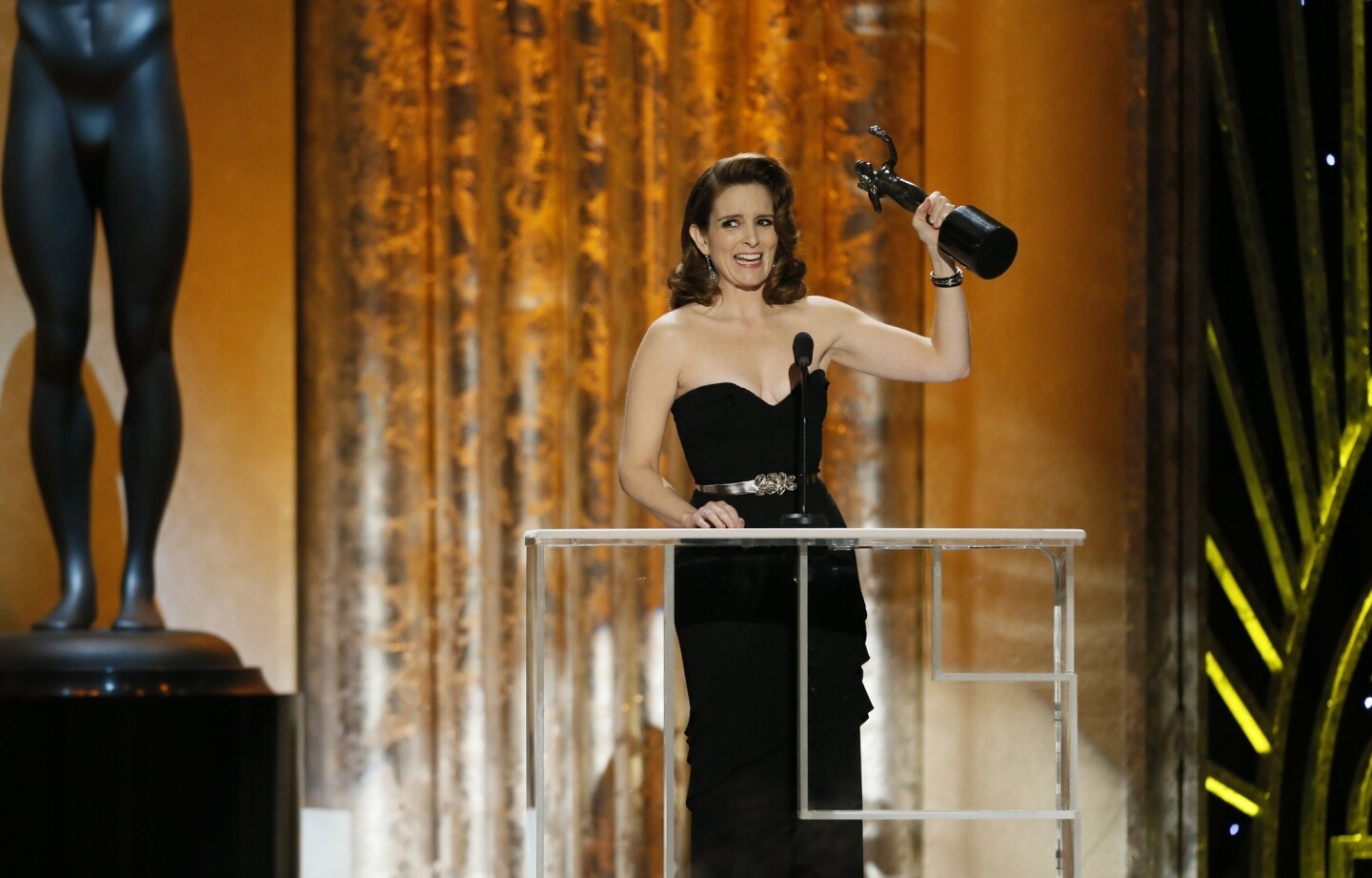 Tina Fey will get that Lena Dunham yet
Lena Dunham may live to regret her comments about enjoying Amy Poehler and Tina Fey's work when she was in middle school during her Golden Globes acceptance speech two weeks ago. While Fey and Poehler made jokes about it that evening, Fey couldn't resist bringing it back up at the SAG Awards. During her acceptance speech for lead actress in a comedy series, she turned to Poehler and said, "I share this with my sweet friend Amy Poehler.... I've known you since you were pregnant with Lena Dunham."
(Robert Gauthier / Los Angeles Times)
'30 Rock' feels the pain
Know who probably feels terrible tonight? The supporting cast of "30 Rock." While their leading man, Alec Baldwin, and leading lady, Tina Fey, both won SAG Awards, the rest of the cast members were shunned in favor of the cast of "Modern Family." It was as if the voters were saying, "Well, we love some of you." On top of that, the series finale airing Thursday means they're officially unemployed.
(Frederic J. Brown / AFP Getty Images)
'Les Miserables': The Awesome Edition
To introduce "Les Miserables," Hugh Jackman and Anne Hathaway wisely decided to describe the plot in 2013 terms, thereby winning over a new generation of fans: "Wolverine is being chased by Gladiator. Catwoman gets knocked up and goes to see Bellatrix Lestrange from Harry Potter and Borat. Then Wolverine agrees to raise Catwoman's baby, and she grows up to star in Mamma Mia." If that doesn't guarantee them the MTV Movie Award this summer, then nothing will.
(Mark Davis / Getty Images)
Beware the flu!
The flu has struck Hollywood! The stars at the SAG Awards were either recovering (Jennifer Lawrence, Marion Cotillard) or they were laid up (Carl Reiner, Mary Tyler Moore). Life Achievement Award winner Dick Van Dyke warned everyone, "There's a lot of flu going around... I'm *cough* all right."
(Mark Davis / Getty Images)
Dick Van Dyke retains his youth
Dick Van Dyke may be 87, but he looked and acted fully 10 years younger than that as he bounded onto the stage to accept his lifetime achievement award. "This does an old man a lot of good," he said in response to his standing ovation. After a truly classy acceptance speech, he belied his age for only a moment, when he fumbled for presenter Alec Baldwin's name, accidentally calling him Tony Bennett.
(Mark Davis / Getty Images)
Bryan Cranston's touching moment
Amazingly, Bryan Cranston had never won a SAG Award for his role as the high school teacher who becomes a meth kingpin in "Breaking Bad" before tonight. Now amid filming the show's final episodes, Cranston basked in the love from his fellow actors and even created one of the night's most touching moments when he took a moment to acknowledge his wife and daughter Taylor. "Taylor, you created the role of my life," Cranston said. In the audience, Taylor's unheard response was "I love you, Dad."
(Mark Davis / Getty Images)
The servants of 'Downton' get gussied up
Everyone likes a nice shocker in their awards nights (well, except maybe for people putting money on the outcomes), so it was great to see the clearly astonished cast of PBS' "Downton Abbey" take the SAG award for ensemble in a drama series. Everyone was expecting the cast of "Homeland" or even "Boardwalk Empire" to win. But there was Mrs. Hughes herself (Phyllis Logan) breathless, flustered and looking very unservant-like, introducing the cast of little-known Brits to the room full of Hollywood A-listers.
(John Shearer / InvisionAP)
Daniel Day-Lewis gives an award-worthy acceptance speech
Best acceptance speech line of the night came from Daniel Day-Lewis, who was pontificating on Abraham Lincoln when he said this: "It was an actor that killed Abraham Lincoln, so it's only fitting that an actor tries to bring him back from time to time." If only they gave out awards for acceptance speeches....
(Robert Gauthier / Los Angeles Times)
'Argo'-go Ben Affleck!
Ben Affleck was clearly giddy when he took the stage to accept the award on behalf of the cast of "Argo," which took the SAG award for ensemble in a motion picture. As the latest in a run of unexpected wins for the thriller, "Argo" is now the film to beat at the Oscars. And judging from Affleck's over-the-moon acceptance speech, he's got the same thing on his mind.
(Robert Gauthier/ Los Angeles Times)