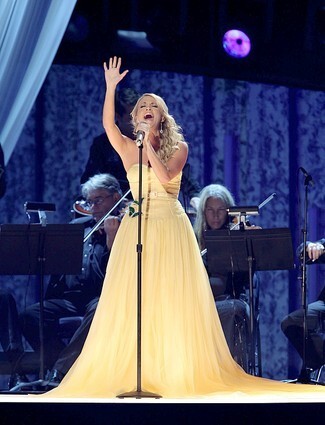 7 Images
'Idol's' music biz takeover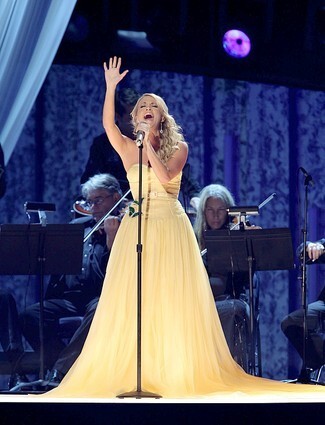 By Todd Martens, Los Angeles Times Staff Writer
As the music industry suffers double-digit declines in CD sales from year to year, the closest thing to a sure bet has become a television show or three – but this isn't about "Hannah Montana" or "High School Musical."
The seventh season of "American Idol" will no doubt be a ratings juggernaut, especially in these strike-affected times, but the Fox contest has also become a reliable source for insta-celebs, providing the music business with name brands that draw consumers into stores.
From Kelly Clarkson to Carrie Underwood to last season's Jordin Sparks, the U.S. pop charts have been littered with "Idol" alum since 2003. We take a look at just how many albums some of them have sold and which artists appear to have the most staying power. And yes, this is a William Hung-free gallery.
(Scott Gries / Getty Images)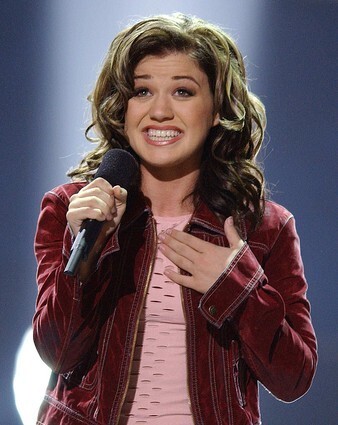 Kelly Clarkson
Clarkson is "American Idol's" first-season winner and the first pop star born from the series. Her post-"Idol" career started off swimmingly, with the smash ballad "A Moment Like This" topping the U.S. charts.
The goodwill carried over to her debut album, 2003's "Thankful," which entered the charts at the top and sold nearly 300,000 copies in its first week, according to Nielsen SoundScan. But it was her follow-up, 2004's "Breakaway," that transformed Clarkson from 'the girl who won 'American Idol' " to an international superstar with crossover appeal, thanks in part to the spunky hit "Since U Been Gone."
"Breakaway" spent a whopping 103 weeks on the album chart, and its to-date sales in the U.S. have approached the 6-million mark. Clarkson continued on the rock path with the darker "My December," which was released last summer after a much talked-about battle with her record label over its content. Clarkson confirmed to Entertainment Weekly that she was told the album was "just too negative."
It had a strong debut, entering the pop chart at No. 2 after selling 291,000 copies, but it fell off after 18 weeks. Additionally, a summer arena tour was scrapped because of poor ticket sales and was rescheduled for the fall at smaller venues.
(Associated Press)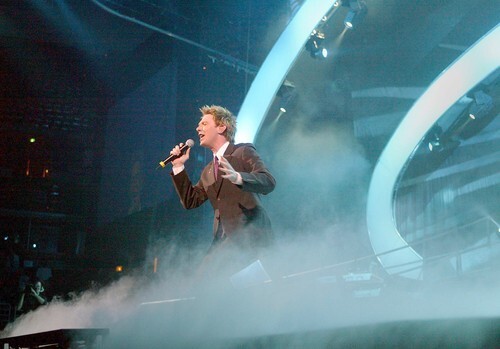 Clay Aiken
Season 2's second-place finisher, Aiken became a media sensation with his debut album, "Measure of a Man." It opened at No. 1 after selling 613,000 copies, a number that hasn't been topped by Underwood, Clarkson or Taylor Hicks. It went on to sell 2.8 million copies, according to Nielsen SoundScan.
But Aiken has yet to release a proper second album. His 2004 "Merry Christmas With Love" put up solid numbers, having sold 1.4 million copies to date, but a 2006 album of covers, "A Thousand Different Ways," received a much more indifferent reception. It opened high, selling more than 200,000 copies in the first week, but it stalled immediately. To date it has sold just 522,000 copies.
Aiken will appear on Broadway in "Monty Python's Spamalot." Over the last few months, he has hinted at a new album.
(Robert Lachman / Los Angeles Times)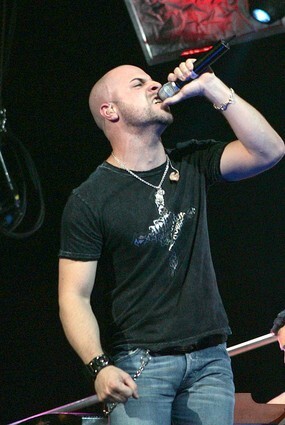 Chris Daughtry
Like Aiken, Daughtry is evidence that you don't need to be an "American Idol" winner to triumph in the music business.
After placing fourth on the show in 2006, he soon recovered, forming a band and teaming with superstar rock producer Howard Benson, who has worked with My Chemical Romance and Papa Roach, among others.
His earnest, Nickelback-inspired rock resonated with audiences, and his album opened at No. 2 in November 2006 after selling 306,000 copies, according to Nielsen SoundScan. To date, it's moved 3.6 million copies and was one of the top-selling albums of 2007.
(Stefano Paltera / For The Times)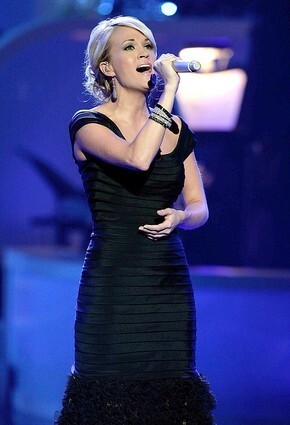 Carrie Underwood
"American Idol's" fourth-season winner seems to have completely broken free of any "Idol"-related stigma.
Last year's Grammy Award recipient for best new artist, Underwood made her album debut with "Some Hearts," which has sold more than 6.2 million copies, according to Nielsen SoundScan -- the kind of numbers the music biz was used to seeing in the pre-download era.
Her second effort, "Carnival Ride," released in late 2007, opened at No. 1 with a massive 527,000 copies, and as of mid-January was still in the top 20, having sold approximately 2 million copies, according to Nielsen SoundScan. Her latest single, "All-American Girl," just entered the singles chart, and she'll be touring with country star Keith Urban this year, so don't expect Underwood's "Ride" to be derailed any time soon.
(Kevin Winter / Getty Images)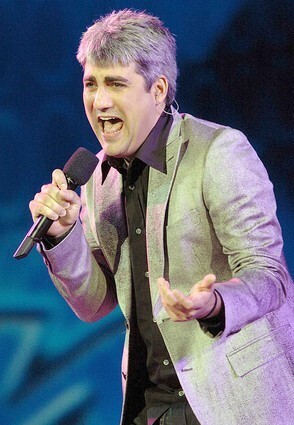 Taylor Hicks
With something he calls "Soul Patrol," fifth-season winner Hicks made an instant impact on the charts with his self-titled, post-"Idol" effort. It opened with first-week sales of 298,000 copies in late 2006, according to Nielsen SoundScan, and went on to sell 699,000 copies.
But the story doesn't end there. Hicks was recently let go from Arista, suggesting the label wasn't willing to bet on his long-term sales potential.
Fellow fifth-season contestant Katharine McPhee recently suffered a similar fate. Her self-titled RCA debut sold 366,000 copies in its first year, and she and her label parted ways in early January. It's clear that "Idol" moves CDs, but the fate of Hicks and McPhee has started to call into question whether "Idol" can consistently spawn career artists.
(Bloomberg)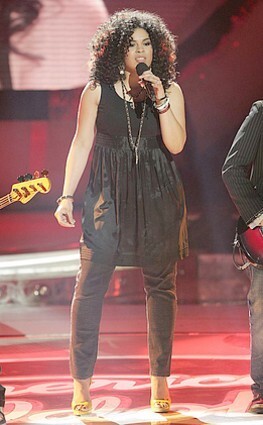 Jordin Sparks
Last season's winner released her self-titled debut in November, and, with Hicks and McPhee having split from their labels, the industry will be closely watching the sales she generates.
The singer was the youngest "Idol" winner, and her album got off to a slow start. It debuted at No. 10 after selling 119,000 copies, failing to measure up to the first-week numbers for Underwood, Clarkson, Aiken, Fantasia and Studdard, not to mention Hicks.
Yet in just a few weeks, the album has gone on to sell more than 420,000 copies, and her duet with Chris Brown, "No Air," recently entered the singles chart.
(FOX)