After making it out of darkness, Harry Hudson is on a quest for meaning and light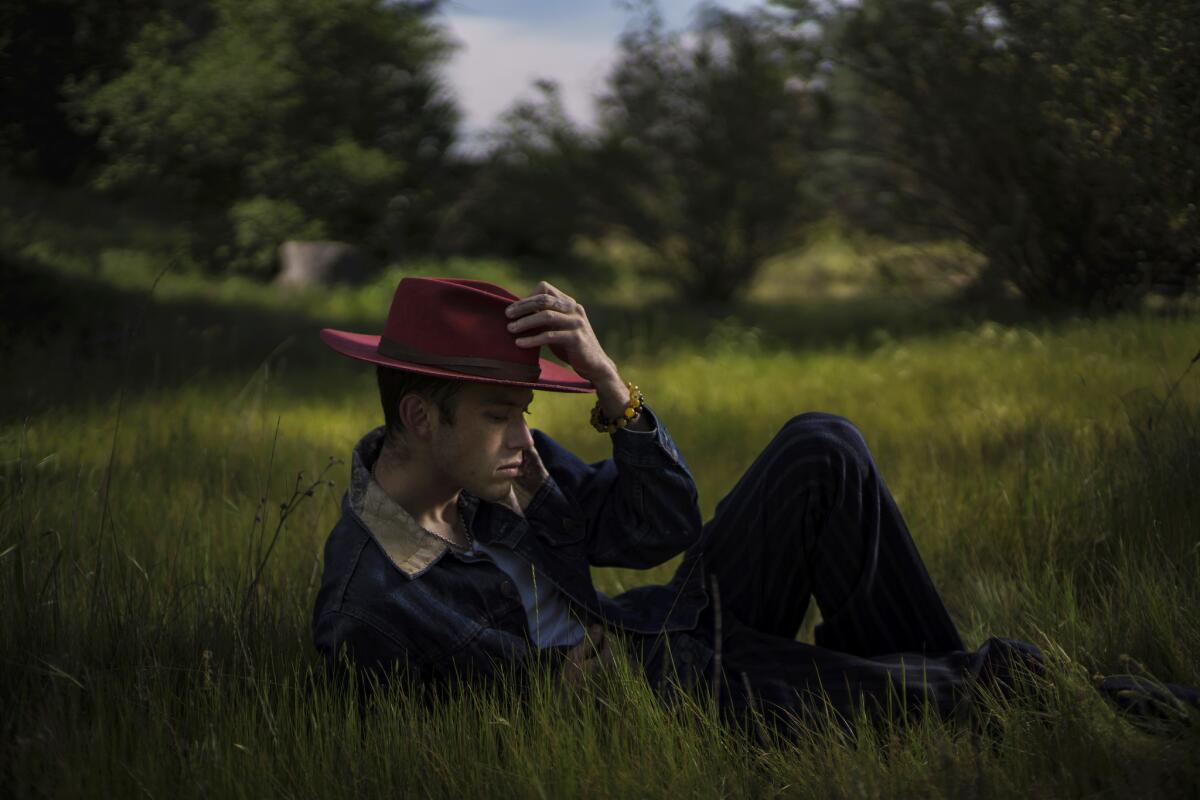 Harry Hudson has faced quite a bit in his 24 years.
A bout with cancer — Stage 3 Hodgkin's lymphoma — forced the folk-pop singer-songwriter to confront death before he was even old enough to get into a bar, and overcoming his illness sparked a depression that left him contemplating suicide.
He found direction, got serious about his music and spent the next three years crafting "Yesterday's Tomorrow Night," his debut for MSFTS/Roc Nation.
Yet on the eve of its release last month, Hudson again found himself in darkness with the sudden loss of his father three weeks before the album's release. "I'm just trying to figure out the answers to life," he says.
The singer-songwriter is desperately in search of the light, he says, and perhaps that's why his team suggested we meet at sunny Universal Studios Hollywood (his deep affinity for film also inspired the unconventional interview location).
Hudson immediately sticks out among the throng of tourists and spring breakers crowding the park on a busy, hot afternoon.
His wiry shoulders are draped in the custom denim jacket inscribed with "Can Cowboys Cry" (the title of the short film he released with friend and label mate Jaden Smith as a prelude to his album earlier this year) and he's got his older brother/best friend/manager Remington in a tight bear hug, the two giddy with laughter.
He's infectiously upbeat, with a calm and positive disposition that envelops those in his orbit. It's a kindness he extends to everyone in his path, greeting them with a wave or a wide, friendly smile or stopping to ask them how they are.
"Everyone is my best friend. That's how I think,' he says, his arms outstretched toward the throngs of hurried guests. "We are all here for a bigger purpose. To do something and change the world. Why can't we all be nice to one another? It's so much easier."
Even though I'm in so much pain right now, this is the happiest I've ever been.
— Harry Hudson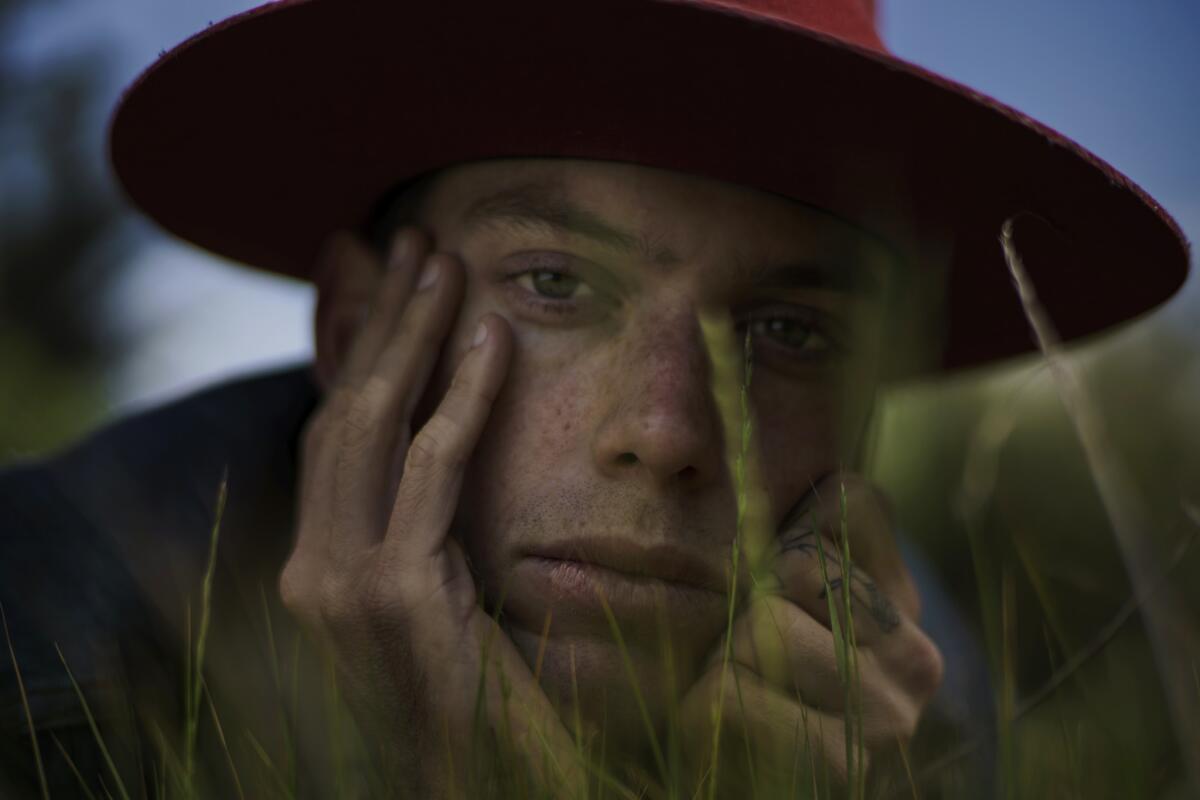 Searching for purpose first led Hudson, whose family relocated to the Valley from New Jersey when he was a kid, to music. He initially gravitated to rap, joining a group with friends who recorded themselves on a laptop in a bathroom.
"I wanted to be the white crazy kid. I said wild [things] but I really just had a lot of inner demons I didn't know how to express," he says with a laugh.
It was a chance meeting with John Atterberry, the former vice president of Death Row Records, in 2011 that changed the course of his burgeoning artistry. The executive told Hudson he should consider singing instead of rapping because he wasn't entirely convinced the young man wanted to rap. Weeks after that meeting Atterberry was shot and killed.
"John was the first person to ever believe in my music. I thought he was out of his mind when he told me try singing," Hudson said. "I didn't think I could push myself to do it. I never had one day of singing lessons. I didn't know the first thing. But I started to sing."
Although he kept the music of Eminem, N.W.A, Dixie Chicks, Limp Bizkit and Michael Jackson in heavy rotation and was raised on a diet of westerns and the Bob Dylan, Johnny Cash and Bruce Springsteen records his dad loved, Hudson opted instead to focus on syrupy pop tunes.
"I was insecure. The insecurity led to fear and the fear led to me wanting money and fame," he admits as we board a tram to tour the studio's backlot where the offices of Alfred Hitchcock and the sets of "War of the Worlds" are highlights. "And the quickest way to do that was making music that people wanted to hear -- something that was overly cute."
"Coming from nothing," he continued, "and having no connections I thought pop music would make me the quickest money."
Hudson's peppy pop days went pretty far. There's still online evidence of his attempts to conjure Top 40 magic, and he got enough buzz to get the interest of major labels and an online following (he's playing to a sold-out crowd at the Troubadour May 1) — partly due to the attention Hudson received for his social media updates during his treatment as well as his close friendship with Kylie and Kendall Jenner.
But like his flirtation with rap, that kind of pop wasn't him. Hudson knew it all along but he didn't really start to figure out who he was – musically and personally – until he was diagnosed with Hodgkin's lymphoma in 2013.
If treated early, Hodgkin's can be highly curable, but Hudson was in late Stage 3. For a moment, things seemed grim.
"My first chemo treatment, I sat next to this woman named Bonnie. She held my hand [and] she told me, 'It's all going to hurt. But it's how you get through it.' She then asked me what I wanted most in life and I said it was to make music," Hudson says, his light-green eyes filling with tears. "And then she asked how badly I wanted it."
Inspired, he began journaling during sessions as a way to distract himself from the "dull room with white walls and everybody dying" and continued throughout his seven months of treatment, after recovery and during the deep depression he fell in afterward.
"That's when all the 'why mes' started. I wasn't happy. I had lost all of this weight and had no hair. I needed to do the work to figure out who I was. Why am I thinking about suicide when I just beat death," Hudson says.
It's in that journal where all the lyrics from "Yesterday's Tomorrow Night" began.
Recorded over three years, the album overflows with the unbridled optimism Hudson displays when you're around him with songs that are rooted in folk with pop, rock and urban influences.
The record is a conceptual one of sorts with the story beginning with Hudson defeating death and following the singer's emotional post-cancer journey from hitting rock bottom in his depression, to falling in and out of love, healing and the loss of his father, who heard the project before he died.
"I miss my dad, but I know where he is. I have all this light because he keeps giving it to me. Even though I'm in so much pain right now, this is the happiest I've ever been," Hudson admitted. "That's what this album is about. I hope people hear it and feel happy and hopeful because all I want to do is bring hope, love and light."
Before Hudson continues he spots something that distracts him. "Oh, look, that building says 'Infinite Light.' " he shouts out, pointing toward a faux facade decorated as a storefront and pulling out his phone to snap a picture. "How perfect is that?"
------------
Harry Hudson
Where: The Troubadour, 9081 Santa Monica Blvd., West Hollywood
When: 8 p.m. May 1
Tickets: $15, sold out
Info: www.troubadour.com
Get our L.A. Goes Out newsletter, with the week's best events, to help you explore and experience our city.
You may occasionally receive promotional content from the Los Angeles Times.