Julien Baker on making sense of the politically inexplicable as a liberal, gay and Christian songwriter
In the early dawn of a recent Tuesday morning, Julien Baker sat in the lobby of her tour-stop hotel and tried to sort out how much had changed in the last two years.
When Baker released her debut album, "Sprained Ankle," in 2015, her tales of teenage anxiety and boozy self-loathing felt revelatory. Fans found a frightfully young yet unflinching new voice, whose minimally arranged songs let listeners in on a world of private pain.
But whatever anxiety Baker's fans thought they identified with then was nothing compared to what was in store after Nov. 8, 2016.
Baker, like many others, felt the ground move that day. It wasn't just everything happening in America, but the way she saw herself in the world — a liberal, gay, young Christian still with deep ties to her native South.
She saw that small, individual decisions to close off and nurse grievances can have a huge effect on everyone around you — from romantic partners, friends and, when en masse, all the way up to the presidency.
"I tried to make this record less egocentric," she said, of her new LP, "Turn Out The Lights." "All the songs on 'Sprained Ankle' are true, valid admissions of vulnerability. But they're characterized by how it all acted out on me. I saw that the things I feel have repercussions."
"Turn Out The Lights" is a remarkable document of a 22-year-old daughter of Memphis, a songwriter coming to hard truths that many people don't learn in a lifetime. Quickly yet immaculately self-produced, it's gorgeously sung and still pulsing with the raw nerve that fans first saw on her debut.
It's not a "political" record by any overt means, but reveals a singer-songwriter trying to make sense of the inexplicable while trying to preserve her humility and empathy.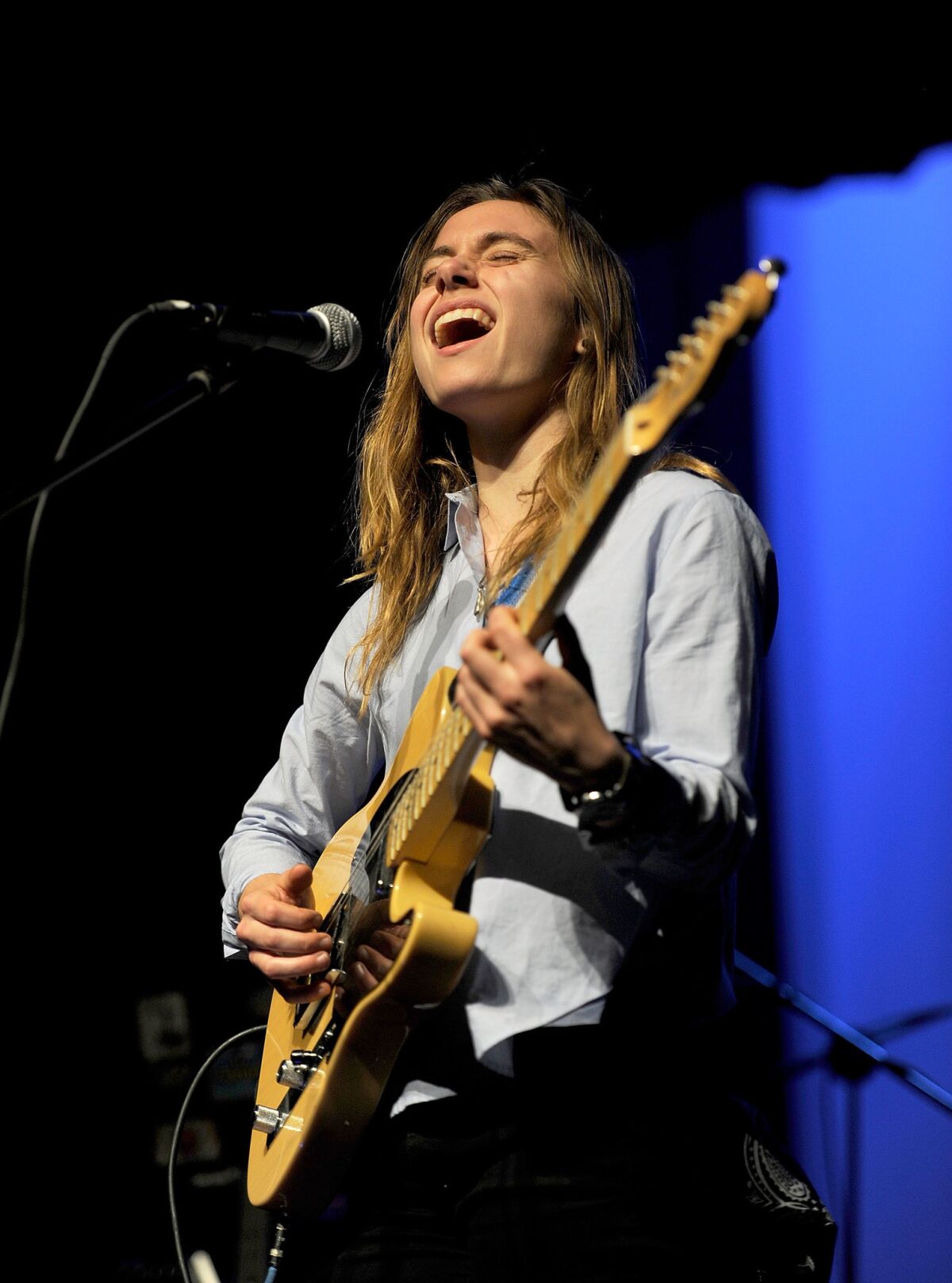 Julien hasn't come close to the peak of her powers.

— Gerard Cosloy, Matador Records
"I remember finishing the record and asking, 'How can you put this out, it's so self-indulgent right now'," Baker said. "But that's myopic. My music doesn't have to be the ultimate thing; it can be a step on the way. Making something honest about mental health, healing, sexuality, that's all I can offer. The personal is political, and it creates space for joy."
The songs on "Turn Out the Lights" are still grounded, finely observed dynamics of love. Take her single "Appointments," which starts at a simple, lacerating image of depression in a relationship: "You don't have to remind me so much how I disappoint you / Suggest that I talk to somebody again that knows how to help me get better / And 'til then I should just try not to miss any more appointments."
But then, by the song's end, it's turned into something much broader, maybe even a meditation on pure faith as a coping mechanism today: "Maybe it's all gonna turn out all right / And I know that it's not, but I have to believe that it is."
"Hope is functional," Baker said. "It comes through when you're feeling overwhelmed, it kicks in like a generator. Otherwise, you're lost to despair and that's no longer sustainable. There's a limit to how long things can stay awful."
That's the kind of lived-in, hard-won perspective that caught the attention of her new label, the top-tier indie Matador Records, which released very different but similarly visionary early LPs from Interpol, Cat Power and others. The label's co-head Gerard Cosloy said they simply tried to accommodate Baker's already-powerful vision.
"Julien came to us with a fully realized notion of who she is (artistically, anyway), how she wants to sound and how she wants to be presented," said Gerard Cosloy, the co-head of Matador Records. "It's all on her, 100%. She made this record with minimal input from the label, and the next one could well be handled the same way. The exciting part is that we're never sure how it's going to turn out, and we all believe Julien hasn't come close to the peak of her powers."
Those powers may prove ever more relevant, given the complicated vantage from which she documents American life today. The facets of Baker's identity all interlock in complicated ways — a deeply faithful Christian who struggled with addiction, a young queer woman in a changing but still-reactionary deep South, and a tattooed hardcore-punk devotee playing stripped-bare songs in huge theaters with little more than an electric guitar.
Her Christianity, though perhaps a little anomalous in modern rock, is deeply felt and harkens back to older traditions, where humility and gentleness were the bedrock. Obviously, it's a complicated time for young, liberal Christians today, who see many of their faith's loudest proponents embracing a president who has spent much of his life living by very different standards of belief and behavior.
In talking about it, Baker clearly wrestles with wanting to empathize however she can, and a moral conviction that some things are nonnegotiable.
"Cultural Christianity has collapsed with a political ideology and nationalism that all turned into 'Christianity'," she said. "And I'm constantly confronted with how opposed this is to everything Christianity should look like. In last couple of years, I've been emboldened to say some actions are objectively evil, and that the best way to be gracious is to sometimes say, 'That thing is wrong.'"
But then, like on her record, she's always quick to acknowledge her own role in all this, and how music and art can create a space for everyone to learn and do better. From love to faith and politics — we all have our own faults and blind spots, and recognizing that is the first step to healing divides.
"It's easy for me to say, 'What an idiot, look how smart and superior I am'," she said. "But that does nothing to change minds."
Julien Baker
With Half Waif and Adam Torres
Where: Downtown Palace Theater, 630 Broadway, Los Angeles
---
Get our L.A. Goes Out newsletter, with the week's best events, to help you explore and experience our city.
You may occasionally receive promotional content from the Los Angeles Times.