Review: Cuba's Omara Portuondo comes to the aid of L.A. Phil, Dudamel at the Bowl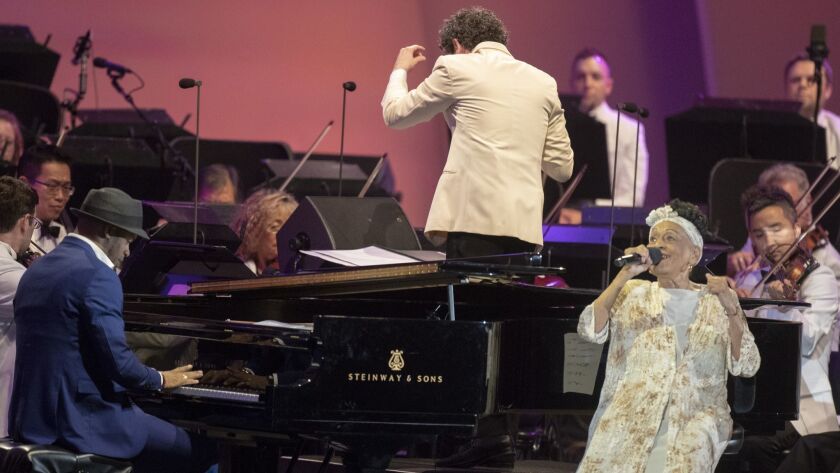 Gustavo Dudamel isn't famous for his prowess as a jazz musician, but when forces beyond his control threw a wrench into his plans for concerts this week at the Hollywood Bowl, the L.A. Philharmonic's ever-resourceful artistic and music director did what any seasoned jazz pro would do: improvise.
Originally he had scheduled the National Ballet of Cuba for two nights of "The Nutcracker" at the Bowl, but as travel and cultural exchange between the U.S. and Cuba have tightened under the Trump administration, all members of the dance troupe were unable to secure visas and had to cancel.
Rather than abandoning the underlying idea of showcasing the interdependence of music and dance in the music of Cuba, he refashioned the program to illuminate that idea with music from a variety of Latin American countries, with another Cuban cultural icon as the centerpiece.
There was some sense of cosmic scale-balancing in Dudamel's choice of veteran singer Omara Portuondo to anchor Tuesday evening's second half, following an opening compendium of 20th-century works by Argentina's Alberto Ginastera, Venezuela's Antonio Estevez and Paul Desenne, Spanish-Cuban-American composer Julian Orbon, Mexico's Silvestre Revueltas and Arturo Marquez, all of which were animated by elements of tango, rumba, congo, salsa and other dance rhythms.
Following those compositions, Dudamel beamed that dimpled impish smile of his and announced, "And now I have a surprise for you," leaving the podium to escort Portuondo, 87, onstage, she looking elegant in a floor-length gown of white and gold, her hair up in one of her signature headbands.
The Havana native started singing professionally as a teenager but actually started her performance career as a dancer at the famed Tropicana club in the Cuban capital before joining the Cuarteto d'Aida and focusing on her voice.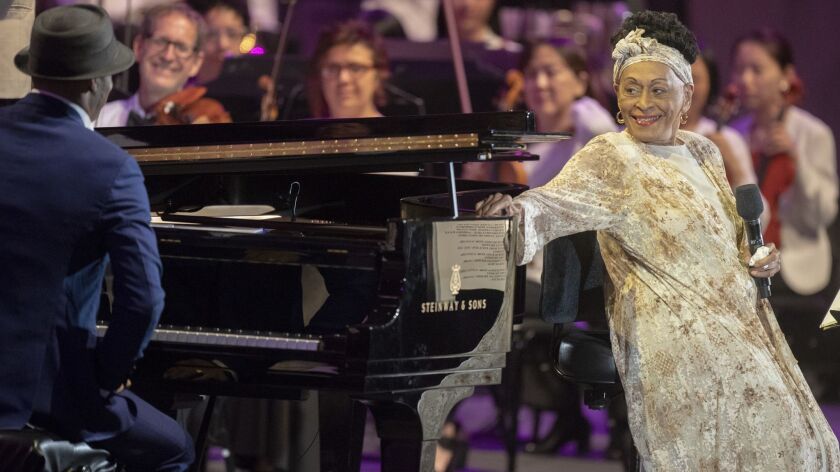 Portuondo is one of several veteran Cuban musicians who were introduced to a new generation two decades ago by way of the Buena Vista Social Club project instigated by producer Nick Gold and shepherded by roots musician Ry Cooder.
Although she spent most of her 30 minutes onstage singing while seated in a chair at Dudamel's left hand, positioned between him and her frequent accompanist, pianist Roberto Fonseca, Portuondo gamely rose and flashed a couple of fluid dance moves at different points in the program.
Remarkably, her voice remains lithe and powerful. In a rendition of "La Sitiera" that segued effortlessly into the song that's practically the Cuban national anthem, "Guantanamera" — based as it is on a poem by revered 19th-century Cuban poet Jose Marti — she sustained the final "a" in the song's title so long the audience erupted in an ovation equal parts appreciation and astonishment.
She demonstrated her facility with a variety of song styles, from the Afro-Cuban jazz of "Lo Que Me Queda Por Vivir" to the cabaret underpinning of the hyper-romantic ballad "Toda Una Vida," rendered with just Fonseca's piano supporting her, to the traditional Cuban son of "La Sitiera/Guantanamera."
Under Dudamel, the orchestra provided lively backing for "Tiene Sabor," which opened as a grand waltz before deftly shifting into a sensually pulsing salsa. The song's lyric poetically references the central role that sugar cane has played in Cuba's economic and political fortunes throughout its history, Portuondo relishing the word "sabor" (flavor) each time she sang it. It also touches on themes of revolution, patriotism, music and art that have been fundamental elements of Cuba's identity.
The few comments Portuondo made between numbers were uttered quietly, in Spanish, but at the end of the evening she saluted Dudamel and the orchestra in English, stating "Take a bow — a big one. I love you!" The musicians and audience returned the sentiment as she tossed off another salsa step or two as she exited the stage to a reprise of the "ah-ah-ah" refrain of her closing number, "Y Tal Vez," a cappella.
The second installment of the reconfigured National Ballet of Cuba visit is Thursday, when Dudamel and the orchestra will be joined by Dudamel's fellow Venezuelan, bassist Oscar D'Leon.
Follow @RandyLewis2 on Twitter.com
For Classic Rock coverage, join us on Facebook
---
Your essential guide to the arts in L.A.
Get Carolina A. Miranda's weekly newsletter for what's happening, plus openings, critics' picks and more.
You may occasionally receive promotional content from the Los Angeles Times.