Review: Paul Simon is not playing like a man about to hang it up
Pop Music Critic
The guy in the spotlight thought he knew how this review might start.
"It was a cold winter night when Paul Simon began his farewell tour in Los Angeles," the veteran singer and songwriter said with a grin Tuesday night as he welcomed his audience to the first of three concerts at the Hollywood Bowl.
But if it's true that the air had an unseasonable bite — and that indeed this was a local stop on what Simon, 76, is calling his goodbye to the road — little about Tuesday's show lent itself to such a maudlin description.
What a relief.
An appealingly breezy survey of Simon's half-century in pop — from his folky mid-'60s hits with Art Garfunkel all the way up to a danceable cut from his 2016 studio album — this performance was a celebration rather than a funeral, with none of the solemnity (and only a bit of the self-congratulation) you might've expected from a master preparing to hang it up.
Simon has plenty of company on the farewell circuit this year, including Elton John, who's set to launch a final tour of his own in September. Combine the soon-to-be-retired with those already forced out of business — like Neil Diamond, who recently announced he has Parkinson's disease — and a middle-aged rock fan could wonder who will be left before long to worship.
Right away, though, Simon seemed to walk back the idea that he's walking away.
"I've changed my mind," he told the crowd at the Bowl after opening with "America" and the appropriately conflicted "50 Ways to Leave Your Lover." He'd said he planned to quit touring, he joked, only in order to raise ticket prices. (The handful of tickets still available for Wednesday's and next Monday's gigs top out at $350 each.)
"No, I'm serious about it," he continued. But Simon admitted he didn't know "what to make of the decision," which he was quick to point out wouldn't keep him from writing new music or performing here and there.
He simply found it exciting, he concluded, to put "a casing" around his long career and "look at it that way."
So what did that allow him, and us, to see?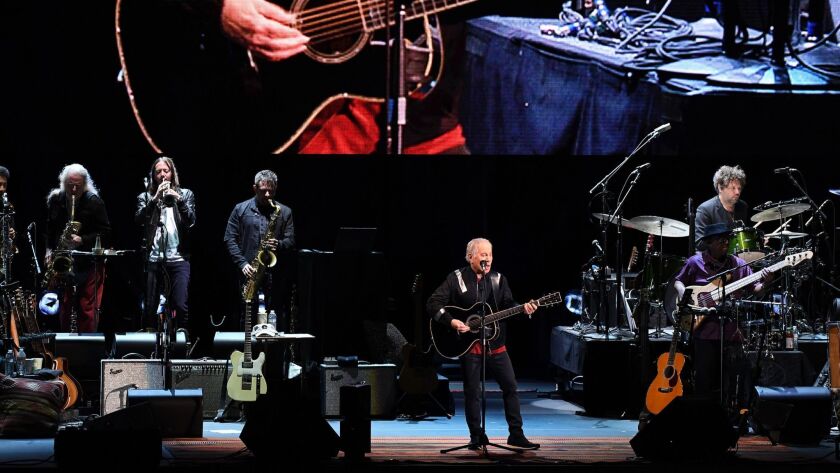 The breadth of his work was impossible to miss as he led more than a dozen players — including his durable road band as well as the chamber music ensemble yMusic — through songs that embraced reggae ("Mother and Child Reunion"), zydeco ("That Was Your Mother"), soft rock ("Still Crazy After All These Years"), African pop ("Diamonds on the Soles of Her Shoes"), Brazilian drum music ("The Obvious Child") and electronic funk ("Wristband," from Simon's most recent record, "Stranger to Stranger").
In the streaming era, that kind of style-jumping is de rigueur for acts that want to hold the attention of listeners for whom something more interesting is only a click away.
But hearing Simon's wildly diverse tunes up against one another — including material as old as Simon & Garfunkel's take on "El Condor Pasa" — reminded you how doggedly he pursued his vision even when it wasn't fashionable.
And he wasn't finished exploring either. On Tuesday, he remade "The Boxer," with its rootsy finger-picking, as a full-on country tune riding a chugging freight-train rhythm; "Homeward Bound" had strings that conjured a whiff of Appalachia.
And Simon presented "Spirit Voices," which he cowrote decades ago with Brazil's Milton Nascimento, as a showcase for his young Nigerian guitarist, Biodun Kuti, who replaced the singer's longtime accompanist Vincent Nguini after Nguini's death in December.
For two songs from deeper in his catalog — "Rene and Georgette Magritte With Their Dog After the War" and "Can't Run But" — Simon sang over spooky but pretty arrangements by yMusic that pushed the tunes close to Stephen Sondheim.
Not everything got an overhaul. "Kodachrome" was as zippy and nostalgic as ever, while "You Can Call Me Al" stuck close to the sound of that cheerful mid-'80s MTV staple, down to the slap-bass solo by Bakithi Kumalo, who played on "Graceland," as Simon pointed out.
Even when the music felt familiar, though, Simon refreshed it with the pleasure he was clearly taking from playing with his collaborators. Ditto the fun he seemed to have telling rambling stories about how he developed his signature guitar skills and how he came up with what he called "the strangest song title I ever wrote."
This was the one regarding the Magrittes, which he said he cribbed from a photo caption in a book he came across one day at Joan Baez's house as he waited for her to end a phone call so they could rehearse for a gig.
"What could that song possibly be about?" he said he asked himself.
It was Simon's searching impulse, still so alive in this show, that made it hard to believe he's really putting a lid on it.
Start saving for the comeback tour now.
Twitter: @mikaelwood
---
Your essential guide to the arts in L.A.
Get Carolina A. Miranda's weekly newsletter for what's happening, plus openings, critics' picks and more.
You may occasionally receive promotional content from the Los Angeles Times.