8 Images
Music milestones
The Beatles
For all the news Mariah Carey is making with her 18th No. 1 single, she still hasn't surpassed the Beatles. And the Beatles also hold the record for the most No. 1 albums, at 19. A distant second are Elvis Presley and Jay-Z, both with 10.
(Associated Press)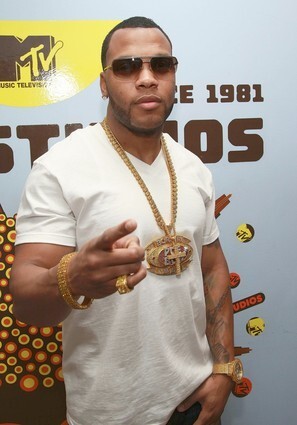 Flo-Rida
Flo Rida's recently released "Mail on Sunday" followed his top 30 singles "Low," featuring T-Pain, and "Elevator," featuring Timbaland. "Mail on Sunday" sold 86,000 copies when it debuted, but the release felt a bit anticlimactic after the digital sales posted by his singles.
"Low," for instance, has sold more than 3.4 million digital downloads to date, which Billboard says makes it the top-selling digital track of all time. "Elevator" is no slouch, either, having sold 373,000 digital downloads.
(Stephen Lovekin / Getty Images)
Madonna
Carey isn't the only diva to challenge Elvis Presley in 2008.
Madonna, returning with her album "Hard Candy" on April 29, has overtaken Presley as the artist with the most top 10 singles in the modern pop era. Her "4 Minutes," featuring Justin Timberlake, gives the artist formerly known as the Material Girl her 37th top 10 hit.
(Bryan Bedder / Getty Images)
Top-grossing tour of all time
No suprise here: The Rolling Stones' "Bigger Bang" tour in 2005-06, with 110 shows in 16 countries and tickets going for about $137 a pop, became the highest-grossing tour, racking up $437 million in ticket sales.
(Savo Prelevic / AFP/Getty Images)
Most Grammy-winning artist
Elvis and McCartney don't hold a candle to the late Georg Solti, former conductor of the Chicago Symphony Orchestra. During his life, Solti picked up 31 Grammys, including the lifetime achievement award. He was also listed among the winners for seven more Grammys and nominated an additional 74 times. Solti died in 1997 at the age of 84, just a month before he was scheduled to conduct his 1,000th performance with the orchestra.
(Paul Hurschmann / Associated Press)
Album with the most weeks atop the Billboard chart
Everybody talks about the long-lasting presence of Pink Floyd's "Dark Side of the Moon" or the Eagles' first greatest hits album, but those live on in Billboard's catalog chart totals. The album with the longest presence atop Billboard's regular album sales chart was the soundtrack of "West Side Story," which stayed there for 54 weeks.
(MGM/UA Entertainment)
Longest pop single ever recorded
Though he may have sacrificed heavy radio rotation, Ohio-based songwriter Chris Butler got himself in the Guinness record books with his 69-minute epic "The Devil Glitch" — a song that features 500 verses. Butler, the man behind the '80s pop group the Waitresses, also released a five-minute version of the song.
()