13 Images
Notorious nymphets
By Ann Powers, Todd Martens / Los Angeles Times Staff Writers
America has condemned -- and fetishized -- jailbait since long before
Miley Cyrus
disrobed with her parent's permission in early 2008 for Vanity Fair. Yet the "Hannah Montana" star's trip-up was truly rather innocent compared to what has gone before.
Even so, there was an immediate
fallout
, and the multi-platform teen star apologized for the photos just as they were becoming public (as she also did when photos leaked from her MySpace page) . In the days that followed the release of the Vanity Fair photos, a range of responses inspired a debate that played out in the press. Yet it was a debate that's been happening in America for decades, and one that again reflected society's unresolved feelings about teen sexuality -- specifically the paradox of young women as both sexualized threats and victims.
What follows is a look at some key cultural moments regarding the sexualization of teens over the past few decades –- some incidents that have caused debate, others that inspired reflection and some that just resulted in a lot of money being made.
(Kevork Djansezian / Associated Press)
Akon and the Trinidad and Tobago incident
In April 2007, R&B star Akon came under attack for simulating sex on stage with a 15-year-old at a club in Trinidad and Tobago. At the time, Akon was tapped as the opening act on Gwen Stefani's "Sweet Escape" tour.
While he isn't necessarily facing any repercussions from his label, the controversy surrounding Akon caused Verizon to pull its sponsorship of the tour, and to pull all Akon ringtones and music from its stores and handsets.
Akon later addressed the incident in his single, "Sorry, Blame It on Me," which peaked at No. 7 on the U.S. pop charts.
(Jonathan Mannion)
Fiona Apple
Though Apple was of age at the time her video for "Criminal" was released in 1997, it's hard not to view it as a reaction to relaxed sexual images in pop culture.
The video, directed by Mark Romanek, flirts with a snuff-film feel, trying to make the viewer feel uncomfortable for watching the striptease. With Apple declaring that it's a "sad, sad world, when a girl will break a boy just because she can," she's asking the viewer to think about who's being taken advantage of –- the girl onscreen, or those devouring the teasing content?
(Lionel Deluy)
Britney Spears
Like Miley Cyrus,
Britney Spears
was a Disney-bred star. Unlike Cyrus, however, Spears was marketed to adults as well as teens.
Need evidence? Check her breakthrough video for 1999's "…Baby One More Time," which exploits Catholic schoolgirl fetishes while declaring that she's "not that innocent."
Need more evidence? Jeff Fenster, the A&R executive who signed one Britney Spears to Jive (R. Kelly's label, coincidentally), once told a roomful of people at the South by Southwest music conference in Austin, Texas, that the soon-to-be pop star scored a record deal not because of her singing ability, but because of a photo.
The shot, said Fenster in 2006, showed a young Spears on a picnic bench with a puppy, and inspired Fenster to declare that "she looked like the sweet, all-American girl that you just wanted to defile and do bad things to."
Spears was pegged to be 15 or 16 at the time she was signed.
(Al Schaben / Los Angeles Times)
R. Kelly and Aaliyah, etc.
The R&B star has faced a steady stream of accusations and controversies since 2000, when the Chicago Sun-Times broke a story detailing Kelly's relations with underage women. Since then, the Sun-Times has written about an alleged explicit sex tape of Kelly with a minor, and it has also been claimed that Kelly has had relations with a record label intern, and picked up a teenage girl at Chicago's famed "Rock 'n' Roll McDonald's."
Additionally, it eventually came to light that Kelly was briefly married to teenage R&B singer Aaliyah. She was 15 when Kelly arranged a secret wedding, which was shortly annulled. Aaliyah then went on to have success of her own, and became a star in her own right before her death in 2001.
But while Kelly has been hit with accusation after accusation, his fan base hasn't seemed too turned off. His 2007 album, "Double Up," which even addresses some of the accusations against him, debuted at No. 1 on the U.S. pop charts.
R. Kelly is to go to trial in May 2008 for charges stemming from the videotape.
(STUART RAMSON, Associated Press)
The photos of Jock Sturges and Sally Mann (1990s)
These two fine art photographers began to receive a world of criticism in the late '80s and early '90s for their artwork, often of young children, many of them nude of seminude.
Mann's "At Twelve: Portraits of Young Women" turned some heads, but her 1992 work "Immediate Family" captured nude images of her own children, and was met with cries of exploitation and child pornography.
Similarly, Sturges' photographs were attacked as porn masquerading as high art, and FBI agents raided his studio in 1990.
One of Mann's photos is pictured at left.
(AFP/Getty Images)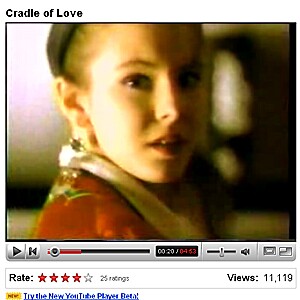 Billy Idol's "Cradle of Love" (1990)
And so it begins.
Released in early 1990, Billy Idol's "Cradle of Love" ushered in what would be a bolder, more forward decade of teenage sexuality, one that often felt far removed from the complexities and repercussions of "Lolita" (see Britney Spears, Christina Aguilera, etc.). In this video, a lonely, glasses-wearing sophisticate is forced to give in to temptation when Devin, the teenage girl from "down the hall," arrives to play a cassette.
Once Idol's rock song starts, Devin proceeds to strip and simulate sex on her neighbor's bed. In the process, she destroys his expensive plate collection, and reduces him to tears. Only when he is begging her to leave does she lock lips with the male next door, thereby absolving the man of any guilt.
(Screen capture: www.youtube.com)
The slasher film girls (1980s to today)
Film franchises such as "Friday the 13th," "Nightmare on Elm Street" and "Halloween," the last of which began in the late '70s, proliferated throughout the '80s. Combined, they helped birth the slasher genre, which has continued to thrive.
Many slasher films share a similar theme -– illicit sex and drug use among teens, specifically teenage girls. Those who partake in such activities are often met with a violent end (morals!), but not before showing the audience some skin.
The message: Wholesomeness may prevail, but it is not what sells.
Pictured: Actress Brittany Snow in 2008's "Prom Night."
(Suzanne Tenner)
Brooke Shields (1978)
When she was 12, Brooke Shields appeared in Louis Malle's film "Pretty Baby," playing a child living in a New Orleans brothel. The film caused a huge uproar and some called it child pornography. When she was 14, Shields starred in "Blue Lagoon," appearing topless, but not nude.
But despite the controversies, her modeling career flourished, and Shields wasn't at a loss for work. Shields appeared in an infamous Calvin Klein jeans ad ("You want to know what comes between me and my Calvin's?"), and continued to grace magazine covers.
She later attended Princeton University, and more recently has appeared as a guest on Miley Cyrus' "Hannah Montana."
(NBC)
Lori Maddox and the teen groupies (1973)
Lori Maddox was one of the great teen groupies of 1970s Los Angeles. Her most famous hook-up was with Jimmy Page when she was 14.
Rumor -– or rock 'n' roll myth -- had it that Page would lock Lori in his hotel room at the Hyatt on the Sunset Strip for nights on end to keep her from other rock stars -- and that Lori approved of this "protective" behavior.
The period was nostalgically examined in the 2000 film "Almost Famous," where a sexual coming-of-age was ignited by a brush with fame. Three of the actresses in the film, Anna Paquin, Fairuza Balk and Bijou Phillips, are pictured at left.
(DreamWorkds)
Beatlemaniacs (1963)
Though fans of Elvis and many other 1950s idols caused a stir before this, the crazed reaction of pubescent Beatles fans focused society's fears about increasingly free young girls on a single phenomenon. Check "Hard Day's Night," which illustrates Beatlemaniacs' almost completely out-of-control desire for the tight-suited Fab Four.
Historian Susan Douglas explored the subject in her book, "Where the Girls Are: Growing Up Female With the Mass Media." She wrote that "in Beatlemania, the seeds of female yearning and female revolt germinated with the speed of those exploding flowers in time-lapse photography."
For Beatlemaniacs, music sometimes seemed an afterthought, their excitedly nervous screaming drowning out the song. For observers, it was an opportunity to examine an intense, sexually charged fandom -- or market it.
(AP)
Jerry Lee Lewis marries Myra Gale Brown (1957)
The "Great Balls of Fire" hellraiser ruined his career for a good while when he got hitched to his 13-year-old cousin, causing huge controversy about a custom that perhaps was not so uncommon in the history of rural communities.
Lewis himself had no problems telling the world about his marriage, but radio stations stopped playing his records, and lucrative club bookings vanished. It took nearly a decade and a switch to country music to reestablish him as a record seller. Lewis appeared in a tribute segment at the 2008 Grammy Awards.
(UPI/Bettman Newsphotos)
Lolita (1955)
Vladimir Nabokov's novel popularized the term "nymphet" and brought to the fore Western -- and specifically American -- society's troubled view of the teen-girl. The archetypal image of the nymphet remains 14 year-old Sue Lyon, starring as Lolita in Stanley Kubrick's 1962 film adaptation, sucking on a Lollipop behind her heart-shaped sunglasses.
Whether Lolita is the aggressor, or the victim, has been a matter of debate in the decades since the release of the book and film. Its themes were resurrected and placed in middle-class American for 1999's "American Beauty."
(Associated Press)