Saturday 10 P.M.
DON'T MISS
Neko Case. The acclaimed independent-rock singer-songwriter ventures far and wide in musical style, but she's always retained an edge of the country music that she listened to as a child.(Palomino Stage, 9:45-10:35 p.m.)
(Richard Hartog / LAT)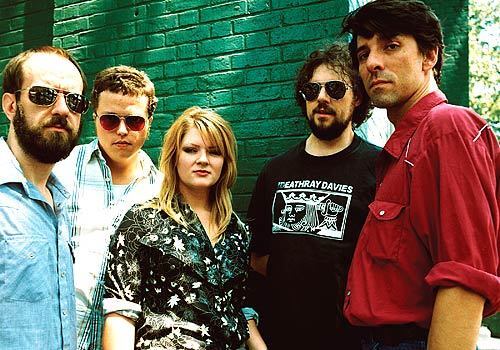 Sunday 8 P.M.
CATCH IT IF YOU CAN
Brooks & Dunn. Kix Brooks and Ronnie Dunn, cannily brought together nearly two decades ago by Nashville music exec Tim DuBois, have extended their '90s streak of 14 No. 1 country singles into the new millennium. Their music can be predictable, but we defy you not to sing along. (Mane Stage, 8-9)
Drive-By Truckers. (left) "Southern Rock Opera," the band's 2002 concept album, became an underground hit with its chronicle of a Lynyrd Skynyrd-like band whose music is powered by the Truckers' three-guitar attack. (Palomino Stage, 8:40-9:30)
()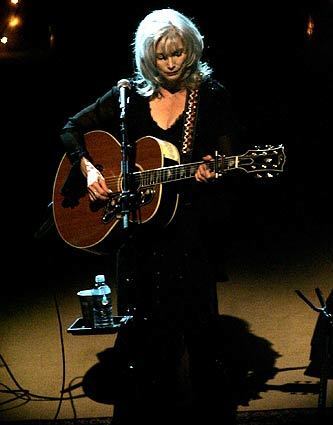 Sunday 7 P.M.
DON'T MISS
Emmylou Harris. (left) See (Palomino Stage, 7:15-8:15)


CATCH IT IF YOU CAN
The Del McCoury Band. Bluegrass as it was played on the radio in the '40s, with a circle of exceptional musicians huddled around a single microphone. The band specializes in the ultra-traditional sound that's been echoing through the mountains for a century or more — that is until McCoury decides to throw in a left-field version of a Tom Petty song.(Appaloosa Stage, 7:40-8:30)
Asleep at the Wheel. The Texas ensemble fronted by long, tall New Jerseyite Ray Benson keeps the Bob Wills Western swing tradition gloriously alive with this sprightly country big band.(Mustang Stage, 7:40-8:30)
(Robert Lachman / LAT)
Saturday 9 P.M.
CATCH IT IF YOU CAN
George Strait. The low-key Texan recently surpassed Conway Twitty as the county act with the most No. 1 singles (his latest hit, "It Just Comes Natural," brings his total to 53). So what if that remarkable longevity owes more to solid craftsmanship and no-frills dependability than to musical revelation? (Mane Stage, 9:30-11)
(MCA Records)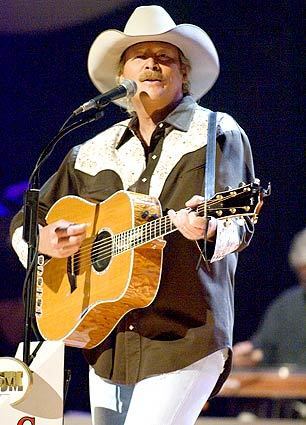 ALAN JACKSON:
Alan Jackson emanates the gentle glow of a truly laid-back gentleman. The golden-haired Georgia native had more than 20 No. 1 hits since sauntering onto the Nashville scene in the 1990s, but he's always seemed as friendly as your neighborhood king of the gas grill. He's currently promoting a live collaboration with Jimmy Buffett and George Strait and since Strait's also on the Stagecoach festival bill, some onstage back-slapping just might ensue.
(Mane Stage, 8 p.m. Saturday)
(Jim Hagans / ABC)
Lucinda Williams
(Saturday, 6-6:50 p.m.)
(Marina Chavez / Lost Highway Records)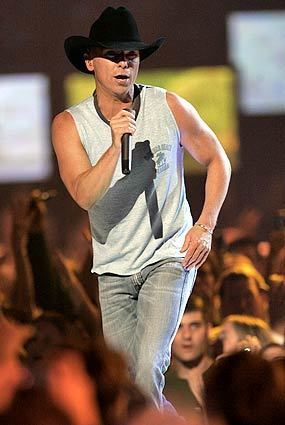 Sunday 9 P.M.
DON'T MISS
Ricky Skaggs. One of the legions of extraordinary musicians who used the springboard of Emmylou Harris' Hot Band to launch considerable solo careers, Skaggs helped usher in the early '80s "new traditionalist" movement in country. When that gave way to Garth Brooks and Shania Twain in the '90s, Skaggs returned to his bluegrass roots — and a virtual gold mine of Grammy Awards. (Appaloosa Stage, 8:50-9:40)


CATCH IT IF YOU CAN
Kenny Chesney. (left) The big surprise about the failure of his marriage to Renée Zellweger wasn't that it dissolved under the bright light of public scrutiny, but that the guy who always knows the right thing to sing to his largely female fan base apparently couldn't find the right words to hold onto the one he married. His fans, who keep turning out for his tours in record numbers, don't seem to hold it against him.(Mane Stage, 9:30-11)
(Mark Humphrey / AP)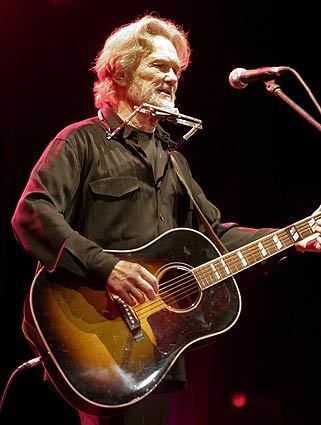 Sunday 6 P.M.
DON'T MISS
Kris Kristofferson. (left) Movie stardom overtook his music career in the '70s, but the onetime Rhodes Scholar still knows his way around a guitar and a lyric. He has a knack for peering into the hidden corners of the heart. (Palomino Stage, 5:55-6:45)
The Flatlanders. The pre-solo fame band from West Texas started in the '70s by Joe Ely, Jimmie Dale Gilmore and Butch Hancock has been resurrected three decades later to great success. But, then, with those three names in a sentence, our work is done. (Appaloosa Stage, 6:25-7:15)


CATCH IT IF YOU CAN
Garrison Keillor. This proud Minnesotan (whose "A Prairie Home Companion" made it to the big screen last year) is at his best in front of a live audience, playing raconteur and fitful folk-country singer.(Mustang Stage, 6:20-7:20)


ALSO
Sugarland. Once a trio, now a duo centered around the idiosyncratic vocals of Jennifer Nettles, Sugarland plays up Nettles' tough-as-nails attitude — sometimes at the expense of a multidimensional sound. (Mane Stage, 6:35-7:35)
(Hana Kalvachova / EPA)
Sugarland
(Sunday, 6:35-7:35 p.m.)
(John Amis / AP)
MIRANDA LAMBERT:
Miranda Lambert looks a bit like Sarah Michelle Gellar on "Buffy the Vampire Slayer." The 23-year-old Texan, a "Nashville Star" finalist, is forging a path rather like the Slayer's, armed with a guitar instead of a wooden stake. Her songs of female empowerment and small-town wild-child fun have marked her as one of today's most promising country ingénues. This dust-kicker's more like a superheroine.
(Mane Stage, 5:10 p.m. Saturday)
(Julie Jacobson / AP)