Musical sniping, a la John Mayer and Taylor Swift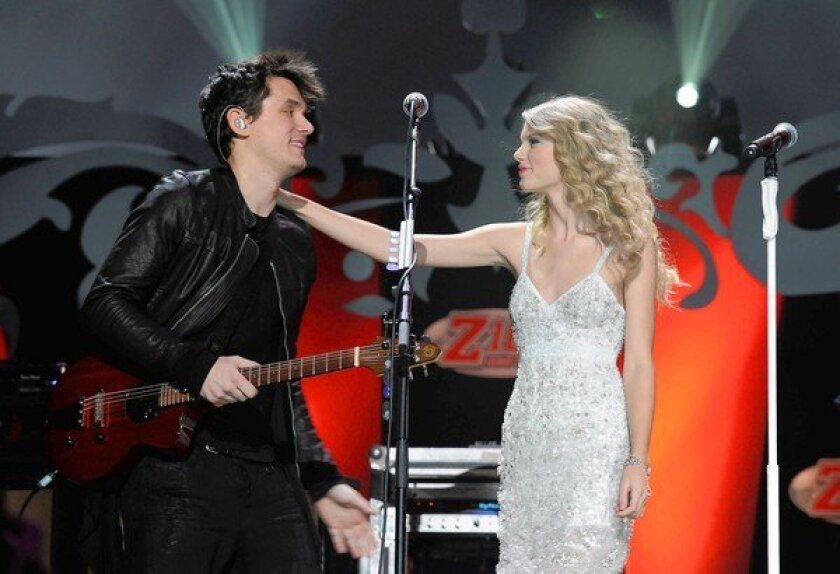 John Mayer is as well known for his expansive collection of famous ex-girlfriends as for his music. It's a list of dalliances that reportedly includes — but doesn't appear limited to — Jennifer Aniston, Jessica Simpson, Jennifer Love Hewitt and Katy Perry, with whom he's involved at the moment, according to various authorities on the ever-shifting tides of celebrity romance.
The singer-guitarist responsible for such sensitive soft-rock hits as "Gravity" and "Your Body Is a Wonderland" may have forged deep, meaningful connections with each of these women. (In a notorious 2010 interview with Playboy he described Simpson as "sexual napalm," which suggests depth of some kind.)
Judging by their work, though, it's unlikely that he's ever found someone more in tune with his notions about love and fame — and how they might co-exist — than Taylor Swift. The pop-country superstar is said to have dated Mayer in 2009, and since then the two seem to have been using their music to wage a back-and-forth war over what went wrong between them. Think of the pair as a modern-day version of James Taylor and Joni Mitchell, or Stevie Nicks and Lindsey Buckingham.
TIMELINE: Summer's must see concerts
Their relationship certainly appears to be the subject of "Paper Doll," the lead single from Mayer's appealingly provocative new album, "Paradise Valley," which after a recent round of image rehabilitation finds the singer pushing buttons again.
In a telling coincidence, the record is due out Tuesday, hours after Swift is to play the first of four shows at Staples Center."You're like 22 girls in one, and none of them know what they're running from," Mayer tells an ex over "Paper Doll's" slow-rolling soul-rock groove. "Was it just too far to fall for a little paper doll?"
Swift fans, of course, will recognize that number from the title of her recent single "22" — about being "happy, free, confused and lonely at the same time"— and the bit about running away as an apparent reference to "Dear John," Swift's own slow-rolling kiss-off from 2010's quadruple-platinum "Speak Now."
"I'll look back and regret I ignored when they said, 'Run as fast as you can,'" she sings in "Dear John," itself a follow-up to a Mayer-Swift duet, "Half of My Heart," on his pointedly titled 2009 album "Battle Studies."
Plenty more of those knowing allusions crop up throughout "Paradise Valley," which draws its title from the remote Montana area where Mayer bought a home in 2012, eager to retreat from public view after a spasm of negative attention related to the Playboy interview. The article included other graphic descriptions of his sexual conquests as well as an ill-advised attempt to "intellectualize" the n-word, as he later put it in a written apology.
The new album is Mayer's second since ending his self-imposed hiatus, and sonically "Paradise Valley" functions like a sequel to last year's "Born and Raised." Both were produced by Don Was, the roots-rock impresario who's overseen records by the Rolling Stones and Bonnie Raitt; it's full of calming tempos and hand-crafted arrangements seemingly inspired by the early-'70s Laurel Canyon scene.
But where "Born and Raised" sought redemption — "Did you know that you could be wrong and swear you're right?" he asked in "Shadow Days" — the new disc lays out a message of defiance, one Mayer presents forthrightly in a cover of J.J. Cale's "Call Me the Breeze": "There ain't no change in the weather," he sings over a crisp 12-bar blues shuffle, "Ain't no change in me."
In the folky "Badge and Gun" he envisions himself as a small-town sheriff desperate to bust out of some kind of hiding. "I Will Be Found (Lost at Sea)" is a stately piano ballad in which the singer admits, "Maybe I'm a runaway train," then decides, "Maybe that's a good thing."
RELATED: Best albums of 2013 so far
And for "Who You Love," the album's best song, he drafts Perry for a lusciously appointed (and pretty convincing) defense of Hollywood bed-hopping. "You can't make yourself stop dreaming who you're dreaming of," he observes in his raspy sore-throat croon, before Perry takes over and describes, more or less, how awesome it is to go out with John Mayer.
"Some have said his heart's too hard to hold," she sings, "But you should see him when he shines."
The self-aggrandizement here is potentially off-putting, but what gives the moment — and many more like it on "Paradise Valley" — a welcome frisson is that it feels intentionally off-putting too. The down-home mea culpa of "Born and Raised" behind him, Mayer allows his ego to run free, seemingly unafraid to embody the villain few singer-songwriters younger than Bob Dylan or Billy Joel are brave enough to portray.
Another willing to do it is Swift, who with 2012's "Red" effectively discarded the good-girl image that solidified around early hits such as "Teardrops on My Guitar" and "You Belong with Me." We heard her beginning to chafe against that caricature on "Speak Now" — in songs like the title track, where she crashes a wedding à la Benjamin Braddock in "The Graduate" — but on the boldly colored "Red" she relishes her position of power without fear that it might make her seem difficult or inhospitable.
And not just in bumptious pop jams like "22" and "We Are Never Ever Getting Back Together," in which she finalizes a breakup with one of her many exes. (Beyond Mayer, Swift has reportedly dated Jake Gyllenhaal, Taylor Lautner and One Direction's Harry Styles, among others.)
PHOTOS: Taylor Swift is never, ever getting back together with...
Indeed, Swift bares her perfect teeth perhaps most memorably in the stripped-down "Sad Beautiful Tragic" — "You've got your demons and, darling, they all look like me," she sings with what sounds like a touch of pride — and "The Lucky One," in which she considers stardom with a cynicism well beyond her years.
Pros to the core, both she and Mayer (who's scheduled to wrap a U.S. tour Oct. 5 at the Hollywood Bowl) contextualize these risky moves in typically savvy fashion.
Last month at a show outside Boston, Swift invited Carly Simon onstage to sing "You're So Vain," aligning herself with a tradition of show-business recrimination. And in addition to his maybe-girlfriend Perry, Mayer's other guest on "Paradise Valley" is the African American R&B star Frank Ocean, who lends his sensual vocals to "Wildfire."
But those shrewdly selected helpers can only do so much. For Swift and Mayer, 21st century celebrity is a solo endeavor to which virtually no one can relate. Is it any wonder they keep in touch?
---
Your essential guide to the arts in L.A.
Get Carolina A. Miranda's weekly newsletter for what's happening, plus openings, critics' picks and more.
You may occasionally receive promotional content from the Los Angeles Times.