Coachella 2014: Arcade Fire closes the fest with a rebel's spirt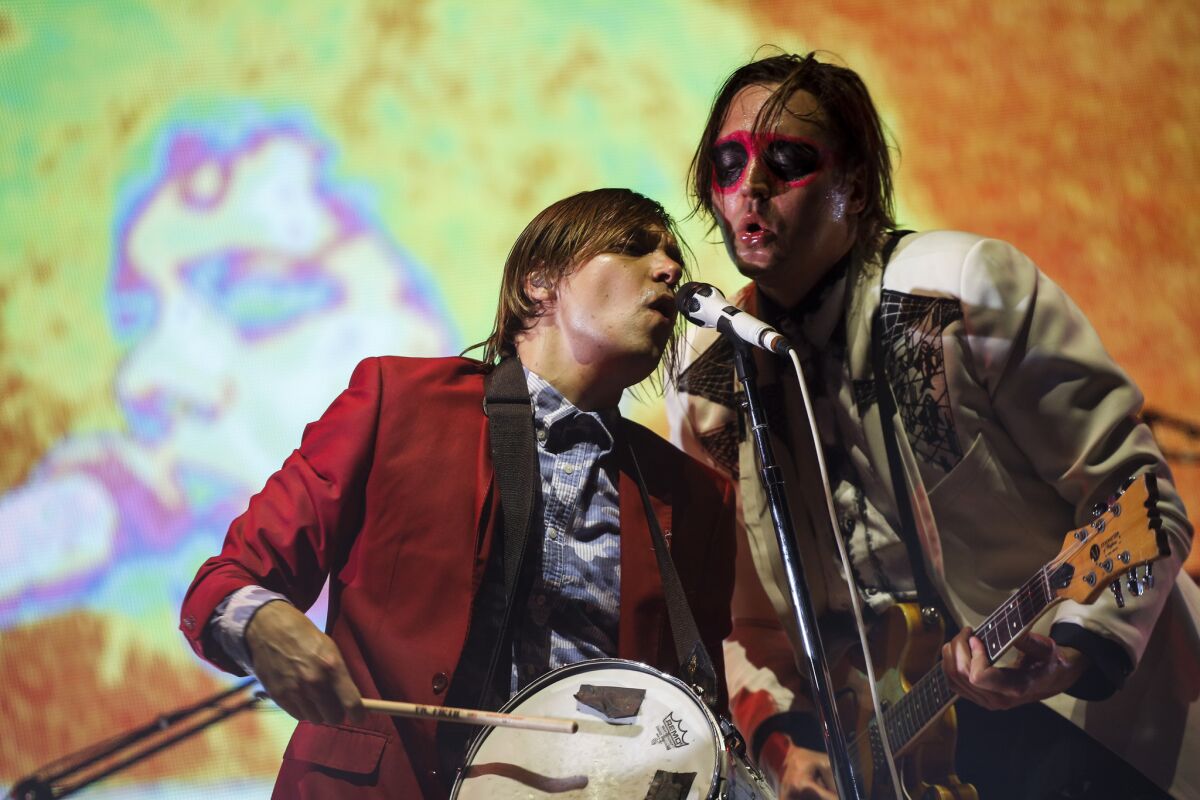 At about 10:20 p.m. Sunday, a panic swept through the grounds of the Coachella Valley Music and Arts Festival. On one stage was Motorhead, with Lemmy Kilmister's aged growl calling to the desert wild. On another was Disclosure, whose crowd was swelling by the minute, lured by the act's ability to use a beat-driven sound to hit a range of emotions.
And then what was shaping up to a relatively pleasant end to Coachella's two weekends was upended.
Just as the Arcade Fire's set was to start, leader Win Butler introduced two special guests, only the two special guests were men in robot masks that happened to look an awful lot like those of Daft Punk, albeit their outfits were a little more unkempt. When the opening stands of "Get Lucky" were heard, however, the rush was on.
One shirtless grown man shouted "Are you kidding me?" and threw his half-eaten burger into the nearest garbage container and burst into a full-on sprint. If you were blessed with a slightly elevated vantage point, you could see waves of people making their way to the Coachella main stage.
Only it wasn't to be. Butler walked to the center of the stage and shouted, ostensibly, "What is this?" His exact words, however, contained more expletives. After cutting off "Get Lucky," Butler invited the robot men to hang out, and introduced them to the crowd under what sounded like "Paft Dunk."
And then with the words "We're the Arcade Fire," the band launched into "Normal Person" and what was one of the most fiery, topical sets in recent Coachella history. Butler spoke passionately in favor of gay rights, the act covered Prince's inclusive anthem "Controversy" with an assist from Beck, instruments were smashed and the nostalgic piano reverie of "The Suburbs" was introduced with Butler's thoughts on how "we're all becoming a monoculture."
Much has been made of how the Arcade Fire's recent album "Reflektor" sees the band diving deeper into dance culture. But "Reflektor" is a dance record in much the same way that the Clash's "Sandinista!" is a dance record, meaning it's mostly a rock record that just happens to be ambitious, prone to tangents, borderless in its approach to sounds and, first and foremost, topical.
It also turned out to be just what Coachella needed.
PHOTOS: Faces of Coachella | Desert chic
Coachella in 2014 is largely a high-priced getaway. Its backdrop pristine, its amenities plush and its commitment to social causes largely of the "people should recycle more" variety. If Coachella regulars have anything approaching a deity, it's Daft Punk, the act that helped take the rave culture that rules Coachella to today's mainstream. In fact, the most memorable moment of 2013's Coachella was the crowd's berserk reaction to a commercial for Daft Punk's "Random Access Memories."
So while Butler was careful to repeatedly stress how "happy" he was to be at Coachella, teasing the audience with a Daft Punk appearance is tantamount to giving much of it a middle finger. That's OK; Butler over the last two weeks has seemed to recognize that Coachella could use a little shaking up. At the first weekend of the fest, he slammed Coachella's crowded VIP offerings and then took a moment to praise the bands "still playing instruments at this festival."
It's a little punk rock, and it's a good look for the band (certainly better than Butler's raccoon-eyes facepaint).
"The right to marry anyone you want is a human rights issue," Butler said before introducing the new song "We Exist," a track Butler said was written about a son trying to explain to his father that he's gay. The frontman then connected Coachella's hipster attendees to the Woodstock generation, urging the crowd to get behind a cause. They may not have listened, but they certainly seemed to hear "We Exist," as its amped-up "Thriller"-like groove succeeded in getting them to move.
Joined at times by members of the Preservation Hall Jazz Band and an array of hand drummers and rhythmic specialists, there was more of a shimmy, shake and urgency to older songs such as "Wake Up." Newer tracks, meanwhile, such as the island disco of "Reflektor" or the Caribbean carnival of "Here Comes the Night Time," felt as if they were built on wheels.
The band is still a jubilant one. Régine Chassagne's excitement was infectious when she controlled the drum set on "No Cars Go," during which Butler was creating digital sounds that seemed as if they were communicating with a space station. One could also spend a whole Arcade Fire show simply keeping an eye on violinist Sarah Neufeld, watching her channel nostalgia on "The Suburbs" and then building the tension on "Crown of Love."
The show didn't end when the band's time was up, either, as the Arcade Fire and the Preservation Hall Jazz Band, as they did last week, paraded through the crowd. "I believe in God. Does God believe in me?" Butler shouted into a megaphone. While he didn't hang around for answers, one was left with the sense that the Arcade Fire are just getting started when it comes to asking questions.
During its Coachella set, the Arcade Fire also announced that it will be headlining The Forum on Aug. 1 and Aug. 2. A pre-sale begins April 24 and the general on-sale begins April 26.
ALSO:
Coachella 2014: 10 rising acts you should know now
Coachella festival's luxuries eclipsing its music and arts
---
Your essential guide to the arts in L.A.
Get Carolina A. Miranda's weekly newsletter for what's happening, plus openings, critics' picks and more.
You may occasionally receive promotional content from the Los Angeles Times.