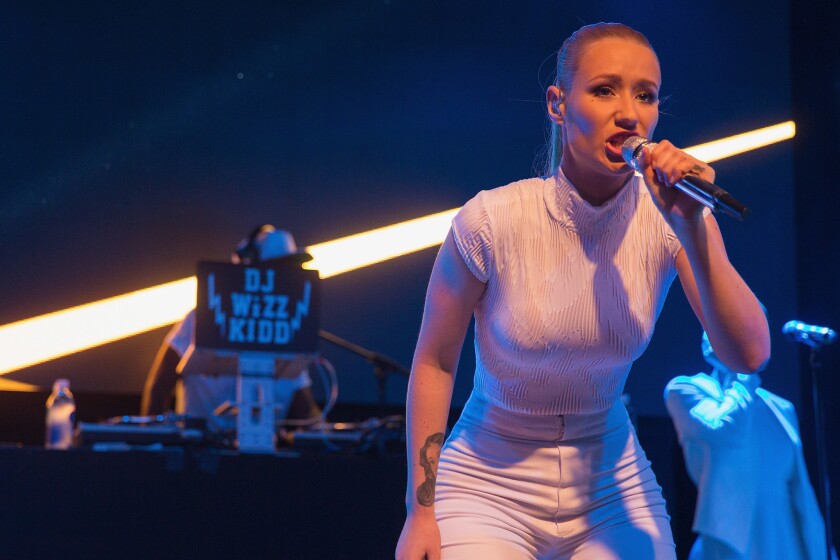 This time last year, Iggy Azalea was riding a wave.
Between her hit single "Fancy" and a collaboration with Ariana Grande, Azalea was dominating radio dials and the pop conversation.
Her dual summer smashes broke all kinds of records, and the steam from her breakout yielded her billing at festivals such as Made in America, performance slots on virtually every single music awards show and multiple Grammy nominations including record of the year and new artist.
However, as the cliche goes, what a difference a year makes. And these days, her stock appears to have hit its lowest point.
Just a week after announcing a headlining arena tour was scrapped, Azalea has pulled out of yet another high-profile gig: After ongoing controversy tied to her booking, the Australian pop-rapper has canceled a performance at Pittsburgh Pride planned for this weekend.
"This has been a difficult decision, as I truly support the event and LGBTIQA communities, however I feel my participation at this point would only serve to further distract from the true purpose of the event," she wrote in a statement.
When it was announced that Azalea would perform at Pittsburgh's LGBT celebration, it drew the ire of many, given the performer had been called out repeatedly for a series of old, off-color tweets.
In one of the cleaner ones, which she wrote in 2010 and has since deleted, she said: "When guys whisper in each other's ears I always think it's kind of homo."
Another old deleted message contained a slur directed at lesbians.
Because of Azalea's booking, several LGBT-friendly groups pulled out of the event in protest of her appearance. This included the local chapter of the Gay, Lesbian & Straight Education Network and a Unitarian church.
"I am a firm believer in equality. Unfortunately in the past as a young person, I used words I should not have. The last thing I want is for something so carelessly said to be interpreted as reflective of my character," Azalea's statement said.
"I meant no harm and deeply regret ever uttering those words. As an adult I would never use them because I understand they play a detrimental role in the fight for issues that I do truly believe in."
Being prosecuted for old thoughts, beliefs or stupid comments that have been drudged up years later is nothing new for celebrities. Its fairness can be argued, but Azalea's (or maybe it was event organizers') swift decision to back out seems to instead prove that her team is no longer able to afford any more disastrous headlines.
Like many of her predecessors, her narrative -- though she might have already achieved the level of fame reserved for a select few -- is now little but controversy. And not the provocative or beneficial kind.
Azalea's nixed Pride gig is just the latest in a long string of public stumbles that adds to the never-ending scorn associated with her name and plaguing her ascent.
From the start, rap fans labeled her as "too pop" to be considered authentic, and seethed at her Grammy nomination for rap album (Eminem ultimately beat her with one of his weakest albums, though that speaks to a bigger problem with voters).
Critics have ripped her, accusing her of pilfering Southern hip-hop stylings. She's been called out by J. Cole, admonished by Azealia Banks, ridiculed by Snoop Dogg and given a public history lesson on hip-hop by Q-Tip. Countless think-pieces on white privilege and cultural appropriation have used her as a springboard.
Her highly anticipated collaboration with Britney Spears, "Pretty Girls," failed to move the dial (a lip-synched, pre-taped debut performance certainly didn't help matters either).
And then there is the canceled tour, which industry experts have said was doomed from the start.
Announced ahead of the Grammys, and before public blowback reached critical mass, the tour would have put Azalea on arena mega-stages. It was a surprising move, considering her catalog includes only one album and a handful of mixtapes, none of which felt like enough to sustain such a massive production. (For the sake of comparison, peers such as Nicki Minaj and J. Cole have only recently entered arena spaces, and Drake waited until his third album before tackling those massive venues.)
Azalea's tour was first delayed for five months, then canceled, ostensibly so it could be retooled around her new record -- although sources have said paltry ticket sales were the main motivator. (Last week, Billboard reported that certain dates were only 20% sold.)
But as Azalea works on the album, she needs to ask herself: Will anyone still care? Right now, the answer appears to be no.
For more music news follow me on Twitter: @gerrickkennedy
---