Review: Hard's Day of the Dead closes with a svelte Sunday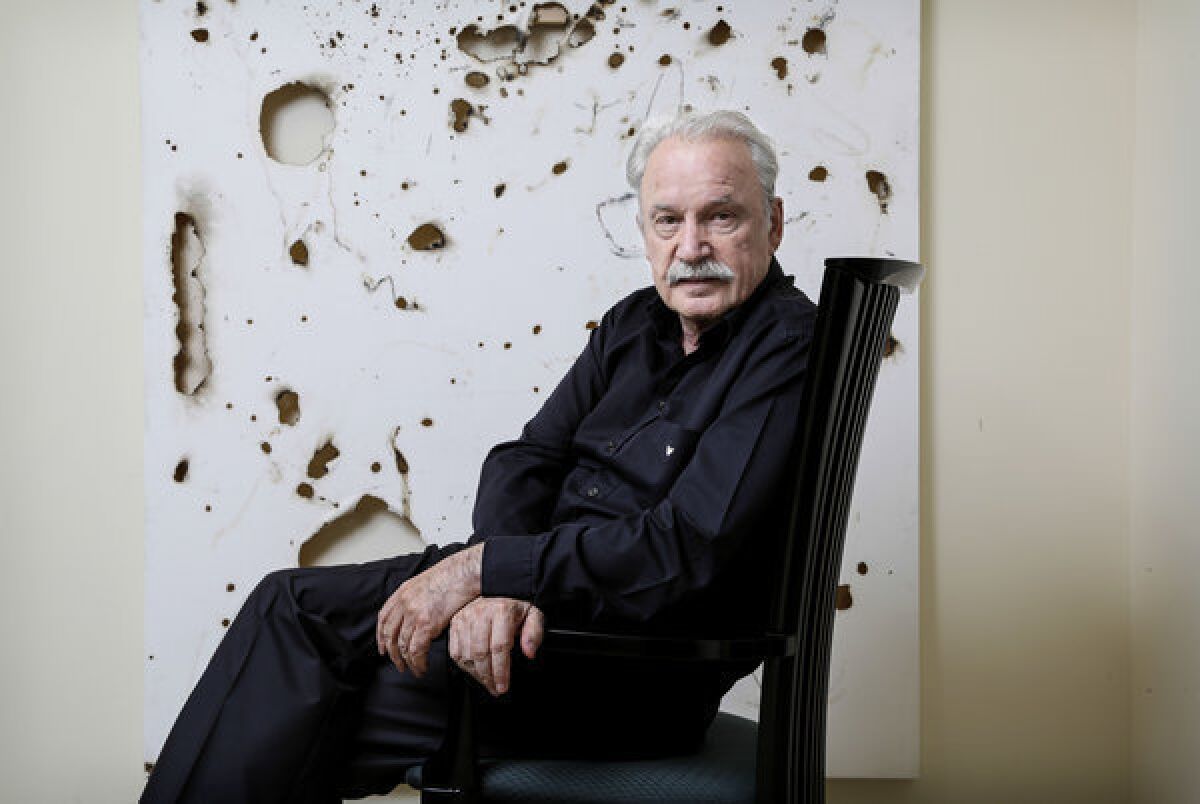 The voice coming out of the tent wasn't exactly modest. "They called me the granddaddy of EDM. Then they called me a 73-year-old EDM bad ass," it said, with a vocodered robot tang. "My name is Giovanni Giorgio. But I like to be called Giorgio."
Giorgio, of course, being Moroder, the founding father of electronic dance music whose Sunday night set at the Hard Day of the Dead festival at L.A. State Historic Park north of downtown was a rare moment of age and experience before youth and beauty at the annual fall rave. The first night of the fest was all about how harsher, drop-heavy performers are finding new ways to stay ahead. The second was a little more suave.
Over at the generally stellar Underground stage, there was Welsh producer Jamie Jones, whose deep house had a surface as smooth as blown glass, with thick and undulant bass notes underneath.
PHOTOS: Hard Day of the Dead Festival 2013
His band Hot Natured is a little more pop-inclined, but on his lonesome, his tracks had the sexual energy of the Chicago classics with a Berlin high gloss finish. For people who actually came to hear meticulous beatmatching, and the ways that craft can make a hot song even hotter, he was unparalleled Sunday.
In the middle-tier outdoor stage, Colorado producer Pretty Lights walked a genre line that had the pace and synth squelches of dubstep, but the drumbeats and head-nod of hip-hop. He earned points for his refusal to get in a genre box and stay there. But the end results were almost too reserved, given his task -- the crowd couldn't bob like at a rap show or go into total mosh-pit meltdown like at Hard's more wilding-out acts.
Headliner Deadmau5 has long expressed an abiding annoyance at "EDM culture," to the point where one wonders whether he's going to escalate his trolling humor to something genuinely angry. But he made good on his Hard headliner obligations, with a set that was surprisingly moody and complex.
Long, echoing silences; minor-key synth pads and purposeful builds -- that's what this music was meant for in the first place, and if crowds came expecting a chokehold of brutal bass patches, they got something much more thoughtful instead.
For that, perhaps, thank Moroder, whose night-closing set showed that the old ways of making electronic music -- analog gear, verses and choruses, effortless style and supreme confidence in your tracks -- will always reign. Moroder's tent was packed even as Deadmau5 seethed on the adjacent field; it was heartwarming to see so many kids with a sense of this music's history.
Even if there were a few pile-up moments (one electronic clap track misfired during his otherwise svelte remake of "Love to Love You Baby"), for God's sake, you got Donna Summer's "MacArthur Park" in a sweaty tent of vintage discophiles just a few miles away from the park itself. We'll call you anything you like, Giorgio.
ALSO:
Review: Skrillex, Nero and more at Hard Day of the Dead
Review: Ideas flow at Hard Summer's wild sonic mashup
Los Angeles' EDM explosion powers its way to dance music dominance
Get our L.A. Goes Out newsletter, with the week's best events, to help you explore and experience our city.
You may occasionally receive promotional content from the Los Angeles Times.