11 Images
Bargain-bin holiday flicks
Blown Away
The holiday:
Fourth of July
The movie:
'Blown Away' (1994)
In a sentence:
Jeff Bridges plays a Boston Police Department bomb expert trying to stop a crazed Irish bomber played by Tommy Lee Jones.
Why it captures the holiday:
Forget the cookie-cutter thriller plot, this flick takes the time to capture the Boston Pops Fireworks Spectacular concert on film for posterity. In addition, we get a heavy immigration theme, a Boston setting and one really big explosion. How big? The exploding ocean liner shattered 8,000 windows in East Boston during filming. Like dad who insists he knows what he's doing with that Roman candle, the filmmakers went a little overboard with the pyrotechnics.
(MGM)
'Hugo'
There are only so many times you can watch "It's a Wonderful Life" before the holiday cheer cools and you start to feel as though you're becoming George Bailey yourself -- the pre-Clarence Bailey, not the happy one. Likewise, "
Halloween
's" haunting little theme worked the first few decades, but today's jaded audiences have grown more comfortable -- probably too comfortable -- with
Michael Myers
and his spooky theme song.
For those with deep pockets, a movie theater outing is the perfect escape from the family, with just about any film having the potential to be the next must-see holiday classic -- like
Martin Scorsese
's
"Hugo" (with Asa Butterfield and Chloe Grace Moretz, pictured)
or
"The Muppets."
But assuming you're not a dangerous loner, that trip to the cineplex could cost you plenty.
So what's a movie buff to do when the old classics have worn thin and economic times are tight? It turns out that the bargain bin is the ideal place to look for the next great DVD holiday classic. To aid in the sifting, we've presented alternative classics for every major holiday. Enjoy!
(Jaap Buitendijk / Paramount Pictures)
Die Hard 2
The holiday:
Christmas
The movie:
'Die Hard 2' (1990)
In a sentence:
LAPD detective John McClane (Bruce Willis) takes on terrorists on Christmas Eve when they try to shut down Washington's Dulles Airport.
Why it captures the holiday:
Yes, the first "Die Hard" has worked its way up from action classic to bonafide off-beat holiday classic. But setting it in a Century City hi-rise did nothing to capture the holiday's natural headache-inducing nature. That's why the sequel, set at Washington, D.C.'s, Dulles airport, is actually more of a holiday flick than the first one. John McClane has to deal with snow, crowded airports, in-law headaches and murderous strangers -- just like the real holiday shopping season!
(20th Century Fox)
Jaws 2
The holiday:
Memorial Day
The movie:
'Jaws 2' (1978)
In a sentence:
Police Chief Martin Brody (Roy Scheider) tries to save the residents of Amity Island when a second shark begins attacking years after the first shark attacks.
Why it captures the holiday:
Director Jeannot Szwarc's inferior follow-up to Spielberg's popcorn classic is virtually the same movie as the original, minus the zest of seeing something fresh and interesting. But let's be honest, name the last Memorial Day weekend that truly offered an unusual experience. For most of us, it's the comfort of routine: go back to the beach, have a barbecue, get out on the water, get eaten by a shark -- again.
(Universal Studios)
Creepshow
The holiday:
Father's Day
The movie:
'Creepshow' (1982)
In a sentence:
Five short comic-book influenced tales from Stephen King and George A. Romero.
Why it captures the holiday:
What am I going to get dad for Father's Day? The question has been asked annually by millions, without a truly satisfactory answer. A tie was the old standby for years. Lately, gift cards are more in vogue. But Stephen King and George A. Romero provided the definitive answer years ago: It's cake that dad wants. It sure wasn't a gift card that spurred Nathan Grantham (Jon Lormer) to crawl out of the grave and extract revenge upon his children.
(Warner Bros.)
Nixon
The holiday:
President's Day
The movie:
'Nixon' (1995)
In a sentence:
Dark, tragic biopic of the troubled president Richard Nixon.
Why it captures the holiday:
Richard Nixon may not be the most beloved president and Oliver Stone's epic-length biopic of the man may not even be his strongest presidential-themed film. So why "Nixon"? Volume, volume, volume. On the one holiday designed to celebrate every former occupant of the Oval Office, Stone's film provides a chance to see more presidents on screen than any other single movie. Besides Anthony Hopkins' surprisingly good Nixon, we get archival footage of George H.W. Bush, Jimmy Carter, Bill Clinton, Dwight D. Eisenhower, Gerald Ford, Lyndon Johnson, John F. Kennedy, Ronald Reagan, Franklin Roosevelt and Harry Truman.
(Sidney Baldwin)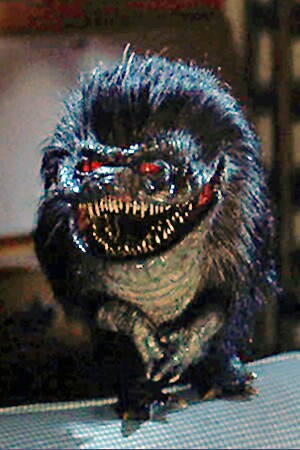 Critters
The holiday:
Easter
The movie:
'Critters 2' (1988)
In a sentence:
Man-eating little aliens descend on a small Kansas town and proceed to eat the populace.
Why it captures the holiday:
Easter has always been a weird holiday. Ostensibly, it's about celebrating Jesus Christ's resurrection after his crucifixion. But somehow, that celebration morphed to include cute and fuzzy bunnies hiding eggs in people's backyards. Bizarre. But "Critters 2's" title creatures are obviously purists, as they take on the Easter Bunny and leave his bloody body in the middle of an Easter Sunday service. Bizarre, just like the holiday. Watch the scene
here.
(New Line)
Mother's Day
The holiday:
Mother's Day
The movie:
'Mother's Day' (1980)
In a sentence:
Backwoods crazies capture three female friends and proceed to rape, torture and kill them.
Why it captures the holiday:
What mother wouldn't be happy with two sons who never leave home, do exactly what she tells them to do and like nothing more than to bring some nice girls home to meet her. For those reasons, this flick from the brother of Troma Entertainment co-founder Lloyd Kaufman is the perfect love letter to mom. OK, so the sons are backwoods psychos who also like to rape, torture and kill the girls they bring home. But it's all done with mom's approval, and mothers have always had a tendency to overlook their sons' flaws.
()
The Mark of Zorro
The holiday:
Cinco de Mayo
The movie:
'The Mark of Zorro' (1920)
In a sentence:
A wealthy Spanish landowner dons a mask and becomes Zorro to defend the people against an oppressive government in California.
Why it captures the holiday:
For most in the United States, Cinco de Mayo is an excuse to get together with friends at a Mexican restaurant and drink margaritas. But its true purpose, especially in Mexico, is to commemorate the victory of the Mexican army over French forces at the Battle of Puebla in 1862. Same thing with "Zorro." The film, which is set during that same war for independence, is usually remembered by its 1940 remake, shown here, with Basil Rathbone. But Douglas Fairbanks' silent film not only helped define the swashbuckler genre, but was the first release from the historic United Artists studio.
(United Artists)
Scent of a Woman
The holiday:
Thanksgiving
The movie:
'Scent of a Woman' (1992)
In a sentence:
Prep school kid (Chris O'Donnell) is assigned to escort a blind, alcoholic and suicidal former Marine (Al Pacino) on a weekend trip to Manhattan.
Why it captures the holiday:
Turkey Day is supposedly all about family togetherness, giving thanks and reconnecting with loved ones. But come on, most of us arrive at our relatives' house and immediately wish we were off in New York on a booze-soaked bender, tangoing with hot babes and randomly screaming out "Hoo-ha!" when the mood strikes. This film may have signaled the beginning of Al Pacino's long, slow descent as a respected actor, but it perfectly captures the need to escape from the smothering bonds of family over the holidays.
(Myles Aronowitz / Universal)
April Fool's Day
The holiday:
April Fool's Day
The movie:
'April Fool's Day' (1986)
In a sentence:
People keep turning up dead during a group of friends' get-together on a remote island.
Why it captures the holiday:
This low-budget horror-comedy, just like the holiday for which it is named, is kind of annoying and kind of cool all at once. Inspired by Agatha Christie's "And Then There Were None," a group of friends congreate on a remote island and find themselves being murdered one by one. But in this shaggy dog story, nothing is quite what it seems. You may feel suckered, you may be delighted, but few movies have quite captured the essence of the April Fool's prank quite like this one.
()