10 Images
Friendly ghost or Pope?: Varieties of reality TV hosts
By Patrick Day and Deborah Netburn, Los Angeles Times Staff Writers
The host.
In science, the word evokes the image of a hapless life form, attached in perpetuity to a parasite, allowing the thing to grow large and healthy without measurable benefit to itself.
In religion, the word is used to describe the glorious armies of heaven, galloping across the skies to lift up humanity to a blessed and happier place.
In reality TV, the word means a little bit of both.
But not all hosts are made the same. Just as the ancient Greeks developed several schools of philosophy, the modern era has turned out many different theories of hosting -- be it the "Friendly Ghost Host" method evinced by Ryan Seacrest or the more dynamic "Hosting as Performance Art" practiced by Hulk Hogan on "American Gladiators."
With the spate of new prime time hosts this spring -- including former "90210-er" Ian Ziering hosting "Your Mama Don't Dance," the time is right to study these men and women of the microphone, to learn what sets them apart from the common man.
(Danny Feld / Lifetime)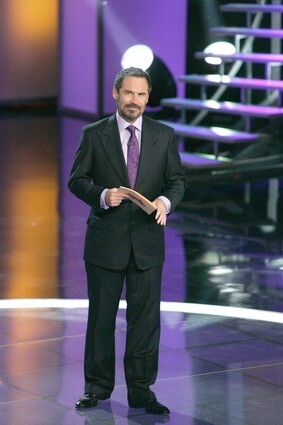 The 'Next Stop, Reno' School
Past practitioners:
"Fear Factor's" Joe Rogan, "Deal or No Deal's" Howie Mandel, "Are You Smarter Than a 5th Grader's" Jeff Foxworthy
The new kid:
"Amne$ia's" Dennis Miller
The style:
The club circuit is becoming a grind and that sitcom deal never really flourished -- what's a funnyman to do? These guys make it look easy. They show up, maybe try out a few of their bits and generally just appear cool and calm next to that sweaty, anxious accountant from Milwaukee that's never been on TV before. All that, plus no heckling? It's almost better than playing Carnegie. Almost.
(Trae Patton / NBC)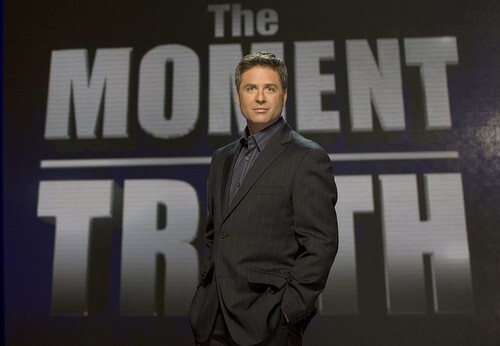 The 'Eerie Zen of the Friendly Ghost' Host
Practitioners:
"Survivor's" Jeff Probst, "American Idol's" Ryan Seacrest, "Don't Forget the Lyrics'" Wayne Brady
The new kid:
"The Moment of Truth's" Mark Walberg
The style:
We know their names, we know their faces, but just who
are
these guys? They may be integrally attached to their massive prime-time network shows, but the day after they air, chances are we'll be talking about anything but the host. They're safe, non-threatening and completely evaporate with the coming of first light. The Ghost Host often moves silently from show to show, leaving nothing but the faintest hint of an impression. So Jeff Probst occasionally contributes "Survivor" related clues on "Jeopardy" and Ryan Seacrest appears on E! News and unless you are a relative, their appearances are as notable as clouds on a moonless night.
(Joe Viles / AP)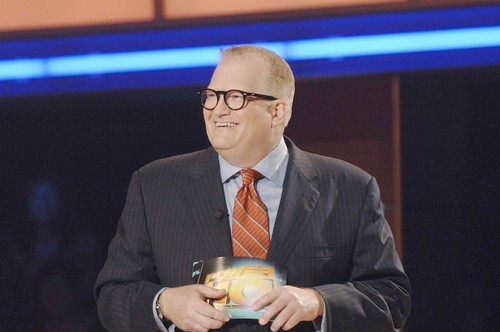 The 'Audience With the Pope' Experience
Practitioners
"The Price Is Right's" Bob Barker (emeritus), "Show Me the Money's" William Shatner (now canceled)
The new kid:
"The Price Is Right" and "Power of 10's" Drew Carey
Style:
The audience knows them better, perhaps, than they know themselves, and to be granted an audience with this host is honor enough. Winning is great and all, but to say you shared even a little of the spotlight with these titans of the television is to have been touched by greatness. Who could resist the desire to kiss Bob Barker? And who hasn't attempted an impression of William Shatner? Carey's drawing power may not be as road-tested, but he has all the hallmarks of a hugging guy. Grandmothers in Arizona are no doubt working up their Drew-bear t-shirts even as we speak.
(John P. Filo / CBS)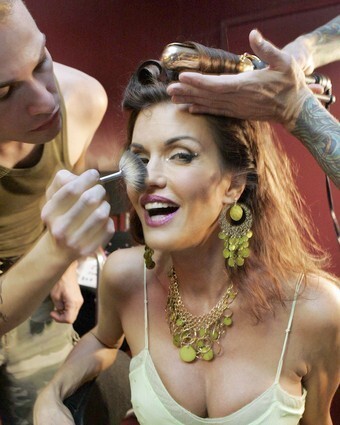 The 'Drill Sergeant Immersion'
Practitioners:
"Hell's Kitchen's" Gordon Ramsay, "Celebrity Apprentice's" Donald Trump
The new kid:
"The Janice Dickinson Model Agency's" Janice Dickinson
Style:
Remember R. Lee Ermey in "Full Metal Jacket"? Just like that, except instead of preparing soldiers for war, the screaming here is just about aggrandizing the ego of the host. This hosting method is tricky -- it can turn off just as many viewers as it electrifies -- so its use is doled out sparingly. The last host to adapt the "Immersion" was former model Janice Dickinson, whose Oxygen Network reality show began three years ago.
(Lawrence K. Ho / Los Angeles Times)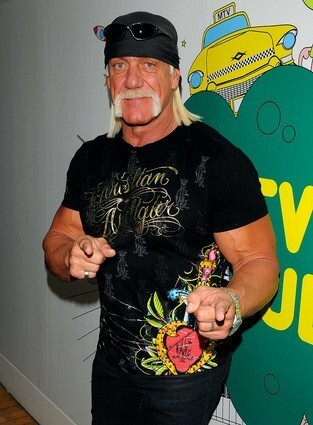 'Hosting as Performance Art'
Past practitioners:
"Iron Chef's" Takeshi Kaga, "Double Dare's" Marc Summers
The new kid:
"American Gladiator's" Hulk Hogan
The style:
The dramatic host takes pride in his/her hosting. This is not about seeming casual, or relaxed, or normal. This is about high energy. High theater. Drama! Think Takeshi Kaga's insane bell pepper crunch at the opening of each "Iron Chef" competition or Hulk Hogan's insane clothes/voice/energy throughout each episode of "American Gladiator." These hosts aren't around just to keep the show going, they're giving it an extra sparkle.
(Peter Kramer / Associated Press)
The 'I'm-Just-Like-You (But Not)' Method
Past practitioners:
"America's Next Top Model's" Tyra Banks, "The Bachelor's" Chris Harrison
The new kid:
We think it's going to be Nate Berkus on "Oprah's Big Give"
The style:
Need an on-camera friend? Who doesn't! That's where the I'm-Just-Like-You host comes in. Their mission is simple: get you to open up on screen, convince you to cry on their shoulder, nod knowingly as you divulge private feelings and experiences that will eventually be broadcast nationwide. And after the show wraps, they'll never speak to you again.
(ABC)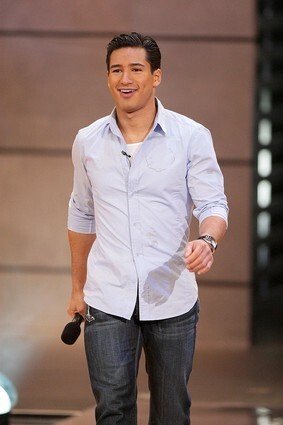 The 'I Know Him From Somewhere' Host
Past practitioners:
"The Pussy Cat Dolls Present: The Search for the Next Dolls'" Mark McGrath, "The Singing Bee's" Joey Fatone
The new kid:
"America's Best Dance Crew's" Mario Lopez
The style:
This particular brand of host had a celebrity life pre-hosting, which subsequently dried up. Faced with the daunting possibility of being permanently forgotten (and going broke) they have now resurfaced as hosts of random shows, some of which they are thematically equipped to host, some of which they are not. The public sees them as vaguely familiar friends from the past—maybe they don't remember their names or how they know them.
(Chris Polk / Associated Press)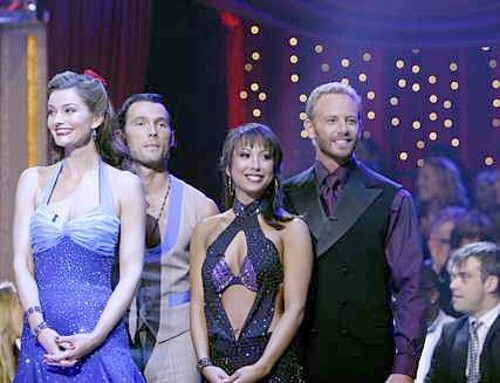 'Dancing With the Stars' Alumni Cycle
Past practitioners:
"The Singing Bee's" Joey Fatone, "America's Best Dance Crew's" Mario Lopez, "Dance Wars: Bruno vs. Carrie Ann's" Drew Lachey
The new kid:
"Your Mama Can't Dance's" Ian Ziering
The style:
1. You get famous for something—perhaps being in a boy band or starring in a television show. 2. Your boy band fades or your television show ends. 3. You begin to fade into obscurity. 4. You get invited to perform on "Dancing With the Stars," you have nothing else to do so you acquiesce. 5. America falls in love with you all over again. 6. With a little luck, you begin hosting your own show.
(CAROL KAELSON, xx)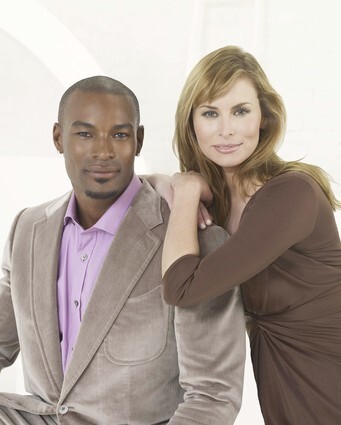 The 'Don't Get Too Close' Approach
Past practitioners:
"Project Runway's" Heidi Klum, "Top Chef's" Padma Lakshmi
The new kid:
"Make Me a Supermodel's" Nikki Taylor and Tyson Beckford
The style:
After weeks of handing out challenges to an ever-shrinking team of competitors, one imagines a host might develop a rapport with the remaining contestants; but that's not how these ladies play it. They prefer to keep a safe personal (and often physical) distance between themselves and the group of contenders. You'll never see Heidi put her arm around one of the designers (although dismissed contestants do receive two farewell kisses). With Padma, all you get is the occasional handshake.
(Ian White / Bravo)