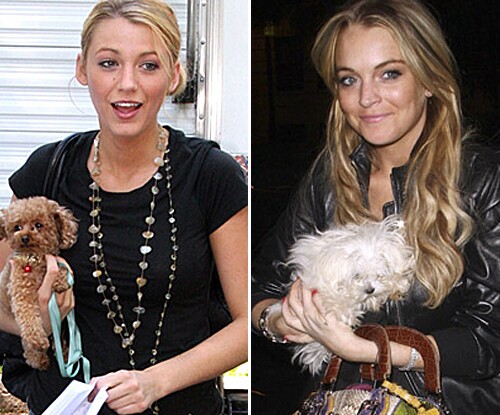 35 Images
Do Hollywood stars look cuter with puppies?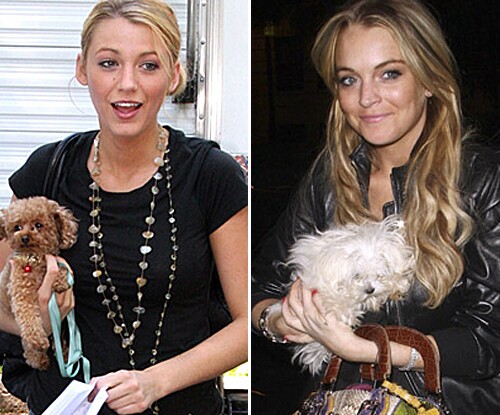 By Elizabeth Snead, Los Angeles Times Staff Writer
A few years ago,
Paris Hilton
-- whose stock rose this week after her amusing video retort to
John McCain
's anti-celebrity ad -- was always seen toting her tiny Chihuahua, Tinkerbell, invariably dressed in designer ensembles matching her owner's.
For better or worse, Paris was responsible for the
Hollywood
pocketbook pooch craze of tucking an expensive tiny dog into a chic designer bag.
Sadly, we have seen neither hide nor hair of Tink in quite a while. Rumor is that Hilton stopped lugging the lovable pup when she got over 5 lbs. We're quite sure that one term in Hilton's life contract is "no heavy lifting."
Besides, now Paris has Benji Madden on a short leash, and often dresses him in matching outfits, just like Tink. Smart girl. Although our experience has been that men are usually much more difficult to train than puppies.
But thanks to Paris' lead, savvy stars realized that that carrying a pup is a sure-fire flattering photo op with an instant and undeniable 'awwww' factor.
Like Paris, they know that everyone looks instantly cuter carrying a pooch. It's better than blush and lip gloss.
To see what we mean, check out the Red Carpet Rewind gallery of stars cuddling their furry friends.
(WireImage.com)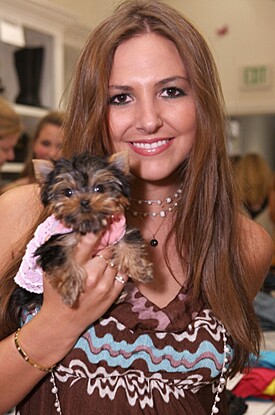 Having a fur ball
Ali Simms has never looked cuter than in this photo with a tiny teddy-bear-faced Yorkie puppy. No idea if this is her pup but, if not, she should definitely get one and carry it everywhere.
(WireImage.com)
Heroic dog
No pocketbook pooch for Ali Larter. Her big sweet fluffy dog is more than a handful, he's two arms full. But it makes us like the "Heroes" superhero star even more for lugging her big fur boy (or girl) around.
(WireImage.com)
Dog days
Amy Smart has that adorable "I've-got-a-puppy-in-my-arms" look at the recent Much Love Animal Rescue event. Puppy + blond girl = major cuteness.
(WireImage.com)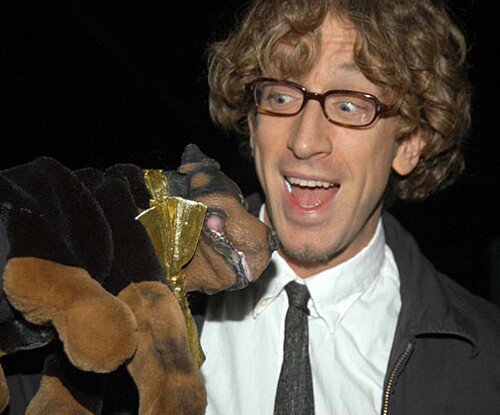 Every dog puppet has his day
Here's Andy Dick in 2003 with an appropriate canine companion: Triumph the Insult Dog. Knowing
Andy's addled state
as we do now, ya gotta wonder if Andy might have thought this was a real dog. Down, boy!
(FilmMagic.com)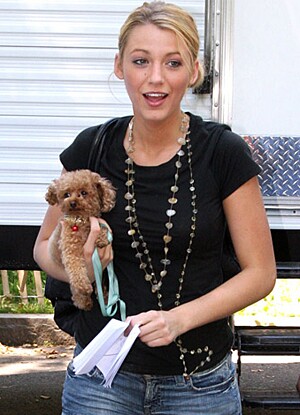 You know you love this puppy. XOXO
"
Gossip Girl
'
Blake Lively
's puppy, which looks like an apricot toy poodle, is named Penny. Which is funny since her on- and off-screen boyfriend's name is
Penn Badgley
. The pup and the boy both have sweet brown puppy dog eyes. Which one do you think is cuter, Penn or Penny?
Wonder who kisses better…
(WireImage.com)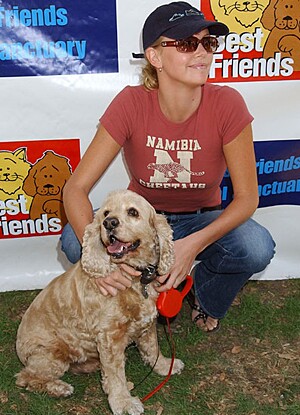 Lucky dog
Don't
Charlize Theron
and her cocker spaniel, Daniel, make a cute couple? Kinda makes sense that this South African-born outdoorsy, athletic actress has a sizable pooch, not a pint-sized one. I'll bet Daniel has never had to wear trendy T-shirts like most Hollywood hounds.
(WireImage.com)
Purse snatcher
Brittny Gastineau looks sweet shopping a Lucky magazine event with a tiny Chihuahua puppy in one hand. Let's hope she doesn't put him in that giant purse. She'd never find him again!
(WireImage.com)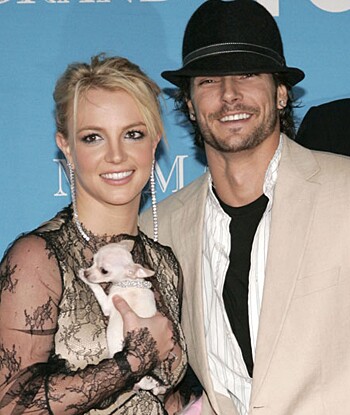 Dog bites man?
At the Billboard Awards in 2004,
Britney Spears
pulled a Paris and brought along her Chihuahua puppy as well as rapper-wannabe, then-husband Kevin Federline. Rumor is that KFed made her get rid of one of her Chihuahuas after it snapped at him. Dogs always know….
(FilmMagic.com)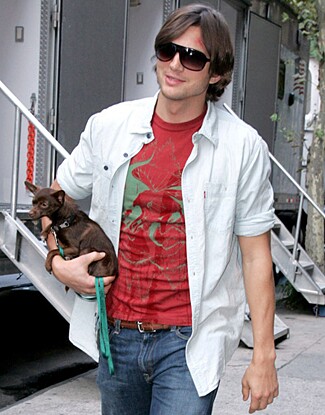 Stunt dog
Even
Ashton Kutcher
looks cuter with a Chihuahua puppy in one arm in
New York
. Pretty sure this is a stunt puppy on a movie set. He just doesn't look like a Chihuahua kinda guy. But then again, neither does
Mickey Rourke
, and he takes his everywhere. Go figure.
(WireImage.com)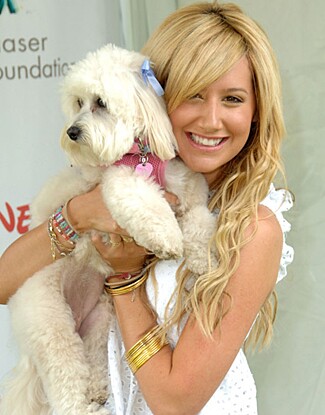 Dog tags
Have puppy, will pose!
Ashley Tisdale
cuddles a very pretty Maltese/Bichon/Maltipoo (we think) at the Pediatric AIDS Foundation 2006. We have no idea if this is really Ashley's dog (she has a mini golden doodle, whatever that is) but these two make an adorable girlie pair. Love the matching pink and blue accessories and white fur/lace.
(FilmMagic.com)
Pure bred
Christina Aguilera
looks happy walking her two precious Papillons, named Stinky and Chewy, in
New York
. Hey, it's hard to carry two dogs at once. Once in a while, even celebrity studs and bitches gotta walk like normal dogs.
(FilmMagic.com)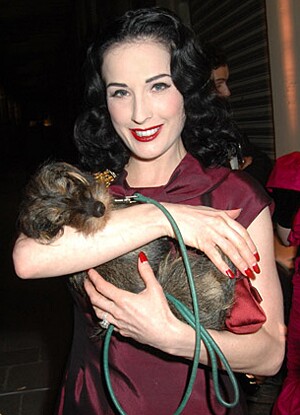 Baring it all
Marilyn Manson
's ex-wife Dita von Teese is all smiles caressing a terrier pooch at a Paris fashion show in 2006. This is more honest emotion than we've ever seen the usually mannequin-like strip tease artist display. Skin, she shows. Teeth, seldom. Dogs really bring out the best in humans. And stars.
(WireImage.com)
Pampered poochie
Elizabeth Taylor
was a puppy precursor of
Paris Hilton
. Shown here in 1993, the actress loved to carry (and still does, although now someone else carries the pooch for her) a small dog, her pampered Maltese named Sugar. And she was also briefly married to Paris' great uncle, Conrad "Nicky" Hilton. Isn't life strange?
---
FOR THE RECORD: An earlier version stated Taylor was married to Paris' grandfather.
---
(WireImage.com)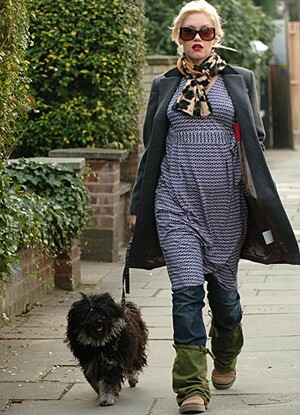 Rock dog
Gwen Stefani
and Gavin Rossdale had a Hungarian Puli named Winston until he died in 2004. Count on Gwen to have a dog with hair like dreadlocks. But in London in 2006, Gwen is seen walking this sweet- faced new dog, with equally dreadful hair. It's a rock thing. And it totally works for her.
(FilmMagic.com)
Best in show
"Heroes" hottie
Hayden Panettiere
looks sugary nice as she cuddles a gray terrier-like pooch at the Paws for Style event in 2007. But her dogs, Madison and Penny Lane, were both left at home. Doggone it.
(FilmMagic.com)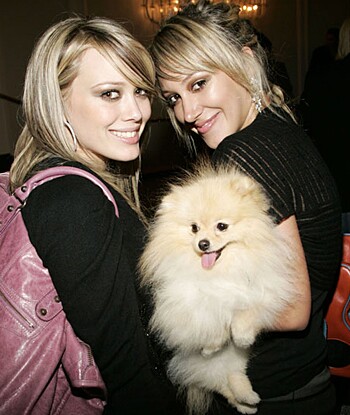 Three dog night
Hilary and Haylie Duff make an adorable threesome with Haylie's Pomeranian named Bentley at a pet fashion show in 2004. Look at those cute little button noses! And that creamy L.A. blond hair! Who says owners don't look like their pets? Scary!
(FilmMagic.com)
Hairy situation
Jaclyn Smith poses with a Pomeranian puppy during a shoot for her hairdresser reality show, "Shear Genius." Doesn't look like the pup is all that crazy about that wind machine. And who gave him that pompadour?
(WireImage.com)
Dog day afternoon
Jessica Alba
reportedly has two small pugs named Sid and Nancy. But she certainly looked hot and heavy with this big fella (we think it's her mixed breed named Bowie) at a Lint Roller animal fundraiser. Definitely a musical theme going on with dog names!
(FilmMagic.com)
Doggy tricks
Justin Timberlake
's girlfrind
Jessica Biel
and her dog Tina look like they're totally N sync. Even Jess and Tina's coppery brown fur/hair coordinates. Hey, you don't think? Nyah…
(WireImage.com)
Carry on
Jessica Simpson
carries her Maltipoo, Daisy, everywhere. Sometimes, she even makes her boyfriends (
John Mayer
, Tony Romo…) carry her too. Love me, carry my dog!
(WireImage.com)
Looking grrrreat
Singer Joss Stone snuggles up with a fluffy Maltese puppy outside of the
"David Letterman
Show" in 2007. They are both so cute and together, it hurts! Woof!
(FilmMagic.com)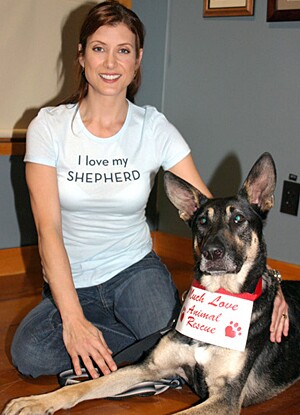 Good shepherd
Kate Walsh
looks hot in her "I love my shepherd" T-shirt. Ironically, her character's name in "Private Practice" is Addison Shepherd. Coincidence? We hear that she adopted a new dog, a lab/rottie/shepherd mix named Flower. Bring him out for photos!
(FilmMagic.com)
Red hot dog
Kristin Chenoweth matches her immaculately groomed Maltese dog Madeline's red bow to her red-hot silk dress at a
New York
fundraising fashion show. Wonder who takes longer to get ready, Kristin or Madeline?
(FilmMagic.com)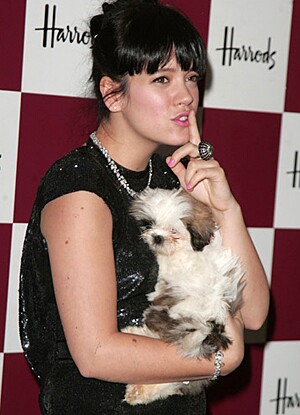 NO barking!
Ssssh! Lily Allen doesn't want the photographers to wake up this sweet fluffy puppy that looks like a little Lhasa apso, maybe a Pekingese, at an event in London. Keep the noise down. Don't frighten the pup or the young rock star, both of whom are so darn cute you just want to tuck them in your purse and take 'em home.
(FilmMagic.com)
Reality bites
Lindsay Lohan
was recently spotted looking cute in
New York
carrying a Maltese puppy. But we suspect it was the one that Ali Lohan got, despite her mother's wishes, on the reality TV show "Living Lohan." Did the series ever show Ali feeding, grooming or cleaning up after her new puppy? They lost me at the premiere episode's opening credits.
(WireImage.com)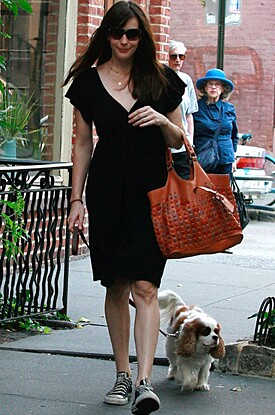 Long Liv the King
Liv Tyler
and her King Charles spaniel play it low-key for the paparazzi on a stroll in the city. No coincidence that King Charleses were favored by royalty and we always think of Livvie as "Lord of the Rings" Elven Princess.
(FilmMagic.com)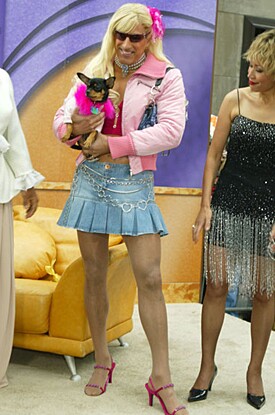 Heeling arts
Matt Lauer
's 2004
Halloween
outfit (yes, he's
Paris Hilton
) would not have been complete without a sweet shaking little Chihuahua in a hot pink boa. Nice gams there, Mattie! You can teach us to heel any day.
(FilmMagic.com)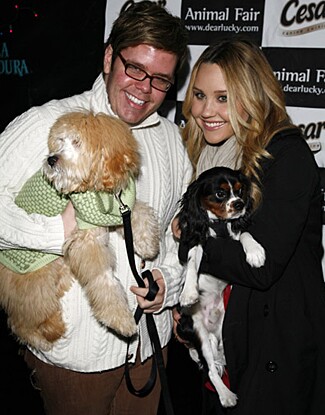 Gossip dog?
Even notorious celeb blogger
Perez Hilton
can't help but look appealing with two pups and
Amanda Bynes
at an Animal Fair fundraiser. C'mon, no doodling on the doggie's pics, please!
(WireImage.com)
Eye candy
Is it just me or does
Pete Wentz
and his precious pooch Einstein look a lot alike? Maybe this is where Pete got the idea for all that eyeliner he usually wears…
(WireImage.com)
Feeling Better
Rebecca Romijn's curly pooch named Better poses with her actress pal
Jennifer Garner
and talk show hostess /
Michelle Obama impersonator Tyra Banks
. And look, he's so darn cute that he makes them all look… even better! Sorry.
(WireImage.com)
Bed mates
Sienna Miller
walks her two sweet and scruffy canine pals in London. Wonder how her new love, "Brothers and Sisters" star Balthazaar Getty, feels about dogs? Word is they are together in
Los Angeles
now. Make room on the bed, Baltie!
(FilmMagic.com)
Puppy love
Taylor Momsen knows she looks irresistibly cute with an armful of fluffy puppy on the set of "
Gossip Girl
." Don't let Queen Bee take that puppy from you!
(WireImage.com)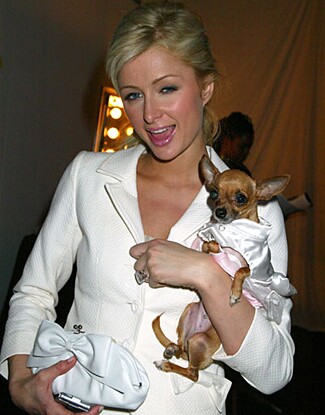 Bow WOW!
Check out Tinkerbell's white satin coat that matches
Paris Hilton
's white suit at a Narciso Rodriguez fashion show. We kinda miss Paris and her pooch's preposterous apparel. Wonder how she's doing. Hey, Tink appeared on all five seasons of "The Simple Life." Think she gets royalties?
(FilmMagic.com)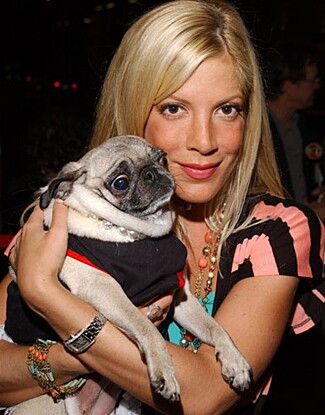 A pearl among pugs
Tori Spelling
's beloved pug, Mimi La Rue, died earlier this year of natural causes. But she was surrounded by her family when she passed. Sad. She was a babe among pugs. And the pearls she's wearing in this photo certainly suited her.
(FilmMagic.com)