Is Bigger Better?
Heidi Klum used to be all about big, sexy Victoria's Secret hair. But a few months ago, she traded her hair spray for a flattening iron and began sporting a younger, hipper layered cut with blunt bangs. Seal likes it. Do you?
(WireImage)
Child's play
Some blame the Big Bang Theory on Katie Holmes. First, her long mane became a sleek, side-parted bob. But in November 2007, she caused a commotion in Berlin when she unveiled new blunt bangs that look inspired by baby Suri's hairdo. Is it too infantile or just youthful?
(WireImage)
Golden girl
Kate Hudson is renowned for her long, wavy blond hair, kept toned by West Hollywood colorist Negin Zand. But according to her hairstylist David Babaii, she recently cut her own bangs. A definite no-no! But he said she didn't do a bad job. What do you think?
(WireImage)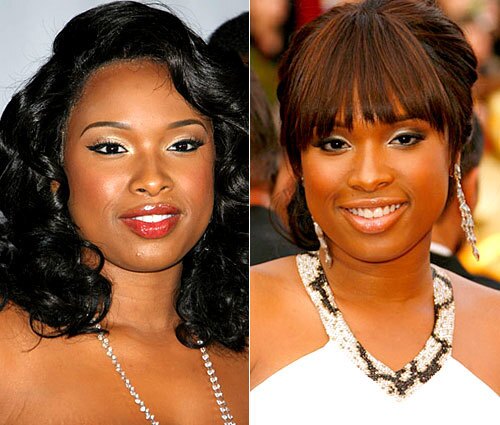 Diva do
Jennifer Hudson's hair used to be totally old-school diva. But at the Oscars, she showed off a new youthful banged up-do. Maybe this is a result of hanging out with those trendy "Sex and the City" gals. We likey! How about you?
(WireImage)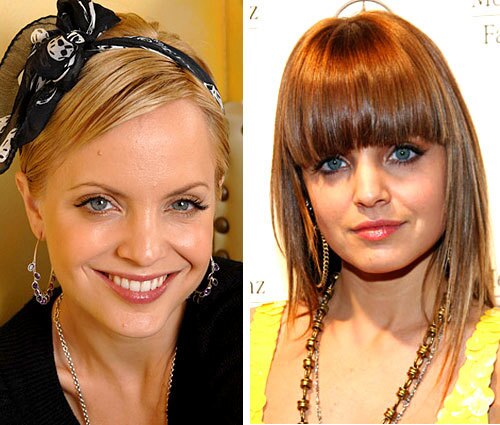 The changeling
Mena Suvari changes her hair the way some girls change their … minds. She's been long, short, blond and brunet. She recently traded her full bangs for a buzz cut. Yikes! Maybe she should go back to her "American Beauty" hair?
(WireImage)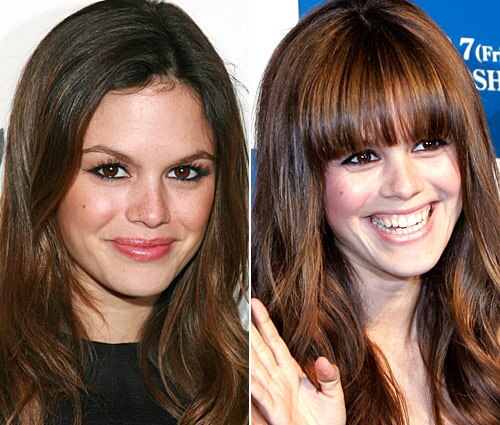 Cha-cha-cha-changes
Rachel Bilson hasn't changed her "O.C" look since the popular show went off the air. But with a new hit movie out, "Jump," it was time for, of course, bangs! The operative word here is "adorable."
(WireImage.com and Shizuo Kambayashi / AP)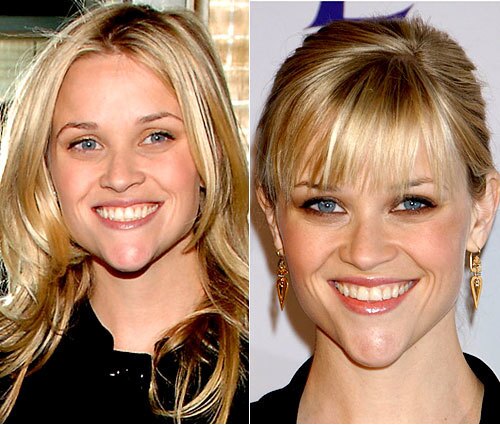 Practical magic
Reese Witherspoon's bangs form a soft, flattering frame for her blue eyes. Her layered do with bangs is also a much more practical style for a working actress/single mother of two.
(WireImage)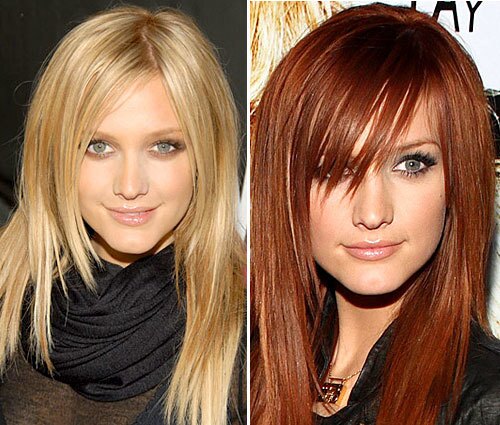 Fringe benefits
Ashlee Simpson is a hair-color chameleon. Blond, brunet, now red? But what do you think of her new long, fringed bangs? Yeah, we agree. They do look too much like her Fall Out Boy-friend Pete Wentz's bangs.
(WireImage)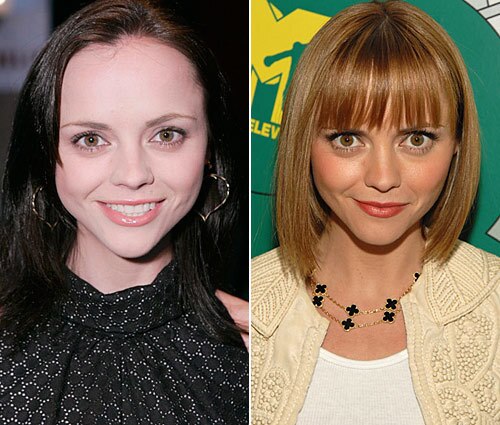 Banged up
Christina Ricci is one actress who really benefits from the new Big Bang trend. Her baby bangs actually help disguise her giant forehead, which probably measures twice the size of her lower face. To bang or not to bang? -- that's the question. Got an answer?
(WireImage.com)
She bangs!
We like our Miss Jackson any way we can get her. But the new bangs do make her look less like her sister La Toya. And frankly, that's a good thing.
(WireImage)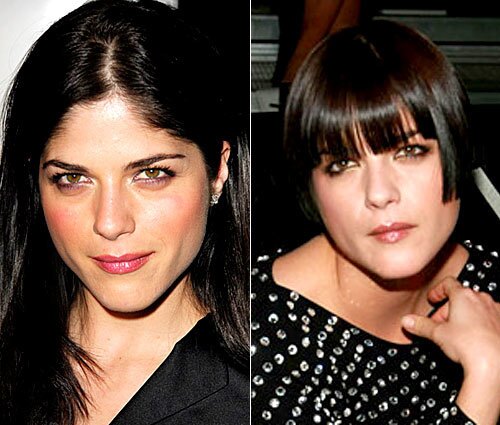 Silent movie star
Selma Blair used to wear her brunet hair long and loose. But a few years ago, she started going gamin with short, boyish dos. Her latest look premiered at Marc Jacobs' New York fashion show: a very dramatic cut reminiscent of silent screen siren Louise Brooks. Thumbs up or?
(WireImage)