12 Images
Best & Worst: Primetime Emmy Awards 2010
By Patrick Kevin Day and Lisa Fung
We must admit having mixed feelings about host Jimmy Fallon's "Glee"-style opening to the tune of Bruce Springsteen's "Born to Run." On the one hand, it's nothing new. Fallon has already done a "Glee" parody with the cast of "Parks and Recreation" on his "Late Night" show. But this one was done with such energy that it's hard to be a hater. Besides, who can be angry when someone's singing the Boss?
(Mark Boster / Los Angeles Times)
With its mix of Las Vegas dazzle and video game razzle, the Emmy set in the Nokia Theatre managed to seem both retro and futuristic at the same time. Nice work, set designers!
(Chris Carlson / Associated Press)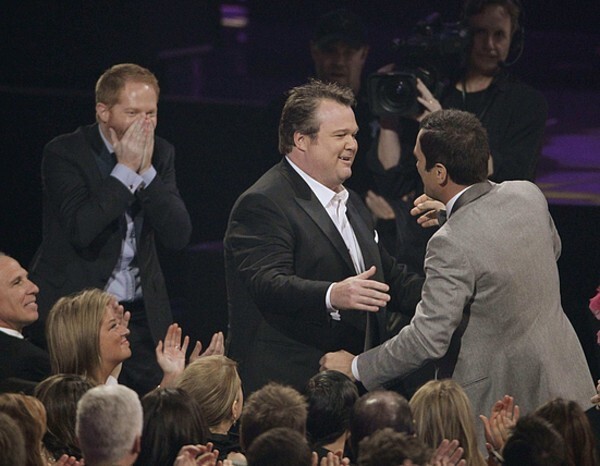 In his elation over winning an Emmy for supporting actor in a comedy series, "Modern Family" costar Eric Stonestreet (center, about to hug fellow co-star Ty Burrell) finally put to rest one of the many mini-controversies from the past season by planting a smacker on his on-screen partner, Jesse Tyler Ferguson (the one with the shocked expression in the background). Now that the couple have finally kissed, ABC can finally rest. Oh wait, it happened on NBC.
(Chris Carlson / Associated Press)
Not many people saw the 1996 fantasy film "Dragonheart," which was notable for featuring Dennis Quaid as a knight and Sean Connery as the voice of a talking dragon. But though the film never got a chance to make the awards circuit the year it came out, it lives on in awards shows to this day. Its music, composed by Randy Edelman, is used whenever awards shows want to show up a clip package of great import. In the case of the Emmy Awards, it was the montage for the year in drama, with clips from "Mad Men," "Lost" and similar non-dragony shows.
(Carin Baer / AMC)
Ricky Gervais made waves with his onstage drinking and his cheeky introduction to troubled Hollywood icon Mel Gibson at the Golden Globes earlier this year. And Gervais didn't let up during his time onstage at the Emmys. After mentioning Mel in a list of "scary" actors, he said, "I won't have a go at Mel. He's been through a lot." Then he paused. "Not as much as the Jews." Then Gervais made sure the audience got beers delivered to them in their seats. " 'The Office' is in syndication. It's on me," he said. Who doesn't love Ricky Gervais?
(Kevin Winter / Getty Images)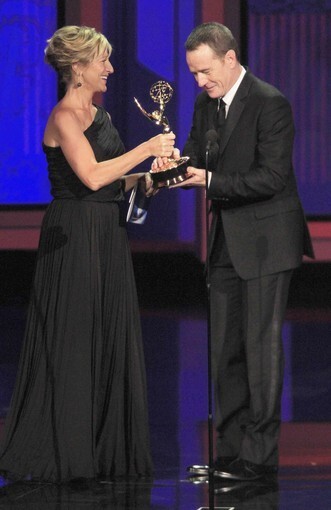 "The Amazing Race" may have been brought to its knees, and Alec Baldwin's rein may be over, but that doesn't mean everything in Emmy land is topsy-turvy. For the eighth year in a row, "The Daily Show" won for outstanding comedy, variety or musical series, and Bryan Cranston, pictured, won his third straight award as outstanding lead actor in a drama series for "Breaking Bad."
(Mark Boster / Los Angeles Times)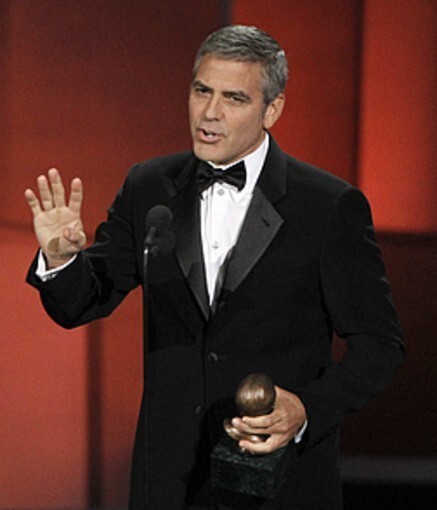 OK, so George Clooney hasn't been a regular on a television series for more than a decade. But the film actor, this year's Bob Hope Humanitarian Award winner, charmed the Emmy Awards audience with his plea to halt a standing ovation ("Don't do that, it makes me feel like I might be sick or something and not know it") and his moving tribute to Bob and Dolores Hope.
(Chris Carlson / Associated Press)
As Claire Danes took her walk to the stage to accept her Emmy for lead actress in a television movie for "Temple Grandin," the cameras caught Betty White in the front row conspicuously not clapping. What's up, Betty? Mad that someone else in Hollywood is getting five minutes of attention?
(Kevin Winter / Getty Images)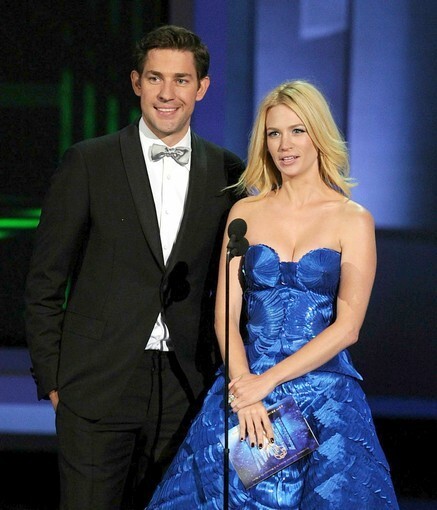 Will someone give the man a TelePrompter? John Krasinski of "The Office" seemed to have lost his way when presenting the Emmy for supporting actress in a miniseries with "Mad Men's" January Jones. So, was that a joke or for real? Either way, it bombed.
(Kevin Winter / Getty Images)
There might have been a ton of stars in the Nokia Theatre for the Emmy Awards, but somehow the presence of real-life biopic subjects Jack Kevorkian and Temple Grandin, pictured, made those films' wins that much more special.
(Matt Sayles / Associated Press)
Forget the actors pretending to be vampires from the cast of "True Blood." The former Magnum P.I. and current star of "Blue Bloods" doesn't appear to have aged since 1984. Good genes, or is he ... undead?
(Mark Boster / Los Angeles Times)