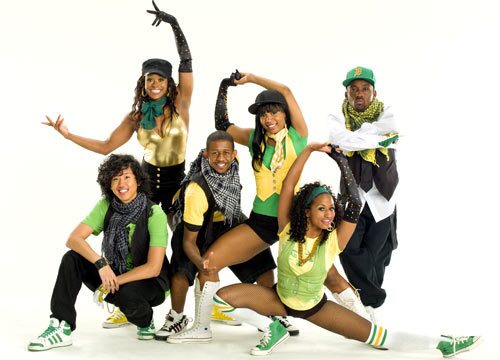 9 Images
'America's Best Dance Crew 2'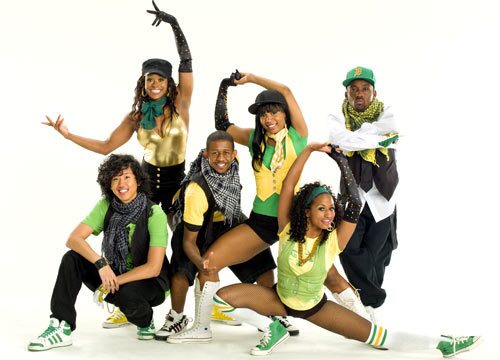 ASIID (And So It Is Done)
Hometown
: Detroit
MTV's bio
:
ASIID
is a tightknit group of young dancers from a rough area of Detroit. It's a struggle for them to find support and drive in a town full of violence and lost hope. They find their inspiration from their crew member Joey, who was born profoundly deaf and can only hear some noises with the use of his hearing aid. As a young child, Joey attended a school where sign language wasn't taught; instead he learned to read lips. ASIID pulls strength from each other and are truly an inspiration to everyone.
Members
: Himerria "MeMe" Wortham, 23 – Berlin; Della "Dalla…Licious" Hamby, 23; Adrian "DreeZ" Harvey, 23; Tristan "T.A." Fisher, 22; Joseph "Joey" Antonio, 21; Melissa "MD" Banners, 23.
(MTV)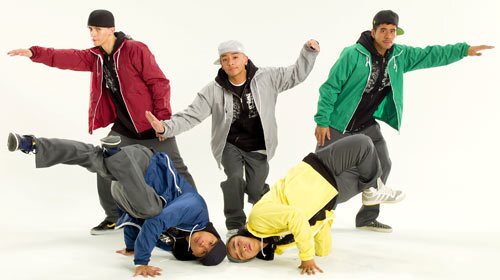 Boogie Bots
Hometown
: Washington
MTV's bio
:
Boogie Bots
like to think of themselves as robots coming to life with their smooth and precise movements. Each member is either a college graduate or enrolled at a university. They are the best of friends and often practice in each other's garages. Boogie Bots are dedicating each performance to Joesar's father, who has been in a coma for the past six months after suffering a severe asthma attack.
Members
: Ryan "Gesture" Dalisay, 26, Miami; Miguel "Migs" Almario, 23, Columbia, Md.; Joesar "JPizol" Alva, 20, Parsippany, N.J.; Bryan "Boogie Mind" East, 21 Chantilly, Va.; Michael "Magic Mike" Arellanno, 21 Silver Spring, Md.
(MTV)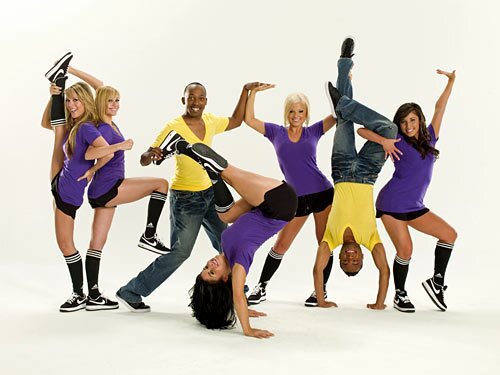 Distorted X
Hometown
: Houston
MTV's bio
: These studio dancers are trained in everything from ballet to hip hop, lyrical to tap, salsa to contemporary. They've coined themselves "The Houston Socialites – Paris and Nicole without money." Former cheerleaders, this crew is out to prove that big, exaggerated movements and strong performance elements can win a hip-hop competition.
Distorted X
is a dose of fun, sass and confidence that performs with high-energy and sultry precision.
Members
: Sayree "Uncle Fred" Chatelain, 21; Lori Mallini, 20, Clear Lake, Texas; Lindsey "Lil" Slott, 20, Spring, Texas; Donna Hood, 21; Courtney Paige, 29; Jerome "JNug" Hill, 22; Keana "Kiki" Noons, 18, Honolulu.
(MTV)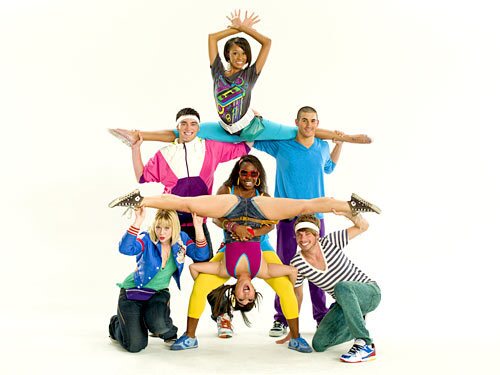 Fanny Pak
Hometown
: Los Angeles
MTV's bio
:
Fanny Pak
is a zany bunch that is bringing back the bold and wacky energy of the '80s with a unique dance style and fashion sense. Their movements are anything but generic and there are no boundaries to their imaginations – most of their choreography stems from word-association games. At the 2008 Dancer's Alliance Benefit, a representative from AFTRA told them they were the "next movement in dance." All have had technical training and performed for well-known artists, but each has struggled financially – some lived out of their cars and others picked through garbage cans to redeem recyclables.
Members
: Beau Fournier, 24, Chatsworth; Matt Cady, 22, Van Nuys; Glenda Morales, 20, Murietta, Calif; Megan "Meg" Lawson, 22, Calgary, Canada; Phil Collins, 19, La Crescenta; Tiffani Grant, 21, Antioch, Calif.; and Cara Horibe, 24, Honolulu.
(MTV)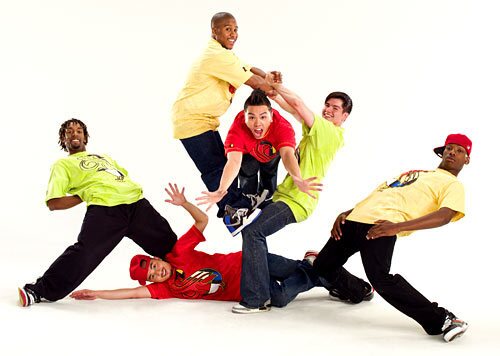 Phresh Select
Hometown
: Philadelphia
MTV's bio
:
Phresh Select
is a street crew that met in the clubs. Since the crime and violence in Philadelphia is at an all-time high, this crew wants to show there is more to their streets than hate. Their message is simple, yet profound: show the love of hip-hop through dancing. Although they've witnessed harsh realities, these guys have positive attitudes that make all who watch them smile.
Members
: Jay "Rukkus" Jao, 23; Virgil "Lil-O" Gadson, 21; Jon "Poppin Jon" Bulack, 22; Lor "Blao" Song, 20; Andrew "Riot" Ramsey, 27, Pennsauken, N.J.; Mark "Smart Mark" Boston Jr., 22.
(MTV)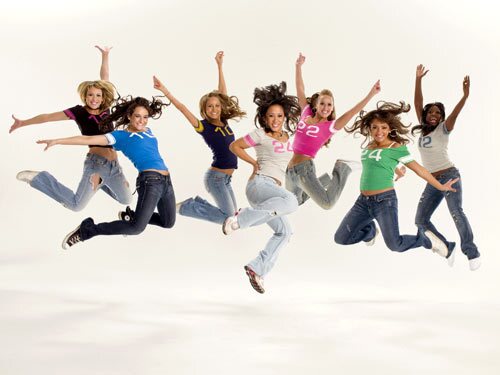 Sass x7
Hometown
: Piscataway, N.J.
MTV's bio
: All the members of
Sass x7
are from the Rutgers Dance Team. They've performed in front of thousands and placed in the Top 5 of the NDA Collegiate Championship over the last four years. The girls are very close and love shopping, talking about boys and dancing in the studio. Their families are supportive and attend every show, rally and event with banners held high. Don't underestimate these girls – they have brains too.
Members
: Dominique "Dom" Conti, 22, Paramus, N.J.; Madeleine "Mads" Camacho, 19, South Brunswick, N.J.; Becca Lee, 22, Indianapolis; Julie "Jules" Swartz, 22, Bel Air, Md.; Amanda "Mandee" Cilento, 22, Dunellen, N.J.; Lindsay "Linds" Ritter, 22, Sayreville, N.J.; Felicia Rembert, 23, Colonia, N.J.
(MTV)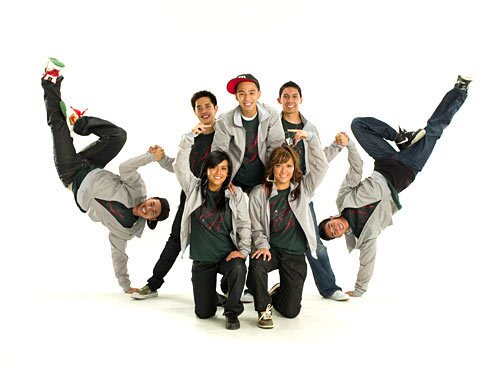 So Real Cru
Hometown
: Houston, TX
MTV's bio
: The proud second generation of this 10-year-running crew is extremely loyal. The studio they used to dance for wanted them to change their name and when they wouldn't, the studio kicked them out. They recall their most desperate time was rehearsing in a Denny's parking lot in front of the window's reflection. The
SoReal Cru
dance style is aggressive pop with the guys contributing the sexy swag moves. Most of the members attended the University of Houston.
Members
: Brian "Burna" Puspos, 22; Jackie "Jackstar" Lautchang, 20; Mark Fucanan, 20; Ailyn Joy "Eye Candy" Isidro, 20; Patrick "Pat" Lam, 21; Brian "Ian" Fucanan, 21; Andrew "Goodfoot" Baterina, 22.
(MTV)
Supreme Soul
Hometown
: San Francisco
MTV's bio
: Originating in San Francisco and New York,
Supreme Soul's
talents were developed through the club scene and battle circuit. Collectively, their skills have enabled them to perform, battle, judge competitions and teach across the U.S., Denmark, France, England, Canada, the Netherlands, Germany and Japan from 2004 to 2007. Despite their successes, they still consider themselves the underdogs and feel the JabbaWockeeZ have overshadowed them. Industry professionals have told them they are not commercial enough because they refuse to compromise their raw and original styles.
Members
: Antoine "Frost" Troupe, 19, Fairfield, Calif.; James "Slim" Dang, 29, San Francisco; Alfred "Mitch" Sanedrin, 18, from the San Francisco Bay Area; RJ "KoolRaul" Navalta, 23, Union City, Calif.; CJ "Pharside" Jennings, 22, the Bay Area; George "Ge.nius" Anzaldo, 20, San Francisco; Jonathan "Bionic" Bayani, 27, Fremont, Calif.
(MTV)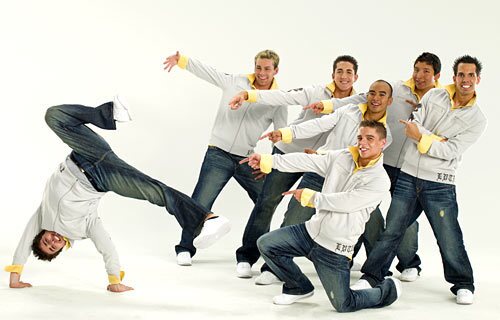 Xtreme Dance Force
Hometown
: Naperville, Ill.
MTV's bio
:
Xtreme Dance Force
is one of the top elite hip-hop/ jazz dance troupes in the Midwest. These disciplined studio dancers have been trained by world-renowned choreographers and teachers, but receive a lot of criticism from street dancers who doubt their technical training qualifies them as real hip-hop dancers. Xtreme was rated one of the top 50 dance companies in the country by Dance Spirit Magazine in 2005 but are still trying to prove they are more than just pretty faces.
Members
: Armando "Mando" Cardona, 19, St. Charles, Ill.; Justin "Step Up" Tyda, 20, Joliet, Ill.; Nicholas "Nick" Neri, 18, Long Grove, Ill.; James "JC" Renzetti, 23, Montgomery, Ill.; Alvin "Pino" Ramirez, 23, Aurora, Ill.; Sergio "Serg" Lopez, 22, Naperville; and Robert "Papa Smurf" Lewis, 19, Rockford, Ill.
(MTV)