It's handled — 'Scandal' cast and producers pledge 'satisfying' ending as show says goodbye
Glancing inside stage 12 at Sunset Gower Studios in Hollywood on a recent mid-March day, a person could be forgiven for thinking a phone service ad was being shot: The smartphones are out and in serious use.
But this is what's it's like during a lunch break on the set of "Scandal," which, as the show that helped fuse TV watching and Twitter thumb-tapping, has as deep a relationship with the personal device as any tech company. And this isn't an ordinary early spring afternoon — just five days from now, this freight train of a political drama will screech to a halt when filming wraps, forever. As of the April 19 finale, crisis manager Olivia Pope (Kerry Washington) and her band of cohorts will hang up their white hats.
So it's little wonder that the cast is intent on keeping its digital scrapbook stocked. Selfies are being taken and quick videos are being shot.
Created by prolific producer Shonda Rhimes, "Scandal" is a thoroughly modern nighttime soap. Centered around Pope, the first black female character to lead a network drama in nearly 40 years (and her heart-thumping love affair with the President Fitzgerald "Fitz" Grant played by Tony Goldwyn), "Scandal" premiered to little fanfare, and middling reviews, in the spring of 2012. But the decision to wed whiplash storytelling with the cast's early adoption of social media, particularly Twitter, made the show a bona fide hit, and a symbol of hope for appointment television, by the end of the second season.
Often dismissed as a guilty pleasure, the show took twist-and-turns storytelling to new heights and prepped viewers for them with breathless (as in "Can not breathe") tweets. But it also dealt with topical matters, such as election rigging and police brutality, something ABC entertainment president Channing Dungey says should not to be overlooked when putting the show's legacy into context.
"The show won a Peabody for its willingness to tackle complex issues head on," she said via email, "and I think part of its legacy — in addition to Kerry top-lining the show as an African American woman — will be about its willingness to explore political culture, gender disparities, sexual politics and race in America."
Thursday nights, which the show has called home since its debut, may never feel the same again, at least not to hundreds of thousands of #Gladiators.
The show's end also begins the whittling down of Rhimes' 15-year presence at ABC. Although she still will have four series ("Grey's Anatomy," "How to Get Away with Murder," "Grey's" spinoff, 'Station 19," and "For the People") on the network, Rhimes announced last year that her production company, Shondaland, would exit ABC Studios for a multi-year deal with Netflix.
Gathered around the show's iconic OPA conference table, Rhimes and executive producer Betsy Beers, along with the sprawling cast — Washington, Goldwyn, Bellamy Young (Mellie), Katie Lowes (Quinn Perkins), Guillermo Diaz (Huck), Darby Stanchfield (Abby Whelan), Joshua Malina (David Rosen), Jeff Perry (Cyrus Beene), Scott Foley (Jake Ballard), Joe Morton (Rowan Pope), George Newbern (Charlie), and Cornelius Smith Jr. (Marcus Walker)— reflected on the show's run.
---
Is it ending the way you thought it would?
Rhimes: It's ending exactly the way I thought it would, which is good because for a while there — it's not an easy thing to do. So I think we thought, sitting in the writer's room, are we going to make it in time? There's only so many exits to get there. Are we going to do it correctly and do it right? And I feel like we got there.
Beers: I didn't necessarily know what was going to happen exactly in the big sense. I had the experience [the cast] had. I try not to read the script until the table read. I thought it was amazing and I thought in terms of the way — well, you'll see. But it's incredibly elegant and at least thinking about where we started, it's a beautiful way to finish.
Rhimes: I think I should say it's not as if I knew where we would end seven seasons ago. We ended the way I knew we were going to end when I figured it out a couple of months ago.
Morton: It was very satisfying. I think the was the ultimate feeling by the time we left the table read.
How did you know it was time to end it — when did it all come together for you?
Rhimes: I don't know if there's a general answer to that because I have a show that's still going 14 seasons later. I always knew the story had an endpoint. I also knew that I didn't want this to be a show that stayed too long at a party, and I wanted to end while we were all still in it, while the story was still being told and told very well and we were all really excited about it. There was an evolution of these characters that you get to see happen and Olivia Pope had a place she was going. And when it was clear that we were getting there, it just felt organic.
Is it hard not to feel nostalgic at this point?
Lowes: I am the person who's constantly making people remember memories from the pilot and first season. I don't know why I am doing that! Maybe that's my personal way of processing. I keep sitting here, having long scenes and saying like, "Kerry, I remember the first time you rang and the phone said 'Kerry Washington'...but I keep doing this just as a way to make people cry. (laughs)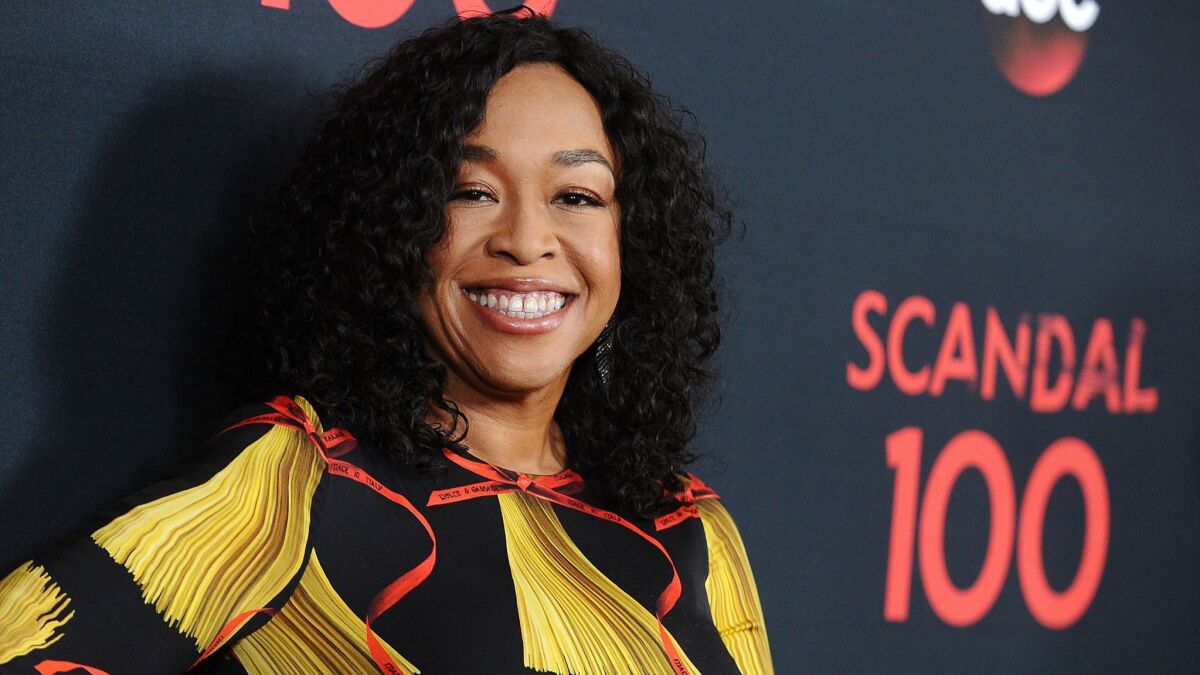 It's ending exactly the way I thought it would.

— Shonda Rhimes, creator and executive producer of "Scandal"
We hear a lot about the "Scandal" pace — it's infamous. What was it like getting acclimated to that rapid-fire dialogue and storytelling?
Rhimes: I just knew there was a lot to say, and I knew this was a world in which people were busy, and so I remember at the top of the pilot, I think it said that "everybody in this world speaks incredibly quickly," or something like that. It was written at the top of the first page.
Washington: We had a table read … and at the beginning you [Shonda] made an announcement and said, "I don't know why, but it works better when you speak faster." I think because we seem smarter.
Stanchfield: Yeah, but Shonda, do you remember in the first season, it was like after two episodes, you wrote us an email —
Perry: I got this early affirmation of that, Shonda, because Judy Smith. Somewhere, right before we started, she hooked me up with ex-Chief of Staff Sam Skinner, and I said, among many things, I said, "Sam, what's the tempo? What's the duration? What does a day feel like?" He paused and he said, "You ever try to drink out of a fire hose?" I said, "Uh, beautiful. OK, I get it."
Washington: I don't know how many people know this, but Tony and I got an email in season 1 that said, "in Olitz [Olivia and Fitz] scenes, ignore."
Rhimes: Time stopped. That was outside the world.
Morton: The interesting thing is, once you've learned how to do that, it's very difficult not to do that in all your work. You suddenly find yourself doing it in all your work and realizing, "Wait, wait, wait. This is not 'Scandal' life.'
This is a show that will be remembered for the way it utilized Twitter and engaged with its audience. What prompted your early adoption of social media?
Washington: I was on social media because I have a friend, Allison Peters, who is a social media consultant but also one of my best friends since high school and she convinced me to go on Twitter and I came across an article before we aired that was like, 'These were the most buzzed about shows on social media." And because we had a small order our first season — it was seven episodes — I thought, 'Well, maybe that would help us. I want to be one of those shows." And she said, "Everyone on the show should live tweet." But I didn't want to be like the bossy lead actor, so I said, "Shonda, what if everybody on the show live-tweeted?" And she said, "Yes."
Rhimes: I had the experience on "Grey's [Anatomy]" where we had sort of blogged every episode — back in the days when people blogged and people were really intense and insane about it. So we knew that there was an engagement there anyway, and so we told everybody to go on Twitter, and they got on Twitter, and then the press got on Twitter with us, which was the most interesting part. Sort of followed along and had conversations and then Oprah got on Twitter with us and it just got really intense.
Newbern: I also thought it would affect the way people saw the character. But it had kind of the opposite effect.
Rhimes: I remember ABC coming to us for another show and saying, "We want to test hashtags" And me going, "You can't test hashtags." They're formed by the community. They form their own hashtags. We don't test a hashtag. It doesn't make any sense and not really being able to explain what happens online on Twitter is so spontaneous and authentic.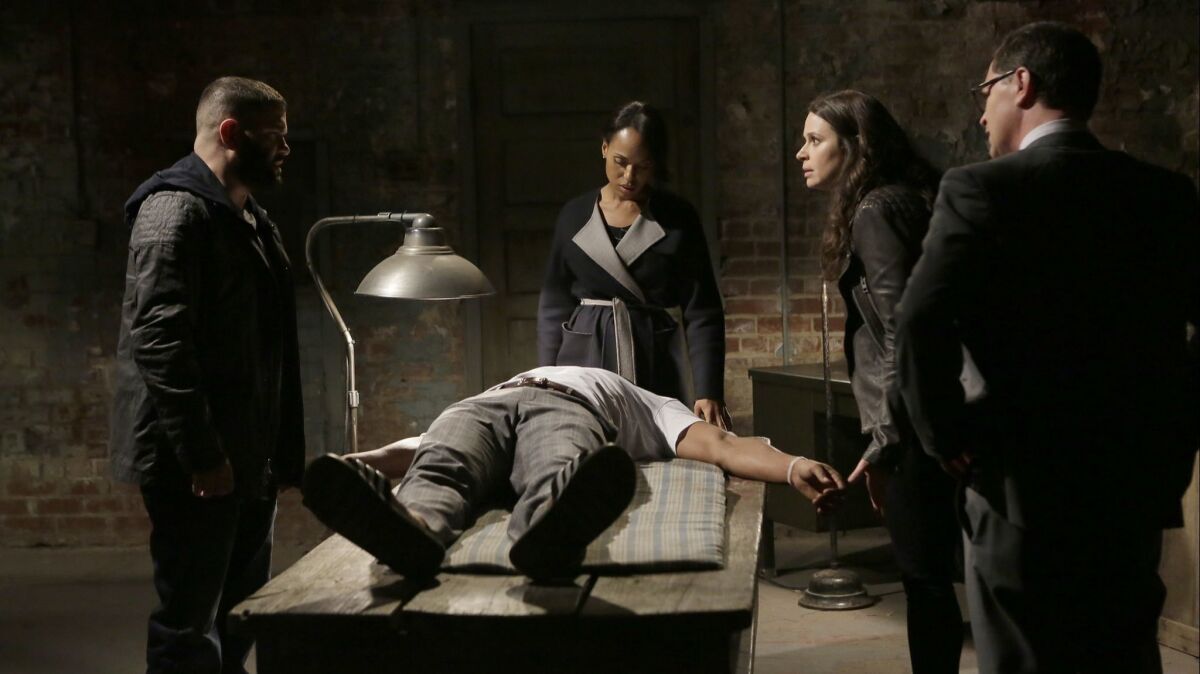 So I said, 'Shonda, what if everybody live-tweeted?'

— Kerry Washington, star of ABC's "Scandal'
Josh, you were on "West Wing" and are used to people talking about it in the context of the current political climate. With "Scandal," what goes on in its world used to seem out of the realm of possibility —
Malina: To me, the subversive thing about "Scandal" is that over the past seven years, we have put up a variety of villainous characters in the government that are the heroes of the piece. And I think that's perhaps more reflective of the real state of affairs than "West Wing" was in some ways. If "West Wing" was a liberal fantasy, then "Scandal" is, in its way, subversively reflective of the state of affairs.
What are you most proud of that the show accomplished?
Young: Contributing to the big conversations that are in America and the world right now. "The Lawn Chair" [an episode that explored police brutality] being a perfect example … it never was afraid to take on what matters to people. It always tried to remember its audience. The show also realized that America, in particular, is going through a lot right now and it never shied away from being there as a sounding board.
Goldwyn: The thing that has always blown me away is that Shonda and our team of writers, who are amazing, seem to infuse the show in the most entertaining, fun, outrageous roller coaster ride kind of way, infuse it with conversations that Shonda — that they — want to have.
Smith Jr.: I think one of the things that is unique, and what I appreciate about the show, is that it highlights individual truths and also universal truths and melts them together in a way that is accessible and recognizable to pretty much anybody watching it.
Washington: I just want to add one more thing … I think in this town, there's a lot of talk about how poorly behaved people in this business are, in particular actors… just how toxic work environments can be. One of the things that's most important to me walking away from this is when we say we're family, we're not pretending. I can't imagine having done these past seven seasons, doing it in a toxic work environment. It would have destroyed us all, [rather] than elevated us all.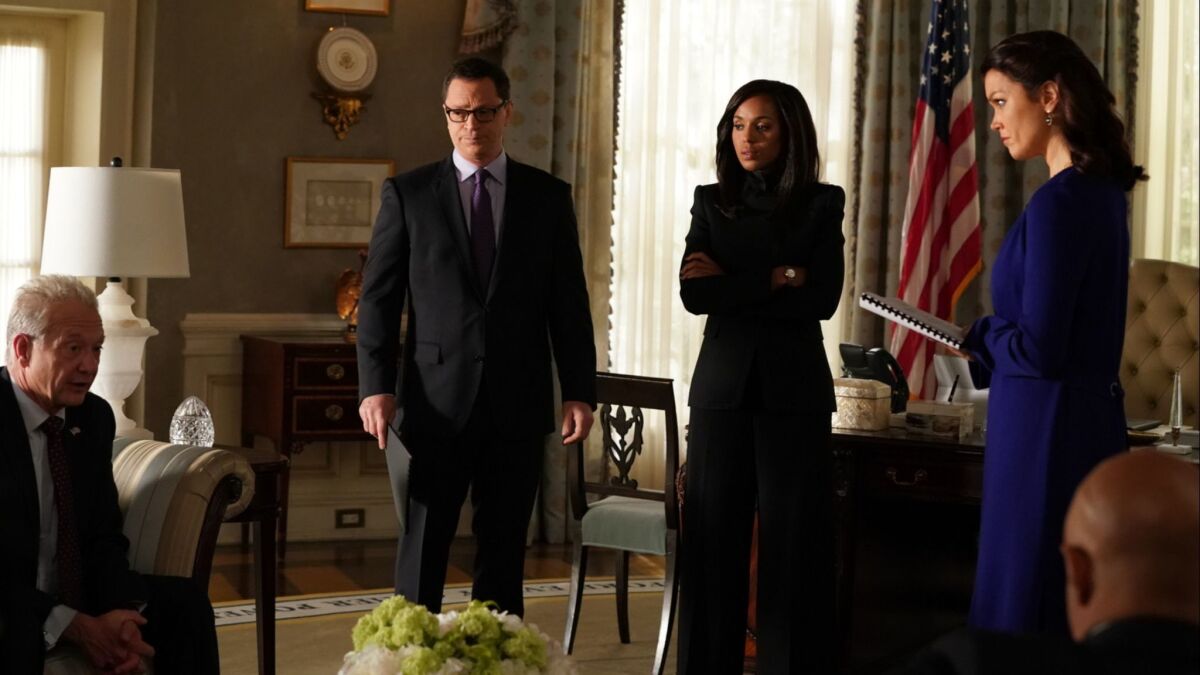 The thing with series finales is everyone watches them closely —
Rhimes: I only know how to do one thing, and I've always known how to do one thing, which is just to tell a story. So if I am going to do this, you have to stay true to the story. I can't think about what the fans might want, I can't think about what my sister is yelling at me or what [it] even feels like should happen. It's more about what feels right for for the story and the characters inside this world we've been living in. And I'm very satisfied that we have done that … I'm not sure how it'll be taken, and I'm OK about that too.
I wrote some dialogue down, I think in season three, and I had to hold it on to it to actually have it said in the finale.
Rhimes: I'll tell you later.
How are you all going to view the final episode? Will you be together?
Lowes: The very last live tweet!
Molina: Someone had the idea that we should just pick a random show the following Thursday and just tweet.
Give me one word to either describe or hint at what we can look forward to from the finale.
---
Rating: TV-14 (may be unsuitable for children under the age of 14)
Twitter: @villarrealy
Get our L.A. Goes Out newsletter, with the week's best events, to help you explore and experience our city.
You may occasionally receive promotional content from the Los Angeles Times.