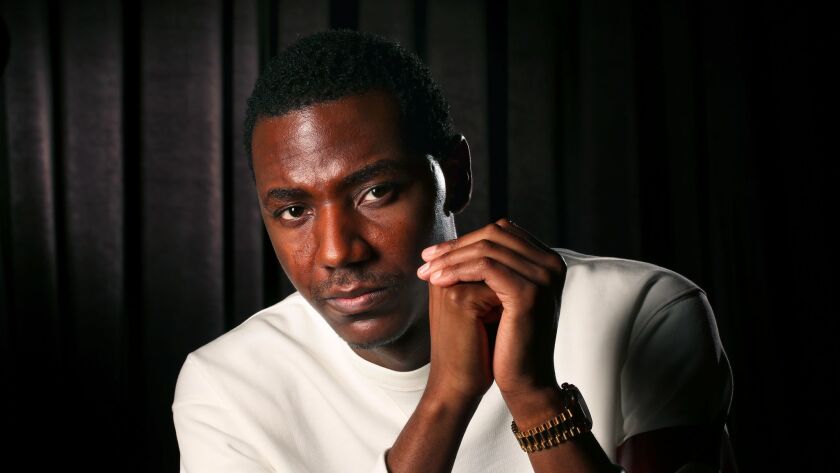 Jerrod Carmichael is lugging two chairs up to the stage inside the unoccupied International Ballroom at the Beverly Hilton — the annual site of the Golden Globes.
On this particular day, though, the ballroom is one of the few quiet spots at the bustling hotel — long an epicenter of the rich and famous — where the 30-year-old comedian has just wrapped a press conference to promote the third season of his edgy NBC sitcom, "The Carmichael Show." The series, which tackles topical issues through the unfiltered conversations among family members, returns Wednesday after hovering in limbo without an air date since its Season 2 finale this time last year.
"This is the only time I'll be on the Globes stage," Carmichael says with a hearty chuckle as he places the two chairs down at the center of the stage. "How dope is this? Take that people!"
See our complete summer TV preview »
---
Let's imagine you just won a Golden Globe for the show. What's your speech?
My speech is, "Hey, we are not politicians. Relax. I know you all think you're having your Brando Oscars moments, but you're not."
I take it you're not a fan of celebrities using the stage as a platform?
Well, because celebrity isn't synonymous with activist, right? You can use your voice for good. I'm not saying you can't. But the histrionics of it all, at a point, just annoy [me]. When I see it, I'm like "What the … are you talking about?" Because it's under the illusion that this is America. This is not America. When people stand on this stage and they talk about America, I'm like, "No, no, no, no, no, no. This is the International Ballroom at the Beverly Hilton. The people you're talking to couldn't get in here."
With your recent HBO stand-up special, you didn't devote much time to Trump because, as you say now, it's overdone. When you opened up the writer's room for Season 3 of "The Carmichael Show," did you operate by that same mindset?
Yeah, we kind of ignored it as far as an episode subject. We've touched on it here or there, but this season we've largely ignored it because the true perspective isn't there yet. It's starting to be there, and I, a lot of the time, find it in stand-up first. But the real perspective is just rhetoric. "Trump is bad." It's like, "OK."
Every week you read the headline about such and such takes down Trump, and they don't really. I wouldn't want to do it just to say what everyone else is saying. It's not an episode of television for us right now. It was before. I did it last season because I knew he was going to win.
This season we've largely ignored [Trump] because the true perspective isn't there yet.

— Jerrod Carmichael
The show is known for being an issues-oriented sitcom. What will we see explored in Season 3?
Assisted suicide was the first episode we did. We do another [N-word] episode — I got to say [the word] like six times. That brought me a lot of joy. We handled it like adults. We say it like adults. It's not children just saying it and taking license and just saying it for the sake of saying it. We also did an episode on alcohol addiction.
Can you do one on how people respond to jury duty service? I have to report this week.
I did it once. It was really fun. I got on a case. It's an interesting experience. And they shouldn't let just regular people do that! Everything should be the Supreme Court. Why aren't there 12 judges doing this? There are a lot of judges. There should be 12 judges for each case. It's crazy to me that you have a bunch of people that — Lauryn Hill has a lyric that goes "disinterested peers/ dodging duty for years/ hating the process/ waiting to be returning to their careers," and that's who's in jury duty.
I don't imagine you have much TV-viewing time. But what do you watch to wind down at the end of the day?
If I'm on the road, especially, I like infomercials.
Have you bought anything?
I haven't in years. But I just like it. I like the presentation. I like the set-up. I like that it's always the person next to the guy or the woman that just can't believe it. And to have testimonials where they're like, "I've been using this product for 15 years." I'm like, "How? I thought you were telling me about this for the first time!" I love a good "Set It and Forget It" infomercial or a "Nutribullet" one.
If I'm in a hotel, I'll watch the hotel channel — just the standard where they give you previews of movies they have. I've seen more hours of Mario Lopez telling me about what's new in features than I've seen episodes of "Veep." And I love "Veep." But I've seen more Mario Lopez.
You've said before that your goal is to contribute to making sitcoms smart again. Heading into Season 3, what have you learned about what that entails?
I want to make them honest and smart. Comedy at its best is provocative and edgy in a real way, in a thoughtful way. And adult and fun. And so I just want to contribute to that. It's the thing that I grew up enjoying, and I don't see a lot. There are some amazing comedies out there. But people are so terrified of people saying something unlikable or appearing unlikable that it stops being honest. You can always tell a comedy's bad when you hear maracas in it. Anytime you hear maracas or little flute, or like a little [singing] "bah-bah-da-bah-bah-bah-dah." it probably is a piece of ...
Comedy at its best is provocative and edgy in a real way, in a thoughtful way.

— Jerrod Carmichael
Three seasons in, would you say it's a hard thing to achieve?
No, it's really not. As long as you're not afraid of anything. As long as you're into it with the best intentions is, it's really fun. Norman Lear just says, "follow your heart." He's brilliant. So his advice is what I take.
Final question: How is the book coming along?
You know, it's funny. I won't say who, but I had an idea and someone kind of overlapped it. And I was like, "Aw, damn it. Now I've got to figure out a new approach." It's still the same concept, but just figure out a new approach to it. But I'm going to go to the woods, just sit in a cabin for a little bit, and think and figure out. 'Cause I want it to be good. That's where you get inspiration, right? You go up into the woods? I hear trees are great for all that. Maybe it's about being around what you then will print those thoughts on? I don't know.
The most-read Entertainment stories this hour »
Already a subscriber? Thank you for your support. If you are not, please consider subscribing today. Get full access to our signature journalism for just 99 cents for the first four weeks.
Read more stories from our summer television preview here.
Twitter: @villarrealy
---