Eva Longoria embraces the anything-can-happen atmosphere of 'Telenovela'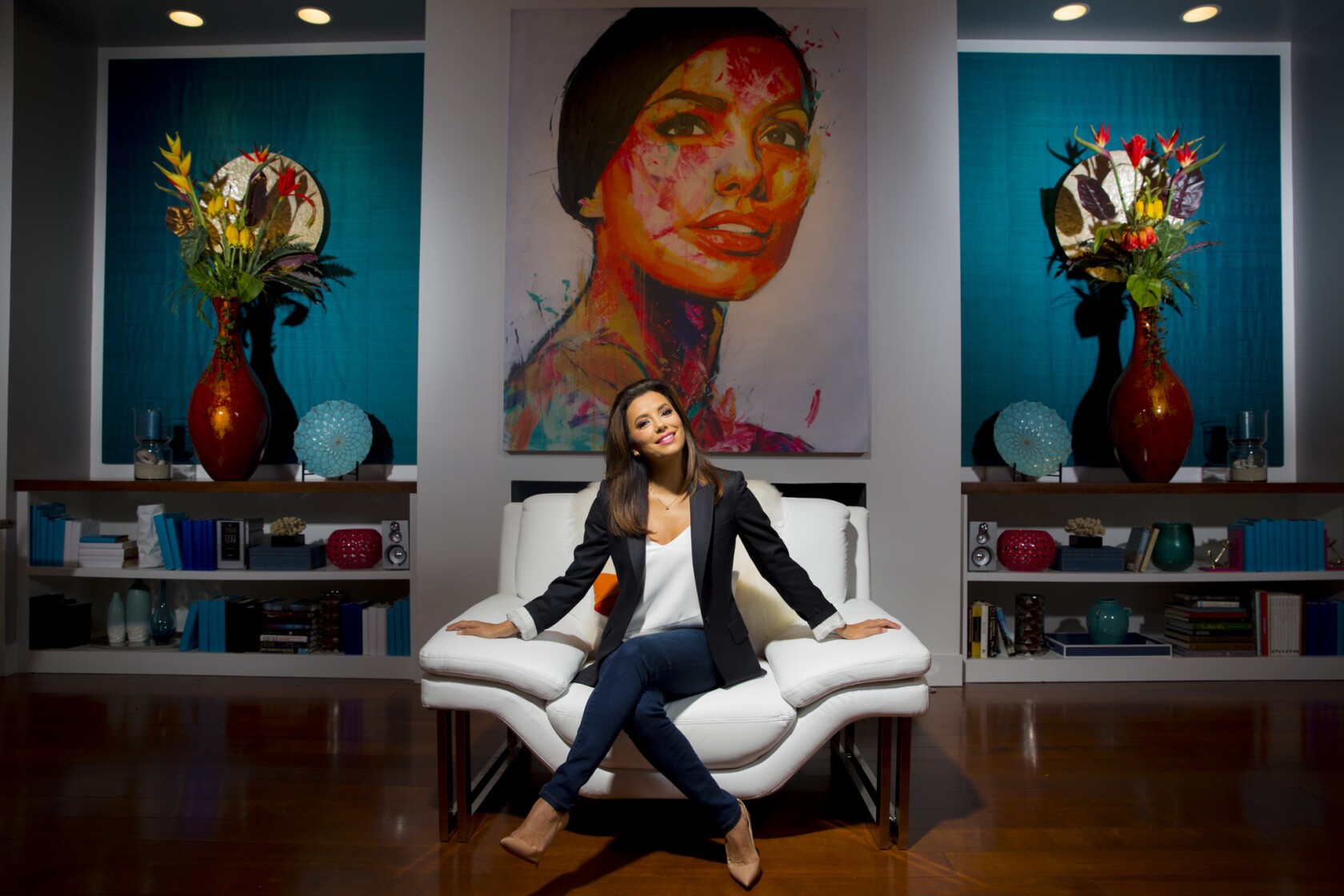 Eva Longoria on the set of the new NBC series, "Telenovela." Longoria is producing and directing on the series, as well as starring. "Telenovela" takes a look at a Spanish-language soap opera and the behind-the-scenes chaos.
(Jay L. Clendenin / Los Angeles Times)
Longoria in front of prop posters on the set of an episode she directed. The posters show Longoria's character Ana Sofia in a variety of telenovelas with her ex-husband, who she's paired with for a new series, "Las Leyes de Pasión" ("The Laws of Passion").
(Jay L. Clendenin / Los Angeles Times)
Longoria and co-star Jose Moreno Brooks film a scene on the NBC Universal studio lot in Studio City on Oct. 19, 2015.
(Jay L. Clendenin / Los Angeles Times)
Longoria and Brooks pose for a photo after being tied together for a scene.
(Jay L. Clendenin / Los Angeles Times)
Longoria douses Brooks with water for the scene.
(Jay L. Clendenin / Los Angeles Times)
Brooks gets his revenge, dumping water on Longoria's character.
(Jay L. Clendenin / Los Angeles Times)
Longoria talks with actors Izzy Diaz, left, and Amaury Nolasco, right, beneath a prop poster of herself between scenes she was directing.
(Jay L. Clendenin / Los Angeles Times)
Actress Jadyn Douglas is touched up before shooting a scene.
(Jay L. Clendenin / Los Angeles Times)
Longoria, center, jokes with actor Amaury Nolasco, right, in between scenes on the "Telenovela" set.
(Jay L. Clendenin / Los Angeles Times)
In the make-up department set of the fictional soap "Las Leyes de Pasión" ("The Laws of Passion").
(Jay L. Clendenin / Los Angeles Times)
Director Longoria, center, watches a scene with director of photography Andrew Rawson, right, on the set of NBC's "Telenovela."
(Jay L. Clendenin / Los Angeles Times)
Longoria, far right, frames a shot before directing a scene with Izzy Diaz, left, and Jadyn Douglas, center.
(Jay L. Clendenin / Los Angeles Times)
Prop posters line the walls behind monitors used by the "Telenovela" crew.
(Jay L. Clendenin / Los Angeles Times)
A prop cart with lanterns, seen below a prop poster of actress/producer/director Eva Longoria from the set of NBC's "Telenovela."
(Jay L. Clendenin / Los Angeles Times)
Longoria's director's chair.
(Jay L. Clendenin / Los Angeles Times)
Eva Longoria's return to prime-time television on the NBC comedy "Telenovela" comes four years after she said goodbye to her career-defining role as wealthy Gabrielle Solis on "Desperate Housewives." And in this particular moment, it's a role that has her drenched in water.
As Ana Sofia, the over-the-top leading lady of the show-within-the-show "Las Leyes de Pasión" (The Laws of Passion), Longoria is the star of a comedy that peers behind the scenes of a popular Spanish-language soap opera, a telenovela where the drama offscreen is just as melodramatic as the drama onscreen. Ana Sofia is bossy but lovable, out of control while trying to be the one who holds things together. And she often finds herself in wacky situations.
Winter TV: Your guide to the new shows
But Longoria's not just acting here. She's also directing. And did we mention producing?
During a recent shoot on Universal Studios' backlot in Universal City, Longoria scurries in fringed high heels from her mark in front of the camera, where her character has just been doused in water by a co-star for a post-hurricane scene, to a nearby director's monitor where members of her team surround and cover her in towels.
"It doesn't look like we're having a wet T-shirt contest, right?" Longoria, dressed in a white tank and white shorts, asks while reviewing the footage. "OK, let's do it again and go in a bit tighter now."
The spoof on Spanish-language soap operas — which previewed last month and gets its official premiere Monday — comes at a time when networks are looking at "Empire's" success and striving for more diversity to appeal to underserved audiences. "Telenovela" joins "Jane the Virgin," "Narcos," "Bordertown" and other series that weave Latino culture into their foundations. "Telenovela" is also one of three NBC series launching midseason with Latina leads, with Jennifer Lopez in the drama "Shades of Blue" and America Fererra in the workplace comedy "Superstore." It's a shift that follows years of English-language networks struggling to find ways to cater to a growing Latino demographic, which in 2013 accounted for 17% of the U.S. population.
For Longoria, who has solidified her role as a Latina activist in recent years, the fight isn't over. "Look, I think the Hispanic community is making progress on television," Longoria says. "But we're still severely underrepresented."
The 40-year-old actress is seated in the stark white dining room of her character's Miami home during a separate, off-day from filming, and the topic seems to animate . Leaning in to focus her gaze, she taps the table with her right index finger when punctuating certain points, as if talking to a policymaker.
"When it comes to diversity in television, we have to have more people behind the camera," she says. "We have to have more producers and writers — specifically, writers — in order to create those stories and dig from the well of our community, which has been untapped. And that's what we're doing here."
Developed by "Cougar Town" veterans Chrissy Pietrosh and Jessica Goldstein from an idea by Longoria, "Telenovela" features an all-Latino cast: Diana-Maria Riva as head of wardrobe for "Las Leyes de Pasión," Jose Moreno Brooks as the dense co-star, Alex Meneses as an aging telenovela star, Amaury Nolasco as the go-to villain, Izzy Diaz as a beleaguered writer, Jadyn Douglas as the ditzy ingénue, and telenovela veteran Jencarlos Canela as the Latin heartthrob. Latino representation behind the scenes, however, is less robust. On "Telenovela's" 14-person writing staff, just three are Latino. Longoria says some were brought on either through NBC's diversity writing program; others, knowing of Longoria's advocacy work, submitted material directly to her production company UnbeliEVAble, which she runs with producing partner Ben Spector.
"I've been lucky to be a magnet for that," Longoria says. "But it's hard to find that talent. And with the Latino talent that's already out there, they're swooped up fast because there are some 400 scripted programs a year. There is a need for a better pipeline because there's this chicken-or-the-egg problem."
But the Corpus Christi, Texas, native is careful about how to beat the diversity drum in Hollywood.
The multi-hyphenante, who also serves as an executive producer on Lifetime's "Devious Maids," says she didn't set out to launch her production company to focus on Latino content, nor does she want "Telenovela" to be viewed as Latin show.
"I wanted to focus on good content because Hispanics will show up when the content is good," she says. "It's not hitting people over the head 'We're Hispanic!' But at the same time you can be proud that you are that different voice."
That's just one facet of the industry Longoria finds herself examining. Another is the importance of a show's title in a market inundated with hundreds of series.
The comedy, originally called "Telenovela," changed its name to "Hot & Bothered" before reverting back to "Telenovela" just before launch — at the advice of TV comedy king Chuck Lorre.
"I wanted to know more about comedy, so I asked Chuck Lorre," Longoria says casually. "I asked him about the title of our show. He didn't like 'Hot & Bothered.' He said, 'It can't be a feeling, it has to be a noun,'" she explains. "I said, 'Well, it was 'Telenovela' — and he was like, 'That's funny.' So we switched it back."
Longoria knows success isn't all in the name. Before an interview, she peppers an NBC publicist with questions about the best time to drum up promotion for the series — during the show's December preview, when it has the benefit of a lead-in from "The Voice," or the official time slot launch in January?
NBC, for one, is trying to figure out the right mix of comedy.
"The definition of success when it comes to network comedy is much different these days," says NBC's entertainment president Jennifer Salke. "There's not only a ratings pressure — it's about quality, it's about growth potential, it's about how it does on other platforms, and it's about doing something relevant that has a big voice at the center of it. We think 'Telenovela' has a lot of potential because it's a format that does well for Spanish-language networks and yet it's a world that our English-speaking viewers are sort of unfamiliar with."
See more of Entertainment's top stories on Facebook >>
Despite favorable reviews from critics, "Telenovela's" back-to-back preview in December received soft ratings. The first episode averaged a 1.4 rating in the key demo of adults ages 18 to 49 and 5.4 million viewers at the 10 p.m. hour. The second episode dropped considerably, pulling just a 0.8 rating and 3.3 million.
"There were so many factors — we were up against a Cowboys game, we were up against a new 'NCIS,'" Longoria says in a follow-up. "We were on at 10 p.m. after 'The Voice' — I mean, I had trouble staying up and watching it. I was so tired."
Longoria chalks it up to shifting viewing behaviors, pointing out Fox's recent decision to stop reporting overnight ratings.
"I put up a link to the pilot on Facebook, and within hours it had 50,000 views," she says, noting that NBC posted the first three episodes online so people can sample. "The way people view content is so different. We're excited for January to come so people can see more of it."
The rub is that viewers will be seeing less of it than originally intended. In what started as a bidding war between NBC and ABC to land Longoria on their respective networks, the peacock network offered the incentive of a straight-to-series 13-episode order if Longoria, already tapped as an executive producer, agreed to star in the series. But halfway through production, NBC reduced the order to 11 because of scheduling-related issues.
"I'm all about truth, and so I always feel like you don't sugarcoat things that shouldn't be sugarcoated," Longoria says of breaking the news to the cast. I mean, you can't do anything about scheduling and finances of an entire network; there's no battle to fight there. What we can do is make those 11 an amazing 11. NBC, I, and the writers and the cast all want the same thing: We want a very successful comedy."
------------
'Telenovela'
Where: NBC
When: 8:30 p.m. Monday
Rating: TV-PG-D (may be unsuitable for young children with an advisory for suggestive dialogue)
ALSO:
Welcome back for a final visit to 'Downton Abbey'
Getting the 'Bordertown' cartoon right as border issues reemerge
'11.22.63' on Hulu revisits Kennedy assassination through Stephen King's prism
---
From the Emmys to the Oscars.
Get our revamped Envelope newsletter, sent twice a week, for exclusive awards season coverage, behind-the-scenes insights and columnist Glenn Whipp's commentary.
You may occasionally receive promotional content from the Los Angeles Times.