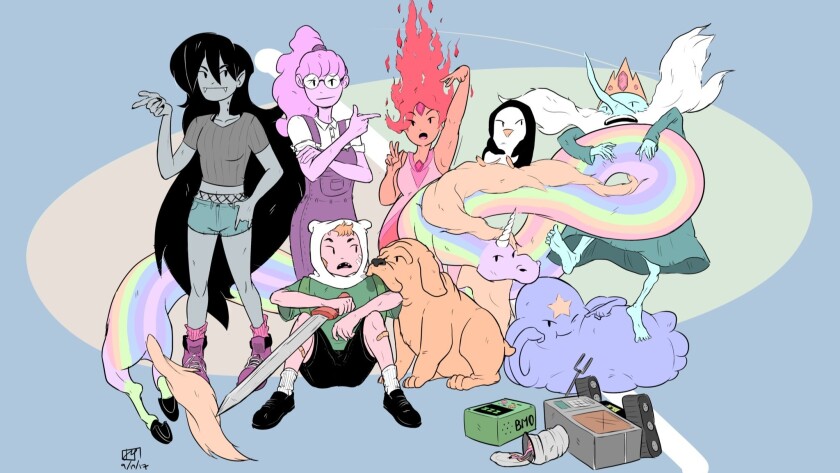 Finn the Human and Jake the Dog's final adventure is fast approaching. On Monday, Cartoon Network's animated show "Adventure Time" wraps its run after 10 seasons. Ahead of the series finale, The Times asked readers to submit their fan art.
From custom sneakers to original videos, below are the 30 best pieces inspired by the Land of Ooo.
Look back at how the series broke barriers and changed the genre »
Johnny Skinz, 25-34, of Yonkers, N.Y.
"'Adventure Time' was one of my biggest inspirations for getting back into art almost 10 years ago. I made these as a constant reminder to myself to keep creating art. It may be finishing up but the fun will never end."
Noel Thompson, 13-17, of Chesapeake, Va.
"As I turn 18 soon, I will no longer be a child and with that, a little part of me will no longer exist. Evidently, along with my childhood, one of the most important shows in my life must also come to an end. 'Adventure Time' will always be my favorite animated TV show and will always inspire me as I continue to grow as an artist. Thank you for all the laughs and for all the feels."
Samantha Torres, 18-24, of Hollister, Calif.
"It saddens me to see a wonderful series end, but we're lucky to be able to see it come to a final conclusion."
Villeen, 25-34, of Blackwood, N.J.
"I used to adore Marceline and connect with her. I remember her being a huge part in my finding comfort with being gay. Marceline being gay means the world to me."
Lizzie Maguire, 18-24, of Fort Collins, Colo.
"When 'Adventure Time' first started, it drew me and my brother in like no cartoon had before. For years, we made it our weekly ritual to run home after school, toast pop tarts and sit in front of our family room TV to devour the newest episode. We watched it through middle school, high school, college applications, up until now. Although sad, it seems fitting that 'Adventure Time' is ending as I enter my final year of college (studying animation, of course). It brought me and my brother together and started me on a lifelong passion for drawing. If I can bring a fraction of the joy 'Adventure Time' brought me and Kyle into the industry, I'll consider my goal met. On to the next adventure!"
Victoria Bartlett, 18-24, of Cumming, Ga.
"Thank you, 'Adventure Time,' for being one of the most amazing adventures I could come along on."
Michelle Tran, 18-24, of Edmonton, Canada
"One cool adventure-loving bro hanging out inside another adventure-loving bro's hat. Enjoying each other's company can be an adventure in itself."
Dominique Ortega, 18-24, of Pasig, Philippines
"'Adventure Time' has been my life for as long as I remember. It was one of the only constants I had in my life that I turned to whenever I felt down. It gave me so much joy, so much inspiration, and friends I can never be grateful enough for. I grew up with this show, and now that it's ending, I'm going to make sure I continue living on with it in my heart."
Riki Kujanpaa, 18-24, of Atlanta
"'Adventure Time' x 'Naruto Shippuden' crossover mixing Finn and Jake with Kiba and Akamaru."
Amairani Palacios, 18-24, of Carlsbad, Calif.
"I would describe this as the only piece of fan art I've ever felt strongly enough about to create, and by fan art I mean literally a redrawing of the characters on shoes, done in the same style as the show. They're a pair of classic Converse decorated with fabric paint and signed by some of the main cast of 'Adventure Time' … [Voice actor] Tom Kenny actually asked me if that was 'poop on [my] shoes' and I embarrassedly said no, it was mud. He told me it still looked like poop."
Claude, 18-24, of San Diego
"After the 'Adventure Time' panel at Comic-Con, hearing [former series writer] Rebecca Sugar sing 'Time Adventure' got me really emotional. It's just a melancholic and nostalgic piece that hopefully emanates 'you and I will always be best friends.'"
Michael Macdonald, 35-44, of Vancouver, Canada
"Moebius and 'Adventure Time' mash up, based on an illustration by the great French artist Jean Giraud."
Katrina Kleiner, 18-24, of Gilbert, Ariz.
"This singular show changed and quite frankly saved the modern television cartoon."
Zoe Prescott, 18-24, of Burbank
"It was one of my biggest inspirations in pursuing a career as an artist, and holds a very special place in my heart."
Jeziel Pelayo, 18-24, of San Diego
"Fan art???? More like fam art 🤙 Thanks for growing up with me, I'll miss you."
Iason Ragnar Bellerophon, 45-54, of Brooklyn, N.Y.
"This is a portrait of the Ice King. I have [watched] 'Adventure Time' with my son Ajax since he was born in 2011. Oftentimes I draw the characters at his behest.… 'Adventure Time' means a journey into this endless dreamworld that is always skating the edge between an eternal childhood and the grown-up heartbroken world."
Andy Garner-Flexner, 25-34, of Van Nuys
"I've worked for 'Adventure Time' for five amazing years. It's been a dream of mine to work in animation, and 'Adventure Time' was my first job in the animation business. I learned everything about animation from this show, so it means so much to me."
Maya Tanaka, 25-34, of White Plains, N.Y.
"What doesn't it mean to me?"
Arion Rashad, 18-24, of Pembroke Pines, Fla.
"These characters feel like real people going through the motions of their own crazy lives, and I think that's what kept the show embedded into viewers' minds from beginning to end. The adventure may be ending in show form, but good characters and stories last for a lifetime."
Brandon Barton, 18-24, of Austin, Texas
It "will continue to be my favorite show even after it ends."
Caleb Fruge, 13-17, of Maple Valley, Wash.
"'Adventure Time' was the big comfort show of my childhood. It transported me into another world for 10 minutes, away from everything that was bothering me in real life as I laughed and cried about Finn and Jake's latest adventure. It always put a smile on my face and cheered me up, and whenever I felt sick or sad I put on my favorite episodes and watched until I felt better. I'm sad for it to end, but it provided me with so much joy during some of the worst parts of my life, and I will always be grateful."
Paul Thomas, 25-34, of Lawrence, Kan.
"Marceline almost always has her guard up, considering that she's a 1,000-year-old, emotionally scarred vampire. Bubblegum, too, has a hard time relaxing, as she's a control freak who wants to ensure that everything in her kingdom is running smoothly. With this picture, I wanted to capture a more playful side to the two. When I started drawing it, I knew I didn't want anything too saucy (as some 'Bubbline' pics can get), but I also wanted to make it clear that they're flirting. I don't know if I succeeded, but it was super fun to draw!"
Meredith Moriarty, 25-34, of Norristown, Pa.
"'Adventure Time' is a wonderful example of how to write a kids' show without talking down to your audience. Sure there's goofy dialogue and loads of butt jokes, but the focus is always the characters. Throughout the series we see Finn, Jake and their friends grow and change, shaped not only by their fantastical adventures, but also by trials most of us would find relatable."
Daniel Sake, 25-34, of Rio de Janeiro
"It's a Contemplative Finn — he has grown so much."
Grace, 13-17, of Spokane, Wash.
Karin Pleva, 25-34, of Junction City, Kan.
"In a way, it's what helped me get out of depression and move on with stuff. It has helped me look on the brighter side of life."
Elijah Howard, 13-17, of Memphis, Tenn.
"The fact that it's ending is actually leaving me really heartbroken. Because 'Adventure Time' is like a piece of me. And when you take that piece, it [makes] me feel … empty."
Iris Chang, 13-17, of Sunnyvale, Calif.
"The ending of 'Adventure Time' is a bit melancholy, because it feels like the closing of a chapter (or in this case, a giant book). But it is also the beginning of another!"
Vivvian, 18-24, of Geneva, Ill.
"It's a show that was actually healing during gloomy days."
John Laux, 18-24, of Louisville, Ky.
"It's like someone took all the cool stories from my childhood imagination and somehow processed them in to a coherent world to explore."
Please consider subscribing today to support stories like this one. Get full access to our signature journalism for just 99 cents for the first four weeks. Already a subscriber? Your support makes our work possible. Thank you.
---