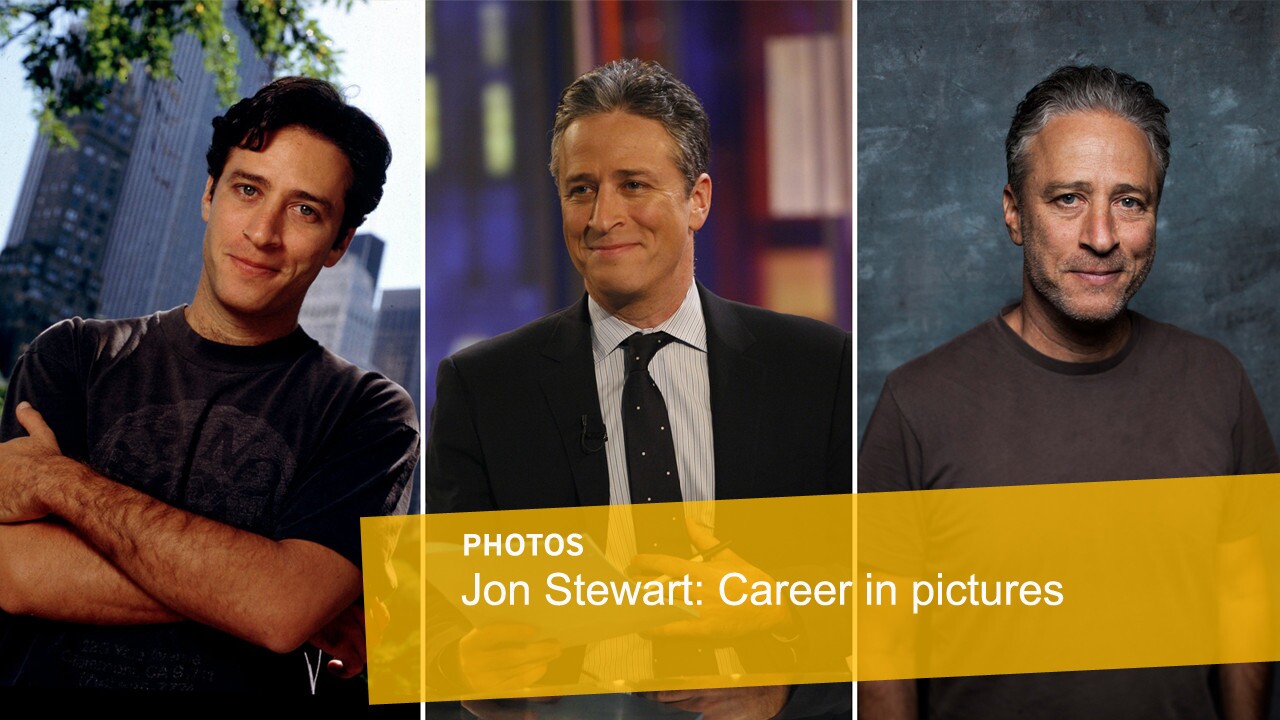 17 Images
Jon Stewart: Career in pictures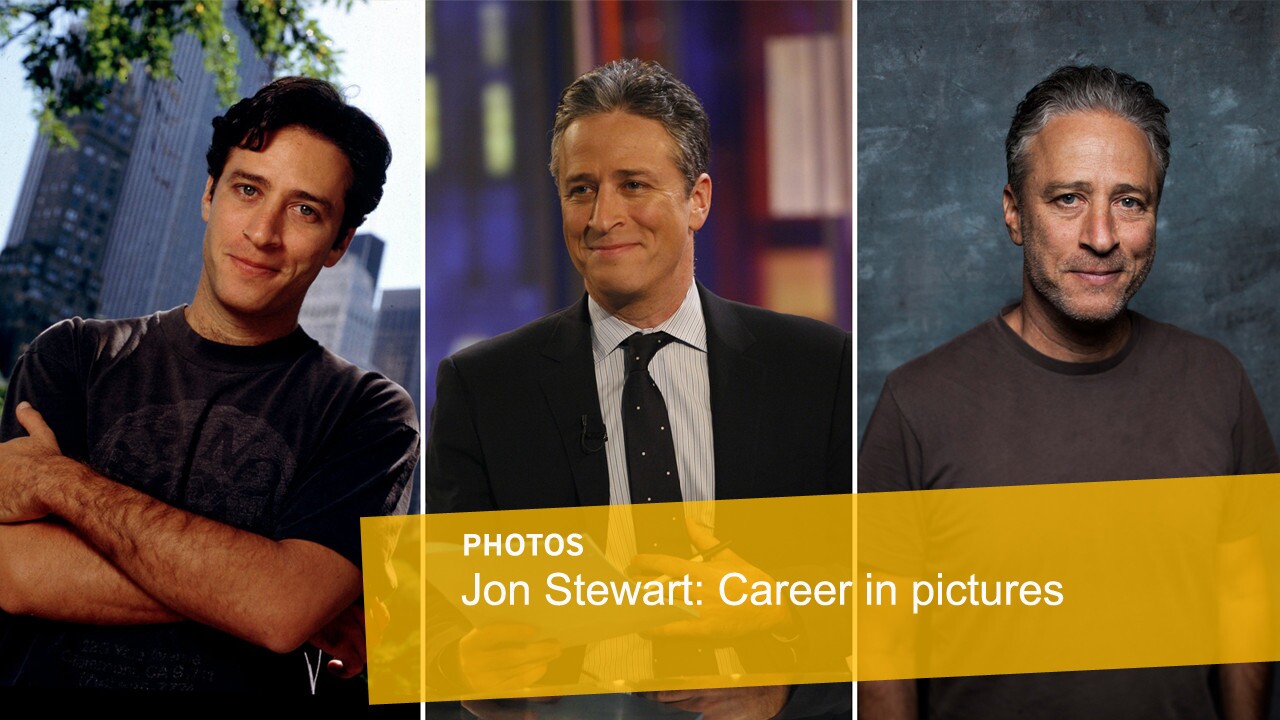 Jon Stewart | Career in pictures
Jon Stewart, host of "The Daily Show" on Comedy Central, announced he will be leaving his popular late-night show. In this photo gallery, we look back at Stewart's career.
(MTV; Comedy Central; Jay L. Clendenin / Los Angeles Times)
Jon Stewart | Stand-up guy
If you made the rounds of the New York comedy clubs in the 1980s, you might have caught Jon Stewart doing stand-up. After working as a busboy, and before becoming a television sensation, Stewart performed at the Bitter End and the Comedy Cellar.
()
Jon Stewart | Small screen success
Jon Stewart kicked off his TV career by hosting shows on MTV and Comedy Central. Those shows led to "The Daily Show" in 1998, Stewart's best-known enterprise to date. Stewart writes, produces and anchors the irreverent news show on Comedy Central.
()
Jon Stewart | Hanging with the supermodels
At one point Jon Stewart made a special appearance on the talk show supermodel Cindy Crawford helped host, MTV's "House of Style." They had a "girl day," as it was called. The two are photographed at the 1994 MTV Video Music Awards.
(Tabacca / AP)
Jon Stewart | By Jon Stewart
Jon Stewart sure knows how to get noticed; in 1998, he named his first book "Naked Pictures of Famous People." Next, in 2004, came "America (The Book): A Citizen's Guide to Democracy Inaction."
(Amy Rachlin)
Jon Stewart | Working with the gang
With Angelina Jolie, Dennis Quaid and Gillian Anderson, pictured, Jon Stewart played Trent, one of 11 Angelenos hoping to find love in the 1998 film "Playing by Heart."
(Peter Sorel/ SMPSP / Miramax Films)
Jon Stewart | Me and the politicians
As host of "The Daily Show," Jon Stewart interviewed all kinds of people, solidifying his role as one of the most-loved satirical talk show hosts. He's pictured here interviewing former Sen. Bob Dole in 1999.
(Al Levine / Associated Press )
Jon Stewart | He's taken
Jon Stewart is infinitely crushable. In 2000, however, Stewart tied the knot with Tracey Lyn McShane, his girlfriend of four years.
(Associated Press)
Jon Stewart | But what I really wanna do is act
On "The Daily Show," Jon Stewart often pokes fun at his acting career, and especially his performance in the 2002 movie "Death to Smoochy," a scene from which he is shown, right, with actor Danny DeVito. Stewart's IMDB page proves he has appeared in many more TV shows and films than he lets on.
(Takashi Seida / Warner Bros.)
Jon Stewart | But how do you really feel, Jon?
When Tucker Carlson and Paul Begala had Jon Stewart on their CNN series "Crossfire" in 2004, Stewart begged the hosts to "stop hurting America." Carlson, clearly taken aback by Stewart's allegations, urged Stewart to be funny. "I'm not gonna be your monkey," Stewart retorted.
(Scott Gries/Getty Images)
Jon Stewart | Awards shows
Jon Stewart hosted the Grammys twice, and the Oscars in 2006. When Stewart received mixed reviews for his work on the Oscars, he made those lemons into some "Daily Show" lemonade: "I sucked and was great! I was a painfully smug and unfunny heir to Johnny Carson," he exclaimed.
(Mark Boster / Los Angeles Times )
Jon Stewart | He's baaack!
With his track record, some were surprised to hear that Jon Stewart was tapped to host the 2008 Academy Awards. Stewart, for his part, said: "I'm thrilled to be asked to host the Academy Awards for the second time, because, as they say, the third time's a charm."
(Al Seib / Los Angeles Times)
Jon Stewart | Getting on his soapbox
Led by Jon Stewart and fellow satirical talk show host Stephen Colbert (in character as a political pundit), the Rally to Restore Sanity and/or Fear took place in October 2010 in Washington D.C., with an aim to understand politics at the larger level.
(Olivier Douliery/Abaca Press)
Jon Stewart | Save some Emmys for the rest of us, Jon!
"The Daily Show" won the Primetime Emmy Award for variety, music or comedy series for 10 consecutive years from 2003 to 2012. In 2013, the award went to another Comedy Central show, "The Colbert Report."
(Lawrence K. Ho / Los Angeles Times)
Jon Stewart | Time to direct
Jon Stewart, left, took on directing duties to helm "Rosewater," an adaptation of the memoir written by journalist Maziar Bahari, right, recounting the 118 days he spent as a political prisoner in Tehran's dreaded Evin prison.
(Jay L. Clendenin / Los Angeles Times)
Jon Stewart | Speaking with Mr. President
President Obama visited Jon Stewart's "The Daily Show" three times as president. As Stewart bids adieu to his program, he booked some of the biggest guests, including the president.
(Evan Vucci / AP)
Jon Stewart | That's a wrap
After a 16-year run as host of "The Daily Show," Jon Stewart bid farewell and was surrounded by what seemed like every correspondent and contributor to ever be on the show. Stephen Colbert was the final guest, praising Stewart for the careers he launched and the legacy he left behind.
(Brad Barket / Getty Images for Comedy Central)