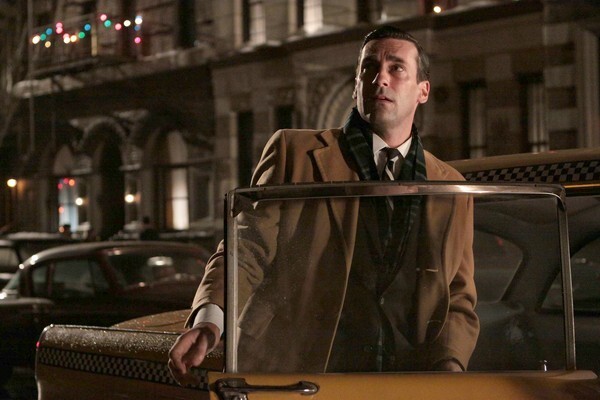 15 Images
How to survive life without 'Mad Men'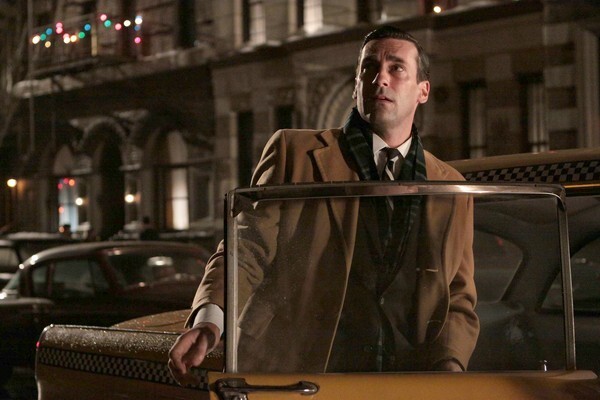 By Patrick Day, Emily Christianson, Nate Jackson, Jevon Phillips, Todd Martens, Lisa Fung and Lora Victorio, Los Angeles Times
No "Mad Men" until 2012? The shock! The horror!
That's
the latest from AMC,
whose protracted negotiations with creator Matt Weiner seem to be taking much, much longer than expected.
So what's a committed Draper-holic to do? Go cold turkey? Of course not! It takes a little hunting, but the spirit of "Mad Men" is all around us right now, from the theater to the library to some of the other channels on TV. Here are a few suggestions on how to while away the hours until Don Draper and Co. come stumbling back into our lives and continue to breathe Scotch breath all over us.
(AMC)
Are you a Joan or a Betty? Want to dress more like Joan or Betty? Peer inside "Mad Men's" closet with the show's Emmy-winning costume designer Janie Bryant and her book on style. In it, Bryant offers advice on how to get the perfect look for your personality and shows how to be inspired by the looks of the famously fashionable cast.
(Grand Central Publishing)
Don Draper might be on hiatus, but Jon Hamm sure isn't. Fans might lose their minds over his evil brain surgeon role in the new Zack Snyder action movie, "Sucker Punch." Even better, a shirtless Hamm goes to bed with Kristen Wiig in Judd Apatow's "Bridesmaids" comedy. And next up, he's teaming with his real-life love Jennifer Westfeldt to make "Friends With Kids." Westfeldt will write, direct and star, and lots of funny people will join the couple on screen like Wiig, Adam Scott and Maya Rudolph.
Hamm devotees in L.A. won't want to miss the L.A. Theatre Works production of "The Three Sisters." The actor and his girlfriend Westfeldt will heat things up onstage as an adulterous couple in the April 13-17 play at Skirball Cultural Center.
(Clay Enos / Warner Bros.)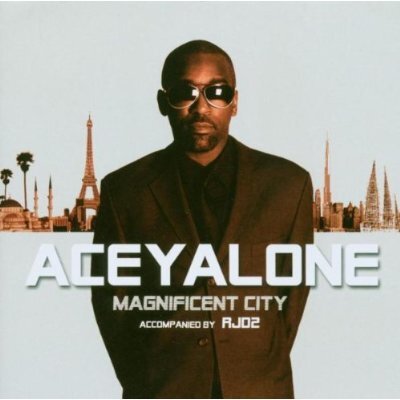 Who knew that the theme music to a show about an upper-crust, all-white ad company in the racially-divided '60s came from a hip-hop song? Well, now you do. Music from the opening credits is torn from the instrumental beat canvas of
"A Beautiful Mine" by L.A. rap veteran Aceyalone and RJD2 (from Aceyalone's 2006 album "Magnificent City")
. Despite its recognizable rhythm, the song snippet on the show is understandably bereft of Ace's booming baritone and lyrical street wisdom. Can you imagine what a difference it would've made if they'd left it in? In any case, we're willing to give credence to the decision, considering the strings in the song are a sample from "Autumn Leaves" by legendary composer Enoch Light, who would have actually been alive during Sterling Cooper Draper Pryce's rise to power. But fans of the show should know that if it weren't for the hip-hop remix, that theme music would not be nearly as hard to get out of your head.
(Decon Inc.)
Aaron Staton may be best known for playing Ken Cosgrove on "Mad Men," but he gives another great performance on another set -- a digital one -- that will be transformed, via a bank of computers, into
arguably the most lifelike character ever seen in a video game
for L.A. Noire. Though set in the 1940s instead of the 1960s, you still get the Staton vibe as he plays police Det. Cole Phelps in the sprawling game. Adding to the "Mad Men" mystique is the fact that he is often guided in the game by "Mad Men" director Michael Uppendahl.
(Rockstar Games)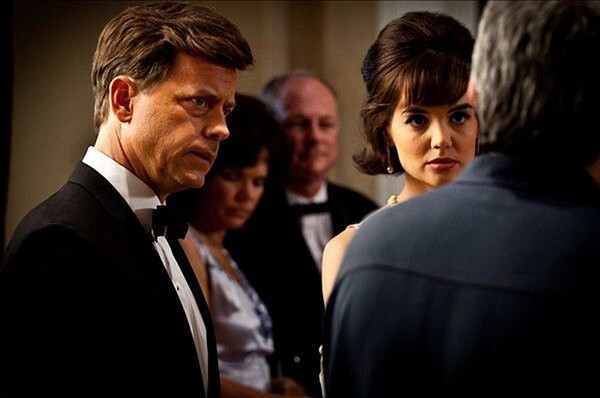 In Season 3's episode titled "The Grown-Ups," the characters of "Mad Men" deal with the
assassination of John F. Kennedy
and their own feelings that rise to the surface. It's a challenging time in American history that is revisited in "The Kennedys," the television miniseries starring
Greg Kinnear
as JFK and
Katie Holmes
as
Jacqueline Kennedy
.
(Reelz Channel)
When January Jones plays Emma Frost in "X-Men: First Class," you might not recognize the prim and proper Betty Draper that she portrays in "Mad Men." But that is indeed the same actress, and her talent will be on display in this Kennedy-era prequel. Though
Jones' Frost may often be in "sexed-up" costumes
, the film is still evocative of the period some will long for as "Mad Men" hibernates.
(Murray Close / Fox)
Remember the Season 4 episode of "Mad Men" in which Don and Peggy go have a drink and watch the
Sonny Liston
-Cassius Clay fight? That scene was filmed in
La Villa Basque
, a 1960s-era restaurant-bar in the city of Vernon, founded by the city's mayor in 1960. Preservationists fear the new owners will remodel the interior and destroy the midcentury atmosphere of the landmark building. The
Los Angeles Conservancy
is encouraging patrons to stop in for a drink and persuade the management to keep the venue intact. But, really, do you need an excuse to raise a glass to the 1960s?
(Glenn Koenig/Los Angeles Times)
Missing the drama of sexism in the workplace and unethical business practices? Then don't miss "
How to Succeed in Business Without Really Trying
," also known as the original "Mad Men." The Broadway musical, which opened March 27, stars a post-"Harry Potter" Daniel Radcliffe as J. Pierrepont Finch, a window washer and mail room clerk who skyrockets to the top of the World Wide Wicket Company. Finch then faces a fall from the top when his methods of success come under scrutiny. Oh, and of course in this 1960s world (the show originally opened on Broadway in 1961), he's definitely hooking up with the secretary.
Pictured: Daniel Radcliffe, left, and John Larroquette
(Ari Mintz)
Plenty happened in the '60s outside of America, so use this "Mad Men"-less opportunity to get a little culture beyond the
New York
advertising world. One of
France's
biggest stars, Serge Gainsbourg had music and film credits with an experimental, genre-less bent, encompassing jazz, bossa nova and orchestrated pop. An Aug. 28 tribute at the Hollywood Bowl will pay homage to the French legend's bachelor-pad-worthy art. Among the stars: Sean Lennon and local alt-rock hero
Beck
, who has worked closely with Gainsbourg's daughter, Charlotte. The actress-chanteuse is currently not on the bill, but fingers are crossed she's among the "special guests."
Pictured: Gainsbourg's 1961 album "L'Etonnant Serge Gainsbourg."
(Philips Records)
Watching "Mad Men" has made more than a few of us wish, however fleetingly, that we could live in the heady days of Camelot. The good times may have ended for the Mad Men during Season 3, but
Stephen King
is doing his best to keep the Kennedy era going in his upcoming novel, "11/22/63" (out Nov. 8) about a
Maine
high school teacher who discovers a way to time travel back to the '60s and decides to stop the
Kennedy assassination
from being carried out. According to the publisher, this latest King opus weighs in at nearly 900 pages, which means there will no doubt be plenty of time to luxuriate in all the pop culture and ephemera that "Mad Men" re-creates so well.
(Associated Press)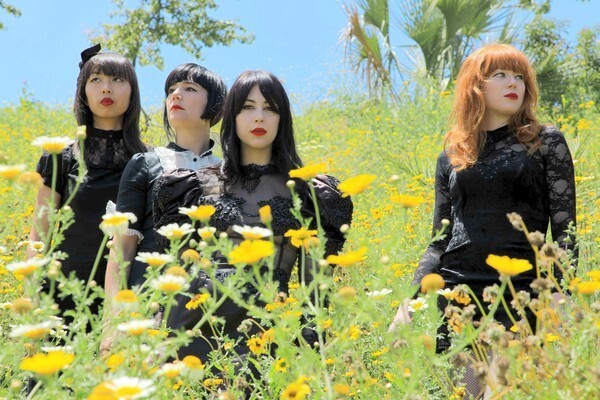 Los Angeles
-centered rock act the Dum Dum Girls have a direct line to the 1960s. The band's manager/producer Richard Gottehrer rose to industry fame in the '60s, having writing credits on such hits as "My Boyfriend's Back" and "I Want Candy." The Dum Dum Girls place the emphasis on the guitar, but are leather & black toughness. What's more, there's a girl group-vibe and a vintage feel to everything the act touches, including recent EP "He Gets Me High." A new album is in the works, and should be in stores in the fall -- just when the "Mad Men" withdrawal is in full swing.
(Tyson Wirtzfield / Sub Pop)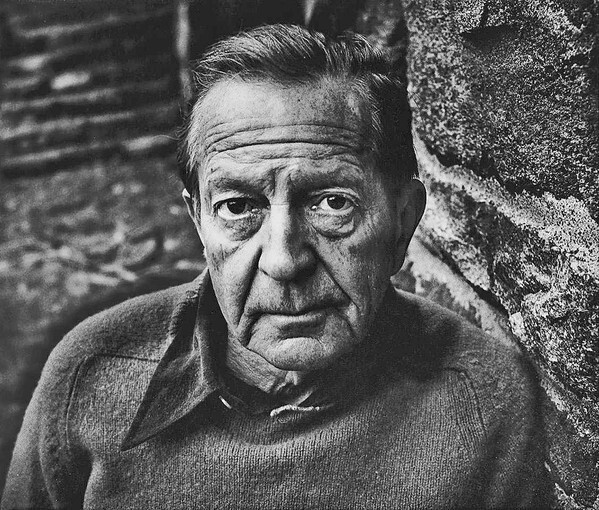 John Cheever
's short stories captured the alienation and unhappiness festering beneath the cheery veneer of the American postwar suburban dream, and they've been openly credited as a great influence on the writers of "Mad Men." Of course, Cheever had the advantage of writing about this stuff while it was happening around him, so the details of the cocktails in the bar car crowd are just right. The collected stories have been available for years, but the
Library of America released a collection in 2009
that collects some of Cheever's best, including his 1964 classic short "The Swimmer."
(Stathis Orphanos / Knopf)