By Robert Lloyd, Los Angeles Times Staff Writer
Back to You
Kelsey Grammer and Patricia Heaton star in this sitcom superstar smackdown as reunited local news co-anchors who have something more than work between them. (Will they get their Tracy and Hepburn on? Or even their Grayson and Keel?) Three-camera comfort food.
(Carin Baer / AP)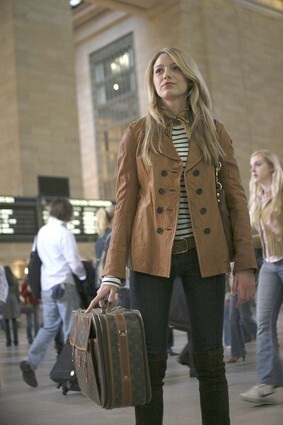 Gossip Girl
"Cruel Intentions" makeover (although based on a series of young-adult novels) in which teenage Manhattan socialites preen themselves in the posts of an anonymous blogger (voiced by Kristen Bell). "Dynasty" for the younger set, with Blake Lively and Leighton Meester as the Krystle and Alexis. Josh Schwartz (creator of "The O.C." and also a co-creator of the new "Chuck") and Stephanie Savage turned it into TV.
(The CW)
'Cashmere Mafia'
"Big Shots" with two X chromosomes. (Or "Women's Murder Club" without the murder.) A quartet of businesswomen (Lucy Liu, Frances O'Connor, Miranda Otto, Bonnie Somerville) pick shards of broken glass ceiling from one another's hair as they deal with fragile male egos and, to quote a network press release, "scheming bitches eager to bring them down." "Sex and the City" creator Darren Star produces, Kevin Wade ("Working Girl") writes.
(ABC)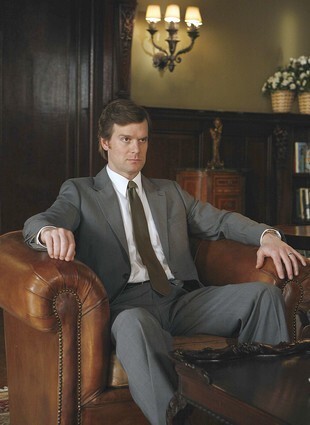 'Dirty Sexy Money'
Donald Sutherland is superbly at ease in the role of a tycoon whose large and highly dysfunctional, tabloid-friendly family is looked after by harried lawyer Peter Krause, sticking close to solve the mystery of his own father's death. Craig Wright's smart soap feels big and intimate at once. Plus: Jill Clayburgh (Mom), William Baldwin (politician son with a transvestite mistress) and Samaire Armstrong (a daughter bearing just a little resemblance to Paris Hilton, ya think).
(ABC)
Aliens in America
Winning post-post-9/11 teen weirdo comedy with a geopolitical twist, in which a small-town Wisconsin family unwittingly welcomes a Muslim from Pakistan (Adhir Kalyan) as an exchange student. Fear and ignorance: always good for a laugh. Dan Byrd is the social misfit who finds a friend, Lindsey Shaw his blooming sister, Amy Pietz his cautiously accepting mom. There are alpacas in the backyard.
(The CW)
Kid Nation
Forty kids are carted to a desert ghost town to live for 40 days without adults, excepting, of course, all the ones just out of camera range. A little bit "Lord of the Flies," a little bit "Wild in the Streets" and currently the subject of pre-broadcast concern among children's advocates and the acting unions. Will they succeed in building a just world where their parents failed? Or just a world without bedtime?
(CBS)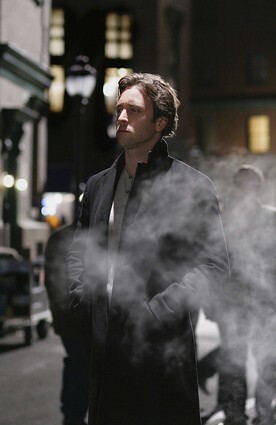 Moonlight
Joel Silver-plated take on the whole "Buffy"-"Angel" thing, with Alex O'Loughlin as a good-doing vampire P.I. in love with a mere mortal played by Sophia Myles (inasmuch as any TV reporter can be called a mere mortal). Ron Koslow, who created "Beauty and the Beast," had a hand in this.
(Robert Voets / CBS)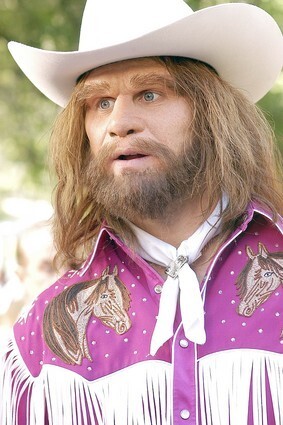 'Cavemen'
A sitcom whose premise plays like a parody of a sitcom premise: Cro-Magnons live among us, civilized and misunderstood. Not as strange an idea, on the whole, as the fact that it's based on an ad campaign for auto insurance. Wilma!
(ABC)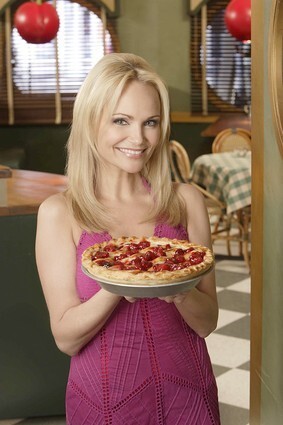 'Pushing Daisies'
Bright, modern fairy tale with Orphic overtones from "Wonderfalls" co-creator Bryan Fuller in which piemaker Lee Pace can bring back the dead with a touch, though with certain restrictions. Anna Friel is the old crush he resurrects but can't touch again, or she'll pop back across the Styx. Chi McBride is the cop he helps solve murders. Swoosie Kurtz, Ellen Greene and Kristin Chenoweth and narrator Jim Dale bring heavy legit-stage mojo to the supporting cast.
(ABC)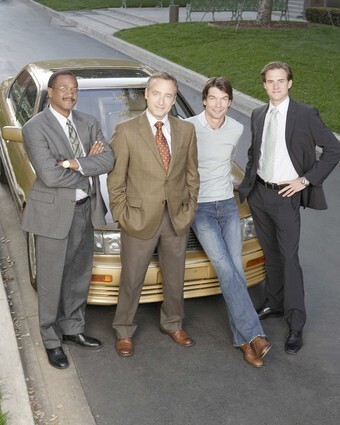 'Carpoolers'
Former Kid in the Hall Bruce McCullough created this comedy about four men with nothing in common but the ride they share to an office park and the fact that they're all . . . men. (It's the middle-class version of "Big Shots.") Jerry O'Connell plays the divorced guy; Fred Goss, Jerry Minor and Tim Peper are fretful, henpecked and newlywed respectively. But sparky Faith Ford (married here to Goss' character) makes the best impression.
(ABC)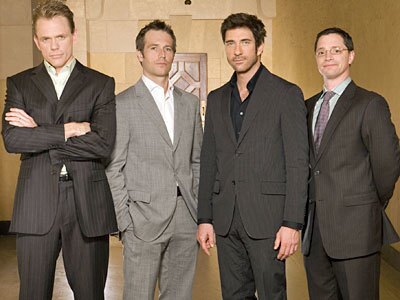 'Big Shots'
Four junior tycoons (Dylan McDermott, Joshua Malina, Michael Vartan and Christopher Titus) create and share problems -- and get in a little golf -- in a bitter dramedy one might call "Desperate CEOs." (See "Cashmere Mafia," for the distaff version.)
(ABC)
K-Ville
Stands for "Katrinaville." Anthony Anderson and Cole Hauser are wary new partners on the New Orleans police force, the former an upright 9th-Warder, the latter a man with a dark secret (but only for the first hour). Its pulse beats a little hard for a story set in a place called the Big Easy, but it's good to see a series that makes time for the poor, especially in a season besotted with the wealthy.
(Rebecca Brenneman / FOX)
Viva Laughlin
Americanization of the British series aired here as "Viva Blackpool!" in which old pop songs interrupt and further the action, "Pennies From Heaven" style. Lloyd Owen stars as a man whose big dreams -- of building the absolute nicest casino-hotel in all of Laughlin, Nev. -- run him into trouble. Executive producer Hugh Jackman drops in as Owen's more successful rival; Melanie Griffith wears lingerie.
(CBS)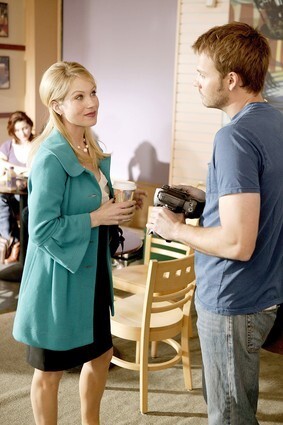 'Samantha Who?'
Christina Applegate as Samantha wakes from an eight-day coma with no memory of the horrible, successful person she had been before and a disinclination to become her again. This would have been a Sandra Bullock movie a decade back; 60 years ago it might have starred Irene Dunne. Applegate's screwball skills are considerable, and Jean Smart is here for her to play against, as her self-regarding mother.
(ABC)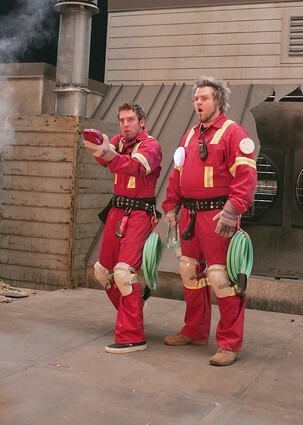 Reaper
Nifty supernatural comedy in which a slacker working in a big-box store (Bret Harrison) is pulled into a life of danger and intrigue when he is forced to work for the devil (Ray Wise, having fun), retrieving the evil dead escaped from Hell. Tyler Labine, Jack-Blacking admirably, is his best friend. See also: "Chuck," basically the same show, but with spies. (Also bears a distinct conceptual resemblance to the 1998 Peter Horton series "Brimstone.")
(The CW)
Life Is Wild
Park Avenue vet Danny Clarke (D.W. Moffett) hauls his quizzical blended family into the South African bush in search of meaningful activity, self-knowledge and work more fulfilling than declawing pussycats. Sure enough, there are lions and elephants, oh, my, but also hot teens in swimwear. Dude! It's not so bad, Africa!
(The CW)
Cane
Old-school drama of wealth, sex and family, baked in the "Dallas" mold but seasoned
con mojo de ajo
. Jimmy Smits plays the adopted son of a Florida sugar-and-rum mogul played by Hector Elizondo, who has been given six months to live, unless the ratings are good. Rita Moreno is his adoptive mother, Nestor Carbonell his jealous brother, Polly Walker the rival grower who Carbonell's character is literally in bed with.
(Robert Voets / CBS)