30 Images
Best & Worst: Post-Super Bowl TV
The plot: Sherlock pursues Martin Ennis (Terry Kinney), an unpredictable criminal, before he strikes again. During the investigation, Sherlock is forced to work alongside Kathryn Drummond (Kari Matchett), the FBI profiler who literally wrote the book on Ennis. / How many watched: 20.8 million. / Touchdown or fumble: A bit of a fumble for CBS. This was the lowest rated post-Super Bowl show since 2003. And the last time CBS had the Super Bowl, its post-game offering of "Undercover Boss" earned nearly double the viewers of 2013's "Elementary"
(CBS)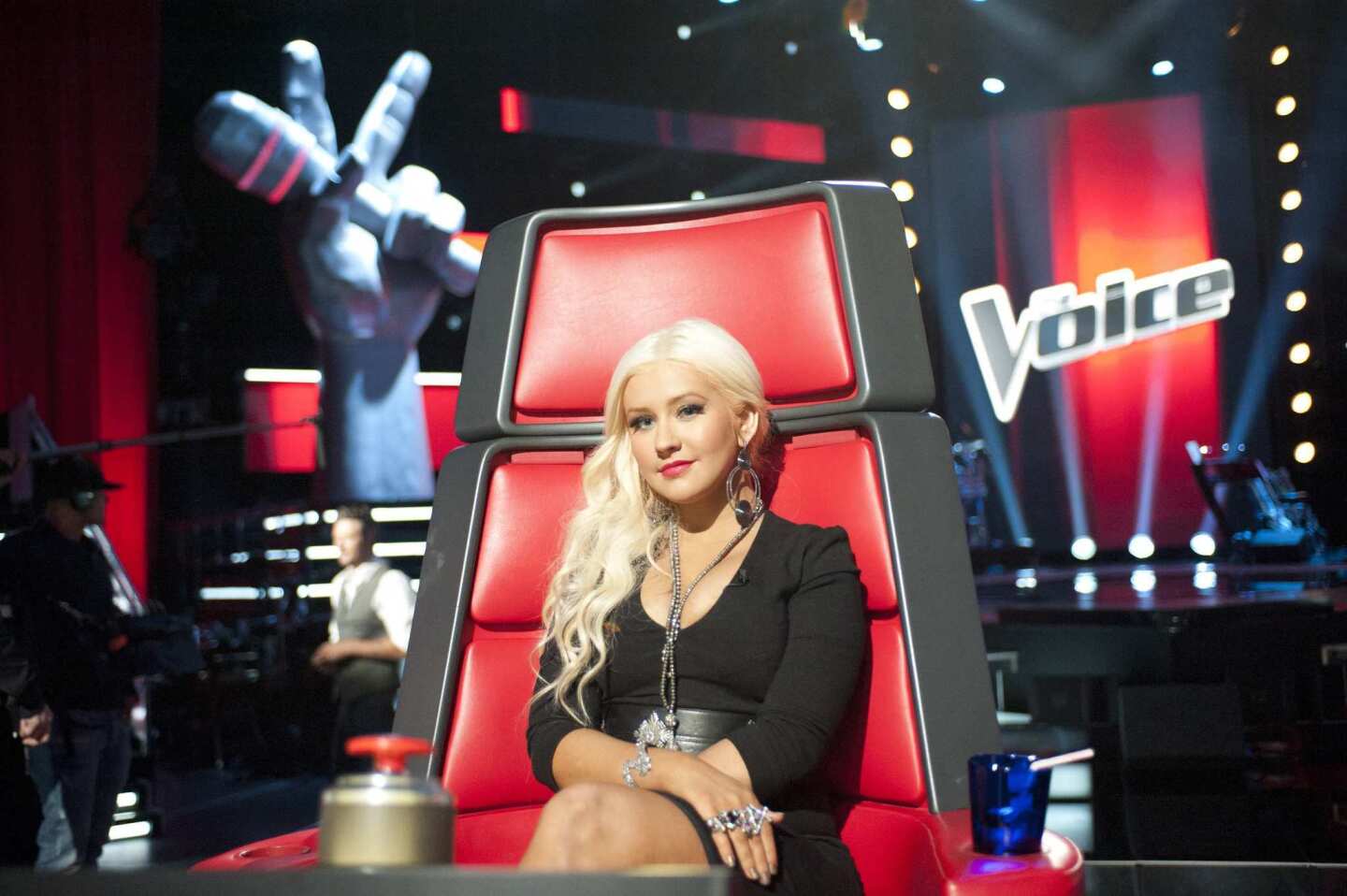 The plot: This popular singing competition show debuted its second season with a round of blind auditions. / How many watched: 37.6 million / Touchdown or fumble: Touchdown. It would've been a touchdown for any network, but especially for NBC. It was the third-highest post-Super Bowl show in the last decade.
(NBC)
The plot: When cheerleading coach Sue Sylvester (Jane Lynch) withdraws her squad from the halftime show of a championship football game, the glee club and the football players must come together to perform a routine and win the game. / How many watched: 26.8 million / Touchdown or fumble: Definitely a touchdown for "Glee," more than tripling its typical ratings. As far as a post-Super Bowl show goes, it's not too bad -- bigger than some, not as big as others.
(FOX)
The plot: CBS debuted its unscripted series about CEOs and other high-ranking executives who pose as regular working stiffs in their companies for a while, see what actually works and what doesn't, then reveal themselves and reward the hard-working people they've met along the way. Waste Management Inc. president/COO Larry O'Donnell was the first subject. / How many watched: 38.6 million / Touchdown or fumble: A big ratings touchdown for CBS. The show drew the biggest post-Super Bowl audience since 2001 and has been a steady performer ever since.
(CBS)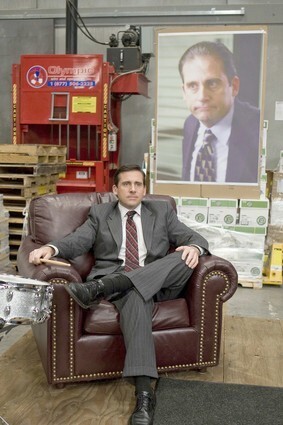 The plot: When Michael discovers he's the main source of stress in the office, he decides to hold a roast of himself to make the staff more comfortable around him. Meanwhile, Pam gives Jim some life-changing news. / How many watched: 22.9 million people / Touchdown or fumble: Well, it did win an Emmy for Outstanding Directing in a Comedy Series.
(NBC)
The plot: Mira Sorvino guest stars as psychiatrist Cate Milton who falls ill in the South Pole. House is called in to help diagnose her malady via webcam and requires her to take off her clothes, natch. / How many watched: 29 million / Touchdown or fumble: Touchdown. This was the show's highest-rated episode ever across all demos and was the highest-rated on any network in two years among adults 18 to 49 and total viewers. Bonus: You got to watch a man drink urine!
(FOX)
The plot: In "The Big Game," a troubled young man believes he's the Archangel Raphael with a mission to rid the world of sinners. / How many watched: 26.3 million / Touchdown or fumble: Fumble. Having James Van Der Beek as a guest star/psycho killer does not a classic episode make. "Criminal Minds" mustered 11.5 million less viewers than "Grey's Anatomy" the previous year.
(CBS)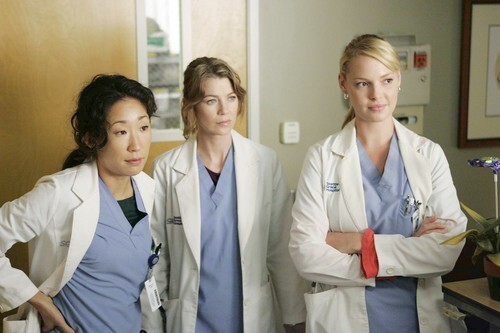 The plot: A patient with a bomb inside of him puts the entire hospital at risk and Meredith is left holding the trigger! / How many watched: 37.9 million / Touchdown or fumble: Touchdown. Big numbers and the mania for the prime-time soap opera only got bigger from there.
(ABC)
The plot: In "Homer and Ned's Hail Mary Pass," Homer's goofy victory dance at a carnival becomes an Internet sensation and an inspiration for NFL players. But it was more a lead-in for Seth MacFarlane's "American Dad," which follows the outlandish events of a CIA family and their friendly alien. / How many watched: 23 million / Touchdown or fumble: Touchdown. But not a game-winning play. "The Simpsons" is still powering on, and "American Dad" is hanging on.
(FOX)
The plot: The eighth edition of CBS' reality flagship brought together fan favorites from past seasons, including Richard Hatch, Jerri Manthey, Rob Mariano, Jenna Morasca and eventual winner Amber Brkich. The 18 contestants were initially divided into three tribes and pitted against one another in Panama's Pearl Islands, the same locale as the previous season. / How many watched: 33.5 million / Touchdown or fumble: Field goal, maybe? The first episode of a "Survivor" season tends to be the weakest, and that held true here. Fans were high on the all-star lineup, though, and there were some pretty juicy turns later on in the season.
(CBS)
The plot: Sydney and Jack are confronted by the new director of SD-6 (a.k.a. Sloane?s replacement), whose motives are unknown. Sydney and Vaughn lead the team to raid SD-6 and shut down the Alliance, and Francie is killed by what appears to be her doppelganger. / How many watched: 17.4 million / Touchdown or fumble: Depends on who you ask. The episode marked a series high from both a critical and ratings perspective, but it ranks as one of the least-viewed post-Super Bowl shows in history.
(ABC)
The plot: The family attends Hal?s family picnic where Hal tries to avoid his new boss, with whom there?s not-so-good history; Lois clashes with a feuding couple (played by Susan Sarandon and Jane Kaczmarek's real-life hubby Bradley Whitford; and Malcolm runs into an old crush. / How many watched: 21.4 million / Touchdown or fumble: Touchdown for "Malcolm." Viewership for the Fox comedy shot up 70% from its season average. For the post-Super Bowl slot? Let?s just say that the year prior drew more than 45 million to the Season 2 premiere of "Survivor."
(FOX)
The plot: In the second season premiere, viewers were introduced to 16 memorable contestants as they vied to be the last person standing in the Northern Queensland locale. / How many watched: 45.4 million / Touchdown or fumble: Touchdown. This season of "Survivor" became the top-rated show of 2001 and launched the reality show career of Amber Brkich (who later won "Survivor: All Stars" and then married fellow contestant Rob Mariano before they went to "The Amazing Race") and Elisabeth Hasselbeck, co-host of "The View."
(CBS)
The plot: Already an established legal drama on ABC, "The Practice's" highly-anticipated post-Super Bowl episode involved legal partner Lindsay Dole (Kelli Williams) flying to L.A. to find out about a potential client prosecuted for murder. Lindsay gets help from Bobby (Dylan McDermott, pictured), and the rest of the team follows. / How many watched: 23.8 million / Touchdown or fumble: Touchdown. The show increased in popularity, enjoying eight seasons on ABC. It was later followed by the spin-off series "Boston Legal."
(ABC)
The plot: The debut of "Family Guy" featured Peter Griffin's first harebrained scheme: Renting a blimp to fly over the Super Bowl and drop $150,000 in ill-gotten welfare money. Stewie's matricidal impulses toward Lois are also prominent. A "Simpsons" episode, in which Homer and the men of Springfield sneak into the stadium after finding out their game tickets are bogus, followed. Dan Marino, John Elway, Troy Aikman, John Madden and Pat Summerall did guest voiceovers. / How many watched: "Family Guy," 22 million; "The Simpsons," N/A / Touchdown or fumble: Both episodes scored creatively, but unfortunately for FOX the audience for "Family Guy" didn't stick around when the show became a regular part of the network's lineup that April.
(FOX)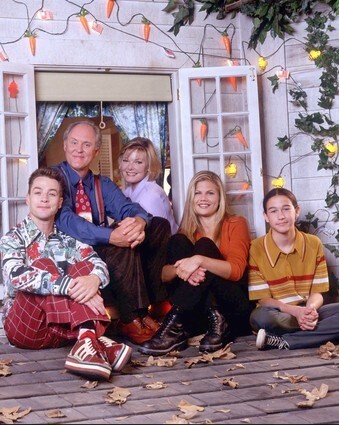 The plot: In "36, 24, 36, Dick!," beautiful women from Venus, including guest star Cindy Crawford, invade Rutherford, Ohio, armed with a Super Bowl commercial designed to manipulate mankind. / How many watched: 33.6 million / Touchdown or Fumble: Touchdown. "3rd Rock From the Sun" was never as popular among viewers as it was during its first season in 1996, but the series still lasted until 2001, racked up eight Emmys, and amassed an everlasting cult following.
(NBC)
The plot: In "Leonard Betts," Paul McCrane guest-stars as a decapitated man able to regenerate his body. / How many watched: 29.1 million / Touchdown or fumble: Touchdown. Taking a break from the show's dense mythology paid off, resulting in the most viewers ever for the series. Despite "The X-Files'" success, though, up until 2008 FOX used all its other Super Bow< lead-ins to air comedies.
(FOX)
The plot: This double episode, aptly titled "The One After the Super Bowl," features the gang on a film set. Joey wrangles with a crazed stalker (Brooke Shields), Ross chases after his kidnapped monkey Marcel, Chandler pursues a girl he used to bully (Julia Roberts), and Monica and Rachel fight over the film's star-- Jean-Claude Van Damme. / How many watched: 52.9 million / Touchdown or Fumble: Touchdown. With six guest stars (Dan Castellaneta, Chris Isaak, Roberts, Shields, Jean-Claude Van Damme and Fred Willard), not only was "The One After the Super Bowl" the series' most watched episode, it is the clear ratings winner among all post-Super Bowl television shows. Director Michael Lembeck won an Emmy for the episode and Shields' cameo landed her "Suddenly Susan" the next season.
(NBC)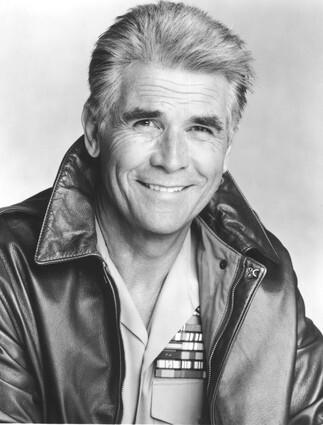 The plot: A high-stakes search-and-rescue team, led by James Brolin's Reese Wheeler, must navigate the Rocky Mountains. But can they survive their own personal relationships?/ How many watched: 22.6 million / Touchdown or fumble: Fumble. Quick: Who else starred in "Extreme"? Exactly. The series lasted seven episodes.
(Eyemark Entertainment)
The plot: John Larroquette starred as a recovering alcoholic who manages a St. Louis bus station. His struggle to stay sober was the subject of this dark comedy. In this episode, Hemingway shares a hotel room with snack-bar operator Dexter, played by Daryl "Chill" Mitchell. / How many watched: 17.7 million / Touchdown or fumble: Fumble. NBC's dark comedy garnered some of the lowest ratings for post- Super Bowl viewing.
(NBC)
The plot: Based on the work of reporter-turned-TV producer David Simon, "Homicide: Life on the Street" captured the inner workings of the Baltimore Police Department. The series put the emphasis on the politics of police work, and the personal toll it takes. Additionally the show came packed with plenty of audience-taunting unsolved cases, such as the Adena Watson mystery given to Det. Tim Bayliss (Kyle Secor) and Det. Frank Pembleton (Andre Braugher, pictured) in the post-Super Bowl pilot. / How many watched: 28.1 million / Touchdown of fumble: Touchdown. OK, so "Homicide" was never exactly a ratings darling, but it did manage to last for seven seasons. Additionally, critics are still raving about the show, and it set the template for HBO's "The Wire," especially the fourth and fifth seasons, which follow a Baltimore gang war.
(NBC)
The plot: In this series premiere, a widowed elementary school principal (Randy Quaid) raises three sons with the help of his wacky dad Gunny Davis (Jonathan Winters). / How many watched: 26.7 million / Touchdown or fumble: Fumble. Despite a strong start, the heartwarming comedy left viewers cold, and ABC yanked it after less than one season. CBS picked it up and added Bonnie Hunt and Giovanni Ribisi, but then pulled the plug six months later.
(ABC)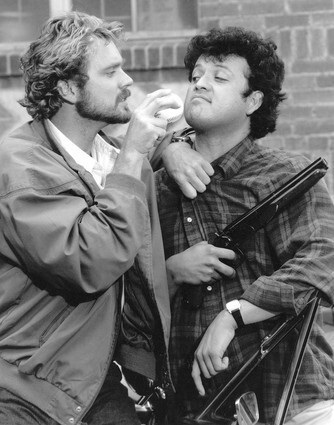 The plot: Rival bounty hunters (John Schneider, left, and Paul Rodriguez) go to extraordinary lengths to beat one another to the same criminal in a slapstick comedy. / How many watched? 30.7 million viewers / Touchdown or fumble: Fumble. A lot of people watched the premiere, and apparently they didn't like what they saw. The show quickly sank in the ratings and was gone after a handful of episodes.
(CBS)
The plot: Don't confuse this miniseries with "The Name of the Rose," the best-selling monk thriller by Umberto Eco. This is pure late-80s network TV pulp -- Peter Strauss and David Morse play orphans recruited by the CIA to serve as assassins. Of course, eventually the CIA turns against them. Heads up, '80s-philes, "The Greatest American Hero's" Connie Sellecca gives us a dramatic turn. / How many watched? Not available, though the post- Super Bowl half of the series delivered a big 20.9 rating with a 36 share. / Touchdown or fumble: Ratings-wise, it's a touchdown. But as '80s miniseries go, this isn't "V."
(Vidmark)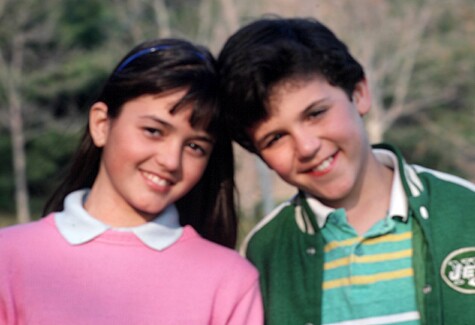 The plot: The show set the tone for a comedic and often heartbreaking commentary on the history and social mores of the late '60s and '70s, introducing us to Winnie, Kevin Arnold's friend and first love, as her family learns her brother was killed in Vietnam. The first kiss between Kevin (Fred Savage) and Winnie (Danica McKellar) kicks off their first year of school in the newly renamed Robert F. Kennedy Junior High. / How many watched: 28.9 million / Touchdown or fumble: Touchdown. A favorite with both kids and adults, Kevin and Winnie won the hearts of Emmy voters as well, taking home the best comedy series award after just six episodes.
(ABC)
The plot: A group of hard-boiled New York City newspaper reporters (remember those?) race to beat each other for scoops in the Big Apple. Notable now for featuring future blockbuster producer Dean Devlin in an acting role. / How many watched? 19.8 rating/33 share / Touchdown or fumble: Touchdown in that this series improved on the ratings of the previous year's post Super Bowl slot. But the series quickly fizzled out after about seven episodes.
(Mark Lennihan / Associated Press)
The plot: In a classic mid-'80s set-up, this short-lived series featured a slobs vs. snobs storyline, with a station house filled with wacky outcasts (a cop who's also an Elvis impersonator!) who frequently clash with their better-looking, better-funded rivals. A post-"Batman" Adam West (seen here in 2006) starred as the squad's captain. / How many watched? 39.7 million / Touchdown or fumble: Even though "Police Academy" went for six movies during the '80s, this series only lasted six episodes before having to turn in its badge.
(Getty Images)
The plot: Married police officers Malcolm MacGruder (John Getz) and Jenny Loud (Kathryn Harrold) work for an LAPD-style agency but keep their relationship hidden from their boss due to strict anti-fraternization policies. They go so far as to have separate entrances to their home. When a killer stalks the couple, their lives and secret are in jeopardy. / How many watched: Information not available / Touchdown or fumble: Fumble. This Aaron Spelling creation was no hit. It was ABC's answer to CBS' popular cop show "Cagney & Lacey" but didn't fare so well. While its initial prime slot after Super Bowl< XIX gave it good ratings, it slipped fast and was canceled after just three months.
(Associated Press)
The plot: During a test run of new supercopter "Airwolf", the pilot (David Hemmings) steals the chopper and kills observers in the process. A survivor (Alex Cord) calls upon a recluse (Jan-Michael Vincent) for help, but no amount of money will convince him to help, but there is one thing he wants--the return of his brother, a Vietnam POW. / How many watched: 27.9 million / Touchdown or fumble? Touchdown. As if the fact that the title "character" is a supercopter isn't cool enough, the show dealt with relevant themes such as the Cold War in the first season. While over time it became lighter and more family-friendly, the interesting plotlines remained, perhaps due to show creator Donald P. Bellisario, who also had success with Magnum P.I.
(CBS)
The plot: In the two-hour pilot episode, the crew of Vietnam vets escape from prison to the Los Angeles underground. They dedicate themselves to help the good people of the world -- in this case protecting them from Mexican drug dealers -- while on the run. / How many watched: 21.9 million / Touchdown or fumble: Touchdown. The popular action-adventure series had premiered just a week before, and it quickly proved to be a ton of fun and built a fan base that's still thriving today, although it remained in production only through 1986. A film based on "The A-Team" was released in 2010. Dirk Benedict, left, George Peppard and Mr. T epitomized the show's true 1980s style.
(NBC)