A behind-the-scenes peek as 'American Idol' tunes up for its final bow
When "American Idol" names its latest victor on April 7, it's not just the close of the season but also the end of an era for the Fox singing competition series that broke ground in television and music.
Since "Idol" debuted in 2002, its 15-season run has launched a remarkable collection of multi-genre superstars like Kelly Clarkson, Carrie Underwood, Fantasia, Jennifer Hudson, Adam Lambert, Chris Daughtry and others who combined have amassed hundreds of No. 1 singles, platinum albums and Grammys. Many winners and finalists have also landed leading and featured roles on the Broadway stage as well as on TV and in film.
COMPLETE COVERAGE: Saying farewell to the competition show that changed television
Although it's been years since the show's heyday, when "Idol" regularly topped more than 30 million viewers, its effect on pop culture has been undeniable — just look at "The Voice," "America's Got Talent" and numerous other franchises born in its shadow. Ahead of the show's finale, The Times was embedded at "American Idol" headquarters at CBS Television City in Los Angeles.
The following is a look at one of the final weeks of the landmark series.
Wardrobe and dry blocking
March 22, 2016
10:30 a.m. — Wardrobe room
The high squeal La'Porsha Renae let out was the first thing you heard when you exited the elevator to the third floor of Stage 36 at CBS Television City, where "Idol" has long filmed. "Something has made Renae very happy," Kate Tucci, associate producer, says of the powerhouse singer. The 22-year-old is eyeing the six swatches of fabric in gold and brown hues that wardrobe assistant Jo Castellanos handpicked for her and is jubilant when hearing Castellanos detail the gold shimmery leggings and trench coat that will be made for her. There are six racks of neatly organized clothes that have been pulled for the remaining singers. Nearby, fellow finalist Dalton Rapattoni emerges from a dressing room after trying on one of the suits that has been laid out for him. The 20-year-old rocker wants the suit ravished with neon paint for his performance of Sia's "Bird Set Free": "I really want to show the juxtaposition of formality and chaos."
10:55 a.m. — Contestants lounge
The finalists are relaxing in the lounge, waiting for dry blocking to begin. The room, painted in the same blue hue of the show's distinctive logo, is where they spend their downtime when they are on set. There's a guitar and keyboard set up so they can practice on their own. Trent Harmon and MacKenzie Bourg are on a couch chatting, Harmon casually strumming on his guitar.
Sonika Vaid is seated at a lighted vanity, talking with her mother, who is in town visiting, as Renae is being interviewed for the "Idol" website. When asked what essential she's brought with her from home, the McComb, Miss., native begins speaking fondly of her bonsai tree, which surprises Vaid. "I got it to symbolize me and my daughter getting out of (an) abusive situation," she confides. Renae halts the interview to take a call from a local hairdresser she reached out to about getting her hair, a voluptuous golden brown afro, styled into twists. After the conversation, she decides to ask her mother to do it.
11:10 a.m. — Contestants lounge
It's a dual theme this week on the competition: classic rock that Steven Van Zandt helped mentor and songs from Sia, who also offered guidance to contestants. Harmon is feeling a bit uneasy about his pick, "Chandelier," because of a massively high note in the song. "It kinda chose me," the 25-year old says when I ask him about his selection. "I feel like I've bit off an elephant with that song. But a buddy of mine told me the best way to eat an elephant is one big chunk at a time."
11:22 a.m. — Contestants lounge
A few of the contestants are discussing the next week's theme, which will be selections from in-house mentor Scott Borchetta. Renae and Harmon are talking with an associate producer about talking points for Ryan Seacrest to help build out Thursday's show.
12:47 p.m. — Contestants lounge
The smell of Mexican cuisine fills the lounge -- affectionately called the "blue room" -- as Bourg works through Sia's "Titanium" on the keyboard. He's turned the house number into a ballad. Renae is standing nearby, occasionally ad-libbing vocals.
1:40 p.m. — Office of Trish Kinane, "Idol" executive producer
Kinane huddles with co-executive producers Jessica Castro and Megan Michaels Wolflick around a storyboard, discussing where to place segments. With 84 minutes to fill, they talk strategy for the show's run. In addition to the finalists' performances, they must juggle the customary video tie-in with sponsor Ford, a performance by Sia, the finalists' trip to NASCAR, guest performances from "Idol" alums Katharine McPhee and David Cook and a crossover promotion for "The Angry Birds Movie."
"The tricky part is we only run once a week, so it's a results show and a performance show combined, so we can never say, 'Coming up, Trent takes the stage', because we don't know if he's through," Wolflick says. "Now that we are doing two rounds of competition, you have to eliminate halfway during the show." Kinane notes that this especially benefits the contestants: "When the elimination is in the middle, everybody relaxes and their second performances are much stronger. We think it's much fairer and proper to do it this way."
2:02 p.m. — "Idol" stage
On the "Idol" stage, Renae is running through Sia's "Elastic Heart." In-house mentor and Big Machine Records founder Borchetta has peeked in to offer notes. The show's director, Phil Heyes, and creative producer, Brian Burke, are anchored in what are typically the judges' seats. One of the shows' longtime stage managers, Debbie Williams, is zipping around the set handling logistics. A tiny crew is filming Borchetta's session with Renae as Harmon emerges onstage to talk with Rickey Minor. The audience is empty save for a dozen or so show personnel, mostly working quietly on laptops or smartphones.
2:12 p.m. — "Idol" stage
Harmon is practicing a bluesy take on ZZ Top's "Sharp Dressed Man." After a take, the soulful crooner gets a few notes from associate musical director-vocal coach Michael Orland, who guides him through the opening melody by tapping his hand on his chest as Harmon follows the pace. After a second take, he gets more notes from Borchetta.
2:48 p.m. — "Idol" stage
Harmon begins rehearsing his second performance, "Chandelier." His second take, a rather pitch perfect one, stills the room.
3:01 p.m. — "Idol" stage
Rapattoni starts a run-through of "Bird Set Free," flashes of graffiti behind him. The pace has picked up from the slog of the morning.
3:44 p.m. — "Idol" stage
"Next victim … you're up," stage manager Debbie Williams shouts as finalist Vaid walks onstage. The band begins Celine Dion's "Love Me Back to Life." Vaid's mother wipes away tears as the 20-year-old nails the first take. She goes through the song a few more times, getting notes from Minor in between.
4:13 p.m. — "Idol" stage
Vaid is ready to rehearse her classic rock selection, Patti Smith's "Because the Night." After a shaky run-through, Minor has the crew play the original as a reference and Vaid listens intently. Longtime "Idol" executive producer Nigel Lythgoe pops in to give Minor notes on the performance.
4:59 p.m. — "Idol" stage
Bourg, guitar in hand, has taken the stage to begin his rehearsal. He starts with Cheap Trick's "I Want You to Want Me." The energy in the room has kicked up after a bit of a lull during Vaid's run-through. It also helped that Bourg's rehearsal is the last of the day. Like Vaid's, his run-through appeared to be swift. He received quick notes from Minor before ditching his guitar to tackle "Titanium."
Rehearsals
March 23, 2016
11:42 a.m. — "Idol" stage
Rehearsals are running behind schedule. Onstage, the band tinkers with the arrangement of Bon Jovi's "Wanted Dead or Alive." Singer-songwriter Bourg is in the audience playing his guitar. Rapattoni arrives on set with a wide smile, elated that his wardrobe idea from the previous day has come together. His suit is covered in bright paint from his waist to his ankles. When the lights go down, the splashes of orange, green and red paint emit a trippy glow.
12:05 p.m. — "Idol" stage
Bourg takes the stage to begin rehearsals of "Want You to Love Me." Kenya Hathaway, vocal coach, gives the contestants notes on how to improve. She floats around chatting with Bourg and Vaid before checking in with Minor. For a second day in a row, I notice how laid back the vibe is on set. I bring it up to Minor, who jokes that everyone is on their best behavior because I'm on set, but then tells me the tight-knit family atmosphere of the crew is what keeps things light.
12:18 p.m. — "Idol" stage
Vaid takes the stage. She works with a stage manager about where she plans to start her song -- downstage between the band -- which gives her plenty of room for a dramatic entrance.
Borchetta watches intensely from a production table that's been set up in the audience. When he's not observing the production monitors set up on the table that shows the closeups the camera operators are capturing, he's jotting down notes. Afters Vaid does another take of "Because the Night," Borchetta talks with producers who are watching the monitors as well before he walks over to the stage to give her a round of notes.
'Idol' has been on for 15 seasons, so we've got a very well oiled machine. We know how to do all of this stuff. We want to let the kids be as good as they can be. And in the end, we are very proud of our Idols.
Trish Kinane, "Idol" executive producer
12:33 p.m. — "Idol" stage
Renae enters the soundstage with wardrobe stylist Laury Smith. Her hair falls in long, golden twists down her back — the result of 15 hours of work by her mother. She's wearing an olive trench coat, and shimmery gold leggings peek out from underneath. Rapattoni sneaks up from behind the stage and spooks her before wrapping his arms around her in a bear hug. Among the contestants, these two appear the closest. This the first time I've seen all the contestants onstage together, save for Harmon. Vaid is off to the side, still chatting with Borchetta. Renae confabs with Burke. Dalton chats with a production assistant.
12:56 p.m. — "Idol" stage
Rapattoni does his first rehearsal of the Beach Boys' "God Only Knows." He was originally going to do the White Stripes' "Seven Nation Army" but struggled with it. Executive producers told me the day before that they were impressed that Rapattoni took the advice of Van Zandt and went with his back-up song. After two run-throughs, he gets notes from vocal coach Michael Orland.
1:13 p.m. — "Idol" stage
Renae is center stage, seated in a swivel chair with a single spotlight beaming on her. As a thick plume of smoke sweeps across the stage, Smith fusses with the black top that dramatically obscures Renae's face. The show's director, Phil Heyes, is showing Renae which way the camera will follow her as she swivels to face the audience. After two takes of "Wanted Dead or Alive," Renae meets with Holley.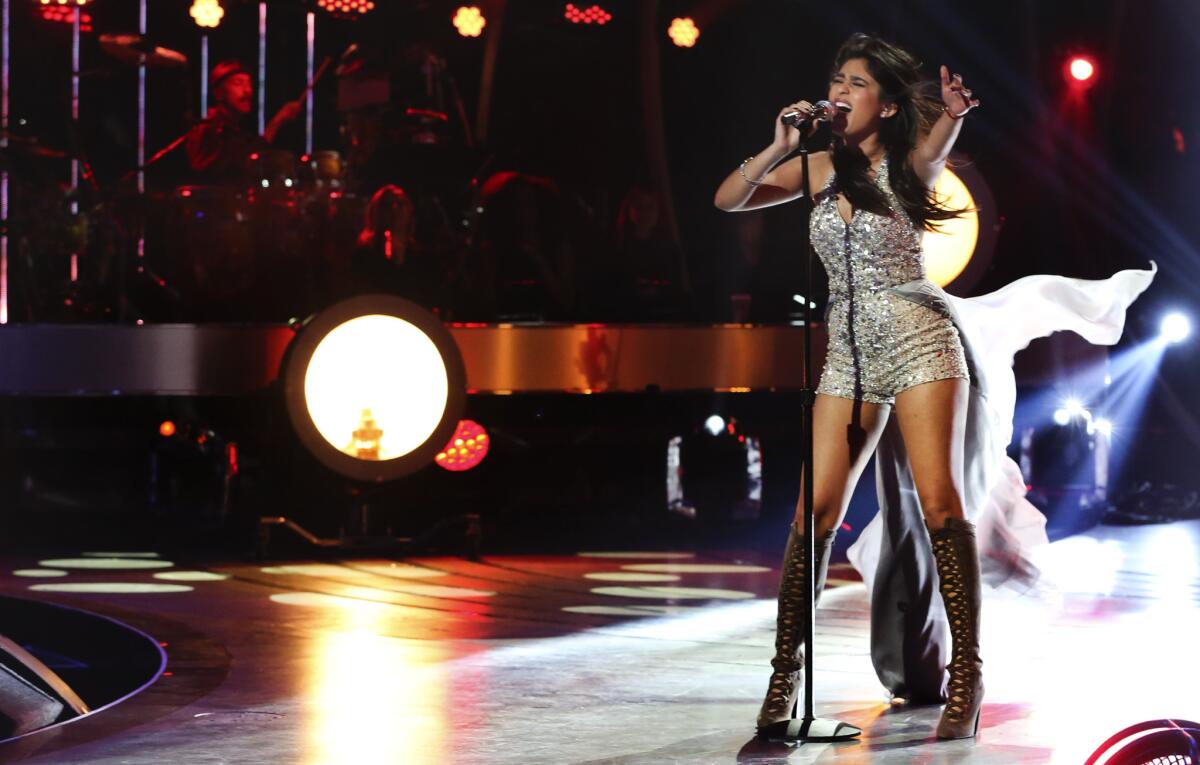 1:33 p.m. — "Idol" stage
Harmon starts to rehearse "Sharp Dressed Man." After a take, he receives notes from the vocal coach, and one of the show's choreographers has walked onstage to offer him pointers. The next run-through of the song is livelier, with Harmon dipping the mike stand and swiveling his hips along with the backing vocalists.
1:47 p.m. — "Idol" stage
Crew has been dismissed for a one-hour lunch.
2:50 p.m. — Contestants lounge
Associate producer Kate Tucci delivers fan mail. The weekly delivery happens after Tucci carefully sorts through the onslaught of letters and packages. She does this on Mondays and Tuesdays. Aside from anything threatening or negative, which is a rarity, she says, she can't accept food as a safety precaution, nor can the contestants get any lyrics fans have penned for them due to legalities. Vaid unwraps an action figure of WWE star John Cena, which confuses everyone. Rapattoni whoops when he opens a package and finds a Harry Potter mug. Renae is moved by a handwritten note that reads, "You are beautiful inside and out," along with a T-shirt with a drawing of her likeness and the words "My hair is art." "This is so sweet," she says, embracing the shirt.
"It's kinda cool to see that the fans pick up on what they like," Tucci says. "They get a lot of stuff, but the letters are always the greatest."
3:44 p.m. — "Idol" stage
Bourg is now onstage, running through "Titanium" alongside the string section. They rehearse the song a few times before the violinists retreat to the empty seats in the audience to go over sheet music. Bourg has walked over to the production table to watch playback of his rehearsal with the creative team. Vaid arrives wearing a white sparkly top with matching shorts that are connected to a long pale gray train and takes the stage. When she's in position, two production assistants flip on wind machines that send her train and hair billowing in Beyoncé-like fashion. "This dress was really meant for 'Let It Go,'" she jokes, making reference to a previous performance of the "Frozen" classic. Once the large orange bulbs that surround her begin glowing, the screen behind her shows flashes of crashing waves. It's the perfect drama for the Dion power ballad "Love Me Back to Life." She delivers it perfectly.
4:11 p.m. — "Idol" stage
"I got nothing to do," Rapattoni laughs. The shows' longtime stage manager, Debbie Williams, apologizes for the delay as the production crew works to set up the stage for his second song, "Bird Set Free." This is the first time he's running through alongside violists, who are spread across the stage as well as positioned next to the judges' table. As the crew works, Rapattoni gets notes from Borchetta and Holley. Meanwhile, Vaid is going over her rehearsal with the show's creative director. Renae has entered the soundstage and taken a seat in the front row to catch Rapattoni's rehearsal, leading the charge in applause after each take.
4:30 p.m. — "Idol" stage
As conga drums are set up onstage, Renae is getting a once-over from the show's wardrobe stylist, Laury Smith. Renae is wearing a slate gray jumpsuit that sparkles when she moves and high-heeled black leather boots, and her twists are pinned up in a big bun. She looks like a superstar, and when I see Castellanos later in the day, he tells me this is a much better than the trench coat and leggings from the day before. Adding how excited he is for the change to her other costume as well. Her first run-through of Sia's "Elastic Heart" is powerful; they all have been. A choreographer popped up onstage to show her a sultry move, which she implemented on the second run.
5:10 p.m. — "Idol" stage
"Where's Trent?" Williams shouts, scanning the room in search of the missing-in-action contestant, who had had gone to change into what he planned to wear for his second tune. He emerged from behind a video wall grasping a cup of tea. He's wearing a wide-brimmed hat and a flowy, cape-like jacket. As he takes his position, the center of the stage is enveloped in smoke as the violinists and pianist begin playing "Chandelier." After a smooth, moving take, he doesn't stop for notes before going through the song again.
Show day
March 24, 2016
10 a.m. — Stage 36 at CBS Television City
It's hectic on set — the amount of people present seems to have tripled from the day before as entourages buzz about and production works to set up soundcheck.
10:05 a.m. — Contestants lounge
Renae and Vaid are getting their makeup done. Across the room, Rapattoni stretches out on a couch, going over his song before squeezing in a short nap. Bourg strums his guitar in the corner.
10:40 a.m. — Office of Patrick Lynn, senior supervising producer for "Idol"
It's impossible not to be lured into Patrick Lynn's office. The senior supervising producer for "Idol" has been with the show since its 2002 launch and his office is packed with relics from the show's history, which he plans to take with him when he says goodbye to "Idol" (his office is already littered with boxes). Behind his desk is a massive poster from Season 1 that was plastered on bus sheds. The somewhat iconic image of an anonymous female singer holding a vintage microphone, her hair covering her face, was used again for the final season poster (Lynn kept in touch with the original model, the wife of an Interscope Records executive), but the framed print that hangs by his desk is only one of three remaining. Nearby is a rare print from Season 10 auditions at Nashville's historic Ryman Auditorium in 2011.
He walks me through a number of favorite pieces from his collection. A "Star Wars" buff -- a BB-8 droid was roaming around the room -- he's especially proud of the framed crew T-shirt that was commissioned for Season 9, which has the "Idol" logo printed in black and white (the only time it has been) to pay tribute to the 30th anniversary of "Empire Strikes Back." He pulls out another framed shirt, this one in blue, red and yellow as a nod to "Superman." Another must item going home with him? A set of the famous red Coca-Cola cups that the original judges -- Simon Cowell, Paula Abdul and Randy Jackson -- drank from in Season 1, enclosed in glass.
10:45 a.m. — Hallways of Stage 36
On the walk to the editing bay, Kinane reveals the difficulties of simultaneously planning the finale and producing the final weeks of competition. "It's gotta be entertaining. We've gotta pay respect to the legacy, and crown a winner -- and there's loads of performances," she says of the finale. And there's also a particularly tight competition, Kinane tells me. Friday would normally kick off a full day of work toward next week's show, but the contestants leave in the afternoon for their hometown visits, an iconic portion of the show's final stretch. Kinane says that the contestant's will have a morning of vocal coaching before heading home and that when they land back in L.A. they will immediately record their song selections for iTunes. "It's a challenge," she says, "we've got a lot to squeeze in."
10:47 a.m. — Editing bay
Kinane is checking in with Jen Gillaspy, the show's supervising editor, to go over the packages that were filmed for the evening's show. Co-executive producer Jessica Castro has joined the huddle around Gillaspy's multiple computer screens as she plays footage of Sia's mentoring session with Harmon. Although all of the finalists interacted with the singer-songwriter without one of her signature face-obscuring wigs, producers had to strategically shoot her to conceal her face. Their solution? Hanging a glass vase over the camera, which placed a prism effect on her face. "I think it looks strange," Kinane says, concerned that it would distract viewers. Castro suggests adding lens flares to mask it. They watch footage from Rapattoni's session with Van Zandt, and Kinane makes continuity notes for Gillaspy.
11 a.m. — Kinane's office
"'American Idol' home stories always have huge emotions. How do we keep it fresh and get what we need while doing something that feels right for this farewell season," Kinane asks the producers meeting in her office to talk about the packages that will be produced while the final four are back home over the weekend.
Food quickly becomes a common thread when the producers discuss what the finalists told them about the first things they want when they return home. Rapattoni is craving pot roast and jelly meatballs, Renae is itching for Southern food, Bourg will be treated to a crawfish boil at a tailgate party and Vaid will get pastries at a bakery in the North End of Boston that has named a cannoli after her. "Are we not feeding them right? It's interesting these kids come from where they come from and we stick them in Hollywood, where you have to eat quinoa and kale and sushi and they're craving their home foods," Kinane laughs.
11:23 a.m. — Control room
Kinane arrives at the control room ahead of dress rehearsal. The show begins with a stand-in for host Seacrest, reading Seacrest's lines from a teleprompter. The show's director, Phil Heyes, is bouncing to Renae's take of "Wanted Dead or Alive" as he calls camera cues. Nearly 30 screens capture every angle of the action. Kinane pulls her headset aside to offer some insight on the flow of the dress rehearsal, noting that the contestants pick names out of a hat beforehand to determine the order they sing because voting results are live.
11:32 a.m. — "Idol" stage
The audience is packed with family and friends of the crew. Also present are local youth groups and students. Seacrest, dressed in joggers and a hooded sweatshirt, enters to cheers. He introduces Season 7 winner David Cook, who performs his new rock ballad, "Heartbeat." A video montage of "Idol" victors throughout the years plays behind him. Seacrest later admits getting emotional and choked up. Bourg and Harmon run through their songs, much to the joy of the young crowd — particularly the girls. Producers run through the rest of the show, replete with improvised judge comments from stand-ins and a fake elimination, which sends Harmon offstage.
1:21 p.m. — "Idol" stage
"OK, guys, we've got a lot of work to do here," a stagehand announces as they attempt to clear the audience for Sia's closed soundcheck. The audience disperses, although a group of students surrounds Vaid to pose for photos, which she happily obliges. While some of the crew members prep the stage for Sia's soundcheck, most of the production staff breaks for lunch.
2:24 p.m. — Kinane's office
Kinane meets with executive producer David Hill, senior supervising producer Patrick Lynn and digital and social producer Carly Segal to discuss the social media strategy for tonight's show. Lynn goes over the hashtags and social media handles that should be embedded on-screen. Segal gives an update on the social stats heading into tonight's show based off of the buzz from throughout the week and details how the finalists are doing on social media: "I think they are realizing more and more what kind of platform this is for them. You can't just go quiet for two days, because now you have 100,000 people listening, and they want to know what you have to say," Segal says.
"It's actually quite interesting if you look at the history of social media and this program," Hill adds. "The show has really stepped up its social profile, and what that's done is totally inflamed the conversation about the program. 'Idol' had stopped being relevant and because [Segal and Lynn] made a huge push for social media, the show became relevant in an area where it wasn't traditionally marketed to. What's happening, and it's ironic that it's the final year of the show, is the social conversation is regenerating the wonder and the joy, and more important, the intergenerational viewing that originally propelled the show to a giant hit 15 years ago. It's really interesting to look at a profile of the show and the audience makeup and see how the young audience has drifted away and then suddenly they've come charging back. Teenagers want to watch with their moms and dads -- it's probably one of the more remarkable phenomenons ... what's happened to this show as a result of social media. If you want to look at a Petri dish of the power of social media and an aging television property, this is it."
3:57 p.m. — "Idol" stage
Most of the audience is in place for Sia's pre-taped performance. Anyone who has ever tuned into a live show knows its atmosphere is pure pandemonium: screaming teenage fans, hoisted signs, T-shirts with contestants' names on them, selfies by the second. I'm in one of the wings off the stage, which gives you a glimpse into the audience as well as backstage. The finalists are hanging out, cracking jokes with one another and being touched up by wardrobe and makeup.
4:15 p.m. — "Idol" stage
Sia takes the stage to pretape her performance of "Cheap Thrills" in front of the judges and audience. The finalists crowd a backstage monitor to watch. After Sia's performance, she's escorted to the finalists and gives them more words of encouragement. With the audience in place, the crew works to break down the set used for Sia's performance and set up the stage for the show that's going live in 45 minutes.
Meanwhile, Kinane has left her post in the control room to venture to the judges' trailers. She goes from trailer to trailer to have one-on-one briefing meetings about the night's show. Harry Connick Jr. doesn't like a lot of details on the show, Kinane says. After meeting with Jennifer Lopez, the superstar remains in her trailer to spend time with her twins — after the show, she's off to Russia to do a private performance at a wedding. Kinane then pops into Keith Urban's trailer for a quick chat about the show.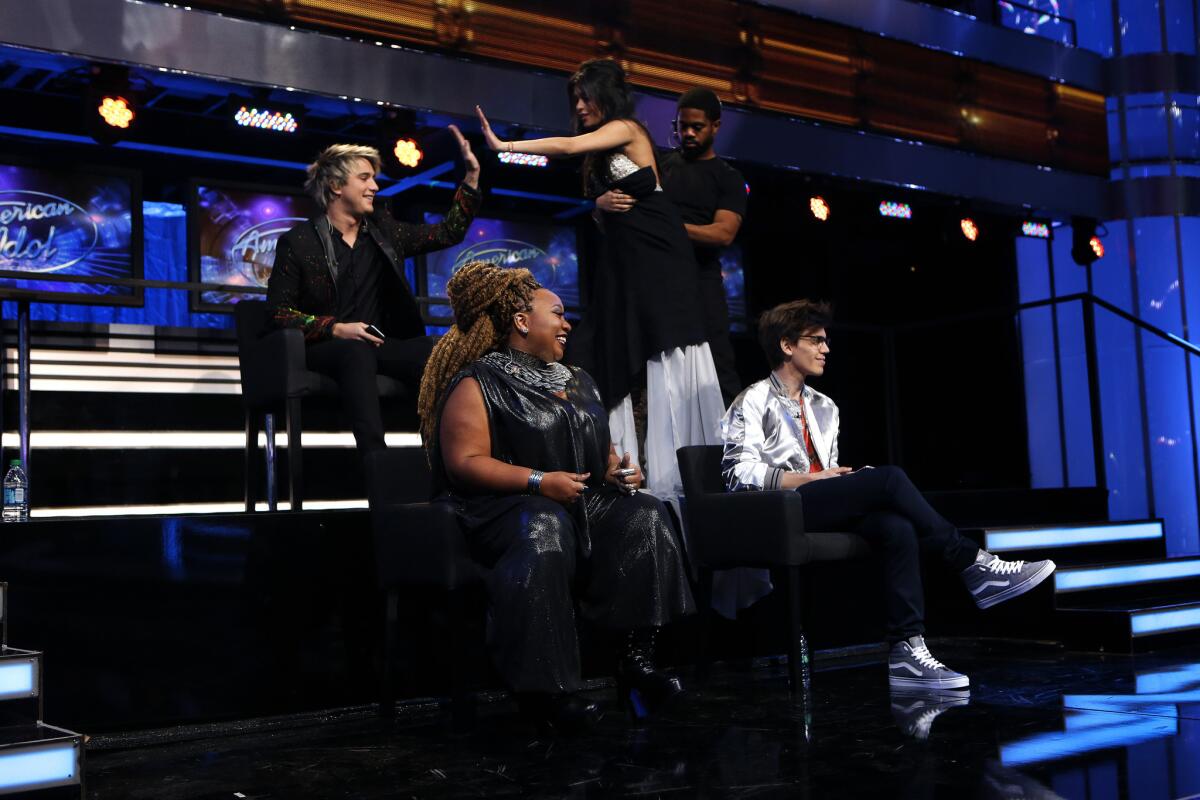 5 p.m. — "Idol" stage
"Welcome to the incredible, nationwide talent competition we call 'American Idol,'" Seacrest says to kick off the live show. A few things viewers at home don't see on TV: Production members coming out to greet "Idol" alum Blake Lewis and Elliott Yamin. During commercial breaks, Urban takes numerous selfies with fans standing in the pit. Lopez focuses on having reading time with son Max.
7:11 p.m.— Kinane's office
With the live show over, Kinane, along with the show's director, Phil Heyes, longtime "Idol" executive producer Nigel Lythgoe and the show's creator, Simon Fuller, gather to toast another week — the beverage of choice is Fuller's own wine named after his daughter, Grace. Digital and social producer Carly Segal has arrived to discuss the buzz she's seeing following the East Coast airing of the show. Lynn pokes his head in, but only briefly — he's off to a party for the crew across town.
For more music news follow me on Twitter: @gerrickkennedy
Get our L.A. Goes Out newsletter, with the week's best events, to help you explore and experience our city.
You may occasionally receive promotional content from the Los Angeles Times.